Your new movie Late Night Double Feature - in a few words, what is it about?
Jen - Late Night Double Feature follows the hijinks of TV host Dr. Nasty and his sidekick Nurse Nasty as things get crazy on and off screen during their late night horror show.
As Late Night Double Feature is about a "horror host"-show - is that something that's at all appealing to you?
Kelly - As a long time insomniac I grew up watching late night television. Except for Elvira, which was in syndication, there weren't too many shows like Dr. Nasty in my neck of the woods but I did love watching this local station called City TV that would have late great movies with an announcer that would slag the bad movies that were coming up.
Overall though the inspiration was many of the Amicus anthology films [Amicus history - click here] like Torture Garden, Asylum and the original Tales from the Crypt. What I loved about the Amicus films is that they had strong wraparound concepts that tied all the stories together. So Late Night Double Feature was really done in that type of spirit.
Kelly, what were your sources of inspiration when dreaming up the movie's concept, and since it's partly a look behind the scenes of horror filmmaking, is any of this based on personal experience?
Kelly - Well certainly the speech the intern character says about how to make it as actress was making fun of people I see on Facebook of wannabe actors doing crazy stuff. When you see an actress in your newsfeed posing like a cat drinking milk from a saucer - thinking this will expand their acting career. You really can't make this stuff up.
More than it being about filmmakers all three stories do have a common theme of someone having an ethical crisis in the workplace. Samantha in the wraparound story is dealing with what you have to do to make it in the film business. In Dinner For Monsters, our chef is dealing with an ethical crisis of cooking a human, and Brad in the Slit segment is taking advantage of people living on the fringe of life to pay for his unique cutting business. So for a "B-movie" there is more going on in this film if you peel it back a little.
So how did the project fall together in the first place?
Kelly - Originally we were doing a different anthology film called Tales from Hell (which we still plan on making) but that got put on hold at the time and my plan was to do a series of different types of anthologies and this was going to be the second film. I had a few concepts kicking around in my head and I happened to mention this idea to our other co-producer R.X. Zammit in a coffee shop one day and then by the end of tea we had rough story that I could make into a script for the wraparound. Once we had that figured out then I approached Torin Langen [Torin Langen interview - click here] and Zachary Ramelan to see if they had any ideas for the films within a film and they pitched us some ideas. Once we had that figured out, we were up and running.
The two featurettes shown within the framework of your Late Night Double Feature - were they produced especially for the movie, and if so, how much control did you have over them, what was your collaboration with their directors Zachary Ramelan and Torin Langen like?
Kelly - Production-wise we were just as involved with the two featurettes as the wraparound. I didn't write Slit at all but I ended up co-writing the screenplay for Dinner for Monsters with Zach and Raven Cousens. Our approach to producing is very hands-on and we consider ourselves creative producers, not just the business side. Having said that, we are always trying to make sure that it is the director's vision is on screen. From the feedback we have received from the three directors, they are happy with the results and each of the segments have their directorial signature.
Despite being the same age and coming from the same town, they are both very different types of filmmakers. Torin tends to work more like Hitchcock and have every scene storyboarded out ahead of time and Zach tends to think on his feet more on set and work more on instinct. Both are quality good but that difference in approach gave diversity to each of the segments.
Jen - The fun thing about working with three different directors was that we really ended up taking a different approach with each of the stories. Each of them had their little quirks and ways of doing things, so our roles really varied depending on the director.
What can you tell us about the director of your main/framing story Navin Ramaswaran, and what made him perfect for the job?
Kelly - I had previously worked with Navin on my previous film I wrote and produced called One More for the Road. The film did very well playing quite a few festivals and even winning a few awards. So there was no question that I wanted to work with him again. Navin works both in horror and in dramatic films which is a good mix for my scripts because I try to write stuff that is very character driven and Navin has a knack for working well with that type of material.
Jen – I agree with Kelly. Navin was our first and only choice to direct for the wraparound. We knew we needed someone with his level of experience to tackle this segment and keep the story cohesive despite frequent interruptions (as tends to happen on cable TV). His approach to the segment and the way he handled the humour was perfect and we couldn't have had a more fun time collaborating with him.
What was the collaboration between the two of you like during the making of Late Night Double Feature - and how did you two even meet to begin with?
Jen – I met Kelly at the Blood in the Snow Canadian Film Festival in November 2012. He doesn't remember things this way but I basically hounded him to let me help on One More for the Road. I was successful in landing a gig as the coffee girl! I had a total blast that weekend working with Kelly, R.X. Zammit (our other producer), Navin, and many of the faces we brought back to work on Late Night Double Feature. When Kelly asked me to come on as a co-producer I couldn't say no.
Kelly - This was really Jen's first major project she had worked on so it was a bit of film school for her but it was great to see her blossom into a very good producer over the course of the production. What is amazing about working with Jen (and R.X.) is that we are all really good friends and hang out all the time outside of our working relationship so that makes it fun too. I can't wait for us to work on our next film together.
Do talk about your cast, and why exactly these people?
Jen - We had the most amazing cast! With three full segments and a bunch of other content we had a lot of roles to fill. We had some surprising moments where we originally brought in an actor to audition for one role and they ended up being a better fit for a different roll for a completely different segment. We even had one situation where two of the directors ended up duking it out because they both wanted the same actor. In the end I think we got the perfect cast for all of the roles, they were all a riot to work with.
Kelly - Some of the roles were written specifically for certain people in mind and others we got them through auditions. When I was writing the script for the wraparound I had Mike Donis (Shawn) and Jason Tannis (Orson) in mind. Navin and I knew about Jamie Sampson (Samantha/Nurse Nasty) and Brian Carleton (John/Dr Nasty) through a web series called Pete Winning and the Pirates. In Slit, Torin and I wanted Caleigh Le Grand (Brii) for sure without even having to audition her. The Brad role took a few auditions but Colin Price was perfect for it. Same thing goes for Dinner For Monsters. Zach had seen Nick Smyth's (Chef) work previously and is a very gifted comedic actor. Jeff Sinasac (Vincent) and Sandra DaCosta (Carmen) [Sandra DaCosta interview - click here] I had both worked with before on other projects and were a dream to work with as usual.
What can you tell us about the shoot as such, and the on-set atmosphere?
Jen - Any film maker will tell you there is never enough time or enough money, and we had a REALLY ambitious script, so it was really important to find a crew that worked well together. Luckily we found all the right people and it really ended up being a family atmosphere. Everyone pitched in for anything that was needed, including letting us kill them for a beautiful massacre scene (they're all fine now!).
Kelly - The interesting thing about shooting this type of feature is that it felt more like shooting a series of shorts because we shot each segment seperately over a 3 month period. It was only when we got into the complicated post production phase where it really began to feel like regular feature film again.
A few words about audience and critical reception of your movie so far?
Kelly - It has been a huge relief getting the great notices we have had so far. I'm sure we'll get a few bad reviews eventually but so far the critical response has been very positive. As I do this interview, we have just played the film once at the New York City Horror Film Festival so far, but the response there was really amazing.
Any future projects you'd like to share?
Kelly - I have three projects in script development right now, an anthology series called Tales from Hell that I have been developing for a few years, a sequel to Late Night Double Feature and another project tentatively called Producer's Cut, but it is still in its early stages.
Jen – We don't know yet exactly which of the projects will end up being the next one, but you can be sure to see us again!
What got you into filmmaking in the first place, and did you receive any formal training on the subject?
Kelly - My formal training in film is actually in classical animation, then later 3D animation. How I got into live action filmmaking was really just in the past few years. Between being a film writer for publications like Fangoria and being the festival director for the Blood in the Snow Canadian Film Festival, I guess I was just inspired by what was around me and next thing I knew I was producing and writing films.
Jen – I kind of fell into it. I had no prior experience before working on One More for the Road, but once I was on that set I knew this was the place for me. I took the Producers Foundation course with Raindance later that year, but for the most part I learned by doing, and learning from our fellow Canadian filmmakers who have been a fountain of knowledge and inspiration.
What can you tell us about your filmwork prior to Late Night Double Feature?
Kelly - As I mentioned somewhat before I wrote and produced the film One More for the Road, but my filmography is still pretty new overall.
Jen – There will be plenty more to come. You haven't seen the last of us yet.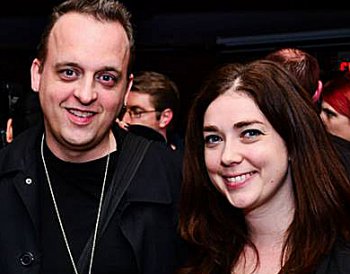 Kelly and Jen
Filmmakers, writers, producers, actors, whoever else who inspire you?
Kelly - Truly the hardest question ever, but some of my favorites tend to be anything by Kubrick, Kurosawa and Hitchcock. I'm also a huge Mario Bava fan [Mario Bava bio - click here] and his Black Sabbath anthology film was a huge influence on Late Night Double Feature.
Your favourite movies?
Kelly - For horror, The Shining, Day of the Dead, the original Halloween are my top films. Overall I am pretty old school, I love Hammer, AIP and the classic Universal Horror films.
Jen – I'm a big fan of movies which explore the darker side of humanity. Films like Requiem for a Dream, American Beauty, and Fight Club are among my favorites.
... and of course, films you really deplore?
Kelly - I have zero interest in horror flicks with no "voice". Not really into shock for shock value, if you are going to make a film have something to say.
Jen – I don't think there is any such thing as a really terrible film. Even the worst film can become great fun if you go in with the right attitude.
Your/your movie's website, Facebook, whatever else?

Feeling lucky ?
Want to
search
any of my partnershops yourself
for more, better results ?

The links below
will take you
just there!!!

Find Late Night Double Feature
at the amazons ...

amazon.com

amazon.co.uk

amazon.de
Looking for imports ?
Find Late Night Double Feature here ...
Something naughty ?
(Must be over 18 to go there !)

Kelly - you can find out about our team's projects at www.threeevilcats.com, our Twitter is www.twitter.com/LATENIGHTDOUBLE and our Facebook group www.facebook.com/latenightdoublefeature
Anything else you are dying to mention and I have merely forgotten to ask?
Kelly - I think one thing worth mentioning is that there are some interesting crossovers of team members in different segments. I directed the Night Clown faux trailer, our actor Jason Tannis who plays Orson in the wraparound directed the faux commercial called Killer Mortgage Rates. Jen composed some brief music pieces for the film and our other producer R.X. Zammit sings the closing theme song. And the list goes on and on.... but I'll save that for the audio commentary!
Jen – There are a ton of easter eggs in the film for anyone who is paying attention.
Thanks for the interview!