Your new movie Crazed - in a few words, what is it about?
Rampaging through the dark alleys of Harbor City, brutal vigilante cop Ronan Pierce looks to exact revenge on a ruthless cartel that killed his daughter and now kidnapped his wife.
How did the project fall together in the first place, and what can you tell us about your chief collaborator on Crazed, Michael McCarthy (any relation?), and what was your collaboration like?
Working with my brother Michael on movies is a dream come true! We've been obsessed with movies since I can remember... so we both have a very similar passion and drive for making movies. Sure, we butt heads sometimes, but my brother and I understand each other on such a cool level. I can visualize these crazy scenes in my head, and my brother actually sees what I see. Hard to explain...but it's true. He's unbelievable at putting together stories from our conceptual ideas. Crazed was just our first one, and we hope to do this for years to come.
Regarding Crazed: My brother Michael and I actually came up with the idea in July of 2011 when we were outlining possible stories for our first official short or feature film. One story that we loved was about this insane vigilante cop who did a lot of drinking, cocaine and kicking ass. We loved the idea, and ultimately started planning (and saving) for a feature film that winter. In order to keep the costs down, we decided on shooting it in Tampa Florida (my brother's home). In January of 2012, I travelled down to Florida with fellow filmmaker Edward Payson and actor Wade Gallagher. The four of us were the first members of the team. We rented a crew house and spent a month finding final crew, locations and actors for an intense 17 day shoot in February. That was the first of several planned shoots we saved up for and executed over the course of making the film. In addition to Tampa, we also shot a large portion of the film in Massachusetts (with a completely different crew).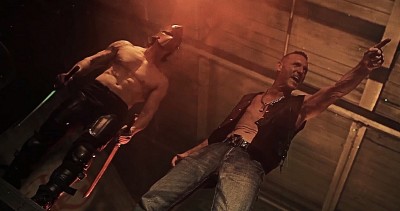 Your film has a strong comicbook vibe to it in both looks and story - so what can you tell us about that aspect of your movie, and are you at all a comicbook guy, personally?
Ever since I was young kid, I was always captivated by art and animation. Growing up as a child in the 80's, delving into comicbooks and cartoons served as a perfect vehicle of escapism (still does). In 1989, Tim Burton brought his glorious comicbook movie Batman to life, and I've been obsessed with the idea of bringing these stylized worlds in comics/cartoons to life ever since. The majority of my favorite movies are comic bookmovies with an edge (The Crow, Blade, Batman, Sin City, 300, Spawn, Watchmen, Punisher, V for Vendetta, Darkman, Black Mask, Wolverine, Daredevil, Dredd, Kick-Ass etc), and 'comicbook style' movies like Escape From New York, Face/Off, Mad Max, Dark City and Kill Bill. Given the fact we are huge horror fans too, it was only natural that we would give our attempt at a 'comicbook style' movie that was ultra dark and outrageous.
You of course also have to talk about the action scenes in your movie for a bit, and how were they achieved?
We wanted Ronan to go through a lot of really bad guys to get to his wife, and that meant a lot of action (with a pulsing dark industrial score behind it). Because we were just having fun with the script, many times the action was the result of our desire kill bad guys in creatively crazed ways, and we built the action around that. The more over the top/indelible, the better. Thus, from there, it's just proper planning and finding the right mix of actors, stuntmen and crew to pull it off - and we were fortunate to find so many talented artists that helped collaborate and make our film what it is today. Lastly, the soundtrack is key in our mind for the action to pop. What would the opening scene in Blade be without that 'Bloodbath Remix' of New Order's Confusion. I'll always remember that scene vividly. It was a crazy mix of visuals and music, and we definitely wanted our film's action scenes to have that quality. Believe it or not, the kick-ass music by Frantz Widmaier and Thomas Mahoney was exactly what we had imagined when writing the script - we feel extremely lucky to have their music as the backbone to our film's action.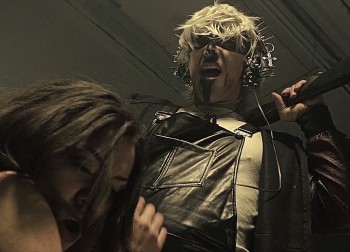 What can you tell us about your overall directorial approach to your story at hand? And what can you tell us about your guest director Edward Payson and your collaboration with him?
Edward is a fellow filmmaker and director whom I previously worked with on his feature The Cohasset Snuff Film back in 2010. When my brother and I decided to make a feature in 2011, we were extreme newbies to the industry. We hadn't gone to film school, and I didn't have any connections. I was basically a self taught guerilla filmmaker with much to learn about the 'proper' way or hierarchy of filmmaking, and Edward Payson helped us out so much! He advised us on everything we did on that initial 17 day shoot in 2012. It was Edward who knew many of the initial cast and crew from California (Brad Potts, Jordan Elizabeth), and without his key collaboration, our film wouldn't be the same. Things were quite hectic, and many times we needed to split up crews. Thus, Edward directed scenes when I couldn't... HUGE thanks to Edward on that shoot in February 2012! However, after that shoot in 2012, Edward went back to LA to continue directing his own feature films, which he's been doing ever since. He has a really cool feature anthology called The Sunday Night Slaughter coming on Halloween in 2017.
Regarding the directorial approach: Well, we wanted to have fun with it. We wanted to make a movie that revels in dark juvenile glee, all the genre tropes our inner 20 year old yearns for. A dark fun ride full of audacious visuals paired with music that isn't easily forgotten.
Do talk about your key cast, and why exactly these people?
We had a bunch of super talented actors that brought our intense characters to life. Because of the over the top nature of our production, MANY of the actors would give amazingly intense live performances that blew us all away on set... Harry Aspinwall being the standard bearer, and Robert Crayton killing it as Lazarus! However, one person whom especially deserves to be talked about is Wade Gallagher. Wade was a bricklayer from Boston that had done one short movie called Townies with director Mike O'Dea. His role in that movie jumped out at me immediately... he was a badass, and we literally wrote the role of Damien Logan with Wade in mind. Wade was the first actor to join our team. He lived with us the whole time down in Florida, and we all got to become close friends. After our initial shoot was over, we realized we wanted to do re-shoots/add different scenes. We had big plans for Wade in some of our re-shoots and future movies... he was so unbelievably talented. Unfortunately life can really suck sometimes. Wade was diagnosed with esophageal cancer (which he actually had during the whole initial shoot), and he battled heroically for over a year… until it took it's toll on him in the summer of 2013. Wade was a great friend and a great actor, hopefully our crazy little film can keep his spirit alive in some weird cosmic way.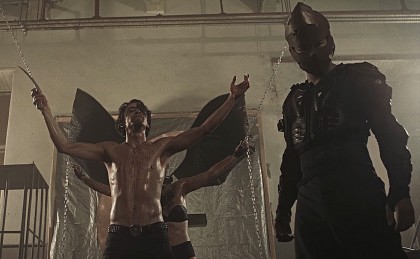 A few words about the shoot as such, and the on-set atmosphere?
Well, we did have a bunch of different shoots over the course of the production, so each shoot had its own cast and crew (some sets over 100 degrees, some way below zero). However, given the subject matter, we encouraged it to be a fun set where artistic collaboration is key and ideas are always welcome. You spend time hiring the right artists, and then you give them your full trust and confidence, and I think that brings out the best in an artist (cast or crew).
Anything you can tell us about audience and critical reception of Crazed?
Like any film, we've had mixed reviews, but we knew going in that our film wouldn't be for everyone. However, every now and then you really connect with someone who watched your movie, and those moments are so badass… they make it all worth it. Also, we take great pride in being selected to some of the world's coolest horror/genre film festivals (including Sitges International Fantastic Film Festival in Spain). In all we went to twelve festivals in five different continents, and won awards in Australia (Fantastic Planet in Sydney) and Italy (ToHorror Film Festival, Torino).
Any future projects you'd like to share?
We are working on a post apocalyptic action/horror. We're hoping to start shooting early next February… no details yet :)
What got you into filmmaking in the first place, and did you receive any formal training on the subject?
I always wanted to make movies since I was a young kid/college bound teenager. However, it was very exclusive back in 1995, with the only film schools being NYU, USC and UCLA. Everything was shot on film, and the equipment was ridiculously expensive. I was a dreamer, but even that dream seemed impossible (back then). Thus, my artistic spirit led me to Clemson for a degree in architecture. Nonetheless, I learned quickly I didn't want to design buildings for the rest of my life and I ended up graduating with an international business degree and long line of inconsequential jobs. Ten years had gone by, I was about 33, and I needed a complete reboot. My artistic spirit had been held down long enough, and I really wanted to follow my lifelong dream of being a filmmaker. So, with any time I had, I started researching and learning through online tutorials and articles. I bought a really nice $3000 Sony camcorder with an expensive Redrock lens converter to give it that 'film' look. The results were ok, but it was cumbersome and certainly not film quality. However, technology progressed with the advent of DSLR video, and better filmmaking tools became much more accessible. About 5 years back, I bought my first Canon T2i then 5D, and started using Adobe Premiere Pro/After Effects to edit. I watched thousands of online tutorials and read tons articles over the years to educate myself. Early on I would film guerilla style shorts with family and friends. However, I can honestly say, the backbone to most of skill/knowledge is from making Crazed over the last 4 years.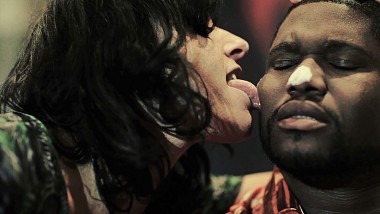 What can you tell us about your filmwork prior to Crazed?
Like I mentioned previously, I started out doing short 'guerilla style' films with my brother and other family members. I then started actively looking for film projects to jump on. I found a listing on NewEnglandFilm.com for a found footage horror feature that Edward Payson was directing, and I applied for the cinematographer position. I was hired, and the rest is history. Edward then came on my film as an executive producer/guest director… thus Crazed was born.
How would you describe yourself as a director?
In short, I want to make uber-edgy films that are fun diversions. I enjoy world building, horror, sci-fi, action, crazy visuals and rocking soundtrack. No more... no less. Although I have many opinions about the world and what not, I don't feel that inner need to preach to my prospective audience. Like bringing up politics at a dinner table discussion, sometimes it's pointless, offensive and not my cup of tea. I'd much rather talk about the state of filmmaking and debate which Quentin Tarantino film is the best.
Filmmakers who inspire you?
From the beginning, I was inspired by Robert Rodriguez and his DIY book sensation Rebel Without a Crew. After reading his book, it makes you believe anything is possible if you work for it. Actually the same thing can be said for guys like Christopher Nolan and Nicolas Winding Refn, who both made movies while living penniless with their parents in their 20's (Following and Pusher). Stories like these are such an inspiration… guys who never went to film school... instead they decided to just 'go for it' and make their first feature... and now here they are! The future is what you make of it.
Your favourite movies?
REALLY hard question... I've already mentioned some, but I'll give you a lot of my super favs (in no particular order): Kill Bill 1 & 2, Mad Max 2, The Matrix, Gladiator, Evil Dead 2, Army of Darkness, Drag Me To Hell, Braveheart, The Crow, Blade, Batman Begins, Batman, The Dark Knight, The Dark Knight Returns (animated), Empire Strikes Back, The Force Awakens, I Saw the Devil, Escape From New York, Face/Off, Dark City, Sin City, 300, Guardians of The Galaxy, X-Men, Inception, American Werewolf in London, The Shining, Cabin in the Woods, Let The Right One In, The Departed, The Ring, Bram Stoker's Dracula, Reservoir Dogs, Fight Club, Seven, Silence of the Lambs, Fifth Element, The Terminator 1 & 2, Raiders of the Lost Ark, Casino Royale (probably forgetting some haha). Point is... I love movies... and I truly love a ton of them. I also love a lot of the new TV programing out there… Dexter, Game of Thrones probably leading that list.
... and of course, films you really deplore?
The first one that comes to mind is Birdman, second is The Phantom Menace, third is Batman & Robin… oh, and I wish the Matrix sequels never saw the light of day.
Your/your movie's website, Facebook, whatever else?

Feeling lucky ?
Want to
search
any of my partnershops yourself
for more, better results ?

The links below
will take you
just there!!!


Our Facebook page and IMDb links are as follows:
Facebook: https://www.facebook.com/crazedthemovie/
IMDb: http://www.imdb.com/title/tt2300913/
Anything else you're dying to mention and I have merely forgotten to ask?
Well actually... the best part to this story is that I never would have met my wife if I hadn't followed my dreams. I hired my future wife Lauren as a special effects makeup artist on Crazed. We started talking at the 'Lukas Lodder shoot' wrap party in July of 2013, and haven't stopped since. She's a huge genre movie fan like my brother and I, and we are always talking movies, music new stories and our next film. Now we're married and make movies together, nothing cooler than a filmmaking family! So I guess if I were to preach anything... it's follow your dreams, because you never know where they will take you if you work at them.
Thanks for the interview!