Your new movie Removed - in a few words, what is it about?
In a few wordsÖ survival and being the product of your environment. I hope that doesnít sound too pretentious! Itís a story of a couple that want to go camping and they unfortunately meet two brothers (?) that will pretty much hunt and eat anything. You know, basic survival type stuff!
To what extent can you actually identify with Removed's protagonists, and have you ever been on a trip similar to theirs?
I kind of wrote the film because of a bad camping experience. One summer I really wanted to get out into the woods and be a little more adventurous and not camp so close to the usual campgrounds. This would have been fine, but I forgot to bring any alcohol. I quickly realized that when I normally go camping I drink too much and just go to sleep completely unaware of the noises of the forest around me. Well, I went to bed sober and got woken up to a horrible animal sound in the night. Kind of like a deep grunting snort type of noise. I realized this noise was coming from about 12 feet outside of my tent! All I had with me was a tiny pocketknife and if I used that to defend myself I would probably have just pissed off the animal and made things worse! I kind of freaked out and luckily I wasnít so deep into the woods that I had hiked in and my four wheel truck was about 30 feet away, so I just legged it to my truck and hid in it for the rest of the night! I never saw what made the noise and I think that made it worse because my mind created some horrible man eating beast. This story does not make me sound macho in any way!
(Other) sources of inspiration when writing Removed?
I was very inspired by a book I read years ago called The Wasp Factory by Iain Banks. I actually gave my copy of the book to the actor (Nikki Flinn) who played the Frank character, (SPOILER ALERT!!) as Frank's gender was supposed to be questionable. In fact, Nikki isnít in any of the early promotion material because we wanted to keep it a secret that Frank turns out to be a female. We wanted to make the audience believe it was a man for as long as we could. I really like the idea of messing with peoples pre-conceived thoughts of how people are ďsupposedĒ to behave, but your surroundings have such a huge impact on how you turn out. That was always the big concept behind the film. If a person was brought up a certain way, and the way they act in a normal setting is wrong, is the way they act really and truly ďwrongĒ? I donít think you can judge someone for trying to eat people if thatís what they were brought up with. Man, I sound a little scary right now! Iím a nice person really!!! Oh, and I read a lot of How to Stay Alive in the Woods by Bradford Angier. Really interesting book with a lot of old school survival tips in it. I might need some therapy.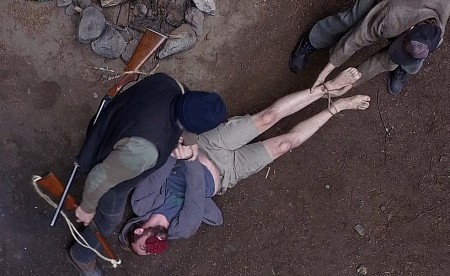 Do talk about Removed's approach to terror and suspense for a bit!
In the film I tried to use the concept that scared me when I went camping. Itís the ďthings that go bump in the nightĒ thing. Our minds usually fill in the blanks when they are taken to a certain point with a story or character. That stuff is usually more terrifying than actually showing. Iíve always been more scared when Iím not shown something in a film. With that being said, my original story outline was extremely graphic! My feeling is you have to suggest something really bad or go all the way and describe the details! With Removed we realized that it would be much more cost effective to just suggest things and let the viewer's warped mind fill in the blanks. We did shoot one thing that was very graphic and we had fake guts spilling out everywhere, but as soon as we shot it everyone knew it didnít fit with the rest of the film. Lighting and sound had a big part to play with that. My cinematographer Scott Ballard [Scott Ballard interview - click here] totally understood that and I think he had a great time with the challenge. Also, Jordan Eusebio my sound designer, totally got it. In fact, his brain may have been a little too tuned in!!! It was scary how quickly he nailed it. Iím definitely going to go more graphic next time though.
Removed is set in the deepest of the deep woods - so where was it actually filmed, how did you find your location, and what were the advantages and also challenges filming there?
I wrote the story with the intention of not making it so impossible to shoot and one of those parameters I put on myself was the location. The film was shot on location on Mt. Hood Oregon because Mt. Hood was an hour's drive from where I live in Portland OR. I basically put it out on Facebook that I was looking for a cabin and a friend said to come check out her place. That place didnít fit, but she mentioned another place that had been pretty much abandoned since the owner passed away about a year earlier. The place was perfect and we got in touch with the family that owned it. The only stipulation to using it was that we cleaned the entire place out when we were done! The woman who had lived there was on the verge of being a hoarder sort of and we ended up renting about 3 dumpsters to cart all the stuff away. The art director Tiffany Ayers had fun with what we found though. There were a lot of animal bones and animal skins everywhere. She took one of the skins and crafted a lampshade, which lights one of the main locations in the film! Itís in a scene where the character Arvis sits and eats candy while listening to the screams of people being skinned.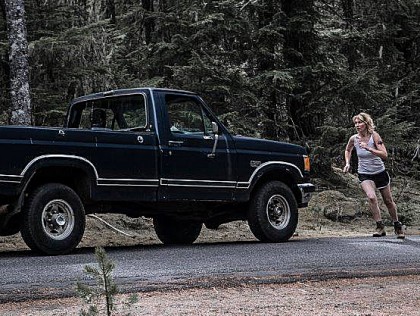 What can you tell us about your overall directorial approach to your story at hand?
Since this was my first feature I was terrified of directing actors!!! I had done a fair amount of cinematography (director of photography) work before and that side of things I was pretty confident about. Any technical questions I knew I could answer, but what the actors were going to ask me was a different thing entirely. My approach was to know the characters and where they had come from. Basically the back story. I figured if I knew the story of how these characters had come to where they are then that would determine what they were going to do. It sounds so obvious, but I knew every little thing about the characters so when an actor asked a question I already knew instinctively what that character would do. My only regret is that I should have let the actors play a little more with the characters, but I think that comes from me not knowing how to trust and work with actors. I would definitely let actors have a little more fun with the characters now. Iím a more trusting person nowÖ I think.
Do talk about Removed's cast, and why exactly these people?
Ha! Well, I had worked with all the leads before in some way or another and I trusted them. The only person I hadnít worked with before was Nikki Flinn, and Dennis Fitzpatrick had recommended her. I trust Dennis a lot and have a lot of respect for him because heís such a great actor and human being. I originally tried to get an actor that was transgender or a transsexual personÖ I am pretty old school and I may be using the wrong terminology so I apologize for that if I offend anyoneÖ but it was extremely hard to get in touch with anyone that might be interested. I mentioned to Dennis this problem and he suggested Nikki might be into it if I was willing to shift the story around a little. I also thought that Dennis would know whom he could work well with as he had one fairly intimate scene with whoever played Frank. Iím so glad Dennis recommended Nikki because she is great! She was so into her character and asked so many questions! She made me really think about the character of Frank. She asked so many questions! As for Erin and Michael, well I had worked with them both before and I immediately asked them. I had no doubt in my head about those guys! Erin is great and she is hilarious and a huge smart ass! Poor Michael got dragged around half naked and put up with so much, but he was always so positive! He would be laughing and clowning around one minute and the next be lying naked on a stump of wood with bugs crawling into his ears. All those guys are great actors and wonderful people. They all trusted me and I am forever greatful.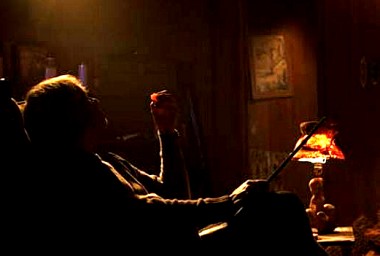 A few words about the shoot as such, and the on-set atmosphere?
The shoot was a lot of fun and we stayed up on Mt. Hood for all principle photography for 16 days. I had planned on doing almost all of the b-roll myself the following year. The atmosphere was so good when we were shooting. I come from the director of photography side of things, so I really tried to make sure all the crew had the time they needed to get what they wanted. My producer Molly Preston also comes from the production side of things and so it was an easy sell to give a lot of time for set ups. We really tried to stick to block-light-rehearse-shoot and make the most out of the time we had. I had worked with Scott Ballard [Scott Ballard interview - click here] on features and a couple of those he shot on real film. I really liked the work flow for film because everybody was on their A game you know? Film really does sound like money whirring through the camera! We didnít do any playback because that just wastes time. When we were rolling my job was to sit behind that monitor and watch the scene! If we got it I knew it because I was doing my job. Also, I trusted everyone on that set and I knew they were doing their job! Filmmaking is really a lot of trust. I love shooting films with those guys. I canít wait to do another one!
The $64-question of course, where can your movie be seen?
Removed is in a weird stage right now. Iíve submitted to several film festivals, but sometimes you wonít hear anything for months. Iíve also just signed a contract with the distribution company Maxim Media Marketing, but that is in the early stages and Iím not too sure how they want to proceed. So, unfortunately itís in a little bit of limbo at this moment. Crappy answer Iím sorry!
Anything you can tell us about audience and critical reception of Removed yet?
Well, Removed has played at one festival so far. It got into the 44th Northwest Filmmakers Festival this year and it was really well-received. In fact, we did the final export of the film only about 4 weeks before the screening! I submitted a rough cut with time code on it and no color grading and they liked it. It was great to screen it in my hometown of Portland. I was pretty nervous and I almost missed the screening because I was shooting a short film for Scott Ballard! It was a lot of fun and an awesome feeling having the audience react at the parts you want them to.
Any future projects you'd like to share?
Iím hoping to shoot a short film in the next couple of months called Uber Man. Itís basically about an Uber driver. Heís a man. Could be funny? Uber drivers fascinate me. They are a weird breed. Besides that, Iím going to start writing another script. Iíve got a few ideas floating around, but I just need to pick one! Thereís probably going to be more darkness in the next feature. Iím not really one for light and happy films. Donít get me wrong, I appreciate them, but Iím more of a Lars Von Trier kind of guy!
What got you into making movies in the first place, and did you receive any formal training on the subject?
I used to film my buddies skating. I used to skate all the time and it was definitely my lifestyle. I found I wanted to cut out all the shitty tricks in the videos and just make it look like we were amazing skaters! That kind of got me into manipulating what people see. I never took it serious though until I wanted to go back to school and change my life. I didnít think I could actually make a living with film and video until after a term at the local community college where I noticed they had a video production program. I signed up and that was that! Originally I signed up to be a helicopter pilot, but there was too much math involved! Although, I have shot out of a helicopter a couple timesÖ so thereís that!?
What can you tell us about your filmwork prior to Removed?
Before Removed I had directed a bunch of music videos (still do) and a couple of shorts. Iíve been the cinematographer for 3 feature films now (Death on a Rock by Scott Ballard [Scott Ballard interview - click here], Emily by Ryan Graves and The Brain That Wouldnít Die by Derek Carl) and Iíve done lighting for quite a few features. I really come from a lighting and camera background and thatís how I pay my bills. I love lighting and cinematography and I donít see myself ever giving that up, but writing and directing give you a different sense of accomplishment. DoP work gives you a very technical sense of accomplishment. I do love both positions though.
How would you describe yourself as a director?
Oh boy. This question should be aimed at someone that has worked with me as a director. My producer and scripty Molly Preston would definitely say Iím a real pain in the ass! I'm a DoPís director I think, but recently I directed 3 music videos where my DoP had been my 1st AC and I think I pissed him off because he knew I would be judging him every step of the way. So, maybe Iím not a DoPís director! Sorry Steven Bishop. I donít know, Iím very particular, but I know what Iím asking of the cast and crew. I know how difficult something may be and I try to be very accommodating. Iíve worked with some really awesome directors and the common thing is they are rarely telling people what to do. Thatís a myth that you have to tell people what to do as a director. A good director gives everyone the right tools to do their best. I try and get the best from my cast and crew. I try to have a very clear overall vision as well.
Filmmakers who inspire you?
Oh boy, filmmakers that inspire me? Lars Von Trier, Kubrick, Scorsese (older classics not really newer stuff), Akira Kurosawa and Errol Morris. Love Errol Morris stuff! His films are always a little off kilter and you never know where itís going to end up. You think you do, but the story always takes a twist. This may sound like a cop out, but after finishing my first feature Iím now just impressed with anyone that finishes their film and screens it!!! Although Von Trier is top.
Your favourite movies?
My favorite movies would be Antichrist, Enter the Void, Withnail and I, Suspiria and There Will be Blood, but there are so many damn good films out there! Iím really liking how series are being done now. Like American Horror Story, Black Mirror and the crossover of genres like Worm Wood. Everything is getting so much better and the classic lines of film and TV are getting blurred now.
... and of course, films you really deplore?
I have to preface this with this is only my opinionÖ I really canít stand Inherent Vice. I really wanted to like it, but I felt like the director just turned up for a paycheck! I think itís obvious when there is lazy filmmaking. You can just tell when someone creates something and you know they didnít really try that hard. I donít like to talk shit about anyoneís films, but if I had to pick a film that made me feel like I got cheated out of something it would be that film. I can usually find something in a film that I like so itís really difficult to find a film that I deplore. Man, all the Inherent Vice fans are going to hate me now!

Feeling lucky ?
Want to
search
any of my partnershops yourself
for more, better results ?

The links below
will take you
just there!!!


Your/your movie's website, Facebook, whatever else?
You can follow the film and a lot of what Iím up to at Facebook at https://www.facebook.com/removedfeaturefilm/
And on Instagram at https://www.instagram.com/removednwfilm/
If you want to check out the trailer itís at https://vimeo.com/150465394
Although Iím terrible at social media!!!
Anything else you're dying to mention and I have merely forgotten to ask?
Thereís one little thing I wanted to throw out there, we put in a little nod to Kubrick in the film. Thereís a reference to room 237 somewhere in the main cabin. I always like when filmmakers put stuff like that in their films! Thatís all I have.
Thanks for the interview!
Thanks Michael! I just want to say thank you for giving me this opportunity to talk about my film.