Your movie Paranormal Diaries: Clophill - in a few words, what is it about?
It's a documentary-style horror film that mixes fact and fiction, with an emphasis on fact. It follows a real documentary team on the trail of occult goings-on in remote Bedfordshire, UK.
How did the project come together in the first place, and do you at all fancy yourself a paranormal investigator?
It was conceived as a small 'in between' film after doing The Zombie Diaries and before World of the Dead: The Zombie Diaries 2. There was a lot of waiting around for financing on the sequel, so I was looking at getting something filmed while this was going on. I'd known about the church at Clophill since I was a kid and it was coming up to 50 years from a famous incident there that made headlines around the world. Originally the concept was quite different and Michael Bartlett [Michael Bartlett interview - click here] and I were going to be pulling the strings behind the scenes for the documentary crew that we'd assembled. So we wouldnít actually be on camera but would be lurking around in the bushes nearby! In the end I decided it was too risky and because Iíd done all of the research and prep for the shoot it was better if we were both there and part of the team. Weíd be able to steer the shoot in the right direction as well as keeping a few surprises in store for the others. It all came together very quickly.
It was great fun working with the Luton Paranormal Society guys, who do this kind of thing all the time. For me, I love being out in the open space, especially at night. The idea of something supernatural that may lurk out where you are makes it even more appealing! All the gadgets and gizmos that the paranormal groups bring along are of secondary importance and as Bill King from Luton Paranormal Society mentions in the film, the best thing you can bring on an investigation is yourself.
How did you find your location even, and what was it like filming there?
I found the location a long time ago on a cold autumn evening in 1990 when, as teenagers, a group of us took a drive up to what we knew as a spooky old church where witches had been burned and other macabre incidents took place - most of which were a load of old nonsense. But this was before the internet made supernatural hotspots more popular. We scared ourselves to death that night and although I didn't return for a number of years, a film-related project had always been in the back of my mind.
Old St Mary's church has sat forgotten for decades up on the hill to the north of the village, ever since the lead was stolen from the roof in the late 1950s. The 1960s saw a revival of interest in the occult and one morning in March, 1963 the aftermath of a ceremony was discovered up there. A tomb had been broken into and the skull and bones of Jenny Humberstone, who died in 1770, were found arranged ceremonial fashion inside the ruin. Crude symbols were scrawled on the walls in blood, and the remains of a cockerel that had been sacrificed had been found. It was the first incident of its kind to make the press and was a big story around the world. There were copycat incidents up at the church over the following years, but the 'very real' black magic group plagued the poor rector of the village for several years afterwards, because he had kept the bones of this poor woman in the boot of his car! He was convinced they had put a curse on him and were trying to kill him. Of course, as a result of these incidents, numerous legends have been attached to the church, and more recently - sightings of ghosts prowling the churchyard have been described. It's a fascinating place.
It was hugely atmospheric filming up there and we had police and security on hand to seal the location off so that we wouldnít be disturbed. Because of its notoriety, you get kids going up there every night of the week and given that we were setting out to see if there was any truth to the paranormal sightings, it was important to have control over the location so we wouldn't be disturbed.
Have you even believed in the paranormal before you shot Paranormal Diaries: Clophill, and to what extent has the shoot influenced your views on the subject?
Iíve not experienced anything first hand, other than sleep paralysis, which is an incredibly frightening phenomenon and has happened to me several times. The intriguing part is not so much that you canít move, but that everyone seems to experience the same silhouetted apparition slowly making its way into the room. All you know is that it is a terrifying threat and you have to force your body to wake up and move before it gets to you. It puzzles me why everyone experiences the same thing. Iíd never read about sleep paralysis until after I'd experienced it and looked it up and found countless other accounts mentioning the very same stalking spectre. Is it just something built into the human psyche? Who knows. What also interests me is that many people I know and trust have had supernatural experiences that they canít explain, so I believe there is definitely something in it. What that is, at the moment, Iím not sure Ė but Iím keen to explore further.
What can you tell us about your co-director Michael Bartlett [Michael Bartlett interview - click here], what was your collaboration like, and how did you two first hook up?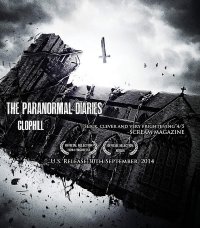 Mike and I first hooked up in 2003 when I was googling something to do with film locations in Hertfordshire and stumbled upon Mikeís blog and found out he was from the same town as me (Letchworth Garden City). I dropped him an email to say hello and we arranged to meet up for a drink. It turned out he lived across the road! I helped him out on his first short film and we became good friends, collaborating on The Zombie Diaries in 2005. The rest is history, but on Paranormal Diaries: Clophill, Mike wasnít quite as involved on the directing front, but we shot some additional scenes where Mike co-directed with me and we wanted to keep the spirit of the Zombie Diaries films going as we had such a great time filming, so itís credited as a collaboration on the directing front. Mike has relocated to Missouri and has just shot his impressive Treehouse movie. Weíll be collaborating again in the future for sure.

The Paranormal Diaries: Clophill was very much a solo effort Ė particularly in post-production. With the exception of Pete Renton, who worked wonders on the sound design and music, I locked myself away and set about the huge task of turning all the footage we shot into something that worked as a feature film. It was the toughest edit Iíve done as it literally could have taken several approaches. The first cut was well over 2 hours and I managed to trim it right down to 88 minutes. As always with films, there's that nervous moment when you send it out to a few trusted sources for feedback. The response was really positive and with a few tweaks, a cut was finished that I could circulate out to sales agents.

Do talk about the rest of your team for a bit, and why exactly these people?

I assembled a group of trusted industry friends who were all long term collaborators. That was important because the approach was that only Mike, Craig Stovin and I would be 'in' on the fact that we were introducing fictional elements later on. If the crew were unknown to us, they might not have been too happy with what we were doing. Everyone else involved in the film thought it was a straight up documentary and investigation of Clophill. I'd worked with Craig several times and he has appeared in all of my feature films to date. I also knew his wife, Criselda Cabitac and she had previously worked as a presenter, so that helped with her role on the documentary team as the main interviewer. She's also an actress so I knew that would help later on, but she had no idea at this point there would be fictional scenes and we maintained this right up to the end of the third night. It was difficult for Craig as he had to keep it a secret from his wife and so we made out he was there as the documentary co-ordinator and because of his own experiences with the paranormal. Really he was there as the main actor, but he was also there to experience whatever was going on at Clophill for real. He brought a lot of insight to the goings-on at Clophill and for me, produced his finest acting work in this film.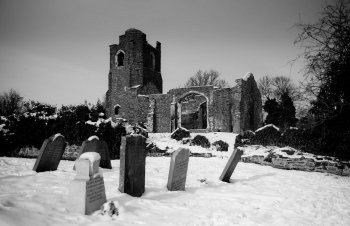 Mark Jeavons was one of the camera men and is a talented film-maker in his own right. He was very interested in the paranormal and was happy to come along for the ride. Rob Whitaker on sound was the one who asked the most questions and was the one person who was very sceptical of everything we were doing. I remember in the run up to the shoot he kept phoning me up asking every little detail, but I wasn't telling him everything. His scepticism turned out great in the film as he doubted everything, even when stuff was going on around him! His general disapproval with things worked in the film's favour brilliantly - it wouldn't have been the same if we'd all believed in the supernatural! When he saw the finished result, he was pleased, although I think he was secretly rather annoyed Mike and I pulled one on him! We all enjoy a joke at each other's expense and it was perhaps the ultimate joke that Rob turned out to be a lead actor in the film!
Quite honestly, was everything in your movie for real, or were there some staged sequences in there somewhere?
Approximately 90% is real, 10% is fictional. So almost all of the early scenes up until Day 3 are real and then we mix fact and fiction in the final third of the movie. But again, even scenes like the '10 minutes alone' mix fact and fiction. I simply added additional bits into the existing footage to heighten the tension. When things properly kick off we move into fictional territory but it was important nothing strayed too far from reality. Even the scenes with the coven are based on actual goings-on up at Clophill.
Any scary stories/anecdotes you'd like to share that didn't make it into the film?
There were a few that werenít captured on camera for one reason or another. One in particular was when one of the exec-producers, Paul Heneker, came up on one evening to see how the shoot was going. We were busy setting up equipment and he took a wander round the churchyard. I recall he was a little inebriated as it was his birthday and he'd literally come straight from seeing The Prodigy play live earlier in the evening. Anyhow, it was pitch black while he was wandering around and he tripped over a small gravestone and landed flat on his back. Dusting himself down, he looked up and saw the grave said ďDied aged 34 yearsĒ and it was his 34th birthday! If this wasnít shocking enough for the poor guy, I then had to tell him about the famous legend of the grave that if you stare at it long enough will tell you the date of your own death. Fortunately he has since made it to 35.
What can you tell us about the shoot as such, and the on-set atmosphere?
The best shoot Iíve been on, hands down and everyone agrees. It was essentially a group of old friends hanging out over a long weekend. We all immersed ourselves into the legend of Clophill and had a great time. It was very experimental of course, but for me that was familiar territory. I had no idea what we were going to get from the footage during the weekend, but there were so many things that accidentally worked in the filmís favour. For example all the footage at the start with the children is real. Caitlyn talks about ghosts and witches and that was all true, as she really does see these visions. It fitted with our story perfectly so had to be included.
Some projects you work on feel cursed from day one and Zombie Diaries 2 was an example of that, but Paranormal Diaries: Clophill was quite the opposite. The Luton Paranormal Society became an integral part of the film and were a great bunch. If readers are interested in the paranormal, I highly recommend they check out Luton Paranormal Societyís website at www.lutonparanormal.com as they are very dedicated to all things paranormal. You can also read about their own findings on Clophill there.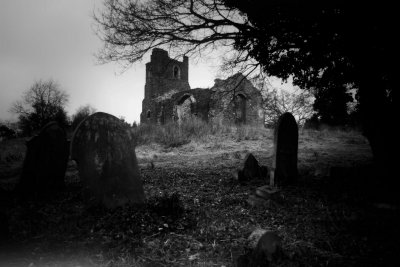 But going back to the shoot, itís the first time Iíve experienced such an atmosphere on set and that is because everything we were doing was real. We really were up at this church with a very real history of black magic Ė they werenít sets or dressed locations. We really were investigating the occult legends and really were alone up there at times during the weekend. In many ways it wasnít really a film shoot in the traditional sense. Iíve since gone back alone at night on full moon and the atmosphere is heightened ten-fold. More recently they are now renovating the ruin, so that feeling, that atmosphere at Clophill will be lost forever, which is a shame. I hope my film goes some way to capturing that feeling of going up to Clophill as it has been a rite of passage for teenagers in Bedfordshire and Hertfordshire for over 50 years.
A few words about audience and critical reception of your movie so far?
The critical reception has been amazing. A lot of the big genre websites and publications have really liked what we did and it was great they felt it was innovative. We received an 8/10 from Starburst magazine, which is phenomenal from such a tiny production. The not so good reviews have generally been where people have thought it was all fake and didnít realise most of it was real. Even renowned critic Kim Newman of Empire magazine dismissed the film as Ďimproví Ė he didnít do his research! But itís all good and the way I look at reviews in general is that you can never please everyone Ė particularly within the indie horror scene. Youíll get those who love the film and those who hate it. So as long as there are people out there who really like the film (critics and audiences) then thatís enough for me. As soon as the film got great reviews on sites like Dread Central, I knew I'd achieved what I set out with the film. IMDb always amuses me and most of the reviews on there where people hated it are from people in Eastern Europe Ė where the film has not been released yet! Itís the casual downloader who may just dismiss Paranormal Diaries: Clophill as another found footage film. They perhaps need to dig a bit deeper, both into the filmís story and their own pockets!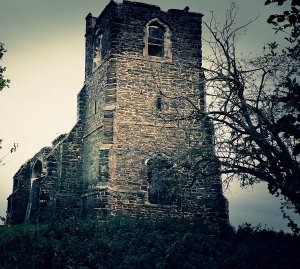 I've read you are planning on doing Paranormal Diaries: Mothman next - anything you can tell us about that one yet, and other future projects you'd like to share?
The Paranormal Diaries: Mothman is a really interesting story set in a remote wood and subterranean tunnels and covers a number of real incidents including occult ceremonies, animal mutilations, Black Shuck and the 8-foot tall creature of the title. There's a link to Paranormal Diaries: Clophill with the story, which is important for continuity. Iím working on getting the approach right before we shoot, so that, like Paranormal Diaries: Clophill, it brings something fresh and innovative to the series. Iíll be assembling a slightly different team this time around, but some familiar faces will return. Itís important for me to become obsessed with the legend Iím exploring, like I did with Paranormal Diaries: Clophill. I uncovered so much information on the incidents up at Old St Maryís in the 1960s and 70s that Iím putting the finishing touches to a book, also called The Paranormal Diaries: Clophill that will be published to tie-in with the US release on 30 September, 2014.
Iím also working on two new feature films that are quite different to the 'diaries' films that I've done up to now and will go into production in 2015. The first is the horror film Forever Darkness that follows a group of soldiers in medieval England who are plunged into a world of perpetual darkness. The second is Desolation Planet, which is a post-apocalyptic tale following the sole survivor of an extinction-level virus that has decimated the planet.
What got you into filmmaking in the first place, and did you receive any formal training on the subject?
Iíd always been a film buff as a kid and particularly enjoyed horror cinema. I always cite the first horror film I ever saw being The Devilís Rain when I was literally about 4 years old. I recall the lurid video sleeve and sneaking down in the night to watch the film that my parents had rented. It was an incredible experience and I know if I saw the film again, it would probably be awful Ė but back then as a kid it was thrilling! Fast forward to my teenage years in the early 1990s and I was studying painting at Art College and found out they ran a film-making course, shooting on Super-8 and video. I signed up immediately and went on to study experimental film at university and never looked back. I would say though that Iíve learnt far more about film-making from the feature films I've made than from any course. Making a feature film is the best way to train yourself and itís not easy. A lot of people are afraid and feel they need to make loads of short films before they can transition across, but thatís nonsense. You've just got to take a leap of faith and the worst thing that will come of it (as long as you don't bankrupt yourself) is you'll learn if making films is for you. If you can retain that passion after the ordeal of making your first feature, then you can go a long way.
What can you tell us about your filmwork prior to Paranormal Diaries: Clophill?
I'd worked on numerous shorts and a few indie features before shooting The Zombie Diaries. The Zombie Diaries was the right film at the right time and was helped incredibly by Romero's Diary of the Dead, which was announced just as we had finished editing and were lining up a Halloween premiere in 2006. The film was picked up by The Weinstein Company as a result and pretty much launched my career. The sequel World of the Dead, started out with similar intentions, but due to two UK distributors wasting our time, with one trying to hold us over a barrel, it soured the passion by the time it finally got green lit. Looking back on World of the Dead now, it feels workman-like and although fairly slick at times, it doesn't capture that same feeling as the first film. The ending where it crosses into a normal movie is where I wanted to say a big fuck you to those who insisted it must be shot found-footage style. It also leaves things open for when Mike and I finally close the trilogy, which will hopefully be soon. Part three will be done right though and will see the final showdown between Goke and Maddox.
How would you describe yourself as a director?
I always describe myself more as a film-maker as I have a pretty well-rounded knowledge of film production. I write, direct, produce, shoot and edit. I have to immerse myself in the world of the script before I shoot and that is more of a psychological thing. If I were to just turn up and direct I wouldn't feel that passion and the project would be soulless.
Directing for me is mostly about casting the right people for your project, helping the actors get into their characters and guiding them during the shoot if they stray in the wrong direction. Itís sometimes easier to illustrate what you donít want than what you do want from a performance, but if you have the right actors on board from the start then 90% of your job is done. If you donít, then youíre just making a lot of hard work for yourself. A film is only as good as its weakest actor and I firmly believe that. I think the acting has consistently improved on each of my films and I'll always work damn hard to make sure that continues.
Filmmakers who inspire you?
The big three are John Carpenter, George Romero and Lucio Fulci [Lucio Fulci bio - click here], but not their entire careers. Carpenter from 1978-1982, Romero from 1968 to 1985 and Fulci from 1979-1982. I think there are very few true auteurs and Fulci is a good example that when his trusted crew moved on, the quality of his films rapidly deteriorated. Carpenter reached a high point with The Thing that he has never matched and the last three Dead movies from Romero haven't been a patch on the first three. Higher profile directors like Stanley Kubrick and James Cameron, the latter particularly in his early days, are also big influences. These days I couldn't care less about the likes of Avatar. The Terminator and Aliens were and still are where it's at with Cameron. Sadly, there aren't any modern directors who inspire me, but that is a problem with the industry, which is mired in remakes, sequels and spin-offs. Instead, I consistently go back to older movies for inspiration.
Your favourite movies?

Feeling lucky ?
Want to
search
any of my partnershops yourself
for more, better results ?

The links below
will take you
just there!!!

Find Kevin Gates
at the amazons ...

amazon.com

amazon.co.uk

amazon.de
Looking for imports ?
Find Kevin Gates here ...
Something naughty ?
(Must be over 18 to go there !)

John Carpenter's The Thing is the number one movie. That set the benchmark and I was completely blown away when I first saw it in the 1980s as a kid. The Blu-ray always comes out once a year without fail.
... and of course, films you really deplore?
A Serbian Film is a film I truly despise. It's not a horror movie, although is marketed in that way and tries to hide its sinister motives behind this ridiculous metaphor that the director has mentioned. I do like controversial movies, including the likes of Cannibal Holocaust, but for me itís just a spectacle of increasingly cruel and sadistic sexual violence. But of course if baby rape is your thing, knock yourself out.
Your/your movie's website, Facebook, whatever else?
Anything else you are dying to mention and I have merely forgotten to ask?
I think Iíve said far too much already.
Thanks for the interview!
My pleasure.