Your new novella Robamapocalypse - in a few words, what is it about?
The premise for Robamapocalypse came about when my publishing partner, D.F. Noble and I decided to do a zombie anthology for StrangeHouse Books, our fiction publishing company. He loves zombie books, I'm not particularly a fan of zombie fiction. There's a TON of it out there, and most of it is bad. Think about all the shitty, knock-off, Z-level zombie flicks you see on Netflix that are just unwatchable. Those are goddamn classics compared to most zombie fiction out there. So for Robamapocalypse, I wanted to do something completely different from what I'd seen before from zombie apocalypse fiction.
It's about a future where a half-mechanized Barack Obama has taken complete control of the only city left standing in the country after the zombie apocalypse - a domed enclosure called Steel City. Once a year, Obama holds the Zombie Fighting Championships, pitting four players against one another in a battle of zombie against remote-controlled zombie. All the zombies are outside Steel City, but a special task force rounds them up and brings them inside especially for the ZFC games, where they're modded and fitted with microchips that allow the players to control them. This year, a terrorist group has threatened to bomb the games and assassinate Lord Emperor Obama. He claims to know the secret identity of the terrorist leader, and plans to expose him during the games. It's really fun stuff, and each scene just builds and builds on the insanity. It's the best thing I've ever written, hands down. So much fun.
Robamapocalypse has been released pretty close to the 2012 presidential election - at all a coincidence, and did you at all intend for your book to carry any overt political messages?
D.F. and I had toyed with the idea of doing an anthology of Obama fiction called, Barack Obama, Savior of the Universe, where all the stories had to be about Obama saving the planet or the universe from some evil nasty or another. That book never came to fruition, but while I was dreaming up the plot for Robamapocalypse, it just fit nicely to have Obama be the oppressive leader. I knew it would coincide with the election and maybe drum up some interest, but at the end of the day, I just though it would be a hilarious premise to have our president be a half-cyborg dictator ruling over the zombie apocalypse.
As for the political message, my political beliefs are very present in the text, but they're not what you'd think. I'm not a Democrat or a Republican. I'm an American that's tired of two Federalist parties playing political sports back and forth while the American people pick this side that doesn't have their interest at heart, or that side that doesn't either. It's a puppet show. And Robamapocalypse is just kind of an absurdist, Bizarro extension of those beliefs. I'm not pro Republican just because the Democratic president is the villain of the piece.
Politics aside, I think the three main influences on Robamapocalypse are post doomsday stories, zombie yarns and of course (modern) gladiator games. Would you agree, and care to elaborate on this for a bit?
Post Apocalyptic tales are a staple in the Bizarro writing community because you can re-shape society any way you want it. You can satirize modern society, take on one from the past, or more often than not, create some entirely new landscape with shades of the past. Social criticism is easy to do from a far-future standpoint, and that's where Robamapocalypse's satirical strength lies.
The zombies in the story are pretty unique and cool, I think. It's VERY hard to do something original with zombies. I just tried my best to think outside the box.
More than gladiator games, I was going for a send up to mixed martial arts and pro wrestling. The story does take place inside a gladiator arena, but the real nut of the fighting is martial arts and wrestling. I've been a wrestling fan all my life, and an MMA fan since the early days of the UFC. I have family that fights. I'm borderline obsessed with the sport. I have so much useless knowledge on the subject that I've always wanted to incorporate into my art. This project was the perfect way to throw it in without it feeling forced or out of place. I don't know many horror fans who would be into a story revolving around cage fighting, but with giant robots and giant zombies made of zombies, I sneak it in and make it work.
Other sources of inspiration when writing Robamapocalypse?
Other Bizarro writers like Carlton Mellick, Jeff Burke and Jordan Krall. I've been wanting to really dig in and do something completely out there and bat-shit crazy. Those guys write awesome cult horror shit that sticks with you long after you put the books down. I am inspired by their creativity and vision every time I read one of their books. But I've also been watching a TON of Japanese splatter gore movies like Tokyo Gore Police and Robogeisha. Those flicks are so much fun. I'm addicted to them. And in the same sense as the Bizarro authors, the Japanese cult flicks inspire me to get crazier and crazier with my fiction every time I set out to write a new book.
Titlewise, Robamapocalypse is somewhat reminiscent of Daniel H.Wilson's bestseller Robopocalypse. Now I presume that's not a total coincidence, but do the similarities go any deeper?
It's just really sort of a riff on all the cheesy -pocalypse titles. Zompocalypse, Vampocalypse, Robopocalypse. It's just a cool, B-movie title that I think fits the story perfectly.
How would you describe Robamapocalypse's brand of humour?
It's comedic satire mixed with extreme violence. There's political satire in there, too, if you're clever enough to catch it.
What can you tell us about critical and audience reception of your novella so far?
Well, it's only been out a week, but so far, early reports suggest that people are digging the hell out of it, getting the humor, understanding the political jabs, and just generally having a good time with it. It's only 80 pages (the print version will have an extended prologue and epilogue) so it moves lightning fast and never gives you time to breathe.
Previously, you have made a name of yourself mainly as a movie director. What got you into writing, and what can you tell us about Kevin Strange, the writer?
I've always been a voracious reader. Ever since I can remember, I've had twin loves in horror movies and horror fiction. Coming from a less than ideal small midwestern town that has absolutely no interest in arts programs, I found it difficult to gain favor for the enthusiasm I had for the arts from my peers or the adult figures in my life. That's partially an excuse for being lazy throughout my teen years, but also completely true. As I came up as a filmmaker, I had very little support from those around me, and downright hostility from others. It took me nearly 5 years of writing Hack Movies screenplays before I ever dared to write any fiction. Without any writing peers (and very few friends who actually read books) it just seemed like a daunting task. But as the sun began to set on my career as a low budget filmmaker (that's another interview entirely) I still felt that artistic hunger to create stories about bizarre people. Fiction writing, for me, was a sort of catharsis that helped me transition away from the torture of low budget filmmaking. And then I fell in love with it completely. I wrote short horror fiction, mostly serious, slow burning stories about relationships, using monsters as allegory, for nearly two years before I really found my true fiction writing voice. As a fiction writer, I'm totally different than the Hack Movies raunchy dialogue writer. Don't get me wrong, my fiction still contains gratuitous, pornographic sex and over-the-top violence and gore, but there's a level of refined maturity to my author voice that surpasses the early days of low budget movie writing. I still write comedy, we're talking about a book called Robamapocalypse for fuck's sake. But writing humor in fiction is a lot harder. Pratfalls and physical comedy have to be replaced with wit and satirical situations. Bizarro fiction is absurdist at heart, but just like comedy movies, it's harder to actually be funny than to THINK you're being funny.
A few words about your literary efforts prior to Robamapocalypse?
As I said before, I wrote for nearly two years before I found myself comfortable enough to engage an actual audience. I wrote about a dozen short stories over that two years, just figuring out what I wanted to say, how I wanted to say it. I was burned out on writing porno-comedy, so at first I took myself in a very dark, serious direction, which you'll see in my upcoming short story collection, Murder Stories for your Face Meat with stories like, I Killed Jessica Again and The Two Hands. But smut is what I do best, and after a while, I got comfortable re-introducing sex as the central theme of my work. In our anthology Strange Sex, I wrote a novella called Cotton Candy all about a college English teacher who pervs his way into a furry gangbang with horrible, violent results. Two words, Cannibal Were-teddybears. After that I started two short novels, both of which will be out in November or December, Vampire Guts in Nuke Town and Face Melting Pizza Freaks, both of which are extremely violent bizarro tales. The later more than the former. Vampire Guts started off as more of a gritty splatterpunk novel, but as I wrote the second draft, I injected more and more weirdness. All three of those books, the shorts collection and the two short novels, will be out before the end of the year.
Tell us a bit about your publishing house StrangeHouse Books?
StrangeHouse Books exist because I absolutely hate relying on someone else to promote my work for me. If I had waited around for some other publisher to pick me up and take a chance with my books, I might STILL be waiting for someone to publish me. Self Publishing is all the rage right now, but an individual author is never as powerful as a pack of us hungry wolves. I started StrangeHouse with D.F. Noble, and brought on our third partner Nicholas Day because we're all voracious readers and writers. They love weird shit as much as I do, and have a passion for horror fiction. The east coast and the west coast have cult horror and bizarro all wrapped up, but the midwest is lacking a strong publisher to really get behind an author's vision without compromising their artistic integrity. We believe in beautiful covers and great writing and bust our asses to put our books in people's faces. We did 9 conventions this year as StrangeHouse Books. That's almost 30 days of sleeping in hotel rooms in cities across the midwest, spreading our weird words to all that will listen. That's why I created StrangeHouse, and that's why after only 1 year, we're already making huge waves and getting noticed by the big players. We're in this to win this.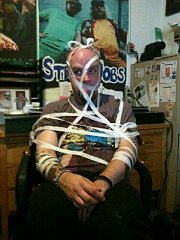 Might sound like a stupid question, but how does writing a novella compare to directing a movie, and in all honesty, which do you prefer?
It's night and day. There really are no similarities except, I suppose, in the writing process. But even that is completely different. When writing a script, you've got to keep every shot, every action, every edit in mind. You've got to think about music cues and all that. As a writer/director, I didn't just write movie scripts. I wrote scenes on paper that I knew I would be personally financing and executing, so a LOT of forethought went into writing for the screen. Writing fiction is another beast entirely. The totality of your vision is there on paper. There are no music cues or actors or budgets or special FX to worry about. The art is in the words. Is it easier? In some ways, yes, in other ways it's a lot harder. Your character's voices, personalities, gestures, appearance are all controlled by words, not visual pictures. Writing fiction gives you an opportunity to explore characters and worlds with much more depth and detail than a movie, especially the ultra low-budget fare I'm known for.
Any future projects (in whatever medium) you'd like to share?
Just more StrangeHouse, all day long. We've got our Zombie Anthology, Zombie! Zombie! Brain! Bang!, D.F. Noble's Grownups Must Die, my two novels, Kyle Noble's Baby Fever - and that's just what's left to come out in 2012! We're hitting the road stronger and stranger next year and we plan to sign even more authors to the label. We're taking over cult horror. One city at a time.
Your/your book's/your company's website, Facebook, whatever else?
The best place to find our shit is www.StrangeHouseBooks.com, our Facebook, www.facebook.com/strangehousebooks, www.goodreads.com/kevinstrange, www.goodreads.com/donnoble, you can hear audio stories and watch our crazy Road Vlogs over at www.youtube.com/kevinstrange and of course you can find all of our books on www.amazon.com. If you search StrangeHouse Books, all our releases will pop up including 99 cent stories exclusively available on Kindle.
Anything else you are dying to mention and I have merely forgotten to ask?

Feeling lucky ?
Want to search for books by
Kevin Strange
yourself ?
The links below
will take you
just there !!!


No man, I think that about wraps it up. Just check out Robamapocalypse on Amazon Kindle for just 99 cents from now until the election in November. After that, it's going up to 2.99 like the rest of our Kindle stuff.
Actually yeah, I guess I should mention that if any aspiring authors, or even established authors looking for a publisher that actually PROMOTES their work, drop us a line over at strangehousesubmissions@gmail.com. We're interested in novels, novellas, and short story collections in the hardcore horror, bizarro, and lovecraftian horror genres right now. Hit us up, show us a sample of your work, and maybe we can work something out!
Thanks for the interview!
Thank you, man! We always appreciate the support, and hope we can grab you Hack Movies fans and bring you over to the REALLY fucked up side with StrangeHouse Books!