Your new film Bleed with Me premiered only recently. A few words about that movie?
It starts off with a girl named Laura whose day starts off on a very bad note. She is obviously haunted by ghosts of her past, and after a very emotional phonecall from her drunk, out-her-mind mother she goes off to work as a barmaid. As the bar closes she encounters a very unsympathetic man and she nearly ends up getting raped. Now you might think this would be more than enough for one day, but as she is going home she catches a taxi and the chauffeur of that taxi is about to present her to something much worse than anything else the day has brought her.
People seem to enjoy it. In general it has a very mellow athmosphere interrupted by disturbing happenings, so I was very curious if those quiet passages would hold up aswell, but we seemed to be able to grab a great tension even if it seemed like a quiet passage that apparently had people on the edge of their seats. And that was exactly what we were going for, you know, getting some psychological horror into the picture as well - so I'd say it was a success on the film festivals who've shown it so far.
Your performance in Bleed with Me is totally (and fittingly) creepy. What do you draw on to bring a disturbing character like the one in the film to life?
Thanks ... I guess ... It helps it you're a real-life psycho like myself! Haha ... no seriously, it's a good question. I guess each actor develops his own methods and expressions when they go along. I didn't really have any real-life experiences to draw from for that particular role, haha ...
In Bleed with Me, you don't only play the lead, you have also produced the film. What got you interested in the project in the first place, and how did the whole thing come together?
For starters I was only involved as an actor, but due to some production problems and myself gaining more and more experience in the field of production (behind the cameras), I offered them help to finish the film, so in reality I was only a producer on the post-production part of the film.
Did you have any kind of creative influence on Bleed with Me?
Like said, the producer thing didn't kick in until long after the film was filmed, but yes, the director Emil Ishii and myself had long talks about what you could do here and there, and he was very open to suggestions.
Your latest film as a director was Invasion of Privacy, the first segment of Horror Vault 2. A few words about your segment?
Well I tend to take everyday things and see if I can tell a story around them. Usually things I find interesting of course. My segment in The Horror Vault 2 is named Invasion of Privacy and it's based on the idea on how to you could abuse the surveillance society to its fullest extent. Actually the main idea struck me when I saw the music video for the Nine Inch Nails song Survivalism (and funnily enough it also ended up participating in the film competition later held by that very group - see below), and it brought back memories to the old Sharon Stone/William Baldwin film Sliver that also has some of the same elements. I guess you can easily say there is quite a few nods to the Jim Carry flick The Truman Show in it as welI, I found it quite interesting to work with.
Also I wanted to point a finger at some of those ridiculous reality TV shows around - I mean, I've never understood why people would volunteer to them, most of them are terrible! But at least these people chose the humiliations themselves, the girls in my story don't. In fact, they don't even know they're being watched. The first Horror Vault contains a segment named Mental Distortion about a young man who wakes up on the floor of his apartment and have no memory of what he is doing there. He finds his girlfriend drowned in the bathroom and tries to revive her, but it is too late. This is a story I read about in the media that actually happened a few years back. When it obviously doesn't end there, but I'm not gonna reveal anything else, you'll have to see it instead, hehe ...
As far as I know, Invasion of Privacy (or parts thereof) were also entered in Nine Inch Nails' Ghost-film festival. Which parts, and in which way did that version differ from the finished product in Horror Vault 2?
Well what participated in the contest was only a combined storyline of some of the things going on in the film, of course with the Ghosts music as background. I thought it made for a nice little story of its own, of course without the punchline and initial start scenes that are in Horror Vault 2. It is more a situation taken out of a whole, I guess you could say.
I've been a Nine Inch Nails fan for years and when I heard they were doing this competition, I just knew I had to participate. Unfortunately I was way too busy to come up with something completely new, and as I was editing the Invasion-segment at the time it struck me that parts of it would actually stand alone nicely with the music as background, so that's what happened.
Horror Vault 2 was another film you also produced. How did that film get off the ground, and how much input did you have on the segments you did not direct?
Well I picked and chose among the segments and found the ones I thought suited the collection the best. Myself I only directed that one segment, Invasion of Privacy.
Will there ever be more Horror Vault-movies, and if yes, will you direct segments of those as well?
Yeah there will be a third installment aswell at some point, as it was meant as a sort of trilogy thing. Some time in 2010 I guess. If I'll direct something for it myself is yet unknown as I currently have two feature films I wanna finish first, but we'll see. I probably won't be able to keep my fingers out of it ;-)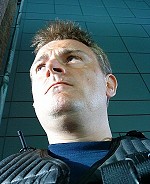 Kim Sønderholm in
The Grey Gold
Are there any other films you did since our last interview (click here!) that you'd like to talk about?
Well yes there's been a couple, but at this time I'd rather not say too much. I believe the producers would like a little control in what is being said, but I've been doing some roles in various films, The Grey Gold (working title) by Shaky Gonzalez, He Brings Death by Jeff Bolin, Twisted Trash by Russ Diaper, Through Darkness by David Sakurai/Daniell Edwards, Zombie Ed by Ren Blood, plus of course I'm currently struggling to have my two feature films Tour De Force and Little Big Boy shot by the end of the year and hopefully done and ready for the release during the spring of 2010.
Your/your films' websites, MySpaces, whatever else?
Well for those of you who are on facebook I'd recommend you sign up for my group Kim Sønderholm's Rumor Control which is not an egomanical fanpage by myself about myself, but sort of an update page of what's going on. It's spam free so you don't have to worry about getting 10 mails a day, I'm only gonna send out updates when I feel ithey're relevant.
Other than that there is my homepage www.sonderholm.net which is also a good way of finding more info and updates.
Especially in the films you also have a hand in production (Bleed with Me, but also Craig and the Horror Vault-movies), you tend to play dark, psychotic characters. Why are you drawn to this kind of role?
It's always more fun to play a villain, it's really as simple as that. I wish I could give you a more psychological explanation but as a private person I'm a really nice guy, haha!
Is there any role you would just be dying to play (no matter how improbable)?
Haha ... I think I've played a fair amount of improbable roles, actually ... but being the bad guy is almost the most fun, you can do anything without having to worry about having the audience's sympathy. Also anti-heroes are good too, but clean cut heroes sounds abit boring to me ...
Of late, you have acted predominantly in horror thrillers. Is horror a genre especially dear to you?
It's quite important for me to mention that I'm not just about horror, though. I like films of all sorts and as an actor I've done pretty much all genres - comedy and drama as well. Next up is gonna be a thriller and after that possibly a drama, so I'm trying to broaden myself as much as possible, but it's no secret I have a secret crush on horror and action as those were the sort of films I grew up with and made me love film in the first place.
Any future projects you'd like to talk about?

Feeling lucky ?
Want to
search
any of my partnershops yourself
for more, better results ?

The links below
will take you
just there!!!

Find Kim Sønderholm
at the amazons ...

amazon.com

amazon.co.uk

amazon.de
Looking for imports ?
Find Kim Sønderholm here ...
Something naughty ?
(Must be over 18 to go there !)

Yes, well my plans are to have my two new features Tour De Force and Little Big Boy shot by the end of the year and hopefully finished by spring of 2010. My production company Cetus Productions is also working on a thriller of the supernatural sort called Silverthread. I'm not quite up to speed about the progress right now as I'm primarily a consultant on it for the time being, but it should be finished some time in 2010 too. Then I'm already developing my fourth feature film in my head, but I'm gonna wait going any further on it till Tour de Force and Little Big Boy are completely finished. But it's gonna be a pretty cool thriller about a man looking for his lost sister. And then ofcourse, there are a bunch of project where I'm involved as an actor only, but I'm gonna hesitate mentioning them too much as I'm sure the producers of those films would like to control what info is going out ;-)
Anything else you are just dying to tell us and I have simply forgotten to ask?
Can't think of anything ...
Thank you for the interview!
You're most welcome :-)