Your new movie Son of Ghostman - in a few words, what is it about?
Son of Ghostman pays homage to 1980ís romantic comedies with heart, similar to the ones John Hughes made so indelible. Our story is about a recently dumped and unemployed man who moonlights as the 'son' of his childhood hero, a horror host named Ghostman. When his videos go viral, he must settle an old score, while keeping his identity secret from the new woman he's fallen for.
Obvious question (well, at least for all who aren't die-hard horror fans): Why make a horror host the center of your story, and your take on horror hosts to begin with?
I adore horror hosts, both big and small. I think what they do is so strange, and yet thatís what makes them beautiful. It takes a certain type of person to wake up in the morning and decide to put on monster makeup and write silly sketches. For the most part, theyíre not famous. These are creative people with a day job. They do it for the love and itís because itís who they are. I thought this would make a fantastic metaphor for the kind of themes I wanted to explore - insecurity about the future, growing up, staying true to yourself, and making people happy.
(Other) sources of inspiration when writing Son of Ghostman? And how much of yourself do you find in your lead character Denny?
From a story standpoint, early John Hughes and Cameron Crowe are monumental influences on what I try to do today. I find something so sweet about their work, and yet they donít go over the line into sappiness. Their stories have universal appeal. From a filmmaking standpoint, Edward Burns and Kevin Smith have obviously influenced my confidence and belief that we could pull off an indie film of this capacity. Theyíre so supportive of people just doing it, so much so that in some ways I felt like they were talking directly to me. "Get up! Go! Direct your film!" Finally, and I know this is weird, but a wrestler named CM Punk and his recent ascension to the top of the WWE actually had an impact in me saying "screw it, Iím going to do this my way because Iím tired of being passed over in Hollywood by lesser talents." It was the final spark I needed. I know, weird.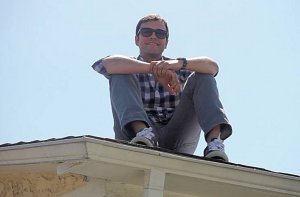 In that way though, Iím not like Denny. I have more confidence, at least outwardly so. But yes, certainly the questions about what to do with my life invade my everyday routine. Itís an incredibly tough business, and Iím grateful for all the support I have. Like Denny, I struggle with whether or not what Iím trying to do matters to anyone, and if some people view me as a loser like Denny. Again though, like Denny says in the movie, if thatís being a loser, then I think the world needs more losers.
How would you describe your directorial approach to your story at hand?
Most importantly, I want people to have fun on set. Youíre making a movie! Not to say that there isnít serious work to do, but when youíre running around town wearing bizarre costumes and filming it? It should be fun. I want the actors to feel comfortable, to know that I will do everything in my power to make them look good. I want them to feel like stars and that theyíre part of something bigger. I have no problems with improvisation, and weíll always try something. In the end, if it works? Awesome. As a director, I think youíre utterly foolish to not let people have the opportunity to collaborate and contribute. Itís about the film, not ego. So I try to maintain that atmosphere, while also remaining cognizant of the entire piece and the tone weíre setting. Sometimes you have to say no, but you have to let people feel comfortable enough to ask.
You also play "Dracool", a(n, and I'm sorry for being so blunt) complete arsehole, in Son of Ghostman - so how much fun was it to play that character, and who/what did you base him on, both when writing and playing him?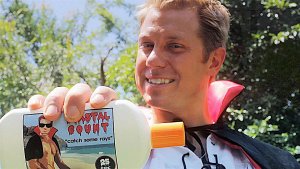 Kurt Larson as Count Dracool
Thank you so much! Thatís a great compliment! I LOVED playing Count Dracool, and my only regret is not being able to give him even more to do. I love the interaction between him and Denny, partly because I could feel our scenes working so well - a testament to Devin Ordoyne.
Dracool is really a mixture of Rex Manning (Empire Records), Shooter McGavin (Happy Gilmore) and Johnny Lawrence (The Karate Kid). Iíll also admit that the idea of this moronic vampire pushing a product (Coastal Count Sunblock) came from watching the absolutely brilliant documentary King of Kong and specifically Billy Mitchellís hot sauce. It just added another level of sleaziness to Count Dracool. I knew I could go farther with Dracool than any other character in the film. If Claire represented the real world, Dracool was the opposite. Therefore, I donít have any heavy scenes, I could just be an absolute moron.
What can you tell us about the rest of your cast, and why exactly these people?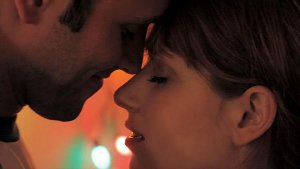 Devin Ordoyne and Angela Gulner
Devin Ordoyne and Angela Gulner were the anchors of our film, their passion and giving nature really extended to the entire cast. Iím so proud of their work, and it angers me that theyíre not bigger names. Yet.
I think if Angela chooses her projects wisely and on merit, rather than simply because it's something to do, she could be an enormous talent in the industry. I chose her because sheís really endearing and stunning, but still goofy and vulnerable. Iím a huge fan of both her and Devin. Heís another guy, if you can contain his early work to these types of relatable guys, his career will skyrocket. Then, he can show his range. Heís just so damn likeable when heís being dorky. Their chemistry was palpable, and I couldnít imagine anyone else in those roles.
They, along with Daniel McCann and Matthew Boehm, auditioned several times before being cast. I really feel lucky to have gotten them. They didnít know it, but I loved the unspoken thread between Daniel and Matthew as actors. Daniel is a veteran, a professional, and just an overall incredibly warm man. Matthew is just starting out, and I personally feel the need to protect him from traps I myself fell into early on. Heís so fresh, and his obvious innate talent will develop deeper in time, heís just gotta remember the big picture. He will, heís smart. Looking at the two of them, it was like looking at the before and after, two actors at different stages on the same path.
Finally, my friends filled out the other various roles in the film. Los Angeles is filled with talented actors, and I will always try to utilize people I admire and respect. Most importantly, Marlon Correa (Carlo) is one of my closest friends, and someone who I think defines what an actor is. He truly loves it, and heís gifted in a variety of ways. I was so thrilled he gave me the honor of showing off his comedic side. He really elevated the role of Carlo, and Iím indebted to his friendship. This guy can act, heís the real deal.
Do talk about the shoot as such for a bit, and the on-set atmosphere?
For the most part, the atmosphere was full of excitement. By nature, Iím a fairly passionate guy. My film partner, Gabriel Guyer, was the same way. I think that helped produce the type of environment we wanted - fun, collaborative, and one of family. I wanted everyone to feel like I did, which was one of total and complete delusional hope. The industry can beat you down, and a lot of people will tell you that youíre not good enough to do this or talented enough to do that, but I felt (and still do) much differently. I havenít given up the dream, and neither has my cast and crew. They ARE talented, and anyone that says differently hasnít a clue.
The story of Denny is very much our story, so the on-set days felt very liberating. We honestly felt like a bunch of pirates, not caring what anyone said, we were going to do this thing. A misfit toy doesnít make much noise, but an island of misfit toys?
We shot for roughly 30 days, with four major weeks of shooting. Most of our sets were shot guerrilla style. I would come up with shots the night before, and Gabriel and I would think of how best to accomplish the tasks at hand for the day ahead. I shot. He did sound. 12-14 hours a day for us. We both did lighting when needed. Our wives and sisters helped out with catering and set dressing. Sometimes, friends like Marlon would hold the boom or camera. But as you can see from the film, this isnít a typical 2-man micro-budget film. We have tons of costumes and tons of locations. Combine that with random obstacles - chainsaws, carpenter ants, crowds and screeching cats? It was controlled chaos. There were many moments when I wanted to scream or voice my insecurities. But as the guy running the whole thing, I couldnít. I simply had to remind myself that I could do it, I could figure it out. We could do it. Together with all of these wonderful, giving and talented people, we did.
What can you tell us about critical and audience reception of Son of Ghostman so far?
Iíve been floored Michael. Iím a pretty honest guy, so itís not hyperbole when I say Iíve teared up many times at the comments and support weíve gotten. I really love the film, and I think I have a decent barometer of what works and what doesnít. I really felt that what we set out to achieve, we did. Still, like any other creative person, I am crippled by fear and anxiety over my work. Because of how much I liked the end product, I often wondered how delusional was.
Thankfully, those fears have been erased and it seems that by and large, people are really enjoying the sweet nature of the film. I certainly donít expect everyone to like it, and Iím well aware of its flaws. But as I said all along, I thought the audience was there. The response has been validating, rewarding, and touching.The horror community has given us so much love, and I only hope people know that it is absolutely noted and appreciated, far more than they can imagine.
I am very proud of the film, and well worth watching.
Any future projects beyond Son of Ghostman you'd like to share?
Son of Ghostman took over 3 years to make, and in that time, Iíve accumulated dozens of potential ideas and scripts. Iím really focused on enjoying the filmís reaction, developing those new ideas, and podcasting every week (Stay Cool, Geek).
But as far as making another film? Yes. Emphatically! Film is in my blood. I love it.
As far as I know, you originally started out as an actor - so what can you tell us about your acting career, and did you receive any formal education on the subject?
Like most people, I started acting in high school. I received sporadic training at my college, Bradley University. There, I had a lovely professor, Paul Kassel, who really taught me as much about myself as he did acting. Stage acting gave me a solid base, but my passion was film. Itís two completely different types of acting, and understanding that is half the battle.
I took a variety of acting classes out here in Los Angeles, Larry Moss and Young Actorís Space, but I believe you learn most of your skills on-set. This might be my first film as a director, but I have produced dozens of shorts, videos, and sketches. Anything to be in front of a camera. Each time, I learn something new.
I really yearn to work with a director who will push and challenge me as an actor, someone I can trust. I have so much to learn as an actor, and I still find it fantastically difficult. Sometimes I donít feel like Iím standing on as solid of ground with acting as I do writing, but thatís what makes it fun. The risk is infectious.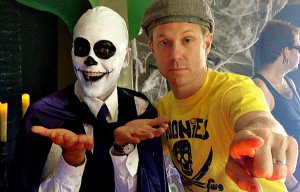 Kurt Larson directing the "Son of Ghostman"
What made you pick up writing and directing eventually?
Matt Damon & Ben Affleck changed my entire life with Good Will Hunting. As an actor, I never realized you could write your own parts until that movie came out. Combine that with ultra-low budget success stories like Clerks and The Brothers McMullen - it just seemed logical to emulate that success. How naÔve I was! Iím basically self-taught on screenwriting. You have to remember, the filmmaking bug that now exists wasnít nearly as prolific back then, so there was literally no one I could go to in Central Illinois that could assist in my aspirations to write screenplays. I went to teachers and I went to friends, but no one could help. For some strange reason, I just started doing it and immediately fell in love with it. I found a way to express my voice through characters, and I was hooked. I also surveyed the scene and thought, hmm, Iím not particularly good lookingÖ Iím not particularly trainedÖ really, Iím completely unknownÖ what do I have that other actors donít? I figured writing was another skill in the tool belt that could lead to acting jobs. It was a very practical decision at first, but in time became something I held sacred.
I love writing. It will be a part of my life forever.
On the other hand. directing was just an offshoot of needing to make a film. Believe it or not, I was never the guy that wanted to direct. With Son of Ghostman though, I really felt there was no other option. Now of course, I love that as well!
Do talk about your filmwork prior to Son of Ghostman for a bit (in whatever position)!
Iíve been fortunate enough to work on both big and small film projects. Having those experiences, it really does give a complete picture of filmmaking, and it seems to me that no matter what the budget, it still comes down to story. Working on The Terminal and Jarhead were amazing glimpses into the mechanisms that make big-budget movies work. The amount of people with jobs and responsibilities is staggering, and seeing masters like Sam Mendes and Steven Spielberg deftly manage everyone is awe-inspiring. On both those films, my role was small, and yet the time and energy they gave to each of those scenes was incredible. They really care about every detail. True, true artists. Conversely, Iíve done small films like Losing Lenny, and I equally enjoyed the experience of making something work out of limited resources. Itís fairly empowering, and I couldnít have asked for better people to work with. All in all, I feel lucky to have had such well-rounded opportunities.
How would you describe yourself as an actor, a writer, and a director?
As an actor, Iíve changed dramatically in terms of needs. When I was younger, I was desperate for validation and attention. I see so clearly now that it serves no purpose. Nowadays, I just want to give the director what he asks for. I try to leave them alone, and just do my job. If I can add to their vision, awesome, but Iím really looking to just serve the role and more importantly, make my coworkersí jobs easier. Personally, I havenít a lot of desire to play leads or leading men, I find more enjoyment out of smaller roles or ensemble pieces. To be a part of a cast with little egos and the genuine common goal of making a good story? Wow, thatís fun.
As a writer, I tend to be drawn towards stories with universal themes but odd backdrops or settings. Not so odd that the general audience is turned off, but strange enough that some people think itís bizarre. I think the combination of typical studio fare with an indie sensibility is fairly perfect. I strive for that. I like witty, quirky comedy with lots of heart. This isnít to say I donít venture out into other genres, but this is usually what I like. Unlike some of my contemporaries, I fully believe in the studio system and helping to make it better.
As a director, Iím an actorís director first. I love working with actors. I come from that world, so anytime I can help bring out someoneís talent, it makes me happy. I have no desire to direct a story Iím not interested in. Writing and acting will remain my primary vocations, and directing personal stories along the way would be cool too. I really enjoyed the process, I canít deny that.
Filmmakers, actors, whatever else who inspire you?
Wow Michael, there are so many! And it changes all the time! Other than the ones I mentioned, Iím inspired by the writing of Judd Apatow, Nat Faxon, and Jim Rash. Theyíre at the top of my genre, and they push me to get better. I also love the spirit of the Duplass brothers, really inspiring stuff there.
Iím terrified of David Fincher, in that heís so intelligent and gifted, I just donít know if I could hold my own as an actor in one of his films. At the same time, Iíd go in headfirst given the opportunity. He expects and demands the best, and so Iíd give it everything I had. Along the same lines, Iíd pretty much cut off my pinkie for a scene or two in a Paul Thomas Anderson film. Talk about artist, unbelievable! Heís one of a kindÖ
I have a slew of favorite actors. I love what Brad Pitt has done with his career, and Matt Damon remains a hero of mine. Iím an unabashed Tom Cruise fan, he simply is that good. Totally underrated. Actors I find interesting in a one of kind way include Sam Rockwell, Robert Downey jr, and Joaquin Phoenix. Theyíre just mega-talents man. So good and so much still ahead of them - I love watching them work. And of course, being a Chicago guy, I have a lot of love for Bill Murray. Now thatís a guy Iíd be fascinated to work with - as a fellow actor, directing him, or just getting him his lunch!
Your favourite movies?
The list starts and ends with the original Star Wars trilogy. Theyíre it for me. In between those, some of my favorites include Say Anything, The Breakfast Club, Swingers, Boogie Nights, The Dark Knight Returns, Field of Dreams, The Fantastic Mr. Fox, Stranger Than Fiction, Jerry MaguireÖ oh and recently, I absolutely adored Robot & Frank.
... and of course, films you really deplore?
Well, I donít like to disparage anyoneís work publicly, but itís no secret I am absolutely appalled that the South by Southwest Film Festival actively promotes itself as a hip and progressive film festival, but last year their opening night film was The Incredible Burt Wonderstone. That really bothers me, and I genuinely think they owe real independent filmmakers an apology.
I also very much like Adam Sandler the man, but I desperately wish heíd scrap all these obscenely poorly executed movies and do something interesting like he did with Punchdrunk Love or Funny People. Both those films are tremendous, and heís capable of a lot more than what heís putting out. I think heís so nice that we give him a pass. Like I said, I like him, but those moviesÖ
Your website, Facebook, whatever else?

Feeling lucky ?
Want to
search
any of my partnershops yourself
for more, better results ?

The links below
will take you
just there!!!

Find Kurt Larson
at the amazons ...

amazon.com

amazon.co.uk

amazon.de
Looking for imports ?
Find Kurt Larson here ...
Something naughty ?
(Must be over 18 to go there !)

I blog over at www.kurtedwardlarson.com
I tweet a lot from the account KurtEdwardL
Iím on Facebook as KurtEdwardLarson.
And my podcast is on itunes, search: Stay Cool, Geek
Anything else you are dying to mention and I have merely forgotten to ask?
Just that I want to thank you for this wonderful outlet, and for reviewing the film. I love where the movie business is right now, and I encourage anyone reading to seek out independent film in any fashion. It doesnít have to be mine, there are so many gifted storytellers out there, you may find theyíre just as good or not better than the stars you know. Give them a chance. Theyíll appreciate it more than you knowÖ and Iím not talking about "independent" films that really arenít independent at all, Iím talking about films filled with faces youíve never seen. Films on Vimeo. Films on YouTube. Films buried in Netflix and iTunes. Those are the true indie filmmakers, and those are the voices that need encouragement and support. Ok, off my soapbox!
Thanks for the interview!
Thank you so much, I thoroughly enjoyed it!