First of all, why don't you introduce yourself to those of us who don't alredy know you?
Hello all, my name's Lee Taylor, author name L A Taylor. I'm a British horror author of two action style gore novels. I live in a town where no one seems to read, so I think the stork dropped me off in the wrong place, and probably the wrong country. Anyway, I write what I see inside my mind, so my stories tend to read like movies on paper. Not script like, but most readers of my books have told me they'd seen the places I use in their minds as they read them. They also could vision the people, the horror, the monsters, so felt like they were inside my stories as well. That is what I want to bring to the table of writing. I want people to vision what I saw when I wrote my novels, and, if they enjoyed living in my warped horror world when they read it then that's a bonus.
Your writing tends to invariably lean towards horror - a genre at all dear to you, and why (not)? And how would you describe your approach to the genre?
Yes, so far my novels have all been aimed at the horror market. I suppose it goes back to my childhood, the movies I saw, the books I'd read, or wasn't supposed to read. I suppose I approach the genre with new ideas, fresh ones to shake it up a bit. I have an idea to resurrect some of the older classic books from the 70's/80's era and add my own dimension to them. My first novel is a classic case of an idea based on an old zombie movie from when I was a child, but I'm hoping my twisted mind brings more to the genre than just your usual gore horror story. I want my novels to hit the big screen one day so why write something with no story, just gore?? I hope my books are liked because of the story as much as the horror.
You have recently adapted two of your novels, Bed Bugs - Can You See Them? and Clifton Falls, into screenplays. Basic question: What convinced you that the both of them would make great movies?
What convinced me? Well that's simple, my mind did. I've always been a movie nut, no matter what genre, but horror was my favorite back when I was growing up. I remember watching the zombie movie The Living Dead at the Manchester Morgue as a child. It scared me so much that I couldn't move for ages. I have no idea why I wrote a zombie novel as my first novel, but I have a feeling that movie left an imprint inside my mind for twenty years before I wrote my own version of what I wanted a zombie novel to look like. I chose a great story, good characters, and a zombie tale that could develop into more tales. Whether it be in a TV series or multiple movies. I didn't go with the usual story where zombies are everywhere pretty quickly. I went with an idea of how to get them into my story, and how to keep them in my story, especially as I don't have hundreds of zombies in this story.
Bedbugs was based on the old saying "Night, night, sleep tight, and don't let the bedbugs bite". As a child that saying would scare me half to death, and I would hide underneath my covers to stop the mystery bedbugs from biting me. I didn't know the saying was aimed at actual bugs in the bed. I thought it was about real bugs that came in the night to eat you. Yes, my imagination was crazy as a child. My story is set in the year 2050, and has alien bedbugs in it. Same size as normal bedbugs but these do eat you, alive. My reason to why this will make a great movie is because I can't remember anyone actually directing a movie aimed at this saying. Yes, I've seen movies about the Bogeyman, the Tooth Fairy, and even about monsters in the closet or under the bed, but not about this. Plus, my story has a good setting, great characters, and plenty of action, horror.
Let's start with Bed Bugs - Can You See Them? - what's that one about?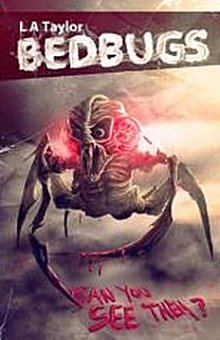 Bedbugs is about a small town that gets invaded by alien, man-eating bugs. The main story is set in the year 2050, but 73 years earlier, 5 people were slaughtered in their beds during the night. Nothing happened after that, no killer was found, and no clues to why the deaths happened, but in the year 2050 a young boy was slaughtered in his bed after his mother said the words "Night, night, sleep tight, and don't let the Bedbugs bite." The local police inspector has to work overtime to find out why this happened and to why the town is suddenly missing a few people, so after investigating the case, he finds out that the same type of murder happened in the year 1977, and a witness to the event was his grandfather. He was 8 years old back then. During the investigation more people are either torn apart by the mystery killer or have disappeared into thin air. A mad hunt is on, and all members of the police force are required to help track down who or what is behind the murders. After a visit to see his grandfather, the police inspector starts to put pieces of the jigsaw together to unravel the mystery of how a spaceship crashed beneath the surface of Lemonsville undetected, and why tiny hunters are eating their way through the population in a quest to take over the Earth.
What inspired you to write Bed Bugs - Can You See Them? - and any personal experiences with bedbugs (both alien and terrestrial) of any kind?
My inspiration comes from the old saying. The story was partly written many years before I actually finished the novel, and with outbreaks of real life bedbugs in America, I wanted to finish it off to show my American friends my version of a bedbug outbreak. And no, I've not had any personal experiences with bedbugs, even the alien kind.
What do you think would make Bed Bugs - Can You See Them? a particularly great movie - but also where do you see the challenges?
I think this would make a great movie because it has sci-fi in it, alien beings, a great story idea based around a town of frightened humans who are being hunted by something they don't see, or only see for a split second before they are killed. I find this feeling very disturbing, not knowing where to hide, when to sleep, or where the enemy is. The challenges would come within the science fiction side. I'm hoping I've written a good enough story that can adapt my future world to make it not too futuristic in the settings, even though I do have some cool police weaponry in it. I think it would be tough to make this with a small budget, well to make it as it should be.
Clifton Falls - again, what is it about?
Clifton Falls is set in the small farming town of Clifton Falls. The farming company is struggling to make a profit, so it becomes a guinea pig for a new chemical fertilizer. What happens after the fertilizer is used becomes a mystery for this town. A crazy rain storm washes down on the farm and the fertilizer seeps down to the edge of the field, where a man ended his own life days before. No one expected someone to kill themselves in this town, so no one checked the field for him. He wasn't dead for long, and he starts off the virus style outbreak that ends up turning people into crazy, flesh-eating zombies. Those that die end up at the hospital, and those who still have brain activity become that of the living dead. This virus becomes unstoppable as more and more people are left victims. The local police force try their best to maintain the problem within the town, as they don't want any outsiders coming in and taking the virus back with them, but keeping the virus maintained becomes a struggle for them.
How would you describe the zombies in Clifton Falls - as in slow-moving vs marathon runners, voodoo-style vs Romero-school, flesh-eating vs non-eating-at-all, ...?
I'm a huge fan of Romero, so my zombies are based on his creation. However, as there's not loads in my story I didn't want them being just slow and boring, so I created them with thought. They think, they hunt you down.
There are zombie-movies a dime a dozen - so how do you think Clifton Falls would stick out of the crowd?
I think Clifton Falls will stick out from the crowd because it's not just a zombie story. I have a bank robbery scene at the beginning, so there's another story inside the zombie one, where as the robbers try to get their cash while the zombie outbreak is happening all around them. I also have emotion in this story. A lot of zombie flicks is about you versus the zombie. A gang of humans fight a bunch of zombies with blood & guts added in. For me it's okay, but I wanted characters, feeling, emotion for my zombie tale. A story about a small, struggling town that have to band together to fight off the rabid style attackers. I think it works.

In choosing the right producer/filmmaker - what are your criteria that must be fulfilled before you hand your stuff over? And to turn the question on its head right away, how can producers and filmmakers get in touch with you regarding your scripts?
I've spent many years mastering my stories to make them not only readable, but enjoyable to read, so I don't want to hand the scripts over to someone who wants to make a movie with their mates. I want to be able to earn a living from writing, or selling my scripts, so I have to think hard about who to talk to. I want to find someone who can think a bit like me, that is passionate like me, that wants to tell the story like the way I would, and who can convince me they are who I am looking for. If any producers and filmmakers want to get in touch with me then you can either email me on - lee.taylor347@ntlworld.com or tweet me @mrwriterman or even view my website to send me a message - www.morgueofthedead.webs.com
Any other books and screenplays of yours you want to talk about?
My third novel The S.T.A.R.S. Project should be released by the end of 2013. It's my tribute to the late James Herbert, and is my version of what a killer rats story should be. Again, based on a story I wrote 20 years ago, and inspired by The Rats novel, I resurrected this story last year to rewrite for its 20th Anniversary. Below is the back cover blog...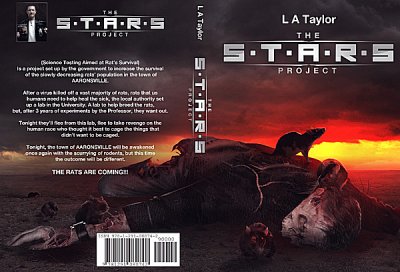 "S.T.A.R.S. (Science testing aimed at rat's survival) is a project set up by the government to increase the survival of the slowly decreasing rat's population in the town of AARONSVILLE, North of England. In today's society rats have become a lifeline for people. Their blood is used to heal the sick, but a worldwide virus killed off most of the population a few years ago. This virus was known as the rodent killer. The local government decided to set up a lab to help maintain the rats, and to mate them for the future. The lab was safe from the virus. Now, a few years later, a change has happened, a change within the rats has arrived. They have grown wise to the people, and now they want out. Scientists have been studying these rodents for a long time, but now, these rodents have begun to study them. They sit and watch the humans from behind their glass cages, they sit and they plan, they plan an escape. Tonight they'll flee from this lab, flee to take revenge on the human race who thought it best to cage the things that didn't want to be caged. Tonight, the town of AARONSVILLE will be awakened once again with the scurrying of rodents, but this time the outcome will be different.
THE RATS ARE COMING!!!"
I'm also working with my American scriptwriter on another zombie script, but I'm not allowed to give too much away at this time. It's not in novel form, so it's based on an idea that my imagination has brought together. We're 20 pages in so far and it's looking pretty good. Again, it's different to the usual zombie movie ideas, so I'm hoping it's a hit.
What made you decide to pick up writing in the first place - and what caused the leap from writer to screenwriter?
I have no idea why I started writing. Seriously I don't, but I remember writing long stories while at school, and I remember writing stories aged 10 to be read to younger children. After leaving school I carried on with my sketching, but not writing. It wasn't until I was at college in 1993 that I started writing my rats story. Only because someone challenged me to a story-writing competition. I had no idea the story would be well-liked. And yes, I did win. The leap to scripts is because I write action movie-style stories that read like movies, so it was the wisest choice for me to adapt my stories to scripts.
Any future projects of yours you'd like to talk about?
I have the audio of Clifton Falls coming out for sale with Amazon on the 9th July, but don't quote me. The date has been changed so many times already with the audio company that it's hard to know for sure, but they sent me a message with the date recently. I'm working with an audio narrator in the UK for my Bedbugs story. He sounds a lot like Ewan McGregor, so that's cool. The script for my rats novel should hopefully be written by next year, so all in all I should be busy.
How would you describe yourself as a writer?
I'm a passionate writer who likes to picture everything within my mind before I write it. If I can't see it then it won't be written. I like to write fun action thrill ride stories that take the reader on an adventure into forbidden territories within my mind. I don't do boring...
Writers, filmmakers, whatever else who inspire you?
I'm inspired by everyone who can make me sit up and take notice, from horror novelists to romance directors. I don't have favorites, I just like a lot of different styles. I suppose Zack Snyder is one of my favorites at the moment. If only I could get him to direct one of my stories then that would be awesome.
Since this is a movie site primarily: Your favourite movies?
Favorite movies are - The Thing (1982 version), The Changeling (George.C.Scott version), Superstition (also known as The Witch), Jaws, The Exorcist, obviously the Romero zombie flicks, the Rocky movies, Final Destination movies, & the Bad Boys movies (with Will Smith)... and not forgetting the Chucky movies. These are only a tiny few of my favorite movies.
... and of course, films you really deplore?

Feeling lucky ?
Want to search for books by
L A Taylor
yourself ?
The links below
will take you
just there !!!


Cheaply made horror movies, most are terrible. Have you ever seen Snakes on a Train?? Not the ones on a plane, even though that wasn't the greatest movie, but Snakes on a Train was total trash. Anaconda 3 & 4, Jaws 4, The Exorcist sequels, Rocky & Bullwinkle...yes, I did watch it, once...
Your website, Facebook, whatever else?
My website is - www.morgueofthedead.webs.com
Twitter is - @mrwriterman
Facebook is - https://www.facebook.com/lee.taylor.54584
Anything else you are dying to mention and I have merely forgotten to ask?
Nope, I think I've kept you amused for the time being.
Thanks for the interview!