Your upcoming film The Mangled - in a few words, what is it about?
On a stormy July night in West Virgina, the Bates, a hard working farming family, are preparing for a 25th Anniversary Party. But these plans are disrupted by a group of teenagers who want nothing more than to terrorize them. As the night dwindles on, 3 tourtist from Toronto, Ontario on their way to Flordia for spring break come pounding on their door desperate for help.
What were your initial inspirations when writing The Mangled?
Two things inspired the initial thought for The Mangled:
The first was on a rainy night at my father in-law's farm. The rain was so thick you could barely see in front of you. I was going down to his barn to help out, when suddenly out of the rain came this flickering light. It became one of the first scenes that I wrote of in the script.
The second was driving past this old barn, strangley also in the dead of night, it had this character about it almost this wicked life of its own. From there, I knew that the Bates family had to be farmers. Although, the idea came from an organic thought. Through out the writing process, films also became a factor - F.W. Murnau's haunting silent films Nosferatu and Sunrise, along with horror films that I grew up on like House of Frankenstein, Night of the Living Dead, and I can't leave out Texas Chainsaw Massacre (the orginal).

Bill Moseley


Priscilla Barnes


Michael Berryman
As far as I know, The Mangled is still in fundraising stages right now. So what can you tell us about your fundraising efforts?
We have a Kickstarter campaign going on right now trying to raise the funds for the film. We have 21 days left to reach our goal. We have some really great perks for contributions for coming along for the ride with us on the making of this film. Other than that, we're just constantly trying to spread the word on all social media platforms, and we have to thank you guys for doing this interview.
http://www.kickstarter.com/projects/1515304940/the-mangled?ref=search
Your projected cast features quite a few well-known names. Want to talk about your (both stellar and not-yet-stellar) cast for a bit?
On a lot of levels it's still surreal to me to think that I'll be directing this amazing cast. I don't really think that it's sunk in. And it probably won't until we start shooting. Then the jitters will go away. But it's truly an honour to be on the same set with my entire cast. From BILL MOSELEY, PRSCILLA BARNES, MICHAEL BERRYMAN that have these amazing carrers, movies that I grew up watching and are dear to my heart. And our cast that the public doesn't know yet, but will soon, it's exciting.
We're still in the process of casting for the rest of the roles of Daisy Bates, Darrel Ross, and Josephine Bates. Which is also really exciting, and we'll soon be announcing those names in the coming weeks.
How would you describe your overall approach to horror (as in shocks vs atmosphere, suspense vs all-out blood and guts) in your film? And since I know there are quite a few gorehounds among my readers - anything you can tell us about your gore effects?
I can say that The Mangled will have its fare share of all of the ingridients that you've mentioned. The challenge comes to have those moments play out in real time and have the audience almost to the point of screaming. Our villians aren't nice, Cletus is a killing machine, that's what he was born to do. So fans can rest assured that it's going to be a wild wicked ride.
In my opinion, one of the key elements of a horror film like yours is the location. So want to talk about yours for a bit?
You're correct, it's like buying a house in a lot of ways - location, location, location is key to a film like ours. The locations almost bring their own life to the film. So, that was a huge decision in the early stages of the project that I had to find locales that had a certain look and feel.
How do you plan to approach your subject at hand as a director?
I always appoarch a project trying to find the humanistic and physcological side of it. I'm constantly searching for answers in my work, can someone exactly change, no matter what the circumstances that person are brought up in. Altough The Mangled is a horror film, I want to try to inflict as much realisim into the work as possible and have it come from an organic place.
I know it might be waaaay to early to ask, but any plan/idea when and where your film will be released onto the general public?
Toronto, After Dark Film Festival is our goal for the premiere of the film. And if any of our fans want to walk the red carpet with us, we have a really cool perk for their contribution to the film. Other than that, we're going to be going through the horror film festival circut. Of course it would be great if we could find a home and have the film in a theaterical run. But we'll see how that all plays out in time.
With The Mangled being a horror movie - is that a genre especially dear to you, and why (not)?
In film school, I was more thought of as the "drama guy" than the "horror", but as a filmmaker I always believe in pushing the boundaries of what you're capable of doing and challenging yourself. But I've always loved horror films. Unlike a drama, horror explores our deepest darkest fears while taking on themes of life, innocence, and death. It's ambiguous in that way.
Let's go back to the beginnings of your career: What got you into filmmaking in the first place, and did you receive any formal training on the subject?
If you ask my mom, she'll say from the day that I learned to walk, I wanted to be in film, not in front of the camera as an actor. I'm way too shy and not good looking enough, plus I can't remember lines. But behind the camera, writing and directing. I've always been fascinated with it, how do films get made, how do you get into the business. I used to go to the libary instead of checking out a book, I would check out a screenplay, then I would go to the rental store and find the film. And read the script as I watched the movie. That of course was before DVD and directors commentary and behind the scenes. Which was the next phase and would drive my family nuts. After getting out of the Marines, I decided to follow my dreams, so I went to the Los Angeles Film School, where I studied directing, screenwriting and production design. Every day I got to be behind the camera directing some kind of short. And on some occassions in front of the camera acting. Which I hope those tapes are burnt.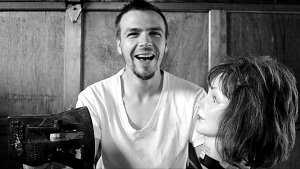 Lawrence W. Nelson II ... directing (I guess)
What can you tell us about your filmwork prior to The Mangled?
Prior to The Mangled, I just directed a lot of short films. This will be my directing debut.
Any future projects beyond The Mangled you want to talk about?
I'm constantly working on new material. My next project that I'm excited to talk about is a drama that I co-wrote with my writing partner Hoyt Richards and is inspired by true events that happened in my life called Invisible Prisons. I know it's not a horror film, but I haven't really been apporached or have found a new idea that really inspired me to write. Yet.
Directors who inspire you?
This list can go on forever, but if I had to name a few it would be F.W. Murnau, John Huston, Alfred Hitchcock, George A. Romero, Clint Eastwood, Stanley Kubrick, John Carpenter, Rob Zombie, Tobe Hooper, Billy Wilder, Ingmar Bergmen, Ridley Scott. I'm forgetting a lot of great directors that have also inspired me. But here's a few that came to mind.
Your favourite movies?

Feeling lucky ?
Want to
search
any of my partnershops yourself
for more, better results ?

The links below
will take you
just there!!!

Find Lawrence W. Nelson II
at the amazons ...

amazon.com

amazon.co.uk

amazon.de
Looking for imports ?
Find Lawrence W. Nelson II here ...
Something naughty ?
(Must be over 18 to go there !)

Texas Chainsaw Massacre, Night of the Living Dead, Sunrise, The Wolf Man, Memento, Chinatown, Blade Runner, Aliens, The Ring (Japan verison), Searchers.
Once again, I have so many favorite films in every genre there's no way I can name them all.
... and of course, films you really deplore?
I can't say that I really deplore any film. Yes there are bad films out there, but whether it was a big budget studio picture or a low budget or even micro budget indie film. Forty to hundred crew members and cast spent 30 days or more making it, and putting their hearts into that body of work. So I just can't say.
Your/your movie's website, Facebook, Kickstarter, whatever else?
http://www.facebook.com/TheMangled?ref=hl
Our website is currently going under some updates, but here it is... www.themangled.yolasite.com
Kickstarter: http://www.kickstarter.com/projects/1515304940/the-mangled?ref=search
The two promo trailers we have out:
http://www.youtube.com/watch?v=AL4sj5JoS8Q
http://www.youtube.com/watch?v=TCPazFleooo
Anything else you are dying to mention and I have merely forgotten to ask?
Thank you for the interview.
Well, thank you for the interview!