Your movie Mike Case in: The Big Kiss Off - in a few words, what is it about?
BKO, as we affectionately call it, is about a low-budget private detective, Mike Case, who works out of his car and advertises on Craigslist. When hired by the sexy yet unstable socialite Victoria Billows to find her missing husband, Case finds himself face to face with raving lunatics, new age con artists, and of course, beautiful women.
With the movie being an hommage to classic film noir, is that a genre at all dear to you? And other sources of inspiration when writing Mike Case in: The Big Kiss Off?
My amazing director of photography Michael Blue and co-writer, Sherman Hirsh are both huge film noir fans, so when we decided to do a film noir, they took the lead in knowing the genre—and I have been catching up since!
I had done a music video parody of the Journey song "Don't Stop Believing" and had created some wacky characters for that, so I wanted to roll them into a feature—and thus Mike Case in: The Big Kiss Off was born.
Inspirationally, I love Dead Men Don't Wear Plaid, a classic "comedy noir", Double Indemnity, The Letter, The Maltese Falcon and M, to name just a few of the classic noir films.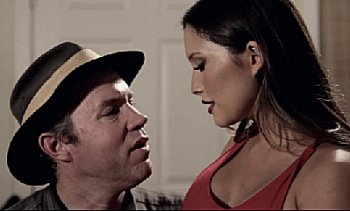 Les with Erica Ocampo
What can you tell us about your writing partner Sherman Hirsh, and what was your collaboration like?
Sherman and I have a wonderful collaborative process, we would meet at diners and have lunch and took for hours about story and characters. Sherman is a wealth of movie knowledge, and that came in handy in creating Mike Case in: The Big Kiss Off—he knew the noir vibe inside and out.
You also play the lead role in Mike Case in: The Big Kiss Off - so what did you draw upon to bring your character to life, and how much Les Mahoney can we find in Mike Case? And have you written the character with yourself in mind from the get-go?
I wrote Mike Case in: The Big Kiss Off specifically so I could play Mike Case, and I think inevitably there is much of me in him—sarcastic, edgy and quirky are all traits that both him and I share. I wanted him to have some elements of the classic private detectives like Bogart and Robert Mitchum, but with a vulnerabilty that those hard-boiled guys didn't really have. I think the end result works, but that is ultimately up to the audience!
What can you tell us about the rest of your key cast, and why exactly these people?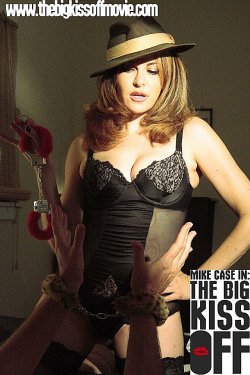 Debra Mayer
Debra Mayer plays one of Mike's love interests, Detective Lt. Lorena Dietrichson, and she was cast after a friend of mine introduced her to me. She is lovely, smart, witty and quick on her feet—more than a match for Mike Case. Atoy Wilson is a great friend of mine in reality, so casting him as Bootsie, Mike's master of disguise source of information was a natural—we just had a great fun using our existing chemistry in our scenes together. Dale Shane as Vinnie brought the house down with his improvisations, while Devai Pearce's moodiness as Victoria Billows made a great foil for Mike. Oh, and Maxim covergirl Erica Ocampo was a great femme fatale!
As the lead actor, writer and producer of Mike Case in: The Big Kiss Off, how much creative control did you demand during the shoot, and what can you tell us about your director Justin Baird, and what was your collaboration like?
Justin was a lifesaver for me, as he came in to direct very late in pre-production, when Sherman had to drop out due to health issues. I was very worried I was going to have to direct as well as everything else, so Justin stepping in made all the difference to me. To be honest, I let Justin run with the ball—as director, he had to be the guy keeping the creative ship afloat, and he did a great job.
What can you tell us about the actual shoot and the on-set atmosphere?
It was a whirlwind, since we only had Blue (our DP) and Justin for nine days—so we had to get everything done in that period. Despite the stresses of getting the movie done in such a short time, the on-set atmosphere was great, and very collaborative. This was essential, because most of the dialogue was improvised at the moment, so the actors had to have the freedom to play.
A few words about critical and audience reception of your movie?
Well, we submitted Mike Case in: The Big Kiss Off to one film festival, and it promptly won four major awards: Best Director, Best Score, Best Actor and the biggie, the Grand Jury Prize. A clean sweep! The movie has rated well in all the major platforms, Amazon Instant, Snag Films, Google Play, etc, and it travels well also, having been streamed in places as diverse as Zambia and Papua New Guinea!
Will we ever see Mike Case again in another of your movies?
That is likely, as Sherman is writing a sequel. The next movie will probably be more dramatic, with some comedic undertones.
You have recently also finished the movie At Granny's House - so what's that one about?
Talk about a change of pace from Mike Case in: The Big Kiss Off! At Granny's House is a suspense thriller in the Hitchcock vein about what happens when a young women moves in as care provider for an elderly woman. It has been called creepy, scary and full of twists and turns.
With At Granny's House being a horror movie - is that a genre at all dear to you, and how would you describe your movie's approach to horror (as in suspeense vs sudden shocks, atmosphere vs all-out gore)?
Well, I would call At Granny's House a suspense thriller rather than a straight out horror film—although plenty of people who have seen it put it in the horror genre. Just goes to show, huh? I grew up loving Hitchcock's movies, so At Granny's House leans in that direction—more suspense than surprise, although there is some of that also.
Again, do talk about the cast for a bit!
We have a great cast to go along with the great story. Rachel Alig, known for the Showtime staple Bikini Spring Break, plays Rebecca, our caregiver with a hidden agenda. Rachel is a wonderful actor, and she really brings it to this role. Glenda Morgan Brown plays Granny, and people who have seen the movie are just blown away by her performance—a fully developed character with lots of surprises. Bill Oberst jr [Bill Oberst jr interview - click here], plays Boarstag, a private detective investigating strange circumstances at the house. And, speaking of horror films, Bill was recently named the "King of Indie Horror" in a recent fan poll, so we were very happy when we could fit into his very busy schedule. And, oh yeah, the fourth principal character is Ted Steiner, who becomes Rebecca's love interest. He is played by me :)
... and a few words about the shoot as such and the on-set atmosphere?
We shot At Granny's House at the childhood home of my wife (and co-producer) Tammy Ridenour, in rural Colorado. Her mom still lives there and she was willing for us to take over the house for the duration of the shoot. It became like summer camp with all the cast and crew staying in the house or nearby. It was an amazing experience, and the whole team came together to do something frankly amazing in the time we had.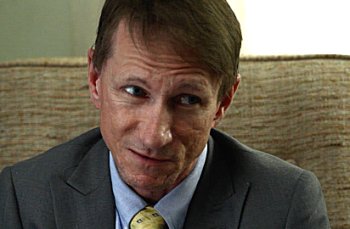 Bill Oberst jr in At Granny's House
Another film you've shot only recently is Available - so you obviously also have to talk about that one for a bit!
Ah yes, Available! This is a spy thriller about a guy who receives a surprise invitation from an old flame in Germany, and little does he know he will be thrown into a web of modern espionage intrigue.
We shot Available in six different cities in the USA, four cities in Germany (including Oktoberfest!) and Prague in the Czech Republic.
Any idea when and where At Granny's House and Available will be released onto the general public yet?
Indeed! We are planning a Los Angeles theatrical run for At Granny's House in October, and are expecting DVD and streaming premieres about the same time.
Available will be done later this year—call it a Christmas present!
Any future projects you'd like to share?
Of course! We are shooting what are now calling Asian Treasure in the USA and Asia this fall. More about that later! I am also working on a edgy sexual thriller to be shot in 2016. Very edgy.
What got you into acting in the first place, and did you receive any formal training on the subject?
I got into acting rather late in the game, having never done any drama, etc until I got bit by the acting bug in 2007 at the age of 46. I then took all the classes I could, and was totally hooked. I remember the day when I was on stage, and I realized that I would rather be on stage, than in the audience—quite the epiphany for me.
What prompted you to eventually pick up writing, directing and producing as well - and which do you prefer, which could you do without?
I could do without producing, but the writing, directing and acting are part of my soul now. It all started because I wanted great roles as an actor—so I figured I'd better write them! Then, I became a producer to make the movies happen, and a director to make them happen the way I wanted to see them. Simple! (no, not really J)
What can you tell us about your filmwork prior to Mike Case in: The Big Kiss Off?
Oh, lots of stuff! From starting at zero, I have become known for quirky characters, both comedic and dramatic. I love edgy, complicated guys!
Actors, writers, filmmakers, whoever else who inspire you?
Tom Hanks, Alfred Hitchcock, Paul Thomas Anderson, among many others!
Your favourite movies?
I'll go by genre:
Sci fi: Star Wars (A New Hope, of course!)
Western: 3:10 to Yuma
Suspense: Psycho
Comedy: Planes, Trains and Automobiles
Action: Die Hard
Dramedy: Birdman
War: The Pianist
Gangster: The Godfather 1 & 2
... and of course, films you really deplore?
Adam Sandler — he doesn't even seem to care if he makes good movies! Dishonorable mention: Will Ferrell
Your/your films' websites, Facebooks, whatever else?
Me:
http://www.imdb.com/name/nm2728001/
https://www.facebook.com/Les.Mahoney.Actor
https://en.wikipedia.org/wiki/Les_Mahoney
Mike Case in: The Big Kiss Off:
http://www.thebigkissoffmovie.com/
http://www.imdb.com/title/tt2520578/
https://www.facebook.com/BIGKISSOFF
You can watch the movie at:
http://www.snagfilms.com/films/title/mike_case_in_the_big_kiss_off
http://www.amazon.com/exec/obidos/ASIN/B00JFBZ3LQ
https://play.google.com/store/movies/details/Mike_Case_in_The_Big_Kiss_Off?id=nv91Xfq53io&hl=en
http://www.grannyshousemovie.com/
https://www.facebook.com/Grannyshousemovie
http://www.imdb.com/title/tt3472714/
Available:
http://www.availablethemovie.com/
https://www.facebook.com/Availablemovie
http://www.imdb.com/title/tt3102798/

Feeling lucky ?
Want to
search
any of my partnershops yourself
for more, better results ?

The links below
will take you
just there!!!

Find Les Mahoney
at the amazons ...

amazon.com

amazon.co.uk

amazon.de
Looking for imports ?
Find Les Mahoney here ...
Something naughty ?
(Must be over 18 to go there !)

Anything else you are dying to mention and I have merely forgotten to ask?
Well, actually, we are currently doing a crowdfunding campaign to raise the money necessary for a weeklong theatrical run in Los Angeles for At Granny's House. This is our best shot to get the movie a wide audience, and I would appreciate your readers' support. Every dollar counts!
More info here:
http://www.grannyshousemovie.com/agh-supporters.html
Thanks for the interview!
My pleasure!