Your new movie Killer Ink - in a few words, what is it about?
When Gage, now a popular tattoo artist, was a teen, he lost his mother to a murderer who was never caught. To make matters worse, his dad ran out on the family, leaving him to be raised by his uncle, who's played by Peter Mayhew.
When someone he cares about comes up missing, it's up to him to find her and put an end to whoever or whatever has taken her.
Killer Ink was produced by Under Fire Studios & Derrick Red Earth Productions.
What were your main inspirations when writing Killer Ink ?
Inspiration for the film came from a number of sources, including classic slasher films, Rob Zombie films, Dexter, seventies exploitation films, and personal research on serial killers. More than anything, I wanted to explore the psychology of a killer, and delve into what his daily struggles might look like.
To me, the film is a reflection of my perception of how someone with uncontrollable murderous urges would behave in public, as well as in his private life. That's what I found most interesting about the project from the start.
With Killer Ink being a serial killer movie - what will make this one stick out of the crowd?
Killer Ink is unique, in part, because of the grindhouse look & feel. Recently, Robert Rodriguez has found success in the genre with Planet Terror, Machete & Machete Kills. Like Dexter, Killer Ink gives the audience a look into the mind of a killer, which has always fascinated me. Unlike the show, our film is messy!!!
Another underlying aspect of the film is Gage's (the lead) relationship with his parents and the women who have tried to get close to him throughout the years.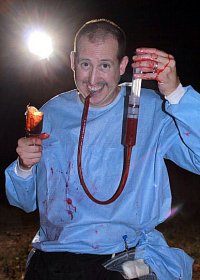 Thomas Giles
Serial killer movies usually suggest quite a bit of explicit violence - so how did you approach that aspect of Killer Ink?
Killer Ink uses over-the-top gore and violence to achieve a specific tone that works well for the material. FX artist Thomas Giles worked day and night to ensure top quality gore throughout production. His work truly gave the kills a fun and unique look. We didn't shy away from the violence. Instead, we embraced that element and tried to make each kill fun and different. While I would certainly describe the blood as excessive, we didn't do it in an ultra realistic way, so it's not really gross. We chose to have fun with it instead of trying to gross people out.
What can you tell us about your movie's general look and feel?
Chris Romero, my producing partner & the lead actor, and I spent a lot of time discussing the look and feel we wanted way before the first day of principle photography. Together, we decided we wanted to make a fun grindhouse film that was essentially an homage to exploitation films and some of our favorite slashers.
For those who don't know, grindhouse is typically characterized by a scratchy film grain and gratuitous violence and nudity, which are all represented heavily in this film.
We worked closely with cinematographer Michael Sanchez to achieve the aesthetic of the film. His experience and love for the genre brought new life to scenes that might have otherwise been less entertaining.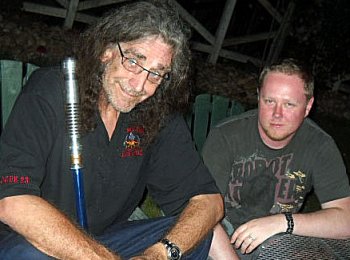 Peter Mayhew, Lewis Leslie
Your movie features Chewbacca Peter Mayhew - why him, how did you get him, and what was your collaboration like?
It was a dream to work with Peter Mayhew. He and his wife could not have been more professional and cooperative. How that came about was that Chris brought on his longtime friend Digger Mesch, who happened to be friends with Peter. We worked out a deal where he could be on set for a couple days and wrote a role specifically for him. His character, Uncle Clyde, is just so quirky and out there. In one scene, he's sitting outside on a beautiful day painting red x's over the eyes of a bunch of rubber ducks casually when Gage shows up for a chat.
At 7'3, it made the most sense to have him sitting in the majority of his scenes, although there is one where he's standing and you get a true sense of why he was so good as Chewbacca. Besides his height, kindness can be seen in Peter's eyes. I think that's another reason why he embodies the roles he takes on so well. He's definitely a great guy, and it was an absolute honor to work with him on this film.
And, it's worth seeing just to hear Chewbacca cuss!
Do talk about the rest of your cast for a bit, and why exactly these people?
I was working on another project as a writer when Chris Romero, the lead from that film, turned to me and said "Let's make a horror movie." It was his idea to have Gage be a tattoo artist and a serial killer. From there, I took that concept and built a story that is now Killer Ink. He does a great job in the role. Chris is a real natural.
With the exception of Peter, Digger and Ryan Martin, the rest of the actors were either locals or friends of mine. I figured, if this was the only movie I was ever going to make, I might as well give my friends some fun, smaller roles. Thankfully, it wasn't my only film, but a wonderful start to a career that has already taken me further than I could have imagined.
Turns out, in my directorial debut, we ended up with one of the finest indie casts around, in my humble opinion.
Actors from Killer Ink have already gone on to find success in countless Hollywood films and television shows. Some of the great cast includes: Marc Bilker, Jennifer Wilde, Valeri Kimbro, Caleb Grant, Christine Dawson, Kristin Keating, Gregg Stone and Pandora Bellarose.
There are also three generations of Romeros in the film; Chris, his father Carlos and his son Sebastian. Marc's son Michael is also in the film, so I guess you could say it's a family affair. My wife Amy even plays one of Gage's early victims.
What can you tell us about the shoot as such, and the on-set atmosphere?
Killer Ink was shot primarily on weekends over the course of two months. We went back months later and shot some additional scenes, including a bar scene with exotic dancers. On set, our two camera operators, Mike and Dylan always seemed to be in sync. Everyone was very open to input and generally on the same page about the look and feel of any given scene. Mike even had his nephew Trey on set to help out as Key Grip.
It was a lot of work, but for me the experience was so exciting that the insanely long hours and late nights were pacified by how much fun I was having. I didn't go to film school, and I had basically just been a writer until then, so surrounding myself a crew that had schooling and real world experience made all the difference in the world. I asked a lot of questions during the shoot and learned more than any school could have taught me.
The $64-question of course: When and where will the film be released onto the general public?
The film enjoyed a screening at the 2013 Denver Comic Con, as well as a public screening in my home town of Tulsa, OK, but a public release date is still in the works. We are in talks with distributors and hope to have an update on that soon, but as of right now... Lionsgate... Call me!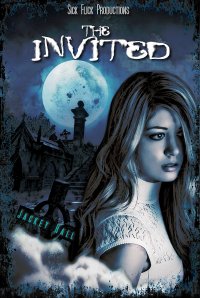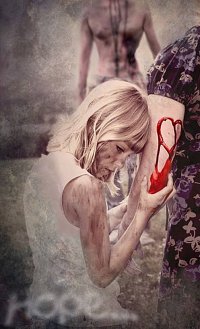 Feast or Famine
You're recently also written two soon-to-be-filmed scripts for Jonathan Moody [Jonathan Moody interview - click here], Dracula's War and The Invited - want to talk about those for a bit, and what was your collaboration like?
Working with Jonathan has been a very positive experience. Until now, I have always written alone. On those projects, Jonathan wrote the first half and I wrote the second. It was fun finding out where he wanted each story to go and seeing whether or not that's where my head took it. Generally, we were on point, but there were a few discussions about certain characters and story points.
One of the biggest challenges was that I like to kill off a lot of characters in poetic ways. Jonathan has bigger plans for a lot of the Dracula's War characters, including spin off series and movies. We had extensive talks about who to kill and who to spare. That was a lot of fun!
The pilot episode of The Invited, a ghost webseries, just had an extremely successful fundraising campaign. Jonathan will be shooting it soon. I'm really looking forward to seeing how that turns out, because I've shot all my own projects before now. It will be cool to see someone else's take on material that I helped develop.
And Dracula's War, which is basically a love letter to classic monster movies mixed with modern action... I can't wait to see that! It's a very character driven script with an eerie atmosphere that promises to be insanely entertaining.
Any other future projects you'd like to talk about?
My company Under Fire Studios, which is myself and my producers Melissa Bazis (co-owner) and Emerald Oport, are developing two feature films.
The first is Feast or Famine, a post-apocalyptic mystery about a man who thinks he's the last person on Earth, until a mysterious woman shows up at his door.
We are also developing the first script I ever wrote: The Diary of Melvin Sanborn. This psychological thriller is about a boy who witnesses his parents' death at the hands of a gruesome monster, and is tormented by the monster into college when, after losing his closest friends, he decides to go back to the scene of the crime and face the monster once and for all.
Both of these projects are very near and dear to my heart. We're currently exploring our best options to obtain funding, so we can produce top quality entertainment. Investors... Call me!
Why did you get into filmmaking in the first place, and did you receive any formal training on the subject?
I started writing short stories as early as high school. Eventually, that blossomed into an interest in filmmaking. I have read extensively on the subject of screenwriting and taken a few online courses, but I did not attend any type of film school.
I have always found filmmaking to be the most rewarding art in the sense that you get to work with a team of creatives, instead of by your lonesome, like I did with my writing. Since I started directing, I've done all I could to learn the ins-and-outs of the business and the technical side of filmmaking. I'm no cinematographer, but I have learned how to communicate with my camera team and let them know what I want out of a shot or a particular scene.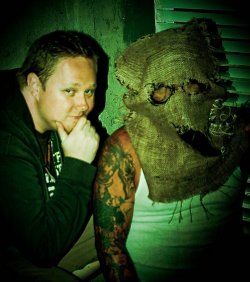 Lewis Leslie with Marc Bilker on
T is for Terence
What can you tell us about your filmwork prior to Killer Ink?
Prior to Killer Ink I was a screenwriter for about a decade. I have completed fifteen feature-length scripts to date. Since then, I have written and directed a dozen short films, toured multiple film festivals and even picked up a few awards along the way. Kevin Smith was actually a judge in one of the contests that landed one of my films in the Vail Film Festival in CO, where all of my films have been shot.
I have always had an insatiable interest in movies and the art of filmmaking, even long before I chose this as a career. When I finally decided to jump in head first, I found that it's both more rewarding and much more difficult than I had anticipated.
How would you describe yourself as a director?
As a director, I like to set expectations early. I pride myself on being open to ideas and I enjoy collaborating with actors and crew members alike. There's no way that any one person can think of everything. For that reason, I like to discuss characters, scenes and themes extensively with my actors. Some of the best ideas come not from sitting alone in a dark room, but from conversations with real people in the moment.
It doesn't hurt that I have Melissa Bazis as my assistant director. She and I have developed a close working relationship that's rich in mutual respect and an understanding of each other's creativity that's truly a rare find.
Filmmakers who inspire you?
I'm inspired by anyone who's willing to take a chance. It's always fun to watch directors who have a signature style like Ridley Scott, Sam Raimi, Tarantino, Fincher, Scorsese and Kevin Smith, but I also love the works of John Carpenter, Steven Spielberg and more recently J.J. Abrams.
It's easy to become a cookie cutter director, getting the shots you need; standard coverage, and overlooking the things that make watching films so enjoyable, like those bizarre and unique shots and even just overall themes and tones of memorable films.
It's amazing how much of an impact lighting can have on a scene and a film. David Fincher is a prime example of a director who's best known visually for his lighting style. His films tend to be more dark and moody than most mainstream directors. Some examples of his work are Seven, Fight Club, The Curious Case of Benjamin Button & The Social Network. But, enough about him. Where was I...?
Your favourite movies?
I love a lot of movies, but some of the films that I personally enjoy the most are Donnie Darko, Fight Club, Seven, The Princess Bride, A Nightmare on Elm Street and Legend. I love comedies, but I'm drawn to darker material like a lot of the films mentioned above. There's something about the psychology of a dark or troubled character that interests me more than anything. I also love fantasy, horror and sci-fi.
... and of course, films you really deplore?
I'm having a hard time with a lot of the remakes and reboots these days. I also detest movies that appear to be made quickly and cheaply just to turn a buck. I know it's a business, but once 100% of my heart's not in it, I'm done. I can't imagine ever phoning in a film. That's not my style.
I'm not a fan of the mocking films like Superhero Movie and all those. Maybe some people enjoy them, but to me, they seem like a gimmick and I hate using gimmicks to obtain fame. That's not me.
Your/your movie's website, Facebook, whatever else?

Feeling lucky ?
Want to
search
any of my partnershops yourself
for more, better results ?

The links below
will take you
just there!!!

Find Lewis Leslie
at the amazons ...

amazon.com

amazon.co.uk

amazon.de
Looking for imports ?
Find Lewis Leslie here ...
Something naughty ?
(Must be over 18 to go there !)

Under Fire Studios: www.underfirestudios.com
Under Fire Studios Facebook: www.facebook.com/underfirestudios1
Under Fire Studios Twitter: www.twitter.com/undrfirestudios
Killer Ink on Facebook: www.facebook.com/killerinkmovie
Killer Ink on Twitter: www.twitter.com/killerinkmovie
Anything else you are dying to mention and I have merely forgotten to ask?
I'm just so grateful for all the wonderful people I've had the pleasure of working with these past four years. We've had our ups and downs, but man, what a ride! I'm exuberant about what the future may bring.
Thank you for taking the time and expressing interest in interviewing me. It's always fun to talk about making movies.
Keep your eyes on Under Fire Studios. We're putting our heart and souls into every film we make & we're just gettin' started!!!
Thanks for the interview!