Your new movie Chaos A.D. - in a few words, what is it about, and what can you tell us about your character in it?
Chaos A.D. is a twisted movie of two psychotic women that kidnap different people from various walks of life. The victims are eventually subjected to perverse games, torture, rape, and some brutal killings with a few other psychotic people that are behind on "Chaos A.D." as well.
My character, Sarah Russo, comes from an abusive home with her brother Vinnie. They live a mortifying life on the constant edge of fear from the father they live with. And despite the abuse, Sarah and Vinnie are pretty close knit, because of what they endure every day, and always find something to do outside of the home. Sarah and Vinnie go to a Halloween party after a huge fight with their father, and Vinnie ends up kidnapped after a conversation with one of the villains at the party. Sarah tries to find him and ends up at a warehouse. Without spoiling the whole movie, thereís a lot of disgusting situations that happen in the warehouse.
What did you draw upon to bring Sarah to life, and how much of Lisa Marie Kart can we find in her, actually?
Without detailing too much of my past, I came from abuse as well and it was awful. Surviving any type of abuse and comfortable enough to tell people takes a lot of balls. To write it into a script and then relive a little or a lot of situations, that can trigger a personís memory, and still play the role, takes even bigger balls. I can tell you for sure that reading the script I knew right away that the role of Sarah was for me. She isnít a victim, she is a survivor. The perverse situations she encounters, she keeps going, just to find her brother, because her only lifeline IS her brother. She could have ten best friends, and the only thing in her life that matters is Vinnie. They stick together, and go through everything. So Sarah is a heroine in the fact she never gives up no matter what happens to her; from the trauma in her home, or outside of it with these villains.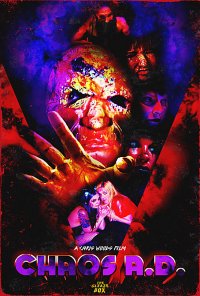 In Chaos A.D., Sarah isn't exactly treated kindly throughout - in fact, she's stripped, raped and humiliated - so was that at all a problem for you?
I read the script beforehand, had many discussions with the director Chris Woods [Chris Woods interview - click here] prior to the movie starting. I told him what I was comfortable with, what I would [and wouldnít] do, and if there was certain things we could possibly change around that weíd both be happy with. Chris continued to make sure I was only in situations I could withstand mentally and physically, closed sets during certain scenes, making sure I was prepping into my character for some parts (even if it was only a few minutes to an hour), suggestions we could both change to make the scene better, etcÖ while both satisfied with how it was turned out.
How did you get involved with the movie in the first place, actually?
Originally I was in Chrisís apartment with the rest of the Death-Scort Service cast. We were all finished on signing the DVDs, posters, watching the completed movie. Chris mentioned that he was going to start casting and finishing the script on a new movie he was writing that he thought Iíd be perfect for, right down from the character, to the cat costume (crazy cat lady here)! Fast forward and he sends me the script. I read it and he wanted to make sure Iíd be committed and OK to do the part of Sarah Russo. I read it quite a few times, and we had several discussions on the phone. After agreeing on a few things, and what Iíd be comfortable with, I decided to say yes to Chaos A.D.
What can you tell us about your director Chris Woods [Chris Woods interview - click here], and what was your collaboration like?
A lot of what I said above, tons of positive words. He works with you, patient, gives you a schedule to where everyone is happy, always paid on time, thereís never an argument, if you have a suggestion on something, heíll listen and most times than so weíll try it and sometimes itíll be good for the film. I work very well with Chris, and you become best friends with him fast. Heís basically in summation, a very professional and levelheaded person.
Do talk about the shoot as such, and the on-set atmosphere?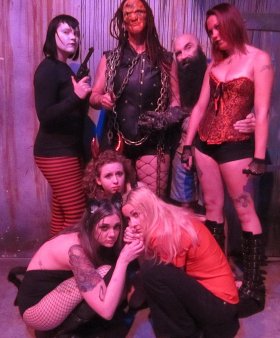 The shoot was pretty amazing. Chris had found this warehouse that was already set up to look like it was from a horror movie. We also used Sean Donohueís house and his shed as well for certain scenes (he also makes a small cameo in the film). So the atmosphere was like a permanent horror story in real life all the time. Getting into character, staying in character, and prepping was relatively easy with the on-set atmosphere and how mentally draining it was for me (perfect for the character). When I say mentally draining, not so much in a negative aspect, but the story line, the fight scenes, the long hours, the torture scenes, etcÖ, was a lot for my brain to comprehend, especially when I can get triggered from my trauma. Iím able to move forward from my past experiences however, for a professional and business side. But my character Sarah endured so much, at the end of the movie and how I personally felt (you could see in my face) was pure exhaustion.
I will mention the fight scene between Cayt (Bytch) and I was physically exhausting. There is one scene we both still talk about. We had so much adrenaline pumping through our system, that when we tried to avoid our faces, we ended up punching and hitting instead, and didnít even realize we hurt each other until the day after we saw the bruises on our bodies and how sore we were. The last day of shooting, no one was feeling well, it was a full moon, everyone was up since dawn with little to no sleep, high stress, and I had to do some crazy scene with Amanda (Vixen). Without spilling too much of the movie, I personally did not feel comfortable doing. I knew what I had to do in the script, but when it came down to it, I actually started freaking out and saying ďI canít do this sceneĒ. Ashley (Janet) suggested that she would do it, and I told her she couldnít because she had acrylic nails on and I had unpainted natural nails, so it wouldnít have worked. I didnít think I was going to be able to do it, but I did, and afterwards went to the bathroom and just stared at the wall. It mentally took something out of me at that moment.
Any future projects you'd like to share?
Right now, Iíve been currently working on Provenance (https://www.facebook.com/provenancefilm). That was originally a short film (NS-404) about the end of the world with a very unique back story (also has Bob Glazier in it as well). Provenance is the origin story. The cinematography is beautiful, the writing is different, and itís going to be submitted to a lot of major film festivals. Iím very excited to finish the movie. Other than Provenance, I took a little break from working on movies to hone my abilities studying with the best acting instructor, Kathy Laughlin at the Performerís Studio Workshop. Itís been really great so far. However, Iím still submitting myself for other projects whilst continuing to audition.
What got you into acting in the first place, and did you receive any formal training on the subject?
I watched a lot of horror movies as a kid, and always loved how deeply enriched the subpersonalities came out of each character. The roles were very real to me, as if the person was actually the role they were playing on screen and TV. I acted a little bit as a kid in theatre, and took some lousy acting classes in middle school. I stopped acting for a little while, and focused on the music industry, went to college, and then got back into acting around the age of 27... 28. Iím now studying with Kathy Laughlin, however.
What can you tell us about your filmwork prior to Chaos A.D.?
Iíve done some music videos (Cosmic Punch, Cannibal Corpse, American Authors, Catalyst/NS-404), commercial work (The Tampa Theatre commercial), feature films (Skum Rocks!, Vamp Bikers [stopped production], The Hospital 2, Death-Scort Service, Hot Summer Nights, Provenance, NS-404 short).
You're also a metal DJ and journalist, right? So do talk about that aspect of your career for a bit, and how does it influence your acting (and vice versa)?
Iíve been working in the music industry for eleven years or so now. I started really young just promoting for the bands on their record label, working on street teams and other musical promoters in the Tampa and Orlando area. I networked at record labels and went on my first tour when I was 21. I met a lot of people through that and it also opened more doors for me. Within that, I was able to tour more. I took some breaks in a lot of those years to finish my college degree. While working for Examiner as the Tampa metal music journalist (before it went out of business just a couple months ago), I was able to interview the biggest metal musicians, and I had a lot of views on the videos (over 30 thousand sometimes) to also being featured on Blabbermouth and a few other big music websites. Through interviewing musicians I met Elder, my boss who runs Psycho Realms on WMNF 88.5 FM. He asked me to come in one day and I continued to come back and was a permanent member as Lady Lisa. I also work for WTF Magazine interviewing big artists and AXS Entertainment where I will be continuing the metal side since Examiner went down. I still ever so often tour, work with radio, and music journalism. Iím focused more now on my acting profession however.
How it influences my acting; it actually helps me to get out of my comfort zone, network, meet new people, and thickened my skin so I was prepared for show business.
How would you describe yourself as an actress, and some of your techniques to bring your characters to life?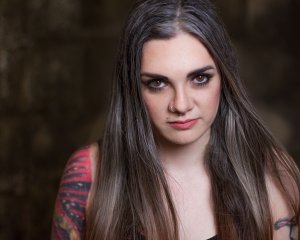 I donít know how to describe myself as an actress. Who can anyways? Iím a free-spirited person with a loud and very goofy personality. In class and in movies I use less of those energies, and use a lower/darker energy to expel how I need it in my characters. Iíve been trying to use my organic energies however that I am in real life into my roles for character development and more ďsubpersonalitiesĒ.
I use the Eric Morris style of acting. Making sure your lines are memorized are important of course, but the main focus is to take time on the character development and researching what role youíll be performing. Otherwise youíll have no idea what you are doing in front of the camera and people can see if you are being organic or not knowing what you are doing/insecure. Making sure you are prepping before camera, is essential to any character development too. If you are given any time to prep before a scene, take that time to get into your character and donít let anyone or anything disturb you or your zone will be all over the place. I suggest for any actor/actress to read Eric Morris books. Some of my favorites are Freeing the Actor, Irreverent Acting, No Acting Please, and Being and Doing: A Work Book For Actors. I also suggest Embracing Our Selves. A book that has literally changed my life on embracing yourself, your demons, your past, everything and not letting it use it, but using it for your character development and the ďsubpersonalitiesĒ within us. You donít need to be an actor/actress to read itÖ itís a book everyone should read in my opinion. Youíll be empowered. And another note in actingÖ it is difficult to be an actor/actress if you have a lot of demons inside of you that control you and your brain. Embrace what happened to you, it made you stronger and who you are now, but donít let it interfere with your abilities (I see it a lot and itís happened to me) - use it for your character development, but donít let it use you.
Actresses (and of course actors) who inspire you?
I always loved Drew Barrymore growing up, but my inspirations are Meryl Streep, Michelle Pfeiffer, Cate Blanchett, Johnny Depp, Al Pacino, Robert De Niro, and Eddie Redmayne. In fact I have more inspirations and obsessions but I can tell you for sure these actors/actresses can get into characters and make you believe they are what they are playing on screen. There are some great actors/actresses that stay the same character in every movie, not to say they are awful at acting, because they are wonderful at it; but they just never change, no matter what character and no matter what film they are working on; they just never build a character.
Your favourite movies?
I always loved Indiana Jones and Star Wars. But outside of that Iím a big horror and gore movie buff (I love Hellraiser, Rosemaryís Baby, Wolf Man, White Zombie, Nightmare on Elm Street, Friday The 13th, Psycho, Suspiria, Eraserhead, It, Pet Semetary, An American Werewolf in London/Paris, Ginger Snaps, The Howling, Se7en, Edward Scissorhands). I love classics as well (Valley of The Dolls, The Graduate, etc).
... and of course, films you really deplore?
Iím not really into CGI and visual effects to be honest. I think everything should be done with robotics and special FX. Call it old fashioned but it looks way better and itís real when itís on camera. Iím also over with superhero/DC/Marvel movies. Itís been overdone, and I donít think anyone can beat originals anyways. Remakes are usually awful, so donít even get me started on that. There are a few that blew me away in certain degrees, but other than that no remakesÖ
Your website, Facebook, whatever else?

Feeling lucky ?
Want to
search
any of my partnershops yourself
for more, better results ?

The links below
will take you
just there!!!

Find Lisa Marie Kart
at the amazons ...

amazon.com

amazon.co.uk

amazon.de
Looking for imports ?
Find Lisa Marie Kart here ...
Something naughty ?
(Must be over 18 to go there !)

Website: lisakart.com, Facebook: https://www.facebook.com/lisamariekart, Facebook fanpage: https://www.facebook.com/Lady-Lisa-224499137616453/, IMDb: imdb.me/lisamariekart, Twitter: @lisakart
Anything else you're dying to mention and I have merely forgotten to ask?
Always study and practice your craft. Everyone has something they can do better onÖDonít forget to drop that ego at the door. I would also mention, donít work with anyone who wants you to do scenes that make you feel uncomfortable. Donít be arrogant or make enemies everywhere you go. Donít spill your entire history to someone in the industry, because people talk. And, as always, be humble and grateful for any opportunity no matter how big or small.
Thanks for the interview!
Youíre welcome!