You have a new film you are working on, with the working title of Marla Mae. What is this about?
Marla Mae gets a free IUD from her childhood friend who's now a doctor. The IUD turns out to be an experimental device that the doctor has been working on, that violently murders her boyfriend during sex. I don't think I should say much more because it would spoil it.
How did you come up with the title?
About 2 years ago my 18 year old shit-tzu (Ewok) died. I was pretty much a mess for over a year. I needed puppy time, but wasn't ready to jump back into a serious commitment, so I started fostering through a non-profit no-kill shelter in Austin. Marla Mae was a blind, fat shelter chihuahua that I fostered. After about 3 months, my boyfriend and I realized she was WAY too special to not keep. I started writing this script the week we got her and named the main character after her. She was supposed to be in the movie playing a not blind dog named "Meeba". She got really sick and died. We miss her a lot.
Why define it as a "Chick Flick Horror Film?"
Because I thought "feminist horror" would rub people the wrong way… Kind of kidding. I wanted to make a horror movie with more of a plot and the drama that is sometimes lacking in low-budget gore films. Those films are fucking great to watch with a group of people when you're making jokes and talking in between kill scenes, but I know a lot of my girlfriends growing up thought they were stupid. I want to turn girls on to gore.
You've expressed a love for horror, but not the female portrayal in the same? What would you change about the genre?
All girls do in most horror movies is flash their boobs, be scared and get slaughtered after making a stupid decision. I know there are exceptions to that, but rarely is the female lead a hero or brave or smart. I want female characters that I can relate to - I hate thinking "no, don't go in there!"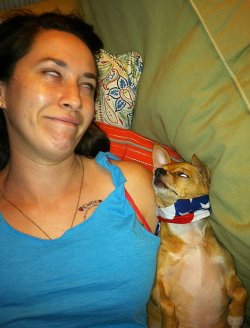 Lisa with Marla Mae
You operate out of Olympia, Washington. This is not only the state capitol, but said to be a hotly cultural area. True?
Uhhhh… I grew up here, so I'm not really enamored with it the way a lot of people are. But Olympia is a good place to try to be an artist. The city lets filmakers film on city property without any permits or anything - that's cool.
What stage of development is the picture in?
We have one more rehearsal with the full cast tomorrow - then we start shooting! We're shooting til the end of July and then should be done with post by the fall.
And you've NEVER done a film before?
I did craft services in Austin on a Chrystler commercial… Oh, and I was an extra on an ABC show for a couple of days. So, no, I've never done anything.
Wouldn't it have been wiser to try to do a short film or two before going into a feature?
That's what people keep telling me, but here's the thing. I don't watch short films, most people don't. The pre-production is almost the same amount of work, but short films don't go anywhere. I spent over a year writing my script - it would've taken less time to write a shorter script, but I'd rather go big and make something that people will actually watch (and hopefully like).
You have not worked in film, but have done a good deal of writing, correct, as with the one alternative paper you created?
When we got to Austin, my boyfriend and I decided to start a newspaper (his idea). I basically had to write for it out of necessity for content. I'm not a very good writer, but I can write things if I have to. I wrote a column under a fake name about working in restaurants in Austin. It was called "Served". I was trying to get waiters to revolt against the $2.13 tipped employee minimum wage, but mostly I got called a whiney baby and to go back where I came from. After the paper fizzled, I really wanted to make a movie, but didn't want to write a script. I shopped around a little but couldn't find anything I liked so I just said fuck it, I have to do it myself. The first draft was 300 pages. The current script (I've done about 100 rewrites) is 115 pages and I don't think it has a single scene from the original script.
If this clicks and comes to pass, do you have other ideas for more films?
Oh yeah! I've got two really good ones. I think these scripts will take way less time to write because I actually know what I'm doing this time.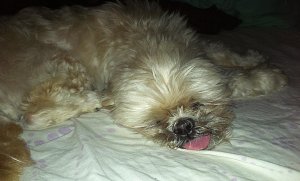 Ewok
What are you doing for funding, crew and cast?
Well, we had originally planned on filming in Austin. Things weren't lining up there (our crew kept dropping off and wanting too much money), so we decided to do it here because we were moving back anyway. When I got here I had to start from scratch. I've managed to find everyone we need on the internet (mostly craigslist, but some film forums too). I just got really lucky on crew. I found an amazing DP with a lot of experience and equipment (we're shooting on a RED). I held auditions in Seattle and Olympia and managed to find all my cast. The rest of the crew has just been coming out of the woodwork. It's amazing, because almost everyone here is willing to work for credits or just to get experience, which certainly wasn't the case in Austin. We have a tiny budget, our Kickstarter failed, so we are basically running on fumes. We'll have to do some crowdfunding to get through post, but we're partnering with Adventus Films and they are going to help out a lot with that.
Has the regional artistic community given you any advice or help? I know there's a film society in Olympia.
My friend from high school, Zach Weintraub, went to film school and has shot several features in Olympia. As soon as I finished the script I called him up and picked his brain. He put me in touch with Kanako who has done sound for him here. She's been really helpful too. But I'm not very plugged into the film scene here because I haven't been here for 6 years and I wasn't making movies when I left. I'm realizing it's a really tight-knit community though because half of my actors have worked together a lot and know our DP from previous projects.
You mention a love for horror films. What are your favorites?
My all time favorite horror movie actually doesn't have a single female in the entire thing. Obviously I'm talking about Bad Taste. I've seen that movie about 500 times. I love most of Peter Jackson's early stuff. Pet Semetary was good when I first saw it, but I can relate even more since Ewok and Marla Mae died. Nightmare on Elm Street and Friday the 13th are always good. Oh yeah, I love Sleepaway Camp too. One that is so dumb but so good is Redneck Zombies.
Least favorites?

Feeling lucky ?
Want to
search
any of my partnershops yourself
for more, better results ?

The links below
will take you
just there!!!

Find Lisa Van Dam-Bates
at the amazons ...

amazon.com

amazon.co.uk

amazon.de
Looking for imports ?
Find Lisa Van Dam-Bates here ...
Something naughty ?
(Must be over 18 to go there !)

Oh gawd, I love to hate! I really hate most horror that's been made in the last 10 years. All the Saw movies were complete garbage, I refuse to watch the Paranormal Activity movies. I really hate what I call "nu-metal horror" where it's just loud noises and jerky editing, and black blood and you're supposed to jump in your seat a lot, but when it's over you realize that the movie wasn't really scary and you just wasted two hours of your life.
Is there anything you would like to add about your personal background, interest in film or other topics?
I want to puppy-sit for you! Please, send me your puppy or old dog, especially if they're lickers.
Perhaps we can do another interview once everything is finished?
Yeah!
Closing comments?
Nee!
Thanks for the interview!