Your new movie I am Monster - in a few words, what is it about?
SHANNON: At its core, I am Monster is about the cruelty and judgement of human beings, and that tight rope we walk everyday between what is accepted as "good" and "bad" behind every single one of our actions. We can give so much love and acceptance, while at the same time we can be absolute monsters. It's a magnificent dichotomy, and it's magnified in Vivienne, a fetishist who is utilizing dead bodies as a tool for true release.
LORI: Itís about the monsters that we make of ourselves and of the monsters we make of others, both consciously and subconsciously.
What were your initial inspirations when dreaming up I am Monster, and what was your (co-)writing process like?
SHANNON: Aspects of the story had surfaced in my mind for a few years. I knew I wanted to make a film about a unapologetic female necrophiliac, and truly get behind the psychology of it. I was approached by producer David Anthony to make a short film as part of a sexually infused anthology, and I knew this would be my chance. I wrote the script and actually had to walk away for about 3 days when the material simply got too heavy. I had to question everything about who I was and what the hell I was doing. However, art isn't safe, and I wanted to tackle such a taboo subject and have an audience connect with someone who commits acts we couldn't dream of.
I sent the first draft to Lori and she loved it. We worked together on refining it and I asked her to come on board as a co-director.
LORI: Itís one of those things where I didnít know that I wanted to make it until Shannon sent me the script, and now that Iíve made it, I canít imagine my life without this film. Iíve been wanting to work with Shannon for a long time, pretty much since the moment we met. When she sent me the script, I was blown away by it and was honoured when she asked me to help her flesh the script out alongside her and co-direct the film. I love how the story casts aside the bullshit and uncovers painful truths about us as human beings, things we need to see if weíre to change.
How would you describe your directorial approach to your subject at hand, and since necrophilia is a pretty gruesome subject matter, was there any line you consciously refused to cross?
SHANNON: I just dive in. There is no other way. The endless research we did was pretty astronomical, and I know we could always do more. It's uncharted territory; however, we wanted those who aren't necessarily into horror films to get a kick out of this film. There's an underlying dark humour... a vicious, snarky tone... a cold calculation with a giant release of aggression and followed by an exposing of deep, heart-felt emotion. That is what we focused on bringing to the table with I am Monster.
There were several lines we refused to cross. This isn't a taboo film simply to be a taboo film. This isn't for shock. There is no gratuitous T & A. There is no hyper-sexualization. This is not detailing a stand-alone sexually aggressive act followed by credits rolling (which has its merit, in a different way). This is not a homogenized trendy goth-saturated story where a scenester who's really into "the dark" has a rendezvous with a corpse. This is no sappy love story. This isn't even necessarily geared towards the idea of the textbook definition of what a horror film is.
We wanted to make something completely different that made people think afterwards. We wanted Vivienne to be a complete individual, somewhat of an inspiration because she doesn't give a flying fuck what anyone else thinks. There's empowerment in that.
LORI: Weíve seen a few other films that are about necrophilia in one form or another and consciously worked to avoid as many cliches about the subject matter as we could. We wanted to subvert peopleís expectations of the film and of us as filmmakers. Film, as a medium, can entertain as well as make people think. Some will only see the shiny surface of this story. Others will delve deeper into it and into themselves.
Shannon, always assuming you're not a necrophiliac in your private life, what do you even draw upon to bring a character such as Vivienne to life, and how much of Shannon Lark is there in Vivienne?
SHANNON: There is quite a bit of myself in all the characters I write and play, so Vivienne is certainly an extension of myself in some regards (except I'm not a necrophiliac). I'm specifically fascinated by the cruelty of humankind, the pain we cause each other and ourselves on a macro level through war, societal rules and pressures, trickling all the way down to a micro scale such as what we do in our personal and work lives.
As an actress, I don't really "draw" on anything. I feel it out. Vivienne is just as human, if not more of a bold person than many people. She shows unbridled, real, raw emotion, which just might be one of the most therapeutic actions one can do.
Lori, with Shannon being the main focus of I am Monster and co-director too, how easy/difficult was it to direct her, and how did you two share directorial duties?
SHANNON: It was thrilling to work with Lori because we are both extremely detail-oriented, so every minute detail was essential. From the set to the costumes to the set design. The film had an extremely limited budget, so we worked together in gathering resources and our producing team, cast, and crew were just amazing. The post-production professionals we worked with truly brought it to life with us in a way that would benefit the story and the characters.
As directors on a short film, we are exceptionally fortunate to have such talented people involved, it really makes a difference and a filmmaker should accept nothing less. What goes in will come right back out on the screen.
LORI: I love working with Shannon; sheís a dream to work and collaborate with. Sheís whip-smart and intensely talented and creative. On top of that, Iím incredibly fortunate to have worked with this amazing group of people, our cast and crew, that we rounded up to come with us on an intense journey.
Shannon and I separately did storyboards which, believe it or not, were more or less mirror images of each other, and came together when I flew in for two weeks of in-person preproduction, where we kept what worked and threw out what didnít. We each took responsibility for finding and procuring all of the different elements needed to get the film made, from costumes to crew to props and beyond. When it came time to shoot, we were a cohesive unit. We both knew what we wanted for the film and how we needed to get it, so there was no dillydallying about, no ďOh, I dunno, what do you want to do?Ē... which we didnít have time for anyway! And in post, we worked together tirelessly with our amazing post crew to make sure that the film was exactly what we envisioned as much as possible.
The devil is in the details, as they say, and there was no detail during the making of this film that we didnít talk extensively about.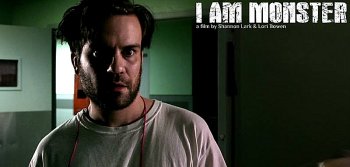 Jeff Dylan Graham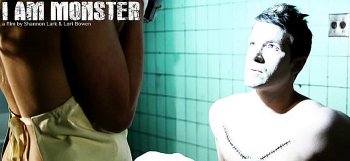 Adam Cardon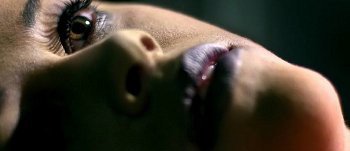 Katie Fray
Do talk about the rest of your cast for a bit, and why exactly these people?
SHANNON: I had been wanting to work with Jeff Dylan Graham for a while and knew he would pull off the part of Paul, the morgue attendant, beautifully.
I was introduced to Adam Cardon's work through filmmaker Mae Catt, who did a wonderful series with him where he played a homosexual serial killer. Lori and I both agreed that he would be perfect for the role of Jason. We needed an actor who could match Vivienne's stamina and overpowering presence, even while naked underneath a transparent sheet.
Katie Fray answered the casting call placed by the casting director. We wanted someone quite different from Vivienne, she needed a small frame and a hard vulnerability to her. Katie really came through and did a wonderful job, despite how freezing it was on set.
What can you tell us about the film's sole location, and what were the advantages and challenges of filming there?
SHANNON: It was shot in east Los Angeles at the Linda Vista Hospital, which was a former hospital (now converted to low income housing) that was utilized for many commercials, TV shows, and films. The set was perfect, exactly what we envisioned with a green hallway, a separate morgue, freezer doors, flickering lights, gurneys, and trash everywhere. It was everything we wished for visually. Due to budgetary restraints, we only had two days to shoot, so we had to move fast. We did quite a bit of pre-production work: rehearsals, storyboards, shot lists, etc, to get completely prepared so there would be minimal mistakes.
LORI: It was a challenge for me as I had not previously been to that location before the first day of shooting; at the time, I lived in Florida and couldnít go location scouting with Shannon. Although sheíd taken quite a few excellent photos, nothing can truly prepare you for a location better than actually being there. Itís a dingy, dirty abandoned hospital on the outskirts of Los Angeles. It was cold and some of the fluorescent lights didnít work and the floor was uneven... and I loved every second of it!
The challenge was the limited amount of time we had on set. We booked it for the weekend, but our time was limited: we had essentially 24 hours in which to load in, get 70 set-ups, and load out again and we couldnít leave our equipment overnight. It was intense and amazing and exhilarating!
Do talk about the actual shoot for a bit, and the on-set atmosphere!
SHANNON: This is a fun, hip film, so we wanted the actors to have fun with it. We want the audience to have fun with it, so it was high energy on set. It was a whirlwind.
LORI: It really was a whirlwind. I was able to use the restroom twice during the whole weekend and I think I ate maybe twice during the whole shoot!
The $64-question of course, when and where will the film be released onto the general public?
SHANNON: It's doing the festival circuit now and a digital version might be available to the public in the future.
Any future projects you'd like to share?
SHANNON: In the past month, Lori and I just wrapped up on a treatment and I was fortunate enough to work on Cory Udler's most recent film The Girl Who Played with the Dead - http://www.imdb.com/title/tt3486826/ -, wherein I starred as Bianca.
At some point in the near future, Maude Michaud's directorial debut "Dys-" - http://www.imdb.com/title/tt3528222/?ref_=fn_al_tt_1 - will be released to festivals. I starred as Eva, a woman in a deteriorating relationship who is forced to barricade herself with her husband in their apartment.

Feeling lucky ?
Want to
search
any of my partnershops yourself
for more, better results ?

The links below
will take you
just there!!!

Find I Am Monster
at the amazons ...

amazon.com

amazon.co.uk

amazon.de
Looking for imports ?
Find I Am Monster here ...
Something naughty ?
(Must be over 18 to go there !)

LORI: Iím always writing, itís one of my favourite things to do overall. Like Shannon said, we just finished a treatment for a feature film and I have several feature scripts that Iím shopping around to sell outright, and that I donít mind not being attached to as a director, as well as three features that Iím building funding proposal packages for that I am very passionate about directing.
Your/your movie's websites, Facebook, whatever else?
www.facebook.com/iammonstermovie
Anything else you are dying to mention and I have merely forgotten to ask?
SHANNON: I would love to see more filmmakers (men and women) tackling taboo subjects - really getting into the dark and exposing truths behind them. Let's go down the rabbit hole together, shall we?
LORI: I can only say ďdittoĒ to what Shannon said.
Thanks for the interview!
Thank you!!