Your two upcoming movies Love Death and Duque, in a few words, what are they about?
David Pedraza (DP): Love Death is a action spy-thriller introducing a character, Jude Quinn - a former Army Special Forces/NSA agent turned Private Detective. This movie tells the story of a doomed scientist, Samantha Collins (Staci Mueller) who knows she has been poisoned and knows there is no cure. She has one wish, to spend one last night with the love of her life Jerry Stanton (Arthur Rios). While this is a stand alone movie, it opens the door for a Jude Quinn series.
Duque (working Title) on the other hand is a coming of age/heroine drama that tells the story of high school girl Amanda Duque who has inherited the pitching genes of her famous father and who tries to become the first girl on a boys baseball team in a small conservative Texas town.
David, what were your inspirations when writing the two of them?
DP: Well, for Duque I began the project after I came across a story on Jackie Mitchell on the Public Broadcasting Network (PBS). I love history and 90% of my screenplays/novels have some historical slant, so I did some research and found when Jackie Mitchell passed away and set the story just before that happened.
Love Death actually began as a short film project and halfway through it, I heard my Jude Quinn character knocking on my brain wanting to be a part of it. I have two seasons worth of Jude Quinn stories written and I trust him (Jude Quinn) as much I trust myself.
How did both projects get off the ground, and how did all of you get involved?
DP: Well, one of the actors in Love Death, Jay Pennington, who plays one of the Ranchers, approached our Executive Producer, Yolanda Ayala, on my working on a film he is developing. After my meeting with Yolanda I let her know that I had a script or two she may be interested in. She said to send her one so I sent her Love Death and less then a week later, she said "let's make it!" I called Chip and asked him to direct and a few weeks later, Chip was in Texas and I've been trying to get him to stay ever since. Yolanda called me the day after the Love Death wrapped and asked what else I had. I offered Duque because there were not a lot of locations and I, as I try to do in all my screenplays, depend on the actors acting and not on flash and bang, speed chases or blood n guts. She loved it and we're off and running again.
Glynn Praesel (GP): David and I worked on a 24 hour film project and I introduced him to Chip and Jack. True networking with talent now from NY to LA.
As far as I know, both films are set in Texas - so what can you tell us about your locations, and Chip, as a California resident, what are your feelings about shooting in Texas?
DP: For Love Death our Executive Producer procured The Trois Estates, a resort that looks upon Enchanted Rock, one of the largest Pink Crystal rock formations in the United States.
Duque is targeted to be shot in and around San Antonio. We have access to some great locations and Texas is such a film friendly state, many locations are gratis.
Chip Mefford (CM): Texas is a great place to shoot with great incentives and locations. It has become one of my favorite places to film and the crews are deep enough that we haven't had any problem with both crewing up and local talent.
Let's go into a bit more detail about Love Death first: This seems to be a rather action-packed movie - so what can you tell us about your action scenes?
GP: All of the action scenes were choreographed by Chip who is also an accomplished stuntman and stunt coordinator. Love Death is a pilot for a series that will have action-packed scenes each episode.
Do talk about your cast for this movie for a bit, and why exactly these people?
DP: Every cast member sold me on their role!
Art Ruiz, who played Jerry, was younger than I was looking for but at 1 am and his second callback he sold me that he could give the emotion I needed for his part.
Stacie Mueller had the look I needed to sell the 2 parts she played. They were the leading roles with a great supporting cast.
According to my information, Love Death is just a snippet of a larger body of work, storywise, and you might extend this into a TV series - care to elaborate?
DP: Well, as I mentioned earlier, I have two seasons of Jude Quinn stories written and have been working on this character for a solid eight years. Some of the stories are inspired from my experiences as a soldier in the US Army. Once I met Chip, I met the analytical side of Jude Quinn of a true Special Forces soldier. and once he read who JQ was, he knew it as well. Now it's a shared dream to bring him to the small screen.
Do talk about the actual shoot and the on-set atmosphere for a bit?
CM: We had a very short shoot schedule and a lot of people told me it couldn't be done ... in most cases I would say they were correct. But ... other people did not have my cast and crew!!! I came from LA to Texas to make a movie. Yolanda had built a team to support me. I came in without really knowing the crew. I believe it took the crew about an hour or 2 after knowing me that they decided to give me their all!!!! and that they did! We were a team that had a clear direction and everyone had a say in how we made our project
I believe that we as movie makers need to have input but it is up to the director to lead the team thru the project
And having a great 1st AD really helps! Danny Ramos was my first! He kept me on schedule, pushed me when he needed to, and gave me the time when I needed it! All I can say is I would walk thru Hell with my crew or for them.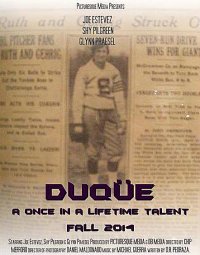 Let's move on to Duque - how are you planning to represent baseball, as an action-based sport, in your film, and how will you set the balance between the physical aspects of the sport and the drama of your story?
DP: In my mind, baseball is really just a backdrop for a coming of age story. While the circumstances may be different, what happens to our character Amanda Duque happens to both boys and girls in schools across the world everyday. Bullying is bullying whether it takes place in a locker room or on the playground. Amanda finds a way to overcome her adversaries and if this story helps just one kid, then it was all worth it. But the baseball is represented with the class and dignity of the early days of the sport. It is represented with respectful coaches doing respectful things; teaching the game correctly.
Again, do talk about the cast of your movie, and why them?
DP: We are still in the casting process but we knew going into this project that finding that right person to play Amanda was going to be a challenge. The rest of the cast I was not so worried about. But we have some strong candidates to play her, and those who don't make it as Amanda may well be stunt doubles so as not to wear out anyone's arm. Glynn Praesel will be playing one of the leads as Amanda's coach and his talent and work speak for itself. Shy Pilgreen will be a great supporting actress and actually worked on Love Death as well.
With Duque being a period piece - where do you see the challenges of that aspect of your movie?
CM: The big parts, wardrobe, hair, and the cars. I mean where are we going to find Hammer pants? - All joking aside I believe the wardrobe, hair and makeup will be huge for this film, David has done a great job with the dialog and keeping it 80's.
Glynn, you play prominent roles in both movies - so what can you tell us about your characters, how do they compare, and how will you approach them?
GP: The character I play in Love Death is a wealthy cowboy/rancher who has nefarious intentions. I have played this same kind of character before so it's an easy role that I just get to have fun with.
Additionally, the coach Tom Walters role in Duque is a fantastic role that lends itself to a wide range of emotions and great character development. I have also played a coach similar to this character.
What I will look for as I develop both characters is what each has as a strength and as a weakness. This makes them real to the audience and relatable.
It might be waaay too early to ask, but any idea when the two films will be released yet?
Both will be targeted for Summer/Fall 2014.
Any future projects past Love Death and Duque, both together and individually?

Feeling lucky ?
Want to
search
any of my partnershops yourself
for more, better results ?

The links below
will take you
just there!!!

Find Love Death
at the amazons ...

amazon.com

amazon.co.uk

amazon.de
Looking for imports ?
Find Love Death here ...
Something naughty ?
(Must be over 18 to go there !)

DP: Well I'm down to work on any film those cats (Glynn, Chip) feel I can help on. I'm also hoping to get a sci-fi screenplay I wrote called Charlie Martels into the right hands. When I do, you'll be one of the first to know.
Your/your movies' websites, Facebooks, whatever elses?
http://dbmediaent.com/Duque/index.html
https://www.facebook.com/duquemovie
http://dbmediaent.com/Love%20Death.html
Anything else you are dying to mention and I have merely forgotten to ask?
Jack Skyyler: I've been working with Glynn Praesel a long time. And you'll see him on the credits of many of my films. You see him tying these projects together. Glynn's a truly great actor. But beyond that, he's a truly great man! And I'm looking forward to a lot more films with him!
Thanks for the interview!