Your movie The Art of Wushu - in a few words, what is it about?
On the surface, of course, it's a cheesy B-movie about occult shit, monster brawls, smoking pot, Satanic rituals, gratuitous depictions of murder... all that fun stuff. Deep down, however, I guess there's a bit more going on: the younger generation gets thrown under the bus for the mistakes of their ancestors – the increasing threat of which has determined the course of their lives, as they are the ones who are responsible for coming up with a solution before it's too late; issues of gender roles and equality are subtly explored, as the female characters are typically sacrificed in order to preserve the long-standing pre-conceived ideals established by earlier generations of a male-dominated culture; conservative-minded pot culture taboos are mocked pretty unsparingly all throughout. Or maybe I'm just trying to make it sound deeper than what it is: a cheesy, occult-themed horror movie about monsters and demons who enjoy smoking weed while killing in the name of Satan, and beating the shit out of each other in the woods.
The Art of Wushu is a prequel to your movie Blackbags - so did you create Meathead in that movie with this backstory in mind from square one, or did you dream it up only at a later date?
This was something I originally wanted to include in Blackbags, but didn't get to shoot. The pacing wouldn't have worked for all the ideas I had, and, to be truthful, I dragged my feet a lot making that movie. So I should probably say I didn't get around to shooting this material. Until last winter, that is, a few months after the Blackbags premier. Audience members kept asking questions about the Meathead, so I decided to respond with the The Art of Wushu.
Your sources of inspiration when writing The Art of Wushu?
This is probably going to sound a little lame, but I always liked that ritualistic cult element in Halloween 5 and 6, explaining how Michael Myers was under some demonic curse or whatever. I enjoyed every Halloween movie in their own little way, even Halloween 3. So the Meathead is a bit of a nod to that. Anime, fighting games, and Troma films heavily inspired the monster brawl between the Meathead and the Jenk-Jenk Beast. I was beginning to plan for principal photography when Rob Zombie's Lords of Salem screened at TIFF, and I was kinda worried people would think I was trying to make something like that. But that was totally not the case – even though I enjoyed Lords of Salem a lot, and even though Zombie's career in general has been a significant influence. My vision for The Art of Wushu was inspired mostly by that Druidic cult element from those Halloween sequels, and doom metal, like Electric Wizard and that kinda shit. And because Blackbags was sort of an excuse to showcase music from my various recording projects, mainly that of 13 Bags of Dick (http://13bagsofdick.bandcamp.com/), this project was a similar deal by extension. The title of the movie is even a reference to one of those songs, which is diegetic music playing on the car stereo during the final scene. Actually, all of the music in that scene is by 13 Bags of Dick.
What can you tell us about the very specific look and feel of your movie?
Since this takes place in the Blackbags universe, I wanted to keep the look and feel consistent. The other side of it is that I plan to mash the two together, with some extra scenes and footage to bridge it all, then release that officially as a feature. So it has to look at least somewhat consistent in that regard as well.
You of course have to talk about the demon masks and costumes for a bit, and what were the inspirations for those?
I can't say enough how much Troma has been an inspiration. Class of Nuke 'Em High, Sgt. Kabukiman... gold. The live-action Guyver movie Mark Hamil had a small role in was a childhood favorite, and has always stuck with me. I still have a copy of that on VHS somewhere. Definitely The Story of Ricky. I've always wanted to shoot a crazy, earth-shattering fight scene with two massive beasts, or mutants, or whatever, just slugging it out. I needed to beef up this story a bit since I'd decided to shoot it as a stand-alone short, so I thought of people I knew who were bigger than Dave (Kolenski, the starring character), and came up with an abstract concept for the Jenk-Jenk Beast. Named after our friend behind the mask, Spencer Jenkyns, we went through some of his old Halloween costumes and found some masks at the local Value Village, then brought the monster to life. I got the cult members' robes from Value Village as well. That place is great when you're working on a microbudget. Although, because we were shooting on a microbudget, there were some more spectacular ideas in mind for the brawl – along the lines of the movies I mentioned above – that we didn't get to pull off. Maybe in the future.
What can you tell us about your cast, and why exactly these people?
Dave Kolenski was cast because, of course, it was a reprisal of his role from Blackbags. Spencer Jenkyns is one of the biggest guys I know. He also has a decent range, a great presence, is able to choreograph his own fight moves, and really gets into the scene and his character. Liz Cleland and Alyssa Axeworthy were cast as cult members 'cause they're all about Satan and shit, and Liz even wrote her little monologue for the ritual scene. I met Torin Langen [Torin Langen interview - click here] at a Hamilton screening of his short Trash and had wanted to work with him ever since. I asked if he'd be interested in making a small cameo appearance as one of the cult members, and he was more than happy to. Being the sister of Melissa Doctor from Blackbags, Cheryl Tate was brought on by Dave as the female lead, Kelly Watermoon. Since she's Native, I wanted to maintain that aesthetic consistency, and cast Robert Mukwaodayin in the role of the brother, Kirk. Stu Keays (as their grandpa) is a great character actor I know from a few other short films I was in, and had been looking for an opportunity to work with him, as well. Alyssa and Robert are known locally for having performed in a number of bands, so I thought it would be an added bonus to feature some of my rock'n'roll friends, considering music is a prominent element of the film. Bri Leeson (as the hiker in the woods) was just a random casting based on someone's recommendation, who turned out to be really enthusiastic, incredibly dedicated, and surprisingly talented. Devin Bateson – a personal acquaintance, and local comedian and writer with sketch comedy troupe Aunt Francis – was one of the first people I thought of for the role of the other random stoner, the Meathead's final victim of the movie. Albeit small, I needed someone who could play a convincing and humorous pothead, and I knew he would be great for it.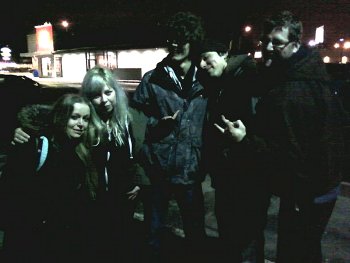 Do talk about the shoot as such, and the on-set atmosphere!
The deaths are simulated, but the weed is real. Or is it the other way around? There was always a fun vibe on set. We're all friends, or are familiar with each other in some way, for the most part, so it was pretty casual. I'm not a very demanding director either. I don't really have to be, 'cause everyone, so far, seems to appreciate and respect why we're all getting together to do this. Depending on what happens with the release and special features and shit, you might get a chance to see some of the horseplay that went on behind-the-scenes. We're a bunch of jackasses sometimes. A lot of the time. Especially when there's dope being passed around.
The $64-question of course, where can The Art of Wushu be seen?
That's a good question. I picked up the slack and went on an editing blitz to get it finished in time for Darrel Marsh's local horror festival, Little Horrors, in June 2014. In regard to festivals, overall, I'm not going too crazy until the big mash-up is finished. Then I'm going to hit the circuit real hard. I was discussing another VHS split release with Torin, through his production company, Candle Flame Films. Maybe that will happen this summer, or something. I'm going to have a limited run of DVD's printed for the premier, wherever that ends up being, but resources for distribution are going to be largely devoted to the big mash-up version. I saw Blackbags up on a streaming site, so maybe people will be able to find the Wushu link through one of those, as well.
What can you tell us about audience and critical reception of The Art of Wushu so far?
Aside from Dave and co-producer, Jay Winger, no-one's really seen it yet. I only just finished it recently, but have sent the online screener to a few review sources and friends overseas. (re)Search my Trash posted the first advance review. Nikki Chatwin [Nikki Chatwin interview - click here], of Sick Bunny Films, had a chance to check it out and seemed to dig it. He especially had good things to say about the music.
Any future projects you'd like to share?
I've always got a few irons in the fire. The Blackbags/The Art of Wushu mash-up should be ready by the end of the year. I recently scripted the first of a two-part live-action story arc based off a comic book character Spencer and I have published, for which I'm aiming to begin principal photography this winter. Winger has green-lit me to guest-direct a couple episodes of his horror review web series The Host. Since last summer, I've been seriously developing a post-apocalyptic sci-fi action feature. I've got another three years of school left, though, and while I was originally hoping to start shooting in 2015, I think I might have to hold off until I graduate. In the meantime, I've just been carefully crafting the story, characters, and world they occupy, and getting together as many resources as possible. I've been eagerly awaiting the warm weather so I can get to work on building the prop weapons. Ideally, I'd like to shoot a little test video at the end of the season, just as an excuse to demo them and give people a taste of what I have in store for this project. There's always a lot of shit going on up here in my head, but that's all I'm gonna talk about for now.
Your/your movie's website, Facebook, whatever else?

Feeling lucky ?
Want to
search
any of my partnershops yourself
for more, better results ?

The links below
will take you
just there!!!

Find Luke Meneok
at the amazons ...

amazon.com

amazon.co.uk

amazon.de
Looking for imports ?
Find Luke Meneok here ...
Something naughty ?
(Must be over 18 to go there !)

I own the Video McNasties domain name, but am lazy as fuck when it comes to writing code and programming web sites and shit. So for now, it's Facebook or nothin'...
The Art of Wushu official Facebook: http://www.facebook.com/pages/The-Art-Of-The-Wushu/307099222725381
Video McNasties official Facebook: http://www.facebook.com/VideoMcNasties
Anything else you are dying to mention that I have merely forgotten to ask?
Nothing's coming to mind. But that's a problem I suffer through often, so my apologies if I forgot to plug someone or something. You will always have a special place in my heart, nonetheless. Oh, yeah... check out Quiet Lakes on the Bandcamp (http://lachrymalquietus.bandcamp.com/) and support independent artists.
Thanks for the interview!
Thank YOU for the interview. The pleasure was all mine.