Your upcoming movie The Crazy House - in a few words, what's it going to be about?
It's about a mob family from Brooklyn who gets put into the witness protection program, and they begin to suspect that the house they've been placed in is haunted. They find out the house has a local reputation, because of two murder-suicides that happened there, over the years. The locals all refer to their home as "The Crazy House". The family's teenage daughter, who is having a really hard time with the change to her life, begins to see apparitions and demonic creatures in the house. This causes several members of the family to believe there are ghosts there. The men in the family get the idea to exploit the house for financial gain, and this attracts all kinds of attention, the wrong kind. As the film progresses, the characters slowly get more unraveled and the second half of the movie leads to all kinds of mayhem and craziness. The audience is going to have to figure out if the house really is haunted, or if these characters are already unhinged people in a situation that's sending them over the edge. Either way, by the second half of the movie, the bodies begin piling up.
From what I know, The Crazy House will to an extent at least be based on your short First Night in the New House - so you obviously have to talk about that one a little?
Yes. I wrote First Night in the New House a few years ago. I was on the phone, just chatting with my brother, Lee. And he gave me this idea he had about a ghost who hides underneath the bedsheets in people's beds, and you can only see him when they flap the sheets out on top. I thought it was a neat visual idea, so I wrote a short based around it. Originally the short was a girl in her new apartment, hearing noises through the walls, but I thought it would be cooler to change it to a city girl in her new country house.
You can check out the movie here: https://youtu.be/tJJtclBRO1I
After I wrote the short, I started to expand on that idea, a Brooklyn family in a scary isolated midwestern house, and that's how The Crazy House started. I thought of a mob family in witness protections, in a new house that creaks and groans and makes all kinds of noises. Coming from an Italian-American family, I know how superstitious a lot of old-school Italians can be, and I thought that was a good basis for a story.
What made you decide to extend First Night in the New House's premise into a feature, was that planned from the get-go? And where does the mob-subplot come from?
The thing was, after I wrote The Crazy House, I put the First Night in the New House script away and forgot about it. But when we wanted to raise money for the film, I felt we needed to shoot something to demonstrate the look and feel of the film. Unlike my previous films, The Crazy House is going to be shot on the Red MX One, and have much higher production values. I wanted this to reflect in the short. Originally we were going to shoot the opening scene, but I wanted to do a short that would stand on its own and be separate from the film. So I dusted off the First Night in the New House script, and we shot it in one day.
What can you tell us about your movie's approach to horror, and also to gangster cinema?
For this film, I'm going to be approaching it from a realistic perspective. In the acting styles, the direction, the dialogue, and even the supernatural stuff. I want everything to feel as real as possible. The film's ghosts are only seen through the eyes of Lydia, who may be having a schizophrenic breakdown, or may genuinely be seeing ghosts. So the horror has to have a hallucinogenic quality to it. Like those weird moments when you wake up from a dream, but you're still half asleep, and the things from your dream are standing around your bed. The second half of the movie, things get a lot more visceral, and this is also where the gangsters come in. I love gangster movies. Goodfellas is probably my favorite movie of the 90's, maybe second to Fargo. And the raw, brutal violence of the gangster world is going to come crashing into this family in their little house in Indiana. It's going to be an interesting merging of genres, both of them connected by dark, vicious and visceral onscreen violence.
Do talk about the intended overall look and feel of your movie for a bit!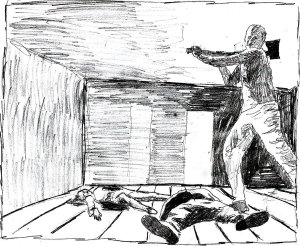 Going into this project, I had to contemplate this heavily at the writing stage. Initially, my instinct was to make an Evil Dead style project, but I ditched that during the writing stage. Partially because it started to feel too much like my last film, Hell Fire, which had a little bit of a Reservoir Dogs meets Evil Dead vibe. And partially because I felt the supernatural stuff had to be toned down enough to make this work. I've seen a lot of supernatural movies that are creepy as hell, until they get to their last act, when they ramp it up and make the supernatural elements more aggressive and more physical. And suddenly, the movie loses its impact. Supernatural stuff, especially in a realistic film, is often best left beneath the surface. In this film, the last half of the movie is going to involve so much bloodshed, action, shootouts and mayhem, that I didn't need to step up the supernatural at all and could keep that element just bubbling beneath the surface, where it won't lose anything by being too in-your-face.
In the film, several characters are starting to act stranger, the longer they stay in the house, but also could be suffering from very normal, real world conditions. Lydia is seeing things and becoming increasingly reclusive, and may be suffering from the onset of schizophrenia. The father of the family, Ricky Donatelli, who is the one who testified against his mob buddies and got them into this mess to begin with, he's having a hard time with this, going through a secret depression that he hides from his family, leading to drinking, drugs and eventually crystal meth addiction.
So the camera work and lighting, I want to reflect in a lot of the mental states of the characters. We're going to use long lenses in a lot of scenes, to blur out the backgrounds in a lot of Ricky's shots. Giving the impression of being isolated and alone, the rest of the world in a blur or fog. We're going to put vertical blinds on the windows, so when we light, the shadows appear like prison bars throughout the house. As the characters unravel, the camerawork is going to gradually get more handheld and choatic.
Also, the film is going to have a very conversational, realistic tone to its dialogue. I'm a stickler for great dialogue in a film, and I really love these characters and who they are and how they talk. We're going to work these scenes in rehearsals, and rewrite if necessary, until the scenes have a completely realistic tone. It's important to me that when actors perform a scene, it feels so much like reality that I can't tell if they've started the scene, or are just bullshiting with each other.
Anything you can tell us about your projected cast and crew yet?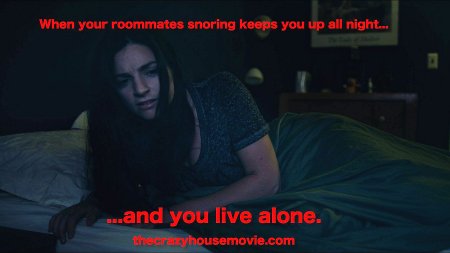 Katelyn Marie Marshall
I cast Katelyn Marie Marshall in the film. Katelyn is an enormously talented, very versatile actor who was the lead in Hell Fire. She also plays the lead in the short, First Night in the New House. She is going to be playing, most likely, Lydia, the film's lead. However, I want to give Katelyn a shot to audition for Dottie Donatelli, the younger sister. Dottie's a great character and probably the scene stealer of the movie. She's a former stripper turned born again Christian with a foul mouth and a hot temper. She doesn't believe in ghosts, but believes that her sister is possessed by demons. By the end of the movie's first act, Dottie falls in with a dangerous, and extremely charismatic church and tries to bring her sister in for one of these mass exorcisms, where there are just people freaking out all over the place. It leads to the films centerpiece, this creepy scene where Lydia, amidst this insane church with dozens of hysterical people and piles of writhing bodies all around her, begins seeing demons coming from everywhere. Lurking in the crowd, coming out of the walls, in the faces of the people gyrating around her. The scene is going to have an evil, almost orgiastic vibe to it. Sexually charged, yet wicked and very twisted. Like something out of Dante's Inferno.
A film like yours definitely needs the right location - so what can you tell us about yours?
I cheated the location in the short, using about 30 dollars worth of stock footage of a house, a wheat field and a clear starry night, and combined them in Adobe After Effects to create the dream-like exterior shot of the house. But for the film, we are going to have to find a real location. Isolation is a big part of the movie. The family's mob case was very high profile, partially because Ricky was all over the news, but also because Lydia, his daughter, was a singer songwriter with a viral video who got a big record contract just prior to being forced into hiding. Because they are both recognized wherever they go, the government puts them in a house that is pretty much in the middle of nowhere. I envision the Crazy House being one of these country farmhouses surrounded by weeds and dead grass with not another house in sight. Something people from Brooklyn, who mostly live in apartments and brownstones with hundreds of people on a city block, will not be used to. The isolation is one of the things that really starts driving Ricky mad, so location is going to be an important part of the film. Not just the house, but it's empty surroundings.
From what I know, you're currently still raising funds for The Crazy House - so do talk about your campaign for a bit!
One of the things I want to do with this campaign is to bring in backers into the decision making in the film, to make them feel like more of a part of the production. So we plan on giving backers the opportunity to vote on pre-production decisions, like picking out wardrobe, helping decorate the set, things like that. There is a scene where a character kills a house full of people in their sleep, in elaborate ways. So we are going to give our backers a chance to come up with creative ways to kill off these characters and then they all get to all vote on which ways these people will die. It's a way I thought would bring people into the production on a more personal level.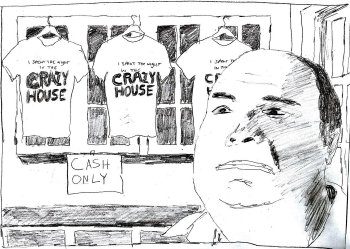 And to be clear, backers won't get to vote on major decisions, like casting or final cut. I'm a director who comes to the table with a very clear vision of what I want and that's a key part of making a great film. I believe any director who would turn major decisions like that over to backers doesn't have a clear vision and is probably going to make a bad film. But I have no problem turning minor decisions over to the backers, if it engages them on a more personal level. I also plan on sending them constant photos, behind the scenes videos, some dailies, and updates after every day of production. May even drop a few rough cut scenes on them along the way, haven't decided that yet. But I want them to see this thing coming together over the next year. I want people to get their money's worth. For 50, or 100 Dollars, you get to spend the next year watching this thing materializing before your eyes, instead of just waiting in the mail for a few bumperstickers and a DVD. But, of course, we have all kinds of perks, too, including bumperstickers! The cool thing about our perks, a lot of them are going to be props in the film. When the family begins exploiting the house, they turn their kitchen into a gift shop, with mugs, t-shirts and kitchen magnets.
http://igg.me/at/thecrazyhouse.com
Once the funds are raised, what's the schedule - and any idea when your film might be released, however tentatively?
No idea yet. I'm looking at about 35 day shooting schedule, not including pickup shots. And depending on how much money we can raise is also going to dictate how we shoot the film. If we can raise over 150,000 Dollars, we can shoot this movie straight through, in one long 35 day schedule, like most movies are. But if we can only raise 5 figures, we may have to shoot on weekends, with maybe a week blocked off for all the exteriors. we'll see how that pans out in the next two months.
Any future projets beyond The Crazy House?
Not at the moment. I have about 5 or 6 ideas for movies, but nothing beyond some scribble on a notepad or some loose ideas in my head.
Your/your movie's website, Facebook, IndieGoGo, whatever else?
http://igg.me/at/thecrazyhouse.com
https://www.facebook.com/thecrazyhousemovie?fref=ts
https://twitter.com/FrattoMarc

Feeling lucky ?
Want to
search
any of my partnershops yourself
for more, better results ?

The links below
will take you
just there!!!

Find Marc Fratto
at the amazons ...

amazon.com

amazon.co.uk

amazon.de
Looking for imports ?
Find Marc Fratto here ...
Something naughty ?
(Must be over 18 to go there !)

Anything else you are dying to mention and I have merely forgotten to ask?
Yes! One of my favorite things about this movie. There is a character in the film by the name of Purcell. He's a serial killer who is also a paranormal enthusiast, who travels around the country on business, occasionally killing people and investigating haunted houses. I don't think it's going to surprise anyone that he turns up at the house. He's a complex character. He is a former victim of childhood bullying and abuse and that forms his motives for killing. He is a massive, hulking guy, but still very much a nerd and a loner. He enjoys killing people who victimize others, and views himself as some sort of Charles Bronson type. He likes to force them to look in his eye as they die, and he views himself as a reflection of who they are at their worst. But Purcell is incredibly brutal, and has no qualms about killing the innocent himself, if it means getting to the guilty. He goes through mental leaps to justify this to himself. Something happens midway through the film that shakes his justifications and beliefs, and starts to unravel him mentally, just around the time he finds this Crazy House. He's going to be the hardest character in the film to cast, and I cant wait for that!
Thanks for the interview!