Your new movie The Loner - in a few words, what is it about, and what can you tell us about your character?
The Loner is a story about an aging hitman/mob soldier who is faced with reflecting on his past and trying to redeem himself in some way before his time is up. According to the writer/director Kris Salvi [Kris Salvi interview - click here], it's really a character study, and this guy, Frank Rizzo, has been loyal to the mob and their ways his entire life. To a point in which it has cost him friendships, relationships, any sort of stable life. He's reached a point at which his past decisions have caught up with him and he's just trying to deal with it in the only way he knows how.
What did you draw upon to bring your character to life, and how much Marc Powers can we find in Frank Rizzo?
Well, there's a little bit of me in every character I play. So there's definitely aspects of Frank's personality that are mine. And some are embellished for Frank, but are aspects that I would want to have in my personality. I can live those things vicariously through Frank and get away with it. Kris is also good with recommending certain research to help with character development. Movies to watch, articles to read, or sometimes he'll have an actual true story he heard that relates to the character and the film. I just try to pull all of these things together and bring a character to life.
How did you get involved with the project in the first place?
I'd worked with Kris before on some other projects. We've become friends and will often talk about movies and such. He approached me with this script and asked if I'd be interested in the lead. Right after I read it I told him. I'm in.
Do talk about The Loner's director Kris Salvi [Kris Salvi interview - click here], and what was your collaboration like?
Well, like I said, Kris and I love talking movies. We both have an affinity for crime drama and just indie style film in general. He really is a great writer, and that is something that pulled me in on this script. I also believe he wanted to tackle something bigger as a director, and The Loner was going to be it. Since it seems neither of us are a fan of hashing out major details through email or text, we usually have a few sit downs before production. I've read the script, prepared, and I come in with my ideas. How Frank looks, talks, certain dialogue I'd like to change or tweak, etc. Kris has his ideas, since he wrote the script, and we sit down and go over everything. I believe we had a few meetings at a coffee shop, a few hours each time. We bounce the ideas off each other and see what happens. Ultimately, it's Kris's film and he has final say, but he does trust me to make good decisions as an actor. He also knows that we both want to put out the best project possible.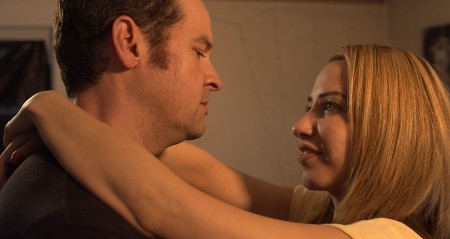 A few words about the shoot as such, and the on-set atmosphere?
Kris Salvi's film sets are always entertaining. We shoot kind of run-and-gun style at times, at actual locations where some of the events actually occurred. It helps me as an actor because it really allows me to feel like I'm living the character's life. Kris's approach and style give a real gritty feel to the film. Like you're there, watching us live these events. He also is very selective when it comes to actors and crew. The Loner set was full of people, cast and crew, that Kris trusts and knows are going to give him the performances he wants.
Any future projects you'd like to share?
I've got a film called Amaranthine that I wrote and acted in. It's a short drama about love and loss set in a post spocalyptic world. It's currently being submitted to festivals. There's also another Kris Salvi film headed into post-production. Another short, this one titled 10:59. Not sure what genre it'll fit in to. It's definitely a unique film.
What got you into acting in the first place, and did you receive any formal education on the subject?
I think my love of movies got me started. I loved cheesy/gory horror films as a kid and was interested in making those kinds of films. I used to read Fangoria and get tips and tricks on all the elements of making these films. Eventually, I turned to acting because I found I enjoyed being in front of the camera more than behind it. When I realized I needed some kind of structure and technique I attended the Lee Strasberg Theatre Institute in NYC for a period of time. Also, as a kid I wanted to be a number of different things when I grew up; doctor, baseball player, fireman, truck driver, Sonny Crockett. As an actor, I can be any number of those things. Albeit for a short period of time.
What can you tell us about your filmwork prior to The Loner?
All over the place really. I started with my own work, writing, filmmaking. Spent some time in LA where I worked occasionally. Did extra work, which I find to be boring unless it's a lower budget film and they ask more of you than just walking back and forth. I actually took a break for a while until 2010. That's when I got back into it and have worked steadily in small Indie films and student films since then.
How would you describe yourself as an actor, and some of your techniques to bring your characters to life?
I generally consider myself to be a method actor although I don't always use those techniques. A lot of times I do some research into character types and other times it's just intuitive, or a combination of both. For The Loner, I just went in as prepared as can be. Did all the homework, knew the script inside and out and showed up in character. That sense of preparation and keeping the character going really allowed me to just live those moments as Frank Rizzo. I know it sounds cliché but "living in the moment" is really the best thing I can do. Other times, if I need help I'll listen to music to get in a certain mood. I'll curate a playlist before production starts, and then I have that with me should I need to get to a certain headspace. Music is great for me in terms of emotional memory or emotional manipulation.
Actors (and indeed actresses) who inspire you?
Probably started with De Niro and Pacino. Those are guys I watched growing up, doing serious dramatic work and just pouring their heart and soul into it. Sylvester Stallone, I'm surprised at the number of people who think he's just a dumb action hero. I mean, the guy wrote Rocky, which is a brilliant screenplay. The next generation has to be Edward Norton, Brad Pitt, Tom Cruise and Leo. Those guys have a very similar work ethic. Although I think Tom Cruise takes it a step further with the stunt work.
For actresses, Charlize Theron has always impressed me. Jennifer Lawrence, Jessica Chastain and I can't forget Cate Blanchett. All very fine actresses with an impressive body of work.
Your favourite movies?
Number one, Heat by Michael Mann. Kris and I both agree on this one. I feel it's the finest movie ever made. I also have a list that includes True Romance, Fight Club, Pulp Fiction, most Christopher Nolan films, The Wizard of Oz has to be in there. I could go on, I got more than a few favorites. But last one, sticking to my horror roots, John Carpenter's The Thing - classic sci-fi/horror.
... and of course, films you really deplore?
I can't say there's any I really hate. I usually just don't watch anything I don't think I'll like. Although the only time I can recall almost walking out of the theater was for Killing Them Softly. Unpopular opinion, I know. And I really like Brad Pitt as an actor, but this one just really let me down. I've said recently maybe I should rewatch it now that it's on Netflix and give it a second shot.
Your website, social media, whatever else?
http://www.marcspowers.com - that's where I put most of my work. I try to keep it updated. Of course I'm on Facebook and Instagram, but not as active with posting on there.

Feeling lucky ?
Want to
search
any of my partnershops yourself
for more, better results ?

The links below
will take you
just there!!!


Anything else you're dying to mention that I have merely forgotten to ask?
Not really. The only other aside to the story would be Kris and I initially disagreed on the title. Ultimately he won, and I've come around on it. Our official trailer says "Marc Powers is The Loner," and I kind of like that. There's some truth in it. I guess that's another trait Frank and I share.
Thanks for the interview!