To start this off, please do introduce yourself to those of us unfortunate enough to not already know you?
That is very kind, Michael. My name is Maria Allred and I am a writer, director, producer, cinematographer and editor. I am currently based out of Chicago and working on my second feature film.
What made you get into filmmaking in the first place, and did you receive any formal training on the subject?
Iíve heard a quote that says something to the effect that what you first want to be as a child is indicative of your true vocation. Well, as a child I didnít have the contextual framework to know that film director was an option. I wanted to be an artist, actress, and detective, but I think if you put those things together it makes a filmmaker.
I discovered moving pictures as my medium while taking a screenwriting class in college. Coming from a creative-nonfiction writing background where wordplay and beautiful prose are key, the dry, action-driven nature of screenwriting was difficult for me to attach to at first, and so I asked if I could make a short film for my final project. The professor agreed. As soon as I began shooting that film, The Race, I knew I had found my purpose. I felt a flame ignited in me that I had never felt before. Filmmaking was the amalgam of all of the passions I had pursued throughout my life but that individually never felt fulfilling. I got my BS in liberal studies - film focus.
How would you describe yourself as a director, and do you have a fixed directorial approach to any given story, or does this change with any given project?
I would describe myself as a new director. Ha! But really, I think I am still finding my particular style as a director. In my debut feature, I used a really unconventional style of creating called process-oriented filmmaking, which is based on Jungian principles and ultimately explores the fine line between life and art. But what I want to bring to my next feature is a deep understanding of performance. Iím soon going to be taking acting intensives in Chicago to get a deeper understanding of that side of the camera. The actors are the gold of the film and I want to get inside that space as much as possible. I think my directorial approach will shift with each project, but will always use intuition, psychological insight, and the power of the present moment to capture that lightening in the bottle, if you will. I want to create a safe and fun space on set where the actors can become vulnerable and deliver raw, honest performances.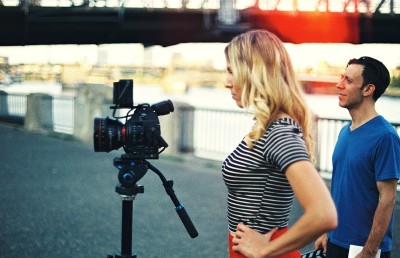 Quite in general, what are your sources of inspiration as filmmaker and storyteller?
I receive inspiration primarily from these certain atmospheres that fill my being. Itís a bit difficult to describe them, but they are subtle multi-sensational experiences that also transcend the senses. They each come with a unique emotion and mise en scŤne. I donít know where they come from, but they feel poignant and mysterious and seem to whisper of future creations that will be birthed through me. Iíve had them since I was a child.
I am also inspired by striking, often humorous, moments where it seems that mundane life conspires to unveil the poetry of existence.
You started out making shorts, right? So do talk about those for a bit, and also about your evolution as a director?
Yes, I began with making shorts. I did portrait pieces of interesting individuals; abstract, poetic works; and documentaries on subjects such as the Occupy Wallstreet movement. At that phase of my career I was really playing and experimenting and felt very loose and free.
Itís a large leap from shorts to features. I didnít feel prepared when the muse came-a-calling for me to make my first feature, but I surrendered nonetheless and was taken by a tidal wave of creation where I was basically doing my best to surf the wave. I think thatís great, that I surrendered, because I think I was compelled for a reason, but I also think on many levels I wasnít prepared (weíre never really prepared). My first feature was a hard-knock academic crash course in filmmaking as well as the industry. Now, preparing to make my second feature I think I feel more like a beginner than I did at the start of my first. I think thatís a good thing though.
Your feature debut The Texture of Falling - what's that one about, and how did it come into being? And given that it's about a struggling filmmaker, is it in any way autobiographical?
So, The Texture of Fallingóitís about the intersection of the artistic muse and romantic love, as well as about the conflation of life and art. Itís a very experimental piece, not only creatively, but psychologically, as I was using the directorial style I spoke of that is steeped in Jungian principles and that explores the fine line between fact and fiction, life and art.
It is autobiographical, and further, I see now, it was predictive. In that, what I illustrated in the film, sometimes metaphorically, has since come to pass. So thatís beyond predictive, itís creative in the sense that it actually molded reality, almost like a spell that I cast. So, this whole life and art thing has taken on an ever-deepening meaning. I was truly exploring the nature of reality through that one.
You wore many hats on The Texture of Falling apart from director, including writer, producer, cinematographer, editor, and you even appear in front of the camera - so how did you even manage, and which of these jobs do you enjoy the most, which could you do without?
I did wear many hats. And it was difficult, but we shot it over a yearís time and that helped me to take the time needed for each scene while playing so many roles. My partner in crime, AD and co-producer Damien Genardi, also played many roles and I couldnít have done it without him and his hard work and commitment. The one I could do without is unfortunately one I wonít be able to shed soon, and that is of producer. I love writing, directing, shooting, and editing. Oh, and I can definitely do without acting, for sure. That was just for my first (though it was quite fun).
In regards to producing, itís not my favorite thing and it takes up most of my time on a daily basis. But while itís not my first choice it does satisfy this more business-minded, left side of my brain and so I can deal with it. Though, I am quite excited to co-produce my next feature, The Watcherís Game. I have some big companies Iím in communication with and there may be a very exciting collab in the works. I also will not be the cinematographer for the next, itís just not feasible, but Iíll find someone that jives with my visual style, as Iím a very visual director.
Let's talk about your upcoming movies Little Nations and The Watcher's Game - what are those going to be about?
Well, I should say that Little Nations is a short film that I am shooting this summer. My next feature is The Watcherís Game, and I am in development for that. I will give the loglines for both as thatís easiest:
Little Nations follows a momentous piece of mail as it travels through the hands and into the worlds of children from a rich array of cultures that constitute North Chicago's Rogers Park neighborhood. Coming to a poignant climax, it will illuminate the true multicultural spirit of America.
The Watcherís Game is a fantastical tale of the journey that a Chicago Tribune newspaper reporter, Joseph Altman, takes when he investigates the dramatic public suicide of a celebrated spiritual leader and uncovers both horrible truths and mind-blowing new technology and mysticism.
What were your sources of inspiration when dreaming up The Watcher's Game?
Well, I was working on various scripts, leap-frogging from idea to idea, but about 5 months ago, something gripped me in the night and a cascade of images and scenes flowed through my mind. The next day I began writing and within two weeks the 1st draft of a new script, The Watcherís Game, had poured out of me.
Itís a dark comedy, psychological drama and through its characters I humorously explore new-age archetypes from communities Iíve been immersed in since I was on my own existential quest, hitchhiking cross-country at age 16.
It also deals with the philosophical contemplations that intrigue me most. It thematically explores the intersection of new technology and mysticism. The filmís title is derived from quantum principles. And the question that this intersectional theme poses is, Ďis our psyche inside our skull or are we inside our psyche?í
What can you tell us about the film's intended look and feel yet?
Visually, it will be bold, bright, and ironic. The script has a poetic humor that contains both great tragedy and unsullied freedom. Itís a dark comedy with an effervescent tone. The weighty subject matters of death and failure ultimately lead to the quest for existential freedom and a sense of the wild absurdity of life itself. The film will create an inventive cocktail out of tried and true ingredients with a heavy splash of new technology thrown into the mix.
Anything you can tell us about The Watcher's Game's cast yet?
I want Adam Driver to play the lead. Ha! But, no, I do. Iím not sure about the cast yet, but I will be trying to attach a name actor as the lead.
As far as I know, The Watcher's Game is still in pre-production as we speak - so what's the schedule, and any idea when and where the film might be released, however tentatively?
Iím planning to shoot it next summer of 2020, and then release it as soon as possible in 2021.
Filmmakers who inspire you?
Iím inspired by Paweł Pawlikowski, Bong Joon-Ho, Luca Guadagnino, Jean-Marc Vallťe, Nicolas Winding Refn, Kim Ki-duk, Martin Scorsese, David Lynch, David FincherÖto name a handful.
Your favourite movies?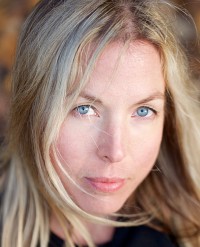 Feeling lucky ?
Want to
search
any of my partnershops yourself
for more, better results ?

The links below
will take you
just there!!!


Parasite by Jong Boon-Ho (Palm díOr winner) instantly became a new favorite upon watching it at its Cannes premiere. Other favorites are: Soy Cuba, Mulholland Drive, I Am Love, My Summer of Love, Water Lilies, Blue is the Warmest Color, The Cruise, Synedoche New York, Get Out. Those are just some.
... and of course, films you really deplore?
Hmm, I really donít like formulaic films that donít do anything new. Hollywood formulaic, regurgitated stuff. That would be so many. Let me think if there is anything I really hate. Hmmm, you know, I just donít watch those, I know which ones they are from the outset and I avoid them.
Your website, Facebook, whatever else?
Website is: https://allredfilms.com/
Facebook: https://www.facebook.com/allredfilms/
Instgram: https://www.instagram.com/mariaallred/
Twitter: https://twitter.com/ALLREDFILMS
Anything else you're dying to mention and I have merely forgotten to ask?
This has been an amazing interview. Thank you so much for the great questions.
Thanks for the interview!