Your new movie Bite Marks - in a few words, what is it about?
Bite Marks is a gay horror comedy about a sexually confused trucker taking over the delivery of a shipment of coffins. He picks up a hitchhiking gay couple to help him stay awake behind the wheel, but when their GPS misleads them into an abandoned junkyard, the truck breaks down. Nightfall reveals the coffins to contain vampires, and now the mis-matched trio must barricade themselves in the cab of the truck and try to survive until dawn.
With Bite Marks being a vampire movie, is that a genre especially dear to you, and your genre favourites? And how would you describe your movie's approach to vampires?
I love horror films. Vampire flicks are just another subgenre within that, so no, I don't have any special love for vampire movies that I don't also have for werewolves, slashers, zombies or ghosts. As to my film's approach to vampires, I wanted to return to vampire lore of old. Where vampires weren't romantic figures, they didn't wear tuxedos and capes, and there were definite rules they had to follow. My vampires are basically re-animated corpses that drink blood. But, I did want to put a modern-day spin on the mythology... you know, try to operate within the boundaries laid out by tradition, but do things in ways not seen before that don't break the rules.
The whole homosexual subplot - how did that sneak into Bite Marks?
Originally, the film was going to be very dark and the hitchhiking couple was going to be a straight couple: boyfriend/girlfriend. But the executive producer felt that by making them gay, we could appeal to two different demographics: the horror crowd and the gay indie crowd. I had no objections, so Jack and Alice became Cary and Vogel. My idea was to take the two genres, horror comedy and gay indie, and start the movie off as each storyline is a different genre, then smash them together.
Other sources of inspiration for Bite Marks?
I knew this was going to be a low-budget film and I'd read an article stating that the best thing to do in such a case was to keep the characters in a confined space. The original Night of the Living Dead took place mostly in a farmhouse, but I wanted something smaller, to see if I could meet a challenge to shoot and keep interesting a film in a very tight space (this was before Buried, which is even MORE confined). The cab of a semi truck seemed perfect. From there, I just needed something they had to barricade themselves from, and it was off and running!
How would you describe your directorial approach to your movie?
Once I realized this was going to be a horror comedy, I wanted to keep things light, fast and funny. AND bloody. I knew with a low budget, we weren't going to have the time and money to do complicated camera setups or intricate effects, so the jokes and the performances were going to have to carry the ball most of the time. So I concentrated on writing a funny script, getting really good comedic actors and trying to get the fun we were having onto the screen and across to an audience.
A few words about Bite Marks' brand of humour?
It's very character-driven. Brewster the truck driver has these silly folk-sayings that make no sense but are funny in their absurdity. A lot of the humor between Cary and Vogel is cynical, snappy and relationship-based. I thought it would be amusing that, during a vampire attack, a couple could fall back into an ongoing argument, completely forgetting the danger they're in to argue about putting an empty bottle back after drinking all the water out of it, or which version of Dawn of the Dead was better.
How did the project come into being in the first place?
My friend, Dennis Ashe, and I were chilling one afternoon, and he suddenly suggested that we start a new production company that would make low-budget horror films. He'd finance them and I'd write and direct. He asked me to pitch him two ideas, and I did, one of which was Bite Marks. He wanted to make the movie gay-oriented, and that could really only be done with one of them, so we decided to go with the vampire comedy.
A few words about your three leads?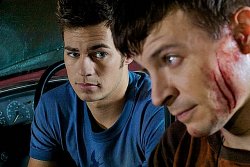 David Alanson, Windham Beacham
Windham Beacham: Windham called me to set an audition time, and I almost turned him down because he was SAG. But I decided to let him audition, anyway, and I was glad I did. Of all the guys who came in, Windham was the only one who nailed the part of Cary right on the spot. He had the voice, the mannerisms, and what's more, his co-star David Alanson started reacting to him instead of just reading the lines. Plus, they looked good together and were believable as a couple. After having him do a few more scenes from the script, I offered him the part right then and there. He's so funny and great to work with. A walking bundle of idiosyncrasies, but a real trooper. Windham was never happier than when he was covered in blood. During the vomit scene, he wanted real maggots dumped on him, but I refused. We ended up using cooked rice and lube, and right before he gets hit, you can see a smile start to break out on his face.
David Alanson: I had known David for a year prior to the filming of the movie, and I actually wrote the part of Vogel for him with the understanding that he would have to audition and make me believe he could do it. David is a lot like Vogel, actually. A true rascal, with a mischievous grin and a twinkle in his eye that lets you know he's up to no good. He's an ex-marine and was totally on-board for anything that we needed him to do. He didn't have much acting experience, but he pulls his part of effortlessly. Fun to be around.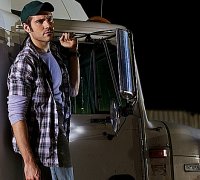 Benjamin Lutz
Benjamin Lutz: Benjamin has lots of experience on the stage, but this was his first feature film. I kept telling him that he could be Bruce Campbell's younger brother, and it's true. He has the good looks, great reactions and wonderful timing to be a great comic actor. He has a sly, understated sense of humor and he's a real party boy. He's tried to drag me out on the dance floor more than once. Very dedicated. He wanted to make sure he got the southern Indiana dialect right as well as the oddball sayings.
The traditional (bare-breasted) vampire girl gets a rather unglamourous send-off in Bite Marks. Would you like to comment on that, and a few words about Krystal Main, the actress playing the vampire girl?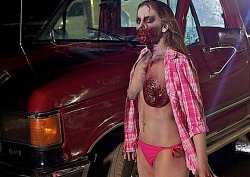 Krystal Main
Well, I wanted to touch on the bare-boobed vampire girl by having her appear that way to one of the straight characters in the film, but then, since she's basically menacing the gay guys afterward, I wanted her to have a nasty-looking persona that wasn't erotic in any way. I did want to juxtapose her hideousness with her femininity, so I made sure she wore lots of pink, even when she was covered in blood.
Since I knew the vampire girl or "Chickula" as we call her, would be running around in panties and an open shirt exposing her breasts, I decided that a porn starlet might be the best way to go. I contacted someone who was a porn agent and asked him if he knew of any girls who would like to be in a horror film, and he suggested Krystal. I talked to her, and she said she was a huge horror fan. Taking that with a grain of salt, I decided to test her by asking what her favorite horror films were. Krystal told me she loved the original Texas Chainsaw Massacre and The Exorcist. She was in. We did have some problems with her schedule, but she was one of the most dedicated people on set. She sat through hours of complicated makeup, including prosthetics, and never complained, even once when she got made up then couldn't be filmed at all because the shoot was rained out!
A few words about the rest of your cast and crew?
Well, the next guy would have to be Stephen Geoffreys, from the original Fright Night. We had met a few times years ago, and when I decided to look for a name, I thought of him. He read the script and loved it, so he was cast. Fun guy to work with and very patient.
Racheal Rivera was the sassy waitress. I found her on Craigslist and since she was in Indianapolis, she auditioned by phone. We all just stared at each other afterward. We knew she'd be great.
John Werksey was the mechanic, and probably had the most makeup applications. He had to appear in regular makeup, then beaten up, then as a vampire, then burned to a crisp. John has a sly humor that was welcome on set and loved making faces at the camera. Very easy-going guy and quite handsome, as well. During the scene when he runs circles around the truck, he actually blacked out from the heat and exertion for a second but kept running!
What can you tell us about your scrapyard location, which in my opinion at least fits the mood of Bite Marks just perfectly?
We filmed at Seymour Recycling Center, and they couldn't have been more accommodating. They let us shoot there for over two weeks and didn't charge us a thing. They also gave us an empty building to use for our production department and volunteered to move the huge piles of scrap around in any way we needed. They were great. They let us stay all night without any chaperone, and they also gave us the pickup truck which we crushed and even operated the crane that crushed it! Wonderful people.
The location was perfect. Even the loading dock we used was there. We utilized practically every area of that scrapyard. It was paved, too, which helped immensely. It was set back from the highway, but still, people would come by to watch what we were doing. Even a police car came by one night to watch!
Let's go all the way back to your beginnings: What made you go into moviemaking in the first place, and did you receive any formal training on the subject?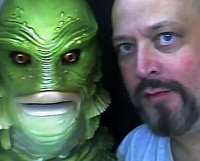 Mark Bessenger (right) with friend
When I was a kid, I found my mother's old Super 8mm camera in the hall closet. She bought me a cartridge of film, and I shot a little movie in the back yard with my cousins as actors. That gave me the bug. I studied creative writing at Indiana University, then filmmaking at Columbia College Chicago. I'd loved horror movies ever since I saw my first one, The Revenge of the Creature, on the Channel 3 Afternoon movie, so I've generally played in that field.
I've read somewhere that before Bite Marks, you have made two as-of-yet unreleased features, Ninja Zombie and Rhapsody. Why don't you talk about those for a bit?
Back in the late 80's shooting Super 8 features was the rage. I and a friend, Don Rasmussen, decided we'd do one, and we made this film called Ninja Zombie, which was a horror/action/martial arts flick. That was about a spider-themed cult trying to get a mystical urn that could return dead things to life. The archeologist who possesses it asks his friend, a martial arts expert, to protect him, but when his friend is killed the archeologist uses voodoo to bring him back to life to continue protecting him. It was really fun, but while we took the film to a completed cut with a stereo soundtrack, we couldn't find a distributor for it. With Rhapsody, I shifted gears and made a gay romantic drama shot on Super 16mm. It was about a concert pianist trying to write a rhapsody but suffering with writer's block. He meets and falls for a hunky construction worker, but is confused about what to do when he discovers the guy is really straight but due to a past tragedy is trying to live a gay lifestyle. I ran out of money on that, and it stills sits in my garage waiting to be completed.
Any other films of yours you'd like to talk about, any future projects?
I just directed a short film called Candy, about the dangers of 976 sex chat lines. It's also gay-themed horror, and has gotten a distribution deal to be included in a compilation of horror shorts in 2012. I'm currently writing a spec script for a cable TV show, then I'll move on to the next feature. I've also outlined a novel that I hope to begin writing soon.
Directors who inspire you?
Alfred Hitchcock, John Carpenter, Jack Arnold, Charles Barton, among others.
Your favourite movies?
My all-time favorite is The Abominable Dr. Phibes. When I was twelve, my mother took me to see it at the theater one Saturday afternoon, and it's been my favorite ever since. Vincent Price [Vincent Price bio - click here], the art nouveau sets, the costumes, the music, the theme of revenge, everything comes together in this black comedy/horror flick. Of course, I also love Halloween, The Fog, Friday the 13th, The Haunting, House on Haunted Hill (all the originals, of course), Two on a Guillotine, Murder in the Blue Room, Tarantula, Count Yorga, Vampire, Abbott and Costello Meet Frankenstein, The Legend of Boggy Creek and most of the Godzilla-films. I love giant monster movies!
... and of course, films you really deplore?
I really hate Night Warning, even though it's kind of a cult favorite. It's mean-spirited with a nasty homophobic character who gets killed offscreen. And while I love trash (Dracula vs Frankenstein, The Killer Shrews, I Was a Teenage Frankenstein, etc.), I hate garbage: Birdemic: Shock and Terror, Vampires Suck, Evil Bong and just about any SyFy Channel original movie. I love cheese, but not stinky cheese. lol
Your website, Facebook, whatever else?
www.blakkflamingopictures.com. You can find the most recent updates on both Bite Marks and Candy by joining their Facebook fan pages. Search for BITE MARKS: THE MOVIE and CANDY: A SHORT HORROR FILM.
Anything else you are dying to mention and I have merely forgotten to ask?

Feeling lucky ?
Want to
search
any of my partnershops yourself
for more, better results ?

The links below
will take you
just there!!!

Find Mark Bessenger
at the amazons ...

amazon.com

amazon.co.uk

amazon.de
Looking for imports ?
Find Mark Bessenger here ...
Something naughty ?
(Must be over 18 to go there !)

Bite Marks is ending its festival run, but you can catch it at the following festivals:
Gay Charlotte Film Series
Oct. 27th
do a web search for the theater venue
The Carolina Theater
Oct. 28th
The Barcelona International Gay & Lesbian Film Festival
Nov. 5th, 10:00pm
Cinema Club Catalunya
Queersicht Gay & Lesbian Film Festival, Bern, Switzerland
Nov. 11th, 11:00pm
Courts Metrages 2
Reeling: Chicago Gay & Lesbian Film Festival
Nov. 11th, 7:00pm
The Portage Theater
Indianapolis GLBT Film Festival
Nov. 13th, 2:45pm
IUPUI Indianapolis campus: Daly Student Center
Florence Queer Festival
Nov. 25th, midnight
Odeon Cinema Firenze
The film will be released on dvd on Nov. 15th 2011 from Breaking Glass Pictures. It's available for pre-order from Amazon.com, BreakingGlassPictures.com and TLAVideo.com.
Thanks for the interview!