Your new movie The Fay - in a few words, what is it about?
The Fay is a fantasy romance set during the Middle Ages. It draws from a lot of Celtic mythology and follows in the tradition of a lot of Arthurian legends, in which Arthur's knights meet and interact with magical beings from the so-called 'fairy world'. It's about a knight who is wounded in battle and pursued through a mysterious forest by his enemies, where he's rescued by a beautiful fay (a 'fairy woman' or 'wood nymph'), who saves his life and nurses him back to health, but then refuses to let him go.
Your film being based on ancient Celtic myth and medieval Arthurian romance - care to elaborate, and what do you find fascinating about these topics?
Well, I've always had a great personal love for Celtic myth and the tales of King Arthur. My mother was Welsh – King Arthur's own people –, and so I think I have a certain "genetic" appreciation for the old legends. ;-) And while the roots of these stories are of course pagan and very, very old, there is a certain, implicitly "Christian" dimension to them too – that is, the medieval preoccupation with chivalry and sacrificial love. This is a very important dimension in The Fay – the idea of laying down your own life for the sake of someone you love.
Other sources of inspiration when writing The Fay?
Well, aside from the myths themselves, we were very much influenced by how these myths were visually represented throughout the history of art – most especially in pre-Raphaelite painting, which was a school of art that was very popular during the Victorian period in the 19th Century, and which drew inspiration from Celtic myth and the tales of King Arthur, etc. One of our chief goals in making The Fay was to bring a pre-Raphaelite painting to life on film; and I think we came very close to it, thanks principally to our very talented cinematographers Gerardo Puglia and Leon Sanginiti, as well as to our costume designer Melissa Diaz, our creator of special makeup effects David Deneen, and others who fleshed out my production and character designs.
With The Fay being a period piece full of mythical creatures, what challenges did that pose? And while we're at it, what can you tell us about the effects work in your movie?
There were certainly quite a few challenges. ;-) In terms of the creatures (all of whom are stock characters from ancient Celtic myth, such as Cernunos or the Greenman) David Deneen, as I said, did a remarkable job of bringing them to life. The difficulty was of course working in the forest and maintaining the makeup and costumes for so many characters. The same was true of the knight battle at the beginning of the film. Weather, rain, and especially wind always seemed to be against us. As you probably saw, the film has a lot of mist in it, and the wind was always blowing our mist away. ;-) Fortunately, our VFX artist Leon Sanginiti was able to save the day and correct this problem in post by using digital mist and blending it rather seamlessly with our physical, on-location mist. And Leon actually created a great many, very subtle digital effects that appear throughout the film, which do much to enhance the scenes and the cinematography, while (hopefully) not calling attention to themselves as digital effects.
How would you describe the film's look and feel?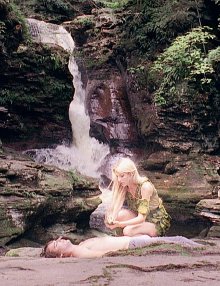 Well, as I said, our goal was to match the look and feel of a pre-Raphaelite painting – to bring a pre-Raphaelite painting to life. To do this, we started out shooting in 35mm film; and about half of the movie is shot on 35mm film by our DP Gerardo Puglia, whose cinematography always inspired and seemed to have a "pre-Raphaelite" quality to me. I seriously thought that shooting on film was essential to capturing the type of rich, "painterly" images that we needed to tell the story. But, to be honest, we ran out of money and needed to switch to HD video to complete the production. ;-) Something I was very reluctant to do, but which my co-producer and other DP Leon Sanginiti assured me could work and give us everything we needed. Fortunately, many HD formats are now so advanced that, with a few post-production tricks (thanks to Leon), we were able to create a fairly seamless match between the film stock and the HD video; and most viewers (unless they are seasoned cinematographers) will probably never notice the difference. This was important, because, in many ways, The Fay is very much a "cinematographer's film" – that is, the cinematography carries "the substance" of the story. Also, in terms of feel and style, The Fay (as you noted, Michael) is very simplistic and almost "flat" in the way it is directed. This was intentional, because I wanted it to feel like a very linear, medieval narrative … almost like viewing a medieval tapestry or stone carvings on the wall of some medieval cathedral. Medieval storytelling is very simple and linear like this; and I thought it would be appropriate to the film.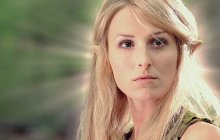 Sarah von Ouhl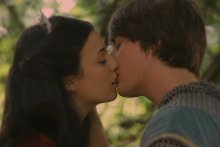 Veronica Lane, Tyler Oakey
Do talk about your movie's key cast for a bit, and why exactly these people?
We were very lucky to have our cast, most especially Sarah von Ouhl, who I think is an incredible talent; and you only see a small potion of what she is capable of in The Fay. She very much carries the film, however, and I'm very indebted to her for that. Likewise, I think Tyler Oakey brings a wonderful innocence and sincerity to his part as the Knight, and Veronica Lane is of course gorgeous and a wonderful addition as our Lady. As you know, aside from a few words in medieval French, there is no dialogue in The Fay; and so it was very important that our actors were able to communicate and have us relate to them solely through their expressions and gestures; and I think that Sarah was especially skilled at this.
What can you tell us about the shoot as such, and the on-set atmosphere?
Unlike other productions I've worked on, almost everyone involved in the making of The Fay is a close, personal friend. We were a very tight-knit group, and we are very familiar with each other's talents and abilities. I think this was very beneficial when it came to making The Fay, and doing so effectively and efficiently, because it was such an ambitious project, but with a limited budget.
Any future projects beyond The Fay you'd like to share?
Yes, thanks for asking. We are now in pre-production on our next film, which is a horror feature called Carlotta's Lover. Our new production company Monstrosity Films (www.monstrosityfilms.com) will be producing a succession of horror features in the next few years, and the goal is to create a new aesthetic for horror films, with strong stories and unique characters; and imbued with the same rich visuals and production values as The Fay.
What got you into filmmaking to begin with, and did you receive any formal training on the subject?
I'm one of those people who's been making films since he was about 10 years old. ;-) I actually started out as a kid and a teenager wanting to be a stop-motion animator. For me, Willis O'Brien (King Kong, Mighty Joe Young) and Ray Harryhausen (Seventh Voyage of Sinbad, Jason and the Argonauts) were gods, and I wanted to make those kinds of films. I later attended film school, where I became more interested in directing and working with actors, and I later developed my writing abilities and artistic skills as a production and character designer. But I think all of this comes from making films on my own when I was a kid, where you're of course forced to do everything – write, design, direct, etc. I think early, hands-on experience is very important, and I know a lot of filmmakers have a similar background.
What can you tell us about your filmwork prior to The Fay?
Well, after film school, I lived in Los Angeles for a number of years, where I worked as a writer (sometimes writer-producer) for several major studios and agencies. I worked as a (uncredited) script doctor and story consultant for various productions, but none of my own projects ever got off the ground. While my spec screenplays were always optioned by the studios, all of them ended up in what's called "development hell". So, after several years of this, I kind of gave up on the "Hollywood dream" and moved back to the East Coast (USA), where I started my own production company, making TV commercials and internal programs for a lot of tech and pharmaceutical companies. But, I never gave up the desire to make actual movies, and I guess I'm just beginning to make that a reality with our new company, Monstrosity Films (www.monstrosityfilms.com).
How would you describe yourself as a director?
To be honest, in a lot of ways, I'm still just a kid with my Super 8 camera trying to bring his fantasies to life. ;-) I think that's a very healthy approach to filmmaking, and I think it's where great films actually come from – that is, from a childlike imagination and a sincere sense of wonder. I think everything flows from that. The great thing about filmmaking is that it allows you to share your visions – your fantasies – with others. ;-)
Filmmakers who inspire you?
Too many to mention, really. I'm inspired by different filmmakers for different reasons. David Lean and Stanley Kubrick influence me in very profound, almost subconscious ways. Spielberg (especially early Spielberg), John Landis, other directors from the 80's are most certainly the origin of my technique. I think I learned to direct from watching them, not to mention the master of masters himself, Alfred Hitchcock, who I think all directors draw from to one extent or another. But, O'Brien and Harryhausen are still my inspiration; and lately I've rediscovered and developed a deep appreciation for the Italian filmmaker Mario Bava [Mario Bava bio - click here], who influenced me from an early age, without me fully realizing it.
Your favourite movies?
As with filmmakers, I have different "favored movies" for different reasons. But, as silly as it may sound, if you asked me to choose an all-time favorite film, it still remains the original King Kong (1933). While the acting isn't everything it could be, and it's of course a film from the early 1930's and must be viewed in that historical context, for me, King Kong is very close to a perfect film – an unforgettable, highly original story, balanced with dynamic visuals, incredible sound, brilliant music, and almost every other element you can mention.
... and of course, films you really deplore?
I won't mention any by name, but I will say that I find most big-budget, CGI-bloated Hollywood spectacles both deplorable and un-watchable. This is mainly true of fantasy-adventure movies – a genre that I grew up on, and supposedly love! In fact, I rarely go to the cinema anymore because of this. Hollywood, I think, has totally lost its way in this area. Rather than creating real cinema (and making money based on quality and truly entertaining productions), it's all about marketing and merchandising, and in very direct and shameless ways. It's really quite insulting. Hollywood has almost abandoned the art of storytelling; and the art of special effects is now (almost) indistinguishable from video game graphics. In fact, most Hollywood fantasy-adventures are nothing more than video games … or, I should say, an excuse to merchandize video games. ;-) It's simply not cinema anymore. Because of the ease of CGI (which can be an effective filmmaking tool when it's not overused), I think mainstream (Hollywood) fantasy films have entered a "Baroque period", where art has been reduced to mere "decoration," and there is no real sense of wonder or fascination (or adventure), because it's all over-done … and because neither story nor character really matters. I think it's seriously time for filmmakers in this genre to develop a new aesthetic. But, will the Hollywood infrastructure ever allow them to? That is very doubtful; and it's why, I think, independent film will continue to grow in importance.

Feeling lucky ?
Want to
search
any of my partnershops yourself
for more, better results ?

The links below
will take you
just there!!!

Find Mark Bonocore
at the amazons ...

amazon.com

amazon.co.uk

amazon.de
Looking for imports ?
Find Mark Bonocore here ...
Something naughty ?
(Must be over 18 to go there !)

Your/your movie's website, Facebook, whatever else?
Thanks for allowing me to plug our websites. ;-)
Anything else you are dying to mention and I have merely forgotten to ask?
Just that I hope your readers will check out The Fay (if they have an opportunity to do so) and enjoy it. We're still making decisions about distribution, but The Fay is currently screening at numerous film festivals in the USA and in Europe, and we will make announcements about these screenings (as they develop) on our website.
Thanks for the interview!
Thank you, Michael. I greatly appreciate the opportunity, and I love your site! Please keep up the great work!