Your new movie Cyrus is currently in post-production. Can you tell us in a few phrases what the film is about?
For me, the film is really a psychological portrait of a serial killer names Cyrus. An insight into what makes him tick and how his life path created the character whose story we see on screen.
As far as I know, the film is based on true events. What can you tell us about the case(s) the movie is based on, and how close did you stick to actual facts?
Cyrus is really a composite of a few serial killers. I really wanted the movie to give a real look at a serial killer's life so I took those portions of these killers lives that we could document and combined them into a single life. The main plot line comes from a German serial killer from the 1900s named Fritz Haarman. And I stayed pretty close to his killing pattern. But Haarman usually killed young children, which I thought would be to repulsive for an audience and distance them from the story – so I changed certain elements to, hopefully, let the audience stay involved with the story.
Are serialkillers a personal interest of yours?
I've always had an interest in the abnormal psyche … so I'd have to say yes.
Apart from real life serialkillers, what were your main inspirations for Cyrus?
The initial inspiration for the story came while I was doing a road trip from Chicago to Minneapolis. I drove past a pretty creepy farm house in Northern Wisconsin and there was a dead deer on the side of the road, which a few cars had to swerve past to avoid hitting.Then the idea just came to me, wouldn't it be messed up if the person who owned that house released a trapped deer into the road to create an accident so he could snag the people from the passing cars – I started the script pretty shortly thereafter – the deer turned into people – and that's pretty much how the movie started.
How explicit is the film going to be in terms of gore and violence?
The gore and violence is definitely present and pretty disturbing, but I don't feel that any of it is gratuitous or over the top. In test screenings, you sit in the back row and hear the audience go "damn" or groan – so sometimes you question did I push it too far, but each instance in the movie really is there for a very specific reason. So I think we struck a pretty good balance. But I wouldn't suggest eating a burger during the movie.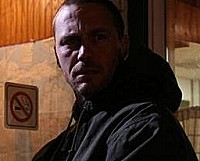 Brian Krause
Your lead is played by Brian Krause. How did that collaboration come into being, and a few words about working with him?
Brian rocked. He went above and beyond with his own research and just did an exceptional job at capturing the character – no pun intended. As a side note, Brian also came on the picture as my second unit director and did a great job with those scenes.
The rest of your cast is quite stellar as well, including fan favourites Lance Henriksen, Rae Dawn Chong and Tiffany Shepis [Tiffany Shepis interview - click here]. A few words about these three and any of the other actors you'd like to mention?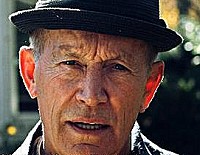 Lance Henriksen
Wow, where to start with that one? Lance was just brilliant - he brings this almost hypnotic quality to his telling of the story. Just a great actor to work with.
Rae Dawn really hit the nail on the head when she portrayed a survivor of a serial killer attack – while we were shooting the scene, she had some questions about the interview and dialogue of her character. When I told her it was based on a European girl who had been held captive by a serial killer for three weeks – she instantly got it. She had picked up that the girl didn't really "speak" like an American. I thought that was amazingly insightful.
Tiffany was also great to work with – she has a real gift for being able to walk on set and BAM turn her character on and become that character. You call "cut" – and there's Tiff again. She plays Cyrus' mother in various flash backs – and her performance really adds layers of understanding to the character of the adult Cyrus we see.
All the actors were really great – and I really mean everyone of them - Danielle Harris, Doug Jones, Kim Rhodes, Patricia Belcher, Shawna Waldron all did a great job.
The film's website/mySpace/whatever else?
When and where will the film be coming out?
Right now we are scheduled to be done – done with the movie mid-August. Moonstone has the foreign rights and we're in talks about a domestic release.
Let's leave the present behind for the moment and move ahead to the past!
Before you made movies, you were a theatre director. What can you tell us about your life in theatre, and in what ways does directing for the stage differ from directing for the screen?
Theatre will probably always be my first love – I grew up experiencing it. And while I love movies too, they always seemed very distant as a real goal. Theatre was happening right in Chicago and movies were made in LA. So theatre just seemed like a better career course. I originally wanted to be a stage actor and then a small company in Chicago that I had acted with offered me the opportunity to direct and I jumped at it. The artistic director of the company (who had also directed me in a play) saw the show and told me "Mark, in the last thirty years in the business I've seen a lot of actors and directors – and you happen to be one of the best directors I've seen … and one of the most mediocre actors. So you pick what you think you should do." So directing it was. I think the main difference is for film, the director is dealing with a lot more technical people and you need to keep up with the technical aspects of the project. On stage, you're really trying to focus on performance and getting your actor to that point and making the various performances jell in the moment. For film, you're still trying to get that performance, but you're acutely concerned with how you capture it and how those captured moments will jell in the post procedure.
Besides directing you have also written a few plays for the stage. What can you tell us about these?
The bulk of my writing used to be for stage - which tends to be dialogue and description. On stage the character describes how the character feels with dialogue, that way people in the back row can know what's going on - in film the character needs to show how they feel because there are no "cheap seats". I've been told in America we make moving pictures and in Europe, they make talking pictures. I like to think I find a happy medium between both.
In 2006, you made your move to film-directing with The Thirsting starring Tina Krause [Tina Krause interview - click here]. What can you tell us about that movie, and what prompted your jump from stage to screen?
The film was based on the Lilith mythos. I'm an armchair Jungian so archetypal myth has always been of interest to me. The jump really came at the suggestion of an investor. He had come to see a play I directed and asked if I'd be interested in directing a film version of the play. As a first time film director, I had a pretty limited budget offered and didn't think we could make a film out of the play on that budget, so he suggested we do a horror movie … and away we went.
A few words about The Desertion, the film you've only recently produced and also had a part in?
I had met one of the producers of Desertion at AFM and we began to talk about their project and they brought me on as a producer to do the movie in Chicago. We had originally hired a name actor – who shall remain nameless - to play the part of Thomas Bonds (which I ended up playing). Unfortunately, the actor never showed up in Chicago – so I played the part so we could keep on schedule.
Any future projects lined up?
I have three films lined up for the end of 2009/2010. One is a drama (writer/director), one horror (director) and one thriller/horror (writer/director).

Feeling lucky ?
Want to
search
any of my partnershops yourself
for more, better results ?

The links below
will take you
just there!!!

Find Mark Vadik
at the amazons ...

amazon.com

amazon.co.uk

amazon.de
Looking for imports ?
Find Mark Vadik here ...
Something naughty ?
(Must be over 18 to go there !)

Your films all seem to have a horror theme. Is horror a genre especially dear to you?
The genre has been very kind to me (with the exception of some critics) and the fans are great so yes horror is dear to me.
Your favourite films?
My Favorite Year, Princess Bride, M, Lion in the Winter, Rear Window, The Exorcist, Orson Welles' Macbeth, and Witness for the Prosecution. I know they are all over the place genre-wise – but all great stories and told brilliantly.
And films you really deplored?
No comment.
Directors who have influenced you?
That's a tough one because there are so many … but I'll go with Sir Peter Brook, Orson Welles and Bertold Brecht – and Samuel Beckett's writing has had a strong influence on me.
Anything else you are dying to tell us and I've completely forgotten to ask?
My favorite color is black.
Thanks for the interview!