Your upcoming movie White Talon City - in a few words, what's it going to be about?
Itís about a female gunslinger who liberates abused women.
With White Talon City being a western, is that a genre at all dear to you, and some of your genre favourites? And how do you think your movie will stick out of the crowd?
Thereís not really a genre that I prefer, I just look for the truth underlying the story. I think White Talon City will stick out because when I researched which genre in which strong women were represented the LEAST, it was the western. So, I figured that needs to change.
(Other) sources of inspiration when writing White Talon City?
I took a trip to Arizona to scout out a city there for another western series Iím developing with some other filmmakers, and on that trip, I learned a slew of true stories that arenít on the internet, theyíre local stories. People who were grandchildren of these wild west folks would open up and show me photos and diaries. It was amazing. And I thought, what else donít we know?
No western without the right location - so where are you planning to film White Talon City, and why exactly there?
Weíre filming at Pine Moore Old West Studios in Blanco, Texas. Itís PERFECT. Thereís an entire town there! And stagecoaches and horses already there. The folks there are super nice. I actually attended a film festival there (my film won! Yay!) and thatís how I learned about it.
What can you tell us about the film's intended general look and feel?
Itís set in the 1840ís, so itís a period piece, and honestly, Iíd love for it to have the feel of The Quick And The Dead. The shots were amazing, as was the color palette.
Anything you can tell us about White Talon City's cast yet, however tentatively, and why exactly these people?
Alice Raver plays our gunslinger, One Shot Charley Dott. I wanted a tiny spitfire who could hold her own and show emotion without words. Alice nails that every time. Pearl is played by Amanda Smith. Sheís a true sweetheart and her voice carries an innocence thatís perfect for her role. Sheriff Wallace is brought to life by John Hall. Heís got a great look, great presence. Such a great character for him to bring to life. Dennis Moore is our Undertaker. Again, great look, great voice. And a big heart. Brian Elder plays Billy. Brianís a terrific actor (I know, because I used to rep him!). Iím so happy to be working with all of them. Just a perfect team.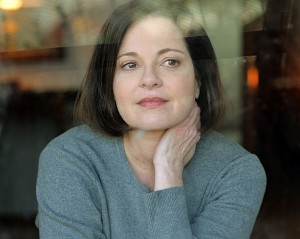 Alice Raver
You're currently running a fundraiser for White Talon City - so what can you tell us about your campaign?
We have a GoFundMe link - gf.me/u/w54dsf - that has a 90 second video that tells a lot about what weíre doing and what weíre planning to do. We also have perks. Our best Ďsellerí if you will is for $10 or more, you get a bawdy limerick about you. Or you know, a limerick about your ex! We put old tintype pictures with them too. Itís something fun. For bigger donors, like $1000, we give you Executive Producer credit.
Once the budget's in place, what's the schedule, and even if it may be way too early to ask, any idea when and where White Talon City might be released?
Weíre locked in to film Feb. 29 and March 1st whether the budget is in or not (so please contribute!). Iíd really love for this to have a mega fast turnaround and start submitting to film festivals before summer and pitch the series early this fall.
According to my information, White Talon City is to serve as a proof of concept for a series - so what do you have in store for future episodes?
Charleyís not afraid to go toe to toe with anyone, and one of the things I love about her character is that sheís not colorblind at allÖ she defends Native Americans, Hispanic, African Americans. But she learns things about herself too. Sheís by no means perfect, and in the series we can really see her battle her demons.
Other future projects you'd like to share?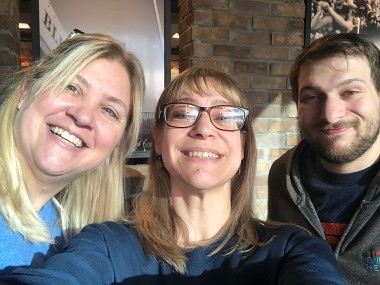 Marti (center) with White Talon City's union production manager Tamra Parask and assistant director Michael Bower
Iíve written a feature that Iím going to direct and itís in preproduction. I also have a video docuseries in the works to chronicle stories about elderly who witnessed major moments in history.
What got you into filmmaking in the first place, and did you receive any formal training on the subject?
My father worked for major television networks, so I was brought up in it. But I did attend Vanderbilt Universityís film school and my screenwriting mentors are Will Akers and Jacob Krueger.
Going through your filmography, you have worked in a wide variety of jobs in the film industry - so which do you enjoy the most, what could you do without?
I LOVE directing. I grew up acting, so I remember what I needed to get into a character and I do those things for my actors. For instance, I give them complete background packets on their characters. I love screenwriting too. Iím not afraid to slaughter my own work if need be. Itís the story that matters, not my pride. As for what I could do withoutÖ producing. I hate it! But Iím good at it! So I donít know if thatís a blessing or a curse. I want to focus on the creative and producing is nuts and bolts. And I set the bar higher every time I work.
What can you tell us about your film work prior to White Talon City, in whatever position?
I started out as a PA on things like The Voice, The Circus, and Bath Crashers. All the while I was writing and making my own short films. Then I landed a producerís assistant gig on a short lived show on ABC, and then started picking up more and more work as an assistant. The coolest sets were Annabelle Comes Home and The Conjuring 3, though. Iíve worked in so many different areas, itís given me great insight on what different departments go through.
How would you describe yourself as a director?
Iím very focused on the shots, but Iím very gentle with the actors. I do my best for them to know what I need from them so their performance can be as effortless and as natural as possible.
Filmmakers who inspire you?
Spielberg of course. Ron Howard. And Sam Mendes. He just keeps getting better and better. God, 1917 is brilliant.
Your favorite movies?
I love The Moulin Rouge. The Shawshank Redemption. I adore Knives Out. I love searching for the little Easter eggs in Kubrick films.
... and of course, films you really deplore?
I usually donít like to dog anyone, because I know how hard it is to get anything made, but I have to say Cats. I grew up doing musical theater. The Broadway show came out when I was young, so I grew up on this musical. I sang the songs. I saw it three times. So I wanted to see the movie. And I did. It looked like the director took this brilliant musical and didnít care about what characters meant to the fans. I think thatís what bothered me the most about it, the lack of respect for the fans. I understand wanting to put your own distinct twist on something, but this was blatant disregard (to me).
Your/your movie's website, Facebook, GoFundMe page, whatever else?

Feeling lucky ?
Want to
search
any of my partnershops yourself
for more, better results ?

The links below
will take you
just there!!!


You can visit us at gf.me/u/w54dsf to see a 90 second video and hopefully contribute, and you can also like our awesome Facebook page here: www.facebook.com/WhiteTalonCity. The Facebook page is cool because rather than post constant updates, we also have wild west women trivia and itís been a big hit. We got over 1000 followers in our first week!
Anything else you're dying to mention and I have merely forgotten to ask?
Yes. Women as lead roles are necessary. Movies are creative expressions of how we see the world. To show only one race or one sexual orientation limits the view, potential, and existence of other great human beings.
And also: Our director of photography is Alan Brazzell. We worked together on The Adventures of Wonderboy and formed a wonderful friendship and working relationship. I completely trust his eye. Heís brilliant.
Thanks for the interview!
Thank you!