Your movie Big Blue: A Fishy Tale - in a few words, what is it about?
The film itself is an original take on the age old buddy film, the misadventures of two ordinary guys, Billy and Jesse, who set out to catch Billy's childhood nemesis, a fish named Big Blue, and win the prize of a lifetime.
What the movie was really about was two guys with a credit card and a beat up truck that were dreamers and really believed they had the talent and audacity to produce a feature length film.
What were your sources of inspiration when writing Big Blue: A Fishy Tale?
The greatest source of inspiration for the film was actually the sheer magnitude of the undertaking and the lack of budget thereof. Time and again the scenes and the story line came back to what was possible with no money. Strangely enough, life experiences helped us with that. The cheese man scene for instance came from an encounter I had with a stranger who approached me at a convenience store and and asked me if I wanted some cheese. The scene with Billy's line getting tangled has happened to anyone that has ever tried to cast a line and ended up with a huge knot.
Do talk about your co-writer and co-director Kris Hallesy for a bit, and what was your collaboration like?
Kris was the only reason this film got made. I am for the most part a musician and idea guy. Kris brought the technical expertise of film making with him, and it was very much because of him we were able to pull this off. Time and again we would have a limited amount of film to shoot a scene, and time after time Kris was able to get the shot.
Big Blue: A Fishy Tale is a pretty wild mix of genres - was this at all intended from the get-go or did that develop only when writing it?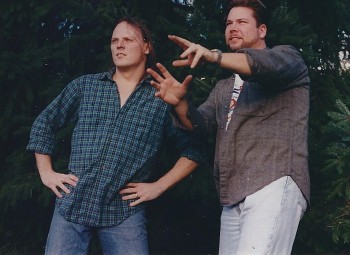 Matthew with Kris Hallesy
We mostly set out to do a comedy, the movie however did at some point morph into having its own energy. We shot the film over a period of about a year on weekends, we would work all week to put together enough money for film to shoot a scene or two. This gave the film the unique ability to develop over time because it progressed over a period of time and not in one single shooting.
A few words about Big Blue: A Fishy Tale's brand of comedy?
It is mostly situational comedy, but the characters definitely bring a comedic aspect with them. Billy with his sometimes dark and less than honorable character and Jesse's innocence and blind belief in Billy's good intentions lead them to peril, which lends to the comedy.
What can you tell us about your directorial approach to your story at hand?
I suppose the most important aspect to the way the film was directed was the focus on the characters. Up close and with their faults clearly in view. I have always loved movies where the director pulls the characters into the open, it adds depth to the story and makes them so much more human.
Do talk about Big Blue: A Fishy Tale's outdoor locations, and what were the advantages and also challenges filming there?
As I mentioned before the primary drive on everything was the lack of budget. A good workaround for this was using the local parks for outdoor sets. There were hiccups. When we were shooting at one of the parks it was directly under the Seatac flight path. This allowed for 5 minutes and 30 second of shooting at a time between planes flying over.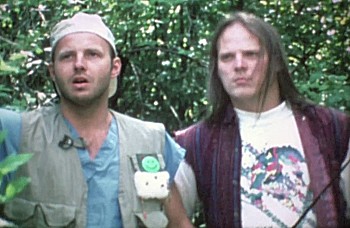 Matthew with co-star Verne Graham (left)
You also play one of the leads in Big Blue: A Fishy Tale - so what did you draw upon to bring your character to life, and have you written Jesse with yourself in mind from the get-go?
Given a big production budget I don't know if I would have cast myself as Jesse. We needed a partner for Billy, and Kris and Verne coaxed me into it. It made a lot of sense at the time and I did have a good idea of how I wanted Jesse's character to come off. I suppose I share traits with Jesse but I like to think I'm a bit smarter.
What can you tell us about the rest of your cast, and why exactly these people?
Verne Graham handled the cast direction and did an outstanding job. He had worked with the other actors on various indie film projects and brought them in. Dawn Swanson was amazing in her various roles in the film, and David Morgan-Shaw really worked for the hunter. I brought the two little girls in whose parent were some very close friends, and Tiffiny's mother actually played a brief role as Billy's sister. They were very kind to trust us with them.
A few words about the shoot as such, and the on-set atmosphere?
As I mentioned the shoots were on the weekends and we were only able to have enough film to shoot a scene or two. This left the rest of the time to prepare for the shots and have a lot of fun. We would order pizzas and have gummie bears for the little girls, and we needed to have a lot of "prop" beer on hand. Dawn Swanson, who went on to Hollywood and worked as a producer on E said in an interview it was the most fun she ever had on a set.
Anything you can tell us about audience and critical reception of Big Blue: A Fishy Tale?
The audience response has been amazing, people who watch the movie say its funny and refreshing and is quite a story. The critical reception has been very favorable. This is not a big Hollywood production movie, but in being something small that has grown to something big has been very satisfying. Kris just made the comment to me the other day that he has run into some people who recently watched the movie and they look at him in a whole new light, like who IS this guy? For me I am happy it is being seen and being appreciated.
Any future projects you'd like to share?
Fuel for the Pig Productions (our film company) is currently working in association with Sky Feathers Studios producing a documentary tentatively named The Search for the Cheeseman. It is the story behind the story of Big Blue: A Fishy Tale that follows the journey the film made from inception to its screen debut in 2018. We are hoping for a fall release in several major film festivals.
What got you into filmmaking to begin with, and did you receive any formal education on the subject?
I never had any formal training and have been mostly self taught. I was alway fascinated by movie magic. The behind the scenes stuff. We built dollies and mounts for the cameras for the entire movie from scratch as this equipment is quite expensive to buy. My experience of bringing scenes to life with characters comes from years of studying movies and the techniques and emotions involved.
At least according to the IMDb, Big Blue: A Fishy Tale is the only film you've ever made (so far) - is that at all correct, and if so, would you like to elaborate on this?
I have actually acted in several short films in association with Rockville Theater Productions and have shot and performed in numerous videos with my latest band Vicious Kitty.
How would you describe yourself as a director?
I am definitely a button pusher. If I'm not getting what I need to see out of someone I will push whatever button it takes to get them there. It was something I admired about Stanley Kubrick, his ability to punish people to get what he needed for the film. I don't go so far as that, but in our documentary I have become abrasive at times to get a genuine reaction.
Filmmakers, actors, writers, whoever else who inspire you?
The list is too lengthy to consider. From my journey of making this movie I have developed such an appreciation for the talent, skill and determination it takes to make a film. From the people you see on the screen, to the music you hear, to the sheer amount of production work to make a scene happen. We all owe all of these amazing people for the motion pictures we watch.
Your favourite movies?

Feeling lucky ?
Want to
search
any of my partnershops yourself
for more, better results ?

The links below
will take you
just there!!!


I'm a classic kind of guy, the Evil Dead series, Wizard of Oz, Oh Brother Where Art Thou, Goodfellas, It's a Wonderful Life, Die Hard.
... and of course, films you really deplore?
Anything on the Lifetime Movie Channel.
Your/your movie's website, Facebook, whatever else?
http://www.bigblueafishytale.com/
https://www.facebook.com/Big-Blue-A-Fishy-Tale-245316139563170
Anything else you're dying to mention and I have merely forgotten to ask?
Be sure to watch for The Search for the Cheeseman this fall.
Thanks for the interview!