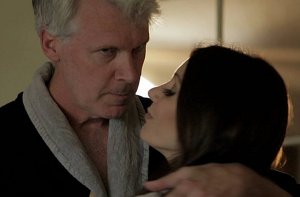 with Tawny Amber Young
Your new movie Axe to Grind - in a few words, what is it about, and what can you tell us about your character in it?
"Hell hath no fury like a woman scorned", and you can double down on the drama if the woman happens to be an actress, played by Debbie Rochon [Debbie Rochon interview - click here]. My character, Peter Burgess is a B movie producer in search of that one big hit that will put him on the map in Hollywood. Unfortunately, he is easily swayed by a pretty face and a hot body. Peter met, and fell in love with Debbie -- a dark, determined, driven beauty -- early on. However, Debbie's desire to succeed is even more intense, and far more deadly, than any ambitions he could ever imagine.
What did you draw upon to bring your character to life, and how much of Matthew James Gulbranson can we find in Peter the two-timing producer?
I have had plenty of real life drama in my relationship life that I could draw on – a few crazy exes' – I just hope it wasn't me that drove them all crazy. I do have lots of method material to tap into for my cinematic endeavors, as well as four awesome kids, despite all the travails of the romantic chapters in my life. Unlike Peter, I have never had so many women fighting over me, and willing to play Paul Bunyan's 'babe' with a blue axe to get my attention.
How did you get involved with the project in the first place, and how did you end up as one of the film's producers?
I found the writer Scott Sanford [Scott C. Sanford interview - click here] via IMDb Pro and a crew call that was listed 5 years ago for his screenplay Heated Rivalry, which is much like Silver Linings Playbook before that was ever conceived by Russell. Another actor told me that sometimes you can find great projects to get attached to by searching the crew listings even though we are supposed to use the cast calls. We started corresponding and he sent me the script, which I loved, as well his other movies The Last Revenants, which is now in pre-production, and The Last Saint of Market Place. I really wanted to be part of Heated Rivalry so I joined Scott's production team to raise money, find cast, create social media platforms, etc. It just worked out that the first movie he was able to produce was Axe to Grind. Eric Roberts was in talks to play Peter so Scott had me in mind to play the fun and excellent part of Norman. When Eric was able to participate at the last moment I got the job of Peter!
To what extent could you identify with the Axe to Grind's brand of comedy?
There are some dark comical overtures in Axe to Grind but some serious stuff as well. All of my scenes with Debbie are kind like the 'dramatic relief' inside the movie itself. I stayed pretty clean, and blood free, but my life was always in peril. I also missed out on all of the fun, debauchery, and cast party chaos. I liked that all of the light elements happen naturally in the film and nothing is overstated. That element matches my approach to wit and humor in life.
What can you tell us about Axe to Grind's director Matt Zettell, and what was your collaboration with him like?
Matt Zettell is a silent, stealthy, lethal, deadly effective ninja as a director. He is calm, clear, and he knows what he wants to achieve in each shot. Nothing is wasted. If you ever want to make a quality movie but you are challenged with time and resources, Matt Z is your man. Plus his wife Skye serves as his director of photography and together they make an excellent team. When you work for Matt you never feel left out of the process or degraded in any way but part of a team. He just inspires you to perform at the highest level. He definitely possesses those leadership traits we value in our leaders in the military.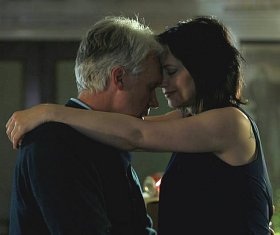 with Debbie Rochon
A few words about the shoot as such, and the on-set atmosphere?
It was amazing how much we got done in six shooting days! Matt ran a tight ship. We always had lunch on time, and yet he somehow we were able to do this whole movie in a week. We actually shot 24 pages on the last day and all of my Debbie bondage scenes. It was just spectacular because we never felt rushed, and we all had fun at the same time just enjoying the creative process. I think the reason was all of the pre-production planning Matt did before we started to film. He only brought in the actors which were needed for each day and he stuck to the plan. I never even got to meet Guy Torry until our screening in Sacramento last fall.
Any future projects you'd like to share?
I am playing Dimitry, a Russian newspaper editor in the upcoming spy thriller and biopic Kickback http://www.imdb.com/title/tt2338636/combined starring John Cusack and Famke Janssen. I will get to use Russian again on camera which I love, since that was my specialty in the Army as a Russian Foreign Area officer. I also got to speak a little Russian in a scene with Kevin Spacey as a Russian General on House of Cards which will air this spring. Another one of Scott's projects – Periphery – http://www.imdb.com/title/tt1638899/combined starring Stacy Keach, Rebecca De Mornay and Shirley Knight also might start shooting this year which would be most excellent. These projects should give me a little more visibility in the acting realm. Also please check out Malice the webseries http://www.imdb.com/title/tt2137103/combined on Youtube and Hulu where I play Jed Spry. Malice is another incredible project created and conceived by the mega talented Philip Cook, who does everything himself on a shoe-string budget.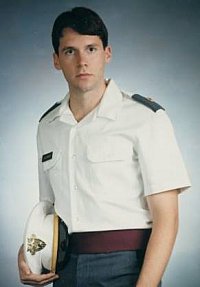 What got you into acting to begin with, and did you receive any formal education on the subject?
I started acting in school and local community theater projects wherever I happened to be stationed in the Army. I really loved the process from rehearsals, blocking, dress rehearsal and the performances. The Army is also the reason I got into movies in the first place. My public affairs officer at the 593rd Area Support Group in West Los Angeles California in 1995, Casey Carver, drafted me to play a military White House aide in American President and I get on doing movies after that.
What can you tell us about your filmwork prior to Axe to Grind?
I have done a bit of everything, small parts in mega blockbusters; large, challenging roles in Indy and low budget movies, some big roles for Investigation Discovery – both the good guys and the bad guys – short films and the web series Malice. I have even done stuff for PBS with my youngest kids. We had fun working on The Truth about Money with Ric Edelman. My kids are interested in the creative process and all of them are quite talented. I hope I can pave the way for them in case they want to chase the same windmills as I have.
You seem to have done it all, blockbusters, indies, television - so how do these sets compare, and what do you prefer, actually?
Well the pay and food is way more dazzling and incredible on the large Union projects, but I have been able to play more challenging roles and contribute more with the creative process on the indie and lower budget projects I've been part of. My hope is one day to gain a larger foothold in the 'A' movie world but I find myself enjoying the pursuit wherever I happen to land.
How would you describe yourself as an actor?
Versatile. I really like playing characters who have attributes and inclinations totally foreign to the real me. I grew up pretty shy and introverted and doing this craft gives me license and permission to be more fearless.
Actors (and indeed actresses) who inspire you?
Gary Cooper, Clint Eastwood, Dustin Hoffman, Morgan Freeman, Anthony Hopkins, and I like Judi Dench as well.
Your favourite movies?
The Graduate since it has it all – drama, romance, good music, comedy, and a dark twist of fate. Similarly, A Place in the Sun and Ten North Frederick also follow this formula where the protagonist is already involved with the wrong woman when the right one comes along. I really like some of the classics such as Shane, High Noon, For a Few Dollars More and I love those movies where you learn about history and real characters, especially if that have a spiritual component, like The Passion of the Christ, Sergeant York, A Man Called Peter, and recently Unbroken.
... and of course, films you really deplore?

Feeling lucky ?
Want to
search
any of my partnershops yourself
for more, better results ?

The links below
will take you
just there!!!

Find Matthew James Gulbranson
at the amazons ...

amazon.com

amazon.co.uk

amazon.de
Looking for imports ?
Find Matthew James Gulbranson here ...
Something naughty ?
(Must be over 18 to go there !)

I really don't enjoy the current trend of large budget movies that are almost entirely created with special and computer generated effects. Some of these movie are like video games where nothing looks real or solid, but just dreamlike. They also seem to suffer from lack of character development and stilted, limited dialogue. To me, special effects should be treated as 'special' and used sparingly. If every day is a holiday, every day is Christmas, than these days are not so special any more. If the whole movie is special effects well then it comes across as very strange indeed.
Your website, Facebook, whatever else?
https://www.facebook.com/MattJGulbranson
Anything else you are dying to mention and I have merely forgotten to ask?
Look for me as a 'Ninja' on Veep this season on HBO as one of the President's Secret Service agents.I am silent, but visible, but I had fun and really loved Mario's craft services culinary creations!
Thanks for the interview!