Your new movie Coven of Evil - in a few words, what is it about?
Coven of Evil tells the story of a young journalist called Joe who is trying to make a name for himself writing articles on witchcraft. He gets invited to a ritual by Evie, the leader of the Coven he has just written about. Once there he finds his own desires take on a darker nature after he is persuaded to join in with one of the rituals. He also meets a young woman called Alice, who he suspects is being held there against her will. Joe gets drawn into the bizarre and deadly world of modern-day witchcraft There is an element of folk horror about it. We've drawn some influence from the likes of The Wicker Man and Blood on Satan's Claw, but it's more of a modern setting.
What were your sources of inspiration when writing Coven of Evil?
The inspiration came from executive producer Warren Croyle [Warren Croyle interview - click here], who gave me the title "Coven of Evil" and asked me to pitch a logline for it. I decided to reverse-engineer the film, building a story around the actors, locations and resources that I had access to. I was fortunate enough to grow up in the glorious Yorkshire moors so this became the backdrop for Coven of Evil.
With Coven of Evil revolving around witchcraft, Wiccan rituals and the like, did you do any kind of research on the subject?
Yes, the research informed my decision to write the evil Coven as Satanists who are merely pretending to be a Wiccan Coven to disguise their true practices. This is explained briefly in the film but it does seem to have caused some misconceptions from people who either missed the explanation or didn't see the film and thought I was trying to portray Wiccans as evil devil worshipers, which of course isn't true.
To what extent could you identify with Coven of Evil's lead Joe - and with Alice, and with the witches, for that matter?
Joe is an everyman and the character I'd identify with the most. He's the audience's way into the story and acts as an anchor. He watches, along with the rest of us, as the madness unfolds. I find Alice's character the most inspiring. She has the biggest arc and slowly transitions from passive victim to someone who actively takes control of her own destiny. Although I don't really identify with the members of the Coven, I did want to make them seem like real people. They are a bunch of misfits that have come together to form the Coven. Rather than being an unstoppable force, they are quite fallible. Some of the more humorous moments of the film come from the fact that they don't always know what they are doing!
Do talk about your movie's approach to horror!
The film has some paranormal elements to it such as devil worship, demons and even vampires, but there is also a strong psychological component. A lot of the real horror comes from the human characters and what they do to each other.
A few words about your overall directorial approach to your story at hand?
I like to do a lot of preparation so I spent as much time as I could drawing up shot lists and talking to the cast and crew ahead of the shoot. That said, it's still important to allow for some spontaneity on the day if it will improve on the original vision or if circumstances dictate a slight course correction. I like to give the actors a certain amount of freedom and at times I remember being pleasantly surprised by how powerful the performances were. Sometimes we'd rehearse a scene and I'd sense the actors were holding back to save it for the take. Then we'd start shooting and there would be a rawness and honesty to the performances that blew me away.
What can you tell us about Coven of Evil's cast, and why exactly these people?
Ok, I'll discuss the cast in the order that I cast them: First off, for one of the main villains, Zander, I pretty much wrote the character with an actor in mind. There was an actor called Craig R Mellor who I'd worked with on a previous short film. He makes a great bad guy and we get on well. So I pretty much wrote Zander for him, although I didn't tell him that and he had to audition.
The most difficult part to cast was Evie, the High Priestess, who is a bit like a femme fatale. She contrasts with Zander, who is all brute force, she's more scheming. I also wanted Evie to contrast with her sister Alice who is a lot younger and more innocent. It was quite hard to find someone who could play that role, and the actress I ended up casting, Samantha Moorhouse, was actually quite a bit younger than I'd initially intended for Evie. In fact she's almost the same age as her sister Alice. We did have people audition who were of the right age, but I went with Sammy as I felt she was the better actress.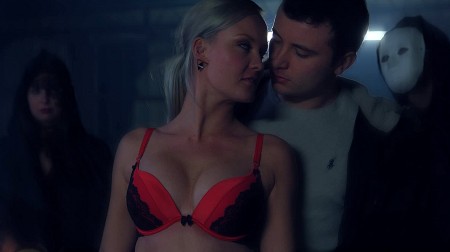 I'd written Kissi as this kind of hippy, dizzy character that provides some comic relief. This was the take that Tracy Gabbitas gave me in the auditions. She was really funny and I cast her pretty much straight away. Then, as Tracy started working on her character, it became obvious that there was a better way to play it. This dizzy persona is just a facade and underneath it she's a lot more serious and committed to what the Coven are doing. I liked that, it made her character more layered and more interesting.
The shoot ended up being pushed back because the actress who was initially down to play Alice dropped out. This meant various other actors also had to pull out due to scheduling conflicts. Craig, Sammy and Tracy were the only actors from the initial cast who remained in place. In the re-casting, I chose John Thacker as Joe. He plays the role in a naturalistic, understated way and makes a great everyman that most people can relate to. John has been in a number of shorts films, TV programmes, theatre productions and online videos for brands like The Lad Bible. He is also a musician and the lead singer and songwriter in the band China Moon.
I then cast Laura Peterson as Alice. She was very well prepared and a joy to work with. It was a tough shoot with bad weather, long hours and some physically demanding scenes. Laura was very good about it. She was a real trooper.
Laura Ellen Wilson plays Talia, one of the newest members of the Coven. Unlike the more established members who each have a special gift/power, Talia hasn't found her gift yet. Laura is a horror regular. She's been in some great indie horror films: Monster, Surprise, Next Door.
Coven of Evil was shot in some quite breathtaking locations - so where are they, how did you find them, and what were the advantages and maybe also challenges filming there?
Like so many micro-budget productions, I wrote the film around resources and locations that I already had access to. There's some fantastic rural locations in Yorkshire, near where I grew up. These locations are breath-takingly beautiful but also desolate and eerie, so they are perfect for the kind of atmosphere we were trying to create. It is hard to shoot in remote locations. The weather and conditions are often quite hostile. Most of the places you can only get to on foot, so you park as near as you can and then you have to haul all the gear and props to the location. There's also the problem for sound. We'd do a recce and the location would be deadly silent, because it is so remote. Then we'd come to shoot and they'd always be something going on that made it awkward to record the sound. Quite often it's because people got wind we were shooting and came to check it out. But our sound mixer, Stephen Cummings, was fantastic and got us some great audio. One thing about shooting in places like that is that, if you can put up with the hardships, you get a great looking location for free!
A few words about the shoot as such and the on-set atmosphere?
For a significant proportion of the shoot we were based in a beautiful holiday cottage which served as a location, production office and accommodation for some of the cast and crew who lived further afield. We had everything there we needed and there was a great camaraderie amongst the cast and crew. The atmosphere on set was a lot of fun. Once we moved on to shooting the exterior scenes, the atmosphere became a lot more tense. Those scenes were tough to shoot as the locations were very isolated and it was extremely cold and windy. The weather kept changing and we had to shoot around it. Our first AD, Robert Mellody, did a fantastic job of holding everything together. I don't know what we would have done without him. Those scenes were tough but I think we all came through it stronger. The music plays a big role in helping to create the atmosphere.
What were the sources of inspiration for the film's score and how did you work with the composer?
This original score by Steve Kilpatrick includes nods to well-known orchestral horror soundtracks, while, at the same time, incorporating doom metal and EDM. The composer, Steve Kilpatrick, has scored a few films for me and we have a great working relationship. Steve came onboard at the start of production, also working as a production sound mixer on set. Although we spent plenty of time discussing ideas, Steve still managed to surprise and delight me. I remember the first time I watched the film with Steve's accompanying score as one of the highs of post-production. After all those months of shooting and editing, for the first time I was able to sit back and watch the film without knowing exactly what was coming next.
Anything you can tell us about audience and critical reception of Coven of Evil?
We've had some very positive reviews and feedback on the film. There has also been a fair bit of criticism, some of it constructive, some of it not so much. I guess that's the way it goes, films are subjective so we're never going to please everyone. That said, the feedback is extremely helpful for future projects. I plan to build on the things we've done well and learn from any mistakes we made this time.
What made you want to focus on making horror films as opposed to other genres?
As well as being a huge fan of the genre, horror appeals to me as a filmmaker as it is fun, challenging and relatively inexpensive to make. You don't need big stars or fancy equipment to pull off a good scare! I enjoy the process of coming up with new and creative ways to work around our limitations.
Any future projects you'd like to share?

Feeling lucky ?
Want to
search
any of my partnershops yourself
for more, better results ?

The links below
will take you
just there!!!


I'm in development on a short horror film called Look Deeper. It's about a man who is spending the night with a married woman, and then her husband comes home. It's going to be a dark and twisted film and it doesn't resolve in the way that you'd expect. We're intending to give the film a very stylised look and we are drawing influence from some of the giallo films, particularly some of Mario Bava's work (like Blood and Black Lace) [Mario Bava bio - click here]. It should be a lot of fun and I'm looking forward to it. After Look Deeper, I plan on doing another feature, although I haven't settled on an idea for this yet.
Your/your movie's website, Facebook, whatever else?
https://twitter.com/MacabrePictures
https://www.instagram.com/macabrepictures/
https://vimeo.com/macabrepictures
https://www.facebook.com/covenofevilmovie
Thanks for the interview!