Your movie The Blackout - in a few words, what is it about?
It's about a band of rocktards about to kick off a world tour after signing their first big record deal with a major label. They throw a party to celebrate only to wake up the next day with no memory, a missing contract, and a dead body in the pool. As things continue to go south, they figure out in short order the only way to remember the prior night's events is through "state-dependent learning", in other words, they have to do drink, smoke, snort, or pop whatever substance they were doing the night before in order to get that piece of the night back into their memory and figure out what the hell happened.
How did the project fall together in the first place, and how did you get on board? And maybe related to that, what was your collaboration with your writers Scott Rosa and Keith Brown like, especially since they also had their hands in production?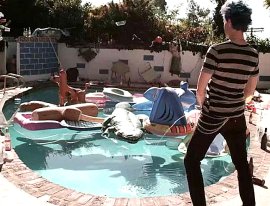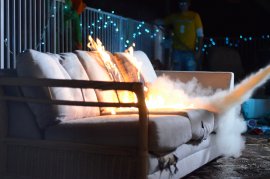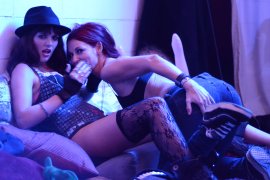 The project came together as the follow-up to a short film (Scavenger) I had produced/directed with the same group. And since we were all still desperate, we (KB and I) decided to have a write-off to determine which script we were gonna dump our collective tip money into for a feature. I lost, which is weird because even I voted for his script over mine. So his script is based on the concept that he and Scott came up with. I was very attentive to the script phase, there were blowout arguments, there was weepy reconciliation, and a touch of bromance before the script finally got to where it was something I thought I could execute. I loved collaborating with those guys because we all kind of exist in the same creative headspace so it was usually just a matter of pouring enough scotch to get us all on the same page.
Seriously, to what extent can you identify with/live the rockstar lifestyle depicted in your movie?
None whatsoever. I'm a straightedge. Well... I do drink my fair share (aged bourbon [Booker's preferably], if you're in a mailing mood), but I had to rely heavily on KB and Scott for the "lifestyle" research of the band members. I actively avoid partying in general. I do, however, find that if you space out 4-6 cocktails over the course of the day with at least an equivalent amount of water (the regimen), you can still get the vast majority of your work done, often more effectively.
How would you describe your directorial approach to the subject at hand?
Basically I wanted to allow the players to do their thing, since this is the backbone of what I think is great about the picture, that they were all so nut-crunching good in their respective roles, and use different camerawork/special FX/visual FX devices to express the connection between the lost memories from the night before with the particular situation they found themselves in the day after, all while keeping in touch with the visual and story motifs. A little handheld here... a doorway dolly shot there... a giant one-shot follow into lead back into follow here... a live couch fire there... and boom, we got something.
Do talk about The Blackout's brand of humour for a bit, and also about your personal sense of humour?
This is where KB's genius comes in, the guy has an endless supply of this crap. And he's pushing it on me all the time. He has so much that it physically exhausts you. And it has the secondary effect of rendering most other people's humor inane. He's like the Einstein of microbudget raunch comedy movie humor. Everybody knows it works, but nobody knows exactly how. Regarding The Blackout, its basically: 4 parts college aged male buffoonery, 1 part offbeat random riffery, 1 part Benny Hill sight gaggery, and 1 part pothead smartassery.
My own personal humor veers to the dryer side of the scale. I grew up loving that dry British humor, so magnificently expressed in the modern by guys like Ricky Gervais, Eddie Izzard, and Steve Carell. I think I always loved it because it seemed like the "smart humor" and I was always the smartest guy in the room. So... there's that.
You have cast yourself as a sleazy A&R guy - so how much of Matt Hish can we find in your character, and how much fun was it to play pretty much the asshole of the piece?
Beg your pardon "sleazy", "asshole"? Spencer is a realist and a professional. He knows hack musicians when he sees them and he's not afraid to say so. He knows how business is done and gold records are made. The great thing about playing Spencer was that I just got to stay in character that I had been working on since early high school.
Do talk about the rest of your cast for a bit, and why exactly these people?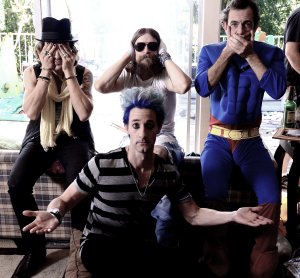 back row: Michael Graziadei, Flood Reed, John Joyce
front row: Scott Rosa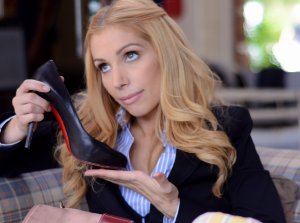 Autumn Federici
The why is simply because the show was basically written for most of the main players including Scott Rosa (as Eddie Mesmer, rhythm guitarist, star), Flood Reed (as Toss Dunbar, drummer), Michael Graziadei (as Chas Knoppfler, lead guitar/vocals), John Joyce (as Gunther Shea, bassist), the incredibly talented Autumn Federici (as Jenny, Eddie's girlfriend) [Autumn Federici interview - click here], and myself. But along the way we picked up some other nut-kickers as well, including Tommy Gatto (as Officer Collins), Jared Bonner (as Officer Kazansky), Kenneth Michael Glass (as Chuck) and working actors David Barry Gray (as Reuben Adler, record executive), Shanelle Gray (as Layla) and the delectable Shane Lynch (as Beth, Toss' psycho girlfriend).
About the only player we didn't know at the time of shooting was Jerrell Lee (as Filipino James, pimp) but he might as well have written the role himself because he crushed the nuts out of it. I would not hesitate to work with anyone of these performers again. They all brought the HEAT, and embodied exactly what I expected them to on the day. Especially me.
What can you tell us about the actual shoot, and the on-set atmosphere?
The shoot was a mess, literally. It was a one-location shoot and because we had to turn a single house in Beverly Hills into a rock band party house and leave it like that for 2 weeks made for us collecting hundreds of empty bottles of alcohol for props and set design, stacked on top of trash, solo cups, paper plates, pool toys, toilet paper, broken furniture, broken windows, furniture on the roof. The shoot was fast as hell too, we only had 15 days to get it done. The atmosphere was a boozy blend of raucous fun, desperate extras wrangling, balls-to-the-wall acting, deft camera work, and constant stressed-out schedule re-configuring, all topped off with many laughs between takes. It was easily the best time of my life. I don't care what the rest of my employees said...
A few words about critical and audience reception of your film so far?
This whole thing was meant to be a grassroots-type film because we knew we didn't have the name/budget power of larger productions, and so far most of our grass is rooting for us. We've got a 70% user rating on RottenTomatoes.com. Obviously those people "get it". As for the others - "I fart in you general direction!"
Any future projects you'd like to share?
As we speak I'm delivering a horror/thriller called A Haunting of Innocence that I directed back in May. It will be out on all the same digital, DVD, and VOD platforms as The Blackout in January. I'm in development on numerous other projects ranging from a Vietnam era biopic to a dark comedy/action piece to a cop-spoof series all while keeping my eye out for investors who wanna waste some money.
What got you into directing in the first place, and did you receive any formal education on the subject?
No formal education whatsoever. The path I followed was from model (I was a pretty big deal in South Texas) to photographer (where I got my understanding of cameras and light) to theater actor (in San Antonio where I went to college). My overwhelming vanity forced me to move out to LA after college. Since elementary school I had always written stuff here and there, so that led me to eventually teach myself how to write poor screenplays once I got here to LA. And eventually my frustration with the acting world out here led me to finance/produce/direct/edit/star in a short film (Jawbone) to showcase my acting (not sure to whom). It was on the set of Jawbone that I realized I had a knack for directing. Sure enough it was Jawbone that caught the eye of Scott Rosa when I screened it for a group of my co-workers at the time. He ended up financing and starring in my next short film Scavenger, which KB also wrote, so that he could showcase his acting. Long story short, it was ego that got me into directing, and mediocre acting that kept me there.
What can you tell us about your filmwork prior to The Blackout?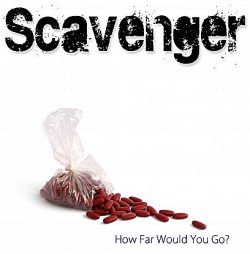 Regarding format, I've always shot digital, mostly for economical reasons, and I imagine I'll continue to, especially after seeing what cameras like the RED EPIC and the ARRI ALEXA can deliver. Like I mentioned there were several shorts first, starting with Pull To Stop, which was a short I co-directed/co-starred with Michael Zussman way back when, then Jawbone, which was essentially my own personal "film school" because I did everything on it from writing (tips hat to Ronnie Koshaba), financing, producing, scheduling, tranportation, lodging, budgets, craft-services, production design, stunts, directing, and editing. At the time both of these held acting as my foremost concern. When I did Scavenger, where Scott took over the lead and I got to be more vision-focused, I was able to put more energy into the total package of the film, and it shows. Much better production value and more cohesive feel to it, plus I loved it. Once we finished up our festival run with Scavenger I told the crew (Scott/KB/Autumn) it was time to play with the big boys and make a feature, which became The Blackout.
How would you describe yourself as a director?
Not coming from a school program and instead coming from "the streets" of low budget do whatever it takes to get it done under whatever conditions and budget and ime restrictions you're given while you're figuring it out as you go because you've never done this before-filmmaking, I'd say I'm the kind of director who does more with less. I've also always been such a fan of how the great indies think outside the box when it comes to being creative in expressing something when you don't have a studio budget. I'm also actor-oriented, for obvious reasons, so I like players to play, that's when you get the best out of them.
Filmmakers who inspire you?
Mel Gibson, Michael Gondry, Danny Boyle, Kubrick (obviously), Chris Nolan, Martin McDonagh, Mabrouk El Mechri, Ben Stiller, Adam McKay, Tomas Alfredson, Nicolas Winding Refn, Fincher, Tarantino, Aaronofsky, are ones that just popped into my head, there's many others.
Your favourite movies?

Feeling lucky ?
Want to
search
any of my partnershops yourself
for more, better results ?

The links below
will take you
just there!!!

Find Matt Hish
at the amazons ...

amazon.com

amazon.co.uk

amazon.de
Looking for imports ?
Find Matt Hish here ...
Something naughty ?
(Must be over 18 to go there !)

Jeez.... um... Braveheart, The Exorcist, Memento, Dr. Strangelove, 2001: A Space Odyssey, Heat, Step Brothers, Last of the Mohicans, Trainspotting, Lock Stock & Two Smoking Barrels, Fight Club, Eternal Sunshine of The Spotless Mind, Kill Bill Vol. 2, Tropic Thunder, Old School, Super Troopers, Beasts of the Southern Wild, The Dark Knight... again just stuff popping into my head. Many, many more.
... and of course, films you really deplore?
Most rom-coms.
Your/your movie's website, Facebook, whatever else?
You can find the movie on Redbox, iTunes, Hulu, Playstation, Xbox, Vudu, Comcast, and numerous other digital and VOD platforms.
Like us on Facebook: https://www.facebook.com/TheBlackoutMovie
Twit us on Twitter: https://twitter.com/H2AB
Anything else you are dying to mention and I've merely forgotten to ask?
I survived a volcano eruption and concurrent typhoon in the Philippines in 1991 (http://en.wikipedia.org/wiki/Mount_Pinatubo) and I was arrested for second degree auto theft when I was 14...
Thanks for the interview!
My pleasure, thank you.