Your new film Chimera - in a few words, what is it about?
Inspired by cutting-edge research in stem cells, regenerative medicine, organ harvesting and genetics, Chimera is, at its core, a tale of love and loss, regret and redemption. Chimera is the story of Quint, a brilliant but disturbed scientist who freezes his children alive, while he races against time to cure their deadly genetic disease by decoding the DNA of the immortal Turritopsis jellyfish.
What were your sources of inspiration when writing Chimera?
The genesis of Chimera lies in three unhappy events: After losing her two sisters to sudden heart failure, my wife was diagnosed with a rare form of hypertrophic cardiomyopathy which each of our children (the youngest plays Miles in Chimera) has a 50% chance of inheriting. Then, my childhood friend's nineteen-year-old daughter succumbed to complications stemming from two successive organ transplants. Finally, my three-year-old nephew, Gautam (the littlest boy in Chimera) was diagnosed with acute lymphoblastic leukemia and endured a crippling regime of radiation and chemotherapy. I felt powerless and inconsequential – a passive onlooker rubbernecking a highway crash, while people I cared about struggled for their lives. Medical diagnoses and prognoses sounded like jargon and gibberish, the science felt like mysticism, and we made decisions with about as much free will as sheep being herded.
That was when I challenged myself – even if I could not impact the course of events, I needed to know what was going on, to comprehend what was being said, to understand the implications of decisions being made. I developed an insatiable appetite to learn everything I could, as a layman, about medicine and the many advancements taking place around the world. I scoured the internet for news stories, interviews of scientists, and for research papers. I read biology and chemistry textbooks. I talked to professors, researchers, and doctors. I did a lot of my own research – to teach myself about genetics, regenerative medicine, organ harvesting, cryonics, and the science of longevity. I read about the work taking place around the world. Contemporary research might seem mundane, obscure and academic, but I came to see it as the tip of the spear, the frontline where the best human brains, these warriors of modern medicine, wage fierce hand-to-hand combat against the enemy forces of aging, injury, disease, and death. I was blown away by the possible ramifications of the progress being achieved at these labs, universities, hospitals, and research centers.
The curiosity that led me to investigate the science had been born from despair, but it led me down a path of optimism. I came to formulate a view of the future, the belief that man will prevail, and ultimately a world without suffering will be attainable, and from that utopian dream, that ethereal chimera, came the ideas for this story. It has often been pointed out to me that the tragic episodes of my life should be treated with gravity, their story told as a serious documentary, or as a life-affirming drama. How could they serve as inspiration for a piece of science-fiction which, almost by definition, must be frivolous?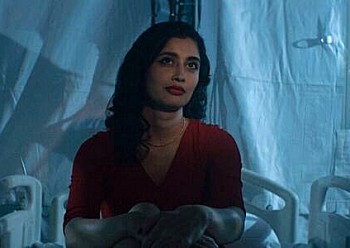 While I did consider other approaches, I felt that a factual retelling of those stories would be an inadequate response, clichéd and on-the-nose. I had to accept that there was no way to address the enormity of the upheaval, the pain endured, the losses suffered, while still maintaining the privacy and dignity of everyone involved. What would be accomplished simply by reliving all those heartbreaking moments? Instead I decided to find another path to respect and acknowledge those affected and to honor the dedicated doctors and scientists. I also wanted to use this forum to think about some possible futures, to highlight some risks, and to ask some open-ended questions.
The path that I chose is unusual, but it is my own. My best testament to their grace, strength and courage. A highly fictionalized, hyper-stylized, graphic-novel-esque science-fiction tale. One that will thrill and entertain, but also provoke and inspire without being sentimental or pedantic. That, I hope, is Chimera.
To what extent can you actually identify with Chimera's lead Quint, and the moral dilemma he's in?
In Chimera, Quint is put in an impossible position, he faces a grave dilemma and must make very difficult choices. I hope that no one ever finds themselves in Quint's no-win situation. But, the questions raised are very interesting and could yield some fascinating character insights. How far would you go to save the ones you love? And, if they were gone, would you still want to live forever? Yet, I wish that the technology would exist today for me to be preserved (as in the cryptobiosis process depicted in Chimera) and then revived 50 years in the future. I would happily embark upon the long sleep, just so I could one day awaken, 50 years in the future, and experience first-hand the world when the science from Chimera has finally crossed over from fiction to reality.
Do talk about your lab locations for a bit, and how did you find them, and what was it like filming there?
Chimera has 10 actors playing the 10 characters, and the lab location is the eleventh. It impacts the visuals, the atmosphere and the story. Chimera could not have been shot anywhere else. The backstory for Chimera is that Quint has given up on traditional medical treatments that he knows cannot save his children. He decamps to an isolated facility where he can take matters into his own hands and make the tough decision necessary to save his children. Getting the right lab location was key. I had a few criteria and our location met each one:
1. It had to be believable that Quint could own, rent or have access to this place (the market value of our lab location was under a million dollars so it was conceivable that Quint, a successful scientist could have cashed in his life's savings and bought this place).
2. It had to have all the gear that Quint might need on his quest to save his children (we had a tiny budget for props and so we needed our lab location to come fully stocked. Luckily it did. Our lab location was a real biochemical research and manufacturing facility that had been decommissioned only a few years ago and so most of its original equipment, machines, and lab supplies were still in place and still functional).
3. It had to be believable that Quint could hide out here, live here with his kids, and no one would notice (our lab location is a self-contained 27 acre fenced-in compound in an isolated industrial area of central Massachusetts) .
4. It had to have the right "look": Real-world yet steam punk/cyberpunk, functional yet dilapidated, habitable yet empty, spooky, abandoned and cold (the lab was all of that and more) .
This facility also offered some logistic advantages. We shot every scene of the movie here, even the outdoor scenes. Our production office was housed here. There was plenty of parking, and space for us to store our equipment, and the old cafeteria was perfect for our meals services. Everything that we needed - Quint's lab, a cryptobiosis room, an embryo farm, a pharmaceutical manufacturing plant, a chemical process area – was already there. Initially we were worried about our ability to find crew in the out-of-the-way location, but we did. We were fortunate to attract an awesome group of experienced, talented and motivated crew with fantastic attitude and work ethic.
What can you tell us about your overall directorial approach to your story at hand?
My experience in life and business has taught me a lot about grayscale of human nature – a continuous spectrum that stretches from black on the one end to white at the other, and where everyone (except for a very few outliers) fall in clusters somewhere in the middle. Basically, we are all just different shades of grey depending on the situation and circumstances we find ourselves in at a particular point in time. In Chimera, there is a lot of darkness within the protagonist Quint (a brilliant but disturbed scientist, played by Henry Ian Cusick). And the antagonists, at times display great nobility, loyalty, consistency, and other admirable qualities. I think this makes for more interesting conflict; where right and wrong, and good and bad are not easily discernible, as such situations more accurately mirror real life. I also believe that my age and maturity give me some distance and perspective to better appreciate and articulate the complex themes and difficult trade-offs that are presented in Chimera. For example, in Chimera we have a very keen debate between the scientific and the spiritual sides, as Quint struggles to find the right karmic path forward, to identify that singular path which the universe intends for him to take.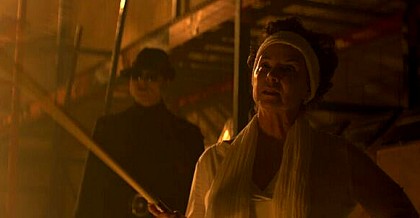 Do talk about your cast, and why exactly these people?
Miles and Flora (Raviv Haeems and Kaavya Jayaram): When I first came up with the germ of the idea for Chimera, before even a single word was ever written, I knew that Quint's two children (Miles and Flora) could only be played by Raviv Haeems (my youngest son, 12 years old at the time) and Kaavya (8 years old, the younger daughter of my business partner and fellow Chimera producer, Jay Sitaram). This was always locked and non-negotiable.
Quint (Henry Ian Cusick): I had never watched Lost, but I did know of Ian and luckily for us, his name was suggested by Mark, our very wise casting director. One evening, Jay (our producer) and I committed to some uninterrupted Cusick binge-watching. We started with an episode of Lost and were completely sold on Ian midway through that episode and we just knew instinctively that Ian would be the perfect Quint. Just for the heck of it, we kept watching (a little bit of The 100, Scandal, and Girl on the Train) and by the end of the evening we had both become die-hard Henry Ian Cusick fans. We were thrilled when Mark (our indomitable casting director, Mark Tillman) told us that Ian had read the script and had liked it. Dr. Quint is a very complex character – he feels deeply for his wife and children and will do anything to protect them, so there was a need to portray him with sensitivity, warmth and tenderness. But, conversely, Quint has a dark side and is not afraid to do whatever unpleasant task must be done. Due to his no-nonsense approach, his actions may sometimes appear to be cold, harsh and unfeeling. Quint also has a dark past for which he feels deep regret and, to some extent, his actions are motivated by his quixotic, misguided quest for redemption.
He is a study in contrasts - a very intelligent man who may be losing his mind. A soft, gentle man who must make very tough decisions. A dedicated husband to Jessie, but still involved in an illicit relationship with Charlotte (Charlie). A father who cares deeply about his children, but who is so deeply focused on being their doctor that he has forgotten how to be their dad. He is not an action hero, but he acts decisively when called upon. He is a man of science, not a fighter – but he is unafraid to fight for those he loves.
The script gave Quint absolutely no exposition, so Ian had to figure out how to be consistent and convincing in portraying this complicated character. Now, having seen what Ian has done, it is simply impossible to imagine anyone else as Quint.
Jessie (Karishma Ahluwalia): We met Karishma through in-person auditions and it was her talent and ethereal quality that convinced us that she was the perfect fit for Jessie. Apart from her obvious talent, another factor that won us over was her ability to put on a pitch-perfect Indian accent and disguise her natural LA speaking style. This made her more believable as the Indian mother to the kids, and took the pressure off little Kaavya who would otherwise have had to speak in a fake "American" accent.
Charlie (Jenna Harrison): Though we were holding auditions for the role in LA, a mutual friend who knew Jenna's agent said that we had to look at the tapes of this English actress that he knew. Once we saw Jenna's tapes, they were so good that we immediately stopped the LA auditions, knowing that we had found our perfect Charlie in Jenna.
Gruze (Erika Ervin): There was a lot of thinking that went into the casting for Gruze. There were two reasons why I only wanted there to be one henchperson for Masterson. Firstly, we could only afford one actor. Secondly, we needed to avoid falling victim to the henchman-loyalty paradox - the inexplicable motivation of armies of movie henchmen to willingly sacrifice their own lives for their boss' life. I can never buy it. Money alone cannot possibly be the only motivation enough for that ultimate sacrifice. There has to be something else – either a close personal relationship or deep family ties. Perhaps obsessive political views or profound religious convictions, but that is about it. In my opinion, the way to avoid this "henchman loyalty paradox" is to only have one henchperson, so that a one-on-one relationship between the boss and the henchman is possible. In that type of relationship, it is conceivable that the henchperson would actually be willing to lay down their life for their "master". It follows, that if we are only going to have just one henchperson, then that henchperson had to be really special. This one person would have to do all the work of an army of henchpersons. As soon as we met Erika and observed her in action, we knew that she was one of a kind. In this most gentle, caring and sweet actress, we had found the fearsome and awesome Dita Gruze!
Masterson (Kathleen Quinlan): We struggled to find an actress who could embody the right mix of playfulness and ruthlessness to play Masterson. Though we had many good candidates, even two weeks before the shoot, we still did not have "the one". Then our casting director Mark proposed that we speak to Kathleen Quinlan. Kathleen asked many probing questions about the character and her motivations, some of which I hadn't asked myself. This forced me to dive deeper into the psyche of that character and develop her even further. That is how I knew that Kathleen was the right choice for Masterson.
Luke (Larry Sampson): The actor who played Luke was actually our production designer! We were going to audition for this part locally in MA, but Larry was cast as Luke simply because he volunteered to shave his head and sit still for several hours. This was the first step to cast the moulds in the shape of his face. Then, on each day of shooting, he further had to undergo 4-5 hours of prosthetics application and special effects make up, that was required to transform him into Luke. Thus, on the 3 days we needed to film Luke's scenes, Larry had to come to set 4 hours before everyone else, having a 4 am call time when everyone else's call time was 8 am.
A few words about the shoot as such, and the on-set atmosphere?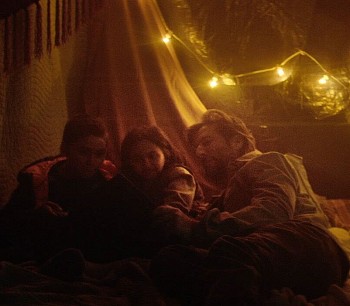 As a first-time writer/director I was very fortunate to be working with such a talented and seasoned cast of actors. Though I have never done any acting myself, I do recognize that acting is one of the most difficult jobs. I am in awe of how actors do what they do, how they get in front of the camera and expose themselves and their vulnerabilities in their search for the truth and emotional core of the moment. I did not try to "direct" the actors, or tell them how to act. Obviously, they know how to do that much better than I do. But where I tried to be helpful was to work with them to jointly discover the subtext, the intent, the context, and the interpersonal dynamics of the scene. The benefit of collaborating with intelligent actors was that their insights and suggestions invariably resulted in vast improvements to the scene. Since we had no time or budget for rehearsals, in our case the scene blocking and the first take had to serve as de-facto rehearsals. As a result of discussing a scene with the actors, often I found myself rewriting the pages on-the-fly and then passing out new handwritten pages. It is a testament to the professionalism and versatility of our actors that they were able make these hastily rewritten lines work so well.
In the same way, my interactions with the crew was also based on tremendous respect for their knowledge and expertise in their respective crafts. I feel that my job as a director was to solicit their inputs and listen to their suggestions for ways to enhance each scene and maximize the effectiveness of each shot. Each of our crew members unhesitatingly contributed their best to the project and that is why, even with very tight budget constraints, we were able to achieve an end result that is so technically sophisticated.
The $64-question of course, where can your movie be seen?
Chimera will play in festivals starting from early spring. For the first half of 2018, film festivals will be the only places where Chimera can be seen. Our team is currently working on securing distribution for Chimera and we will be sure to communicate as soon as we have any news that we have on that front.
Any future projects you'd like to share?
I continue to be enthralled by advancements in biotechnology, the extension of human lifespans, and the science/fiction of immortality and transhumanism. I have completed the script and begun development on my second feature (The Archetype) which further explores these themes and their impact on human relationships. In The Archetype, the protagonist tries to create his perfectly compatible soulmate by cloning and genetically modifying his wife. Anyone who has been in a relationship has, at some point, in a moment of weakness, anger or frustration, thought to themselves, "I wish I could change just one small thing about this person." Even knowing that it's not possible, it is still something that everyone has wished for. What The Archetype explores is – what if you could? And now the science is starting to move in that direction as well, some of which is described in the Nov 15 AP Exclusive: US scientists try 1st gene editing in the body. The gene editing in this project is modeled after the CRISPR/Cas-9 and the zinc finger nucleases techniques. While the applications of the science are dramatized in my story, the fundamental idea (of tailoring/tweaking the genetic makeup to alter the characteristics of a living being) is the same. The idea that The Archetype examines is, of course, fictionalized and this time the science is projected maybe a little further out, maybe 50-75 years in the future, and so in a way this is more of a leap than Chimera, but I think it is an equally interesting story that deals with an equally compelling area of emerging science.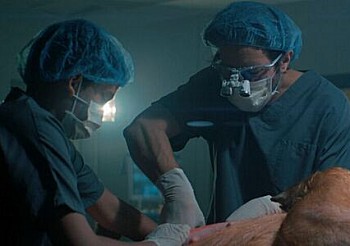 What got you into filmmaking in the first place, and did you receive any formal training on the subject?
I had always wanted to be a writer but, under (self-induced) pressure to pursue an "employable" profession, and to capitalize on my affinity for math and physics, I instead chose to enroll at one of the best schools in India to study engineering. Over the next 25 years, I earned degrees in engineering and then in finance, lived and worked around the world (London, Hong Kong, Singapore, Taipei, Mumbai, New York, Palo Alto, Atlanta, Dubai and Los Angeles) and enjoyed successful careers in mechanical/fluid engineering, investment banking, and software entrepreneurship.
As I was approaching my 47th birthday, I had the feeling that "my time was running out". I felt that I wanted to change careers again, but this time I needed to do what I love to do and not let my career choice be motivated by any pragmatic considerations. I decided to pursue his fourth career (and first love) - storytelling and filmmaking. For my 47th birthday (October 6), my birthday present to myself was an eight-weeks filmmaking class (October and November). That class ended up being curtailed to only four weeks. But I had already got a lot out of it, and I was hungry for more. That year my Christmas present to myself was an eight-weeks screenwriting class (starting in January the following year). I set myself the goal that by the end of those eight weeks, I would have a finished first draft of the screenplay for Chimera. In order to achieve that, I had to, even as a 47-year-old, attend class and do my homework diligently every day like a school kid. I was so dedicated to meeting the deadlines of my writing class that, on some nights, I did not return home after class, choosing instead to check into a hotel room near the school. I would sit alone in that room and write through the night, in order to meet my page requirement for completing that day's homework. In March, I enrolled in an online screenplay rewriting class and again through a strict adherence to the assigned homework deadlines I was able to finish a comprehensive rewrite/second draft of the Chimera screenplay.
How would you describe yourself as a director?
I like to think of myself as pragmatic (embracing the resource constraints and tight budgets of indie filmmaking), collaborative (soliciting and securing the best efforts from all cast and crew members), and improvisational (happy to make any changes necessary, until the very last minute). The one absolute objective that I had set for myself as a director was to strive for originality and, at all costs, to avoid producing a derivative work. I look forward to the viewer's feedback on whether or not I have achieved this objective.
Filmmakers who inspire you?
I view independent filmmaking as an act of extreme valor and deep conviction, and I am inspired by every independent filmmaker who overcomes great obstacles and makes tremendous personal sacrifices in order to get their film made.
Your favourite movies?
I have always enjoyed and admired the darker sci-fi tales like Blade Runner and Dark City, and stories with an interesting biological/genetics premise like The Fly and Gattaca. I am a great fan of sci-fi action movies like The Matrix and Inception which are based on completely unique premises and explore very complex philosophical questions; and of psychological sci-fi mindbenders like Solaris and 12 Monkeys. I also enjoy all other (non-sci-fi) kinds of cinema - heist movies (The Killing), noir (Chinatown), supernatural horror (Possession) and even tragedies (Leaving Las Vegas). In some way, all of these movies have inspired and influenced Chimera.
... and of course, films you really deplore?
None. I am professing that to be an indiscriminate lover of all films, but rather feel that there is something beautiful and honest in every movie, and when I am watching any movie it is my challenge as a viewer to uncover that.

Feeling lucky ?
Want to
search
any of my partnershops yourself
for more, better results ?

The links below
will take you
just there!!!


Your/your movie's website, Facebook, whatever else?
Website: www.chimerathemovie.com
Trailer: www.youtube.com/watch?v=4vfuSV5P-LY
Twitter: www.twitter.com/chimerathemovie
Instagram: www.instagram.com/chimerathemovie
Facebook: www.facebook.com/chimera2018
Anything else you're dying to mention and I have merely forgotten to ask?
Chimera contains two literary references. All of the character names (Quint, Jessie, Miles, Flora, Masterson, Gruze and Luke) are inspired by A Turn of the Screw, the Henry James novel that I hold in especially high esteem for being the first (to my knowledge) to use of the plot device of the "unreliable narrator". Chimera also contains two references to Beckett's, the first is rather obvious, and the second is only slightly less so.
Thanks for the interview!