Your new movie God Forgive Us - in a few words, what is it about?

God Forgive Us has and always will be a character study of modernized Western society. In some way, shape or form, every single character in this study somehow relates to an issue, problem or stereotype found within Western society today. What I mean by this, more casually, is that I really wanted to show the audience that in different ways than 3rd world survival, there is this level of fight-or-flight even in the 1st world ó we struggle every single day to get by and whereas in the 3rd world they are fighting for survival against illness, environment and starvation, in the 1st world we are fighting against ourselves, which in some sense is way more evil and menacing than ĎMother Natureí. I by no means am trying to sway one side as more difficult and the 1st world may very well be overpriviledged, but with this overpriviledge we actually set ourselves up for a lot of downfall and thatís what this film is about in way more words than need to be said.

Of the four main characters, the suicidal guy, the terminal ill priest, the heart-broken father and the prostitute, who could you identify with the most, actually, and are any of the events in the movie based on real life experiences?

Iíve had a lot of questions regarding this. Some philosophical critics who know a bit about my personal life have theorized that every character is symbolic of someone in my life to date, whether it be Mother, Father, brother, best friends ó whatever. But this is what I can tell you, Dane undoubtedly was a self-inspired character and why, in some scenes, can come off as heavy-handed. Itís a difficult task to attempt to inspire and convey an idea to an audience youíre so familiar with and really make it, on screen, as familiar as it is with you.

And while Iíve never attempted suicide in my life like Dane, there are nearly half a dozen events throughout my life that prompted the notion ó it was a serious consideration once or twice. I never did take that first step. I had my Mother and my best friends to talk me down whenever those feelings welled too largely and became overbearing, but my heart aches for people who genuinely feel -that- alone and cannot be satiated by those in their life.

(Other) sources of inspiration when writing God Forgive Us?

Oddly enough, God Forgive Us was inspired by a dream I had ó which actually turned out to be the ĎWaterfront Sceneí between the Father and the Priest. However, in my dream, these two stood over the tombstone of the Fatherís recently deceased daughter and the two casually spoke about ďGodísĒ unforgiving hand in the world, how he can allow such death and chaos to reign free. Outside of the metaphysical inspirations, I would say I was most heavily influenced (story-wise) by the film I Melt With You starring Rob Lowe, Jeremy Piven and Tom Jane ó excellent film, well worth checking out if you want to feel slightly suicidal after watching a film.

As far as I know, God Forgive Us is your debut feature film - so what made you choose exactly this topic, and what were the challenges of directing a feature film compared to making a short?

I was going through a weird phase in my life (and in some respects, still am) where I feel like Iíve awakened to this flawed society ó there is this place and weíre just born without consideration, expected to work 9 to 5 to support mediocre lifestyles where we can only hope to attain some form of happiness that has been brainwashed into us that is, literally, impossible. Even at lifeís happiest ó how happy can you actually ever be? And these thoughts sat and fermented in my brain for a long, long time before writing this, during writing this and still sit to this day. It hurts to think that life, such a precious thing, was meant to robotically exist without some greater purpose and meaning. And thatís what these characters all pursue ó a greater purpose and meaning, whether itís love, or hope or just the idea that they can inspire this purpose or meaning. I know most of this sounds pretty crazy and out there, but this was where I was coming from inside this twist corridor of nerves that make these stories.

As far as challenges, in this particular case, was the cold ó the goddamn cold. The first segment of our shoot took place in November of 2013 and it was simple, way too easy; the average temperature despite it being November was 60 degrees. I think the last day of the first shoot was 45 and we were freezing to death ó or thought we were. Then we took a break, since the film was supposed to be a short; in that short amount of time we got green lit to make the film a feature with some additional financing options and interest in expanding it, so Kyle Downs (lead producer) [Kyle Downs interview - click here] and I were given two months to get our shit together, build a team, get a script and get everything going and operating the way it needed to be, simultaneously while working full time as bartenders. In this short amount of time, the character who played Dane dropped the project ó completely; the Dane you see in this film was not the original, cast Dane that we had decided on way back in pre-production (however, take note, the only reason James Doherty hadnít been cast as Dane originally was that he was going to be out of the country during the first shoot ó I had written the role specifically FOR HIM). So when the second shoot came around, despite all these little bumps, we shot most of the film in -10 degree weather with wind chills averaging around -30 to -40 per night and most of these days were 10-12 hours. Kyle, Camrin Petramale (DP) and I spent a handful of days working 14-19 hours ... and shit, those were grueling.

How would you describe your directorial approach to your story at hand?

Iíve always been a director who appreciates reality; I try to create and develop characters who are all real life, believable characters. It doesnít make sense to me when films attempt to create these fictional character arcs and development patterns that donít exist in real life ó the reason we, as a species, love film is because we can totally relate (in some way) with whatís happening on screen: whether itís a fantasy, aspiration or just the same shit we deal with day to day. So this was my directorial approach.

However, I like style. So how do you create a realistic story with style? You show grit, dirtiness, sex, drugs, alcohol, violence ó you give the audience the content of real life and the approach to this content with real life, but cast the story as a story. What I mean by this is what Camrin and I did with lighting design and framing, what Kyle and I did with locations ó we gave the film our best shot at giving it a feel, a style, while still approaching the content as if it were reality. As nice as it might be, and convenient, to setup a camera and shoot with everything natural to give it a Ďrealistic feelí, itís not my cup of tea.

What can you tell us about your key cast, and why exactly these people?

So, funny enough, my last short film Captive had starred a fair amount of my leads. Lindsay Rathert (Millie), James R. Doherty (Dane) and Brian Rooney (The Father) were all characters in Captive, albeit James and Brian minor roles, Lindsay was actually a lead. The shitty thing I had to explain to people was that it -was- purely coincidence. Everyone auditioned (with the exception of James, who the character had been written for to begin with) and just so happened to be the best fit. Matthew Urban (The Priest) was the only key cast member who auditioned and got the part without a prior work relationship. I mean sure, as a director, I was more inclined to work with people Iíd worked with before, but my casting team wouldnít let me make the final decision (which is fine) and I think it worked out for the best.

Do talk about the shoot as such for a bit, and the on-set atmosphere?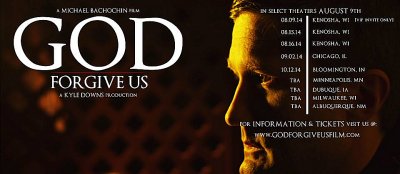 Nearly every person who worked on God Forgive Us became a good friend of mine. Itís not even that we talk every day ó not that kinda friend. We, as a team, went through some of the shittiest shooting conditions weíd ever been in and fortunately, it wasnít productionís ďfaultĒ. The terrible weather I mentioned prior really played a key part in making our lives hell for about two straight weeks in January and February. One of our locations, we actually didnít have running water or heat in -10 degree weather and weíre STUCK there due to a blizzard ó real fun, let me tell you. There was honestly a few days of work that weíre so arduous and mentally challenging that I was ready to have a breakdown, but I had a good team (Kyle, Camrin, Mariah Rossow [Key-Makeup] and even my cast) who really helped push through the bad shit as a team. However, all the sadness and difficulty aside, Camrin and his whole team really kept the mood elevated and tried to be goofballs to lighten the mood even when shit seemed gloomy.
What can you tell us about critical and audience reception of your movie so far - and of course, when and where will God Forgive Us be released onto the general public?
Itís been really surprising (I mean I guess it always is as a self-critical artist), but everything has been fairly positive. CLEARLY there is an innumerable list of changes and Ďmistakesí I feel like I made as a writer, director ó everything in between, but all I can do is live and learn in this case. But as said, Iíd say upwards of 95% of critical and audience reception has been overall positive.
Itís hard to know when God Forgive Us will be released publicly. Kyle and I had toyed with the idea of releasing GFU via VHX self-distribution in March, but then found out weíd been invited to Beloit International (Wisconsin, USA) and Green Bay (Wisconsin, USA) film festivals and are pending invitations from a handful of others (still working out the details) ó so then it was a no brainer to hold off.
We got a handful of offers from distributors prior to the film festival announcements, but Kyle and I didnít feel like these companies were going to do what needed to be done for God Forgive Us ó so weíre still on the lookout for a distributor who will really take care of the project, otherwise, itíd be in our best interest as producers to continue to promote and possibly self-distribute in the future.
Any future projects you'd like to share?
Well, Kyle and I are taking a step back from straight drama-genre films for awhile. We have a crime Tthriller film Kings thatís pending optioning from a producer out in LA, a horror thriller film thatís untitled being developed right now and having some minor star talent attached and a horror mystery film The Vein thatís undergoing some rewrites. I find it, personally, more than likely that the untitled horror will be the next piece on the market youíll see from this, but donít quote me on that yet.
What got you into making movies in the first place, and did you receive any formal training on the subject?
Iíve always been a writer; I have short stories dating back to pre-school believe it or not ó I mean theyíre god-fucking-awful, but thatís besides the point. I always wanted to be a storyteller, however, it wasnít until I was in 7th grade and got to see 28 Days Later that something just Ö it just clicked. I was, at the time, thoroughly amazed at how Boyle had developed and portrayed such vivid, relatable emotion in his characters in their survival for life that it impacted me to tell stories of such caliber. For years after that I was obsessed with stories of survival and derelict humanity, and I still am to some greater extent as I think about my source inspiration behind God Forgive Us.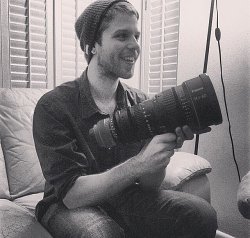 Formal training? No ó well, I mean, I went to Columbia College in Chicago for a semester, but that school and their training for directors and producers was a goddamn joke. I have a little cousin who wants to be an animation director and I told her that she needs to go into an art school with tunnel vision on just meeting people, cause really, you either are or arenít a filmmaker ó thereís no in between where you ďlearnĒ how to do it. Iím not saying thereís a right or wrong, but there just is and isnít. Iíve met so many filmmakers who just arenít and you can tell because theyíve been stuck on the same step since the day I met them. I am by no means some model career maker, let me step down from the soap box for a minute, I just want to emphasize that either you have whatís in you to tell and feel a story out to its truest extent, or you donít and school and formal training, in my deepest opinion, doesnít help anybody but the pockets youíre stuffing with money.
What can you tell us about your filmwork prior to God Forgive Us?
A lot of stumbling in the dark and fucking up and making half-ass short films.
A few words about your production company Kingdom Entertainment Chicago, and the philosophy behind it?
Kingdom Entertainment Chicago prides itself on making films that have a reason and purpose. What I mean by that is the day my company involves and produces something that doesnít have a greater purpose in the subtext of the film about humanity, society or the world as a whole, please slap me, slap Kyle, slap both of us silly ó Itíd be for the best. We make movies to convey ideas, to discuss problems no one wants to, religious, political, all the things you avoid at family parties (especially when alcohol is involved). We want the audience to leave our films and take a step back from their cushy (or perhaps not-so-cushy) lives and think about what life actually means to them and to us.
How would you describe yourself as a director?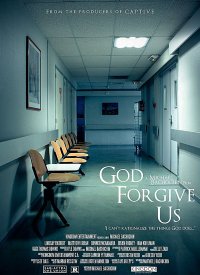 Feeling lucky ?
Want to
search
any of my partnershops yourself
for more, better results ?

The links below
will take you
just there!!!

Find Michael Bachochin
at the amazons ...

amazon.com

amazon.co.uk

amazon.de
Looking for imports ?
Find Michael Bachochin here ...
Something naughty ?
(Must be over 18 to go there !)

Emotional. Kyle and I have a running joke that like Ďmethod actorsí, Iím a Ďmethod directorí. Youíll find my off-set personality to be much more rude and abrupt than youíll ever find me on set. I canít explain it, honestly; itís just something Iíve noticed throughout the years. I think itís because I try to put myself in the perspective of the character so I can give the most applicable advice to my actors and that I can represent the perspective the audience needs to understand what the characters are going through on an emotional level. I guess the obsession with emotion is enough a style to my directing to summarize, but yeah, Iím not one hundred percent sure. Iím still learning and will be forever who I am as a director.
Filmmakers who inspire you?
David Fincher, cinematically and thematically, is by far my favorite filmmaker. I feel like he captures the darkness of humanity better than any other director out there and itís great. But honorable mentions are: Darren Aronofsky (especially his work with Requiem for a Dream and The Fountain), Vince Gilligan, Nicholas Winding Refn, Terrence Malick, Shane Carruth, Denis Villeneuve, and quite randomly, Guy Ritchie.
Your favourite movies?
Hands down, Fight Club is my all-time favorite movie. Big fan of Drive, Social Network, I donít know, I love films so itíd be stupid to list off every one, but I like films that make me think.
... and of course, films you really deplore?
I donít know if thereís any films I HATE. However, films that overuse CGI or attempt to manipulate the audience through lazy techniques tend to wind up on my shitlist.
Your/your movie's website, Facebook, whatever else?
Website: www.GodForgiveUsFilm.com
Facebook: www.Facebook.com/GodForgiveUsFilm
Anything else you are dying to tell us and I have merely forgotten to ask?
This is one of the more extensive interviews Iíve done, so - hah, no I think we covered our bases pretty well!
Thanks for the interview!