Your new movie Exit - in a few words, what is it about?
Exit is about two couples from different social and cultural backgrounds who, as a consequence of a double booking, have to spend the night together. As sex, drugs and violence are added to proceedings, things rapidly spiral out of controlÖ
What were your sources of inspiration when coming up with the concept for Exit?
Mat (Exit scriptwriter Mathew Bayliss) and myself had been speaking about making a feature for a while. The only restrictions that we placed upon ourselves were that we would only have a small ensemble cast and as far as was possible, the narrative should be set in a single location. During the writing process the whole European Referendum was happening in the UK, and inevitably this had a significant bearing upon the initial script.
When planning the visuals and storyboarding Exit, I revisited the films which have been something of an inspiration to my own filmmaking. Notably Performance (UK,1970) and Black Narcissus (UK, 1947). Both films are for the most part set in a location that is separate or cut off from the real world. In this insular space, the characters then confront things about themselves in an atmosphere which is dreamlike and often hallucinatory. Jack Cardiffís cinematography is incredible in Black Narcissus, and when planning the lighting set ups for Exit I looked again at his work.
What can you tell us about Exit's screenwriter Mathew Bayliss, and what was your collaboration like?
Mat wrote the original outline for Exit and we both worked on the script. We have worked together on several short films, so we know how each other likes to work. The original premise that we set ourselves was for a story set in one location. The perfect starting point for a BREXIT-inspired horror film! Having said that, I donít want to be too specific over the meanings and potential interpretations of Exit. This is something that Iíd like to leave up to the audience.
Now Exit is very associative in its narration and the storytelling isn't always exactly linear - so how easy or hard was it to not just lose your plot making a movie that way?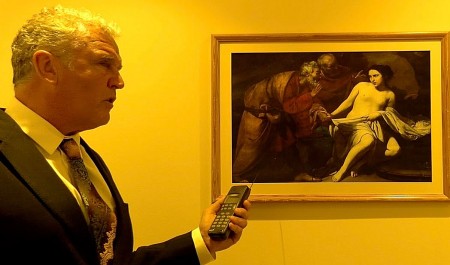 Whilst the narrative of Exit may not be exactly linear, the plot is essentially a straight forward one and avoiding spoilers here, itís about a person attempting to extricate themselves from a situation. Once the characters arrive at the house, I wanted them to lose themselves within a space that releases or brings to the surface aspects of their personalities. I like the dream logic of surrealist films, such as Maya Derenís Meshes of the Afternoon (US, 1947), which was another key influence on Exit. By creating a film which is challenging in its narrative structure and is associative rather than linear, you give the audience a degree of latitude in their own interpretations. Whilst I donít believe in being obtuse for the sake of it, I think that narratives should maintain an element of ambiguity. For example, conventional wisdom when writing onscreen characters is that everyone should have clear and transparent motivation. Why? Many people in the real world have no clear motivation beyond self preservation or will often keep their motifs obscured in their dealings with others.
What can you tell us about Exit's approach to horror?
I am a horror movie fan. and I love how the horror genre is so diverse and vast in the array of subgenres that it encompasses. The horror genre explores fears and the uncertainties of the world around us. In many respects, Exit has many elements of the traditional haunted house movie about it: In as far as a group of people find themselves in an eerie place with a history. The house exerts an influence over the inhabitants and strange things happen. However, as with all films in this horror sub genre, events are something of a combination of the place and the problems that those involved bring with them. Personally, I think the more interesting horror films are those that blend genres or indeed challenge standard generic conventions. I particularly like films such as Jonathon Glazerís Under the Skin (UK, 2014) for this.
Exit is mostly restricted to just one apartment, locationwise - so what were your techniques to keep things visually interesting throughout?
This is a challenge for any single location movie. If you are forcing your audience to look at magnolia coloured walls for the duration of your film, they are going to lose interest pretty quickly. I wanted to give a sense of the house as being dynamic and reactive to what was happening with the characters. I like the way directors such as Mario Bava [Mario Bava bio - click here] and Dario Argento use coloured gels to create different tones to scenes in their films. This was something that I decided to apply in Exit. Therefore, as narrative events become more ramped up, the colour palette becomes more intense. Also, I spent a lot of time thinking about the kinds of pictures and props that I wanted in the house. If itís in the frame it should carry meaning. Pretty much everything that appears onscreen in Exit has significance and relates directly to narrative events.
A few words about your overall directorial approach to your story at hand?
I guess for me directing is that old problem of trying to get the film that is in your head on to the screen. During pre-production I always try to pre-visualise and storyboard the scenes as far as possible. However, when it comes to being on set, I donít believe in over-directing. I trust actors and their interpretations of their characters. In many respects this is where casting is so important. We really took our time casting actors for Exit. We had a pretty intense shooting schedule and we needed actors who would be able to cope with this. Invariably though when you are on set, you have to adapt in terms of the location and your schedule, and this is where you have to rely upon your actors to be reactive. Iím really happy with the performances that all our actors gave.
You also appear in front of the camera in Exit - so what can you tell us about your character, what did you draw upon to bring him to life, and has he been conceived with yourself in mind from the get-go?
AhhhÖ yes. I play a character in Exit who goes simply by the moniker ďMan on the PhoneĒ. He can best be described as ďan interested partyĒ in the events that take place in the house. After screenings, Iíve been asked quite a bit as to what or who he is meant to represent. Chatting with people, Iíve heard some really interesting interpretations, including one really intriguing Freudian oneÖ As I mentioned earlier, I donít believe in mapping out everything for an audience. Things lose their interest and mystery when they are explained. A dream may perplex us but we accept that it will always remain unknowable.
Do talk about the rest of your cast, and why exactly these people?
I couldnít be happier with the cast that we put together for Exit. We had some pretty long days and the actors all supported each other and really worked together to develop the final characters we see on the screen. When casting, I donít just look to cast for the role, Iím looking for people who Iíll be able to work and collaborate with. The same is true of the crew. A film set is a collective and there are times when things will get pretty intense, you need people who can deal with this. It may sound like a cliche, but we really did become like a big family.
We cast the actors who play Michelle (Leonarda Sahani), Steve (Billy James Machin) and Adrienne (Charlotte Gould) via an audition process. We were determined to get actors who would be believable as couples and I feel we achieved this. We approached Chris (Christophe Delesques) ourselves after seeing his show reel and Iím glad that we did. He brought something special to the character, who coincidently is also called Christophe! Chrisís character in the film is one whose motivations, initially at least, seem unclear, and I think he really was able to convey what I saw as the the agent provocateur nature of Christophe.
Our lead female protagonist Michelle is played by Leonarda Sahani, who deserves a special mention for the levels of emotional intensity that she brought to her performance. Leonarda has no formal training and hadnít acted before. We were so impressed by her audition that we had to take the chance. To give a first time actor such a major part was a gamble, but Iím really glad that we did.
We were also extremely lucky to have Tony Denham come on board in the role of sinister estate agent Russell Bone. He has such an amazing screen presence, and having seen him in films like The Football Factory (UK, 2004) and In the Name of the Father (UK, 1994) I knew that heíd bring an authentic level of true London grit to the role. I always wanted his character to have a degree of menace to it and Tony really delivered.
When we were casting for the role of Moe, I ran into an old mate of mine, Rob (actor Robert Alexander), quite by chance. The Moe character is another of the figures who we find in the house whose motives are never entirely clear. Again, Rob really nailed the creepy, unsettling, WTF, otherworldly nature of the Moe character that I was looking for.
What can you tell us about the shoot as such, and the on-set atmosphere?
Principle filming for Exit took place in London over a seven day period in Summer 2018. It was unseasonably hot throughout initial filming, and at times there were up to seventeen of us all crammed into a small space. I do think however this sense of claustrophobia does translate to the screen! We then had one additional dayís filming to shoot exteriors and pick up shots. However, because I wanted to shoot the exteriors in winter, we then went from filming in the heat to working in the damp and freezing cold several months later. All our actors always responded without complaint, and it is because of their dedication to the cause that we have the film that we do.
The $64-question of course, where can your movie be seen?
Exit is currently on the film festival circuit and is available at all good film festivals! The next two confirmed screenings that we have are at The Paracinema Cinema Film Festival (paracinema.co.uk), in Derby, UK August 7th-9th and in the US at The Milwaukee Twisted Dreams Festival (www.twisteddreamsff.com) June 11th-14th. Clearly the Covid-19 outbreak is causing many festivals to be rescheduled but if you can, check out these great film festivals as and when.
Anything you can tell us about audience and critical reception of Exit?
Feedback from festival audiences to Exit has been extremely positive and Iím really happy with the reviews that weíve been getting. The associative style and aesthetic of Exit is something which I think has the potential to divide audiences. If you create films that challenge mainstream conventions, there will always be this risk. However, thus far people seem to like what weíve produced and get where we are coming from cinematically.
Any future projects you'd like to share?
Iím currently working on a number of projects, no spoilers yetÖ
What got you into filmmaking in the first place, and did you receive any formal training on the subject?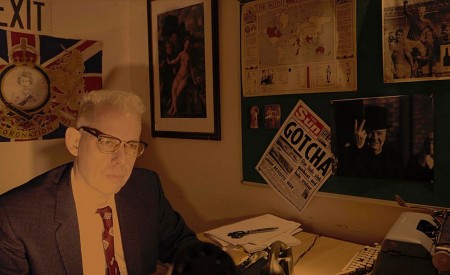 Growing up in the 1980s, some of my earliest film memories are watching movies on a Saturday and Sunday afternoon on the BBC. They mainly showed British films from the 1940s and 1950s, particularly the work of Michael Powell and Emeric Pressburger. I remember being amazed the first time that I saw A Matter of Life and Death (UK, 1946), which I still think is an incredible movie. Also VCRs were starting to appear in peopleís homes at this time, and being exposed to all those insane horror movies like Scanners (CN, 1981) and Zombie Flesh Eaters (IT, 1979) really opened up to me the possibilities of what a film could be in terms of the dark paths that can be explored. I studied literature, art and film at university but the practical side of filmmaking I essentially taught myself. Whilst I did some short courses to help better understand film makeup and VFX throughout the 1990s and 2000s, everything that I made was pretty much shot guerrilla style. I solved problems as they presented themselves and then used that learning on the next film that I made. I also tended to shoot on whatever equipment was to hand or indeed was the cheapest. These limitations meant that I was always having to problem-solve and rethink my approach. The key thing that I learmed was that ideas are the most important tool for a filmmaker, rather than cutting edge equipment.
What can you tell us about your filmwork prior to Exit?
Before shooting Exit, I worked largely in the short film medium. However, I guess many of the themes and ideas from these have found their way into Exit. Many of the characters from my films tend to be trapped or experiencing some form of, often, moral paralysis. They also seem to be somewhat out of step with the worlds in which they find themselves. In terms of visuals, I really enjoy working with Super 8mm film stock, a number of my early shorts were shot on Super 8mm as was my more recent short The Ingress Tapes (UK, 2017). Iíd love to shoot a feature on Super 8mm but the cost is currently prohibitive. Iím also becoming increasingly nostalgic about Hi8 video which I used to work on. There is a real subversive quality about its look that I really like. There is a warmth about these analogue formats that you just donít get from digital.
Filmmakers who inspire you?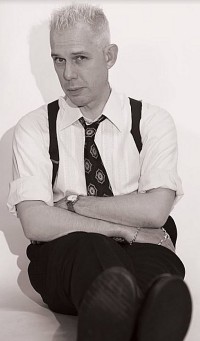 Feeling lucky ?
Want to
search
any of my partnershops yourself
for more, better results ?

The links below
will take you
just there!!!


One of my key influences is Luis BuŮuel. Iíve always admired how he never compromised and stuck to his vision. Also, as Iíve previously mentioned, I love Michael Powellís work. For me, heís one of the greatest filmmakers that the UK ever produced and he is a constant source of inspiration. Again, Iíve already mentioned Maya Deren and in particular her film Meshes of the Afternoon. I remember the first time I saw this was on late night TV. It was shown together with BuŮuelís Un Chien Andalou (FR, 1929). Together these two films inspired me to pick up a camera and make my own films. Similarly, discovering the work of mavericks and renegades like Lars Von Trier, Gaspar Noe and Nicolas Roeg & Donald Cammell, made me realise that the most important thing as a filmmaker is to walk your own path and tell the stories that you want to tell, no matter what.
Your favourite movies?
Wow, too many to mention! Movies that I watch regularly would include Performance (UK, 1970), Black Narcissus (UK 1947), Belle de Jour (FR 1967), Le SamouraÔ (FR, 1967), in fact anything really by Jean Pierre Melville! Ms. 45 (US, 1981) is another film I could watch daily, or again anything by Abel Ferrara. Ferrara is a real maverick whose movies span different genres and subjects but are always compelling. ZoŽ Lund, who plays the female protagonist in Ms. 45, is incredible. I love the work of Jean Rollin, particularly his movie Fascination (FR, 1979). Rollinís films always have an oneiric quality to them. As I mentioned earlier Iím a horror movie fan, although no movie disturbs me as much as The Wizard of Oz (US, 1939)Ö
... and of course, films you really deplore?
Anything from a ďsuperhero universeĒ. I understand itís a very popular phenomenaÖ but itís really not my thing. I guess thatís the beauty of film - dreams for everybody.
Your/your movie's website, Facebook, whatever else?
We can be reached on the all the usual socials, details below. We are currently in discussions with distributors in regards to Exit, until then here is the trailer: https://youtu.be/koWqSn4WwO4
Website: https://www.faustifilms.com/
IMDb: Michael Fausti
Twitter: @Fausti_films
Instagram: @Fausti_films
Facebook: @Fausti_films
Thanks for the interview!
Absolute pleasure chatting with you. Take care and stay safe.