Your new book Tales to Chill Your Bones to - in a few words, what is it about?
It's an anthology of short stories (and a trio of mini-plays) revolving about pretty much everything from Christmas miracles to malicious potholes, from an android uprising where you least expect it to a squashed rodent revolution, from love gone weird to religious fanatism brought to new heights - and pretty much everything in-between. And most of these stories have a macabre and at times also darkly humourous touch to them.
What were your sources of inspiration for writing Tales to Chill Your Bones to?
These stories were written over many years (one even in the early 1990s), so the inspirations where manyfold. But since of many of the stories were written for (and originally published in) anthologies of the WPaD collective of writers, they were written for a certain genre as all their anthologies are themed - so basically, oftentimes the genre was the inspiration and I just put my own spin to it - own spin meaning for example that one of my contributions to their horror anthology was called So Cute and Cuddly. Other times the inspiration is really that I just come up with a silly title - like Robomancer - and someone challenges me to write a story for it.
What made you decide to release Tales to Chill Your Bones to exactly now?
The answer's really disappointingly logistical: I had planned to put out an anthology for ages, but only now did I have enough stories to actually fill a book. And why did I want to release an anthology in the first place? I love to write, but I also want to reach an audience as wide as possible (and if it's a paying audience, even better, won't lie here), and hopefully entertain them. Plus, it's just an awesome feeling to hold a book in your hands that has your own name on it - so call it an ego trip if you will.
Many of the stories in Tales to Chill Your Bones to are of the horror variety - is this a genre especially dear to you, and why (not)?
Horror is great, because as a writer, it gives you lots of freedom - there's really nothing you can't do in horror, even break the laws of nature. And you can also get in touch with the dark nether regions of your mind without being a threat to anyone - so in that way, writing horror is very cathartic ... and it can be wickedly funny if done right. That, and I have always had a predilection for the macabre, which really plays into the genre.
You're mostly known as a screenplay writer - so what inspired you to write prose for a change, and how does writing for the screen differ from writing a book, and which do you prefer, actually?
Thanks for saying I'm known for anything at all, haha. But to answer your question, I've always written prose, at least here and there, I think ever since I had learned to write. I've concentrated more on screenplays, especially of late, because I just love movies, and fortunately there's even a bit of a demand for my screenplays. The difference between the two really is mostly the format, and in screenplays you better keep it simple and natural, while in prose you can get a bit more artful with your wording. And basically it comes down to this, it doesn't really matter what I prefer, it's really down to the story I'm trying to tell: some really come across better in words on paper, some you need to see on screen, that's pretty much the gist of it. My approach to both is the same, I sit in front of the computer and type the words in ;)
How do you go about writing in general, do you have a special ritual or something?
I know many writers do - but I don't, not at all. Usually I first think up a story, then sit down in front of the computer (and typewriter before that - yes, I'm that old) and write it out. But sometimes I first sit down in front of the computer and then think up the story - it's less likely though, as once in front of the computer I'm too distracted by social media. And if I need to clear my head, I take a long walk. If that's all a ritual, so be it ...
So where is your book available from?
e-book version: https://www.amazon.com/dp/B07SQRZVSN
Paperback version: https://www.amazon.com/dp/1075579422
Stop by to leave a lovely review, we authors love that!!!
The e-book will also be available from all the other big online retailers soon, so be on the look-out!
Anything you can tell us about audience and critical reception of Tales to Chill Your Bones to?
People really tend to like it. Haven't had one complaint yet but several praises. There's just one review as such in yet, but it's a great one, too: https://vampiremaman.com/2019/07/01/2019-summer-reading-chilling-and-thrilling/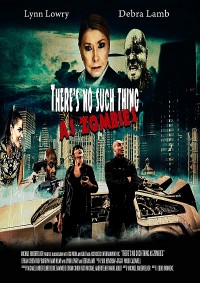 Feeling lucky ?
Want to search for books by
Michael Haberfelner
yourself ?
The links below
will take you
just there !!!


Based on your experiences with Tales to Chill Your Bones to, will you ever release another book? And other future projects?
That's a definite yes, when just depends on whenever I have enough short stories to fill another anthology. But I'm a writer out of passion, so that will probably happen before too long.
Other projects? After a lengthy post production process, our feature There's No Such Thing as Zombies is on the finishing lane, so look out for that one soon. Also, our short Espresso to Die For is still in post, but we hope to have good news about that one before long, too. Both films star horror faves (and dear friends) Debra Lamb [Debra Lamb interview - click here] and Lynn Lowry, so every self-respecting genre fan needs to see them ;)
Apart from those there are several projects gestating at the moment, but it's too early to talk about any of these yet.
Your website, Facebook, whatever else?
No website yet, but I've grown pretentious enough to launch my own Facebook fanpage ;)
https://www.facebook.com/Michael-Haberfelner-Writer-691705051267542/
Oh, and you also might want to check out our There's No Such Thing as Zombies Facebook page of course: https://www.facebook.com/theresnosuchthingaszombies/
Anything else you're dying to mention and I have merely forgotten to ask?
Only my sincerest gratitude to Mandy White [Mandy White interview - click here], who has taken it upon herself to proofread my short stories in Tales to Chill Your Bones to, and who is not only a great friend but also a ridiculously talented writer with a twisted mind I can only dream of in her own right. You really need to check her out: https://www.amazon.com/Mandy-White/e/B004IOCQ1U
Thanks for the interview!
And thank you of course!