Your new movie Ready for My Close Up - in a few words, what is it about?
Nurse Becca enters the home of fading B movie actress Megs Topplethwaite in search of the "holy grail" of film memorabilia - but instead she stumbles upon a few corpses too many for comfort - it's a comedy, obviously.
What were your sources of inspiration when writing Ready for My Close Up?
Well, the actual idea came from our lead, horror icon Lynn Lowry, who also delivered the ideas to two other films we did together, First Impressions Can Kill and Espresso to Die For. Apart from that, my inspirations were Sunset Boulevard (quite obviously, considering the title) and Whatever Happened to Baby Jane?, two of my favourite films - but apart from the fact that both these movies are also about fading actresses, you'll probably be hard-pressed to find any similarities. And of course, my absolute fondness of vintage B movies also played a huge part when writing this.
How did the project come into being in the first place?
Basically, Lynn and I wanted to make another film together (this will be our fifth, after the above-mentioned as well as Talk of the Dead and the upcoming There's No Such Thing as Zombies), but presently I felt unable to produce it myself so Lynn brought in producer Stuart Morriss from the Misty Moon Film Society and his director of choice Jason Read, both of whom did Ripper Tour with Lynn last year, and they were more than happy to come on board, fortunately. Can't wait to work with them.
Do talk about Ready for My Close Up's brand of comedy for a bit!
Well, definitely on the dark side of the spectrum, as this movie has a sizeable bodycount. But don't expect it to be gross-out, or just a massacre iced with fart jokes. It's more of a combination of funny murders, subtle slapstick and hopefully sharp dialogue - and I definitely had a fun time writing it.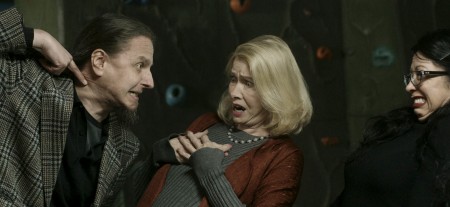 Michael with Lynn Lowry and Debra Lamb in Espresso to Die For
You also appear in front of the camera in Ready for My Close Up - so do talk about your character, what you will draw upon to bring him to life, and have you written Craig with yourself in mind?
Well, Craig's a sort of shy food delivery guy who doesn't even really like his job. Now quite honestly, I'm not the greatest of actors, but this is a role that I feel I can play, as I am a bit on the quiet side myself, and hating my job - yeah, I've done that before. Have I written him with myself in mind? Not really, I just wanted to appear in front of the camera in this one, and I picked the character who was the easiest (for me) to play and went with that. Fortunately, all my scenes are with Lynn, and we have acted together in a movie before, Espresso to Die For, and she's a very giving actress.
What can you tell us about the rest of your cast, and to what extent have you been involved in the casting process?
Well, the cast is nothing less than stellar, has instant cult written all over it - and no, I had nothing to actively do with the casting (apart from Lynn, naturally), that was all Stuart Morriss' doing ... though he did ask for my approval, but actually I couldn't have asked for a better group of people - will be quite intimidating being in a film with them...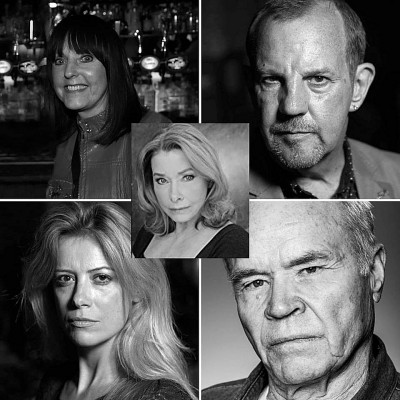 Ok, let's start with Lynn Lowry, who needs no introduction, as Megs Topplethwaite, a character she basically created for herself, I've only added the jokes in between ;) Then there's Charlotte Mounter as Nurse Becca, who did a terrific job in Neighbours opposite Lynn. We also got Gary Shail and George Sweeney, who were together in 1988's Jack the Ripper starring Michael Caine, and while you might know Gary Shail from The Who's Quadrophenia and Paul McCartney's Give My Regards to Broad Street, George Sweeney was also in the James Bond movie For Your Eyes Only as well as tons of British TV series from Z Cars to The Bill. And then we have Dawn Perllman from the first and original The Omen. I won't give away anything about their roles, but quite the cast, right?
You're currently running a fundraiser for Ready for My Close Up - so what can you tell us about your campaign?
Yeah, and it's mandatory to check it out ;) We've got some great perks there, too, my favourite being fake movie posters from movies starring Megs Topplethwaite, with titles like "Gloves of the Strangler", "Wrath of the Tarantula", "Zombies - Italian Style", and of course my absolute favourite "Karate Karl Fights the Undead Ninjas". Now how can a self-respecting B movie fan live without one of these? ;)
Anyways, do check out the campaign, you won't regret it: https://www.indiegogo.com/projects/ready-for-my-close-up-horror#/ - but do it soon, there's only a dozen or so more days left ...
Once the money's in place, what's the schedule, and any idea when the film might be released yet?
We're shooting early October - but haven't got a clue regarding the release, sorry.
Any future projects beyond Ready for My Close Up you'd like to share?

Feeling lucky ?
Want to
search
any of my partnershops yourself
for more, better results ?

The links below
will take you
just there!!!


Well, at the moment, I'm working overtime to get There's No Such Thing as Zombies ready for release, which also stars Lynn and fellow US horror icon Debra Lamb [Debra Lamb interview - click here], and then it's back to editing Espresso to Die For, also starring these two lovely ladies, and myself in a small role even. After that, who knows for sure, but plenty of good options on the horizon :)
Your movie's IndieGoGo?
https://www.indiegogo.com/projects/ready-for-my-close-up-horror#/
Anything else you're dying to mention and I have merely forgotten to ask?
Just thanks to everyone who has donated to our little film, and thanks in advance to those who will, you all help in making the world a funnier place ... ok, this was a bit on the cheesy side ;)
Thanks for the interview!