Your new film King Munsa's Cookery Book - in a few words, what is it about?
The film is about Patrizia, a young woman who once had been very fat and all her classmates made fun of her. One day she finds a book on the legendary King Munsa, the King of Cannibals. She decides to lose weight, become pretty and take horrible revenge. One after the other she kidnaps her former beautiful classmates to torture them and force them to eat meat, actually the flesh of her boyfriends whom Patrizia has killed before.
What were your inspirations when writing King Munsa's Cookery Book?
I love to read books - any kind, and many years ago I found a book on the first Europeans to explore Africa, and there I found the story on the infamous King Munsa, a legendary King who lived with his tribe in darkest jungle but was a very cultivated, friendly man, having a splendid orchestra. Actually, the Europeans finally discovered, King Munsa had slaugtered children to eat them for breakfast! When I researched Munsa in the web, I discovered there are people who consider Munsa even today an idol. Hmm... So Munsa is a very real person - and this shows how horribly strange human beings are.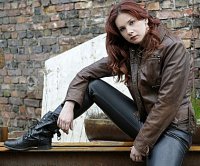 Dina Babajic
I also work with Joerg Moehring, who is a very good set designer who worked on the movie Der Kannibale von Rothenburg starring Keri Russell. I watched the movie some years ago and found it disappointing, I mean you have Keri Russell as the beautiful journalist investigating the case and NOTHING happens!!!!! She is never in danger, not once. Where is the scene when she actually is taken prisoner by another cannibal who wants to have dinner with her? I couldn't believe Senator did miss this chance.
Dina Babajic, who also plays the lead in King Munsa's Cookery Book, is credited with co-writing the film. So what was your collaboration like, and how big was her creative input?
Dina already worked with us in The 7 Nightmares Girl 1, and Dina and I met several times to discuss some new projects we could do together. I finally mailed her the King Munsa script which by then ended with the second killing. We shot in may 2011 and Dina right from the start played it very, very fast, so the picture in the end was way too short, only about 30 minutes, so we decided to add some more scenes with two new victims. As Joerg in the meantime spent some weeks in Vancouver, he came back with some material we could use for the outdoor shots in Canada. I made some suggestions for the new scenes and Dina re-wrote the script, usally making it faster. We then shot the second part in July. I love slow, Hitchcockian, scenes that never seem to end, which is great for horror when you have the beautiful victim in the clutches of the evil maniac, but Dina's approach was totally different, more like Howard Hawks, making everything faster than I intented. I thought it worked very well and so we continued, so Munsa became twice the budget I had planned, but actually the pace worked so great that I will use this style more in future productions.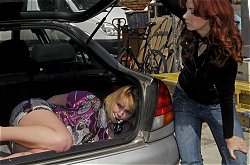 Dina Babajic and a tied up Roswitha Kockro
And since we're at it, what can you tell us about Dina Babajic, the actress?
I found Dina's website in the internet when we shot part 1 of The 7 Nightmares Girl, Dina played the blond girl who is drowned by Samantha´s mother. Right after shooting Dina went to Los Angeles with Til Schweiger to shoot a TV show and later had parts in some German soaps and shows. We never lost touch and phoned, mailed and met several times to discuss a new project and finally agreed on King Munsa's Cookery Book. I thought Dina would be perfect playing a psycho, but in fact she was really very, very good.
A few words about the other girls in your film?
I found Kim and Fleur on a model website. Kim is an actress, Fleur did some modeling and this was her first bigger part as an actress. She had almost no experience in acting but I think she did a very good job especially when she is breaking down at the end, all in tears after she had knocked out Pat. Vicky is an actress-model, I did not know her before. Mandy who did the make-up in the Vancouver scenes recommended her and she was great.
While King Munsa's Cookery Book is about cannibalism (among other things), you treat the subject in a rather discreet way. Would you like to elaborate on your approach?
We only used cannibalism once before in the Unhappy End! episode Das Abendessen starring Katja Bienert [Katja Bienert interview - click here] and Vonny where Katja plays a wife who kills her husband´s lover and serves her for dinner. I actually do not like too much blood. I like horror movies, but the old black & white ones of the likes of James Whale and the great (color) Hammer horror movies starring Peter Cushing and Christopher Lee. Terence Fisher [Terence Fisher bio - click here] always had very beautiful shots and his great DPs like Arthur Grant always made beautiful shots, nothing disgusting, so I did not want to show violence, actually my idea was to shoot a horrible horror-cannibal movie WITHOUT showing the actual violence. In fact you NEVER see any killing scene in the whole picture, so there is no actual killing onscreen in the whole movie and almost no blood. Even when Vicky is killed in the bathtub you do not SEE it, the camera stays on Fleur who is tied to the post and gagged and we only see her reaction - she is totally afraid and shocked when she listens to Vicky´s screams when she is killed by Patrizia in the bathroom. In fact we shot the killing scene showing Dina killing Vicky with that big knife, but we did not edit it into the video. Some shots of the killing are in the making-of but I intented right from the start to not actually show the killings. I only shot the scenes in case the picture would be too boring, but actually thanks to the pace Dina did set, we did not use more violent scenes and it's still a very frightening picture. To watch Fleur being totally helpless and desparate and not able to do anything when she listens to Vicky's scream in my eyes is actually even more horror than if we would have shown the actual killing. This would have been probably gore and disgusting but not really the kind of horror I wanted to create.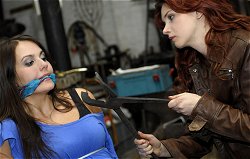 Dina Babajic and a tied up Kim Kahnert
Speaking about cannibalism, your take on the depiction of cannibalism in movies, and maybe some of your genre favourites?
Actually I hate cannibal movies, they are so disgusting and I really do not like them at all. However I like thrillers on the subject, I consider Silence of the Lambs a very good movie. As cannibalism is part of this world I think it should be used in movies. The most frightinging cannibalism scenes in my eyes are the ones in Romero's Night of the Living Dead when the zombies eat human flesh - this is the horror of it all and in black and white it looks terrific.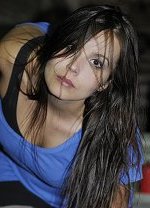 Kim Kahnert
King Munsa's Cookery Book also features a running gag about forcing vegetarians to eat meat. Now where did this come from, and are you a vegetarian yourself ... and, to ask something irrelevant for a change, your favourite food?
I think it MUST be horror to force a vegatrian to eat meat or anyone to eat something he does not want to eat, look at the horrible tv show jungle camp where the people are forced to eat all kinds of LIVING insects or cockroaches or so.
I am not really a vegetarian, I usually do not eat meat, especially since there are always those reports on meat which is stored for years. But in fact I always liked steak and I have to admit some days ago, I even ordered a cheeseburger at McDonalds. But usually I rarely eat meat.
My favorite food is pizza and the very best pizza in my eyes you get in a lovely restaurant in Los Angeles on Hollywood Blvd/La Brea. Whenever I am in Hollywood I am there almost every second day.
King Munsa's book itself implies to have an interesting backstory to it which is only superficially touched upon in King Munsa's Cookery Book, and a great many possibilities for future stories. Any chance you'll ever get back to the good King Munsa in the future?
Yes, certainly, King Munsa is a great story and we should use that again.
The hilarious title card at the end of the movie that depicts the further fate of your lead character - now where did that come from?
Da-da-da-da!. Dragnet of course, I watched the series when I was a child and would like to rewatch it some day - the movie was great as well. Now this is done in almost every reality soap, but I made it in memoriam the Dragnett series but also to show what I think of our judges whom I consider corrupt and incompetent. In fact there are so many verdicts I consider more injustice than justice. There are criminals who killed and who are set free by totally corrupt judges. So I thought if Pat would have to appear in a court room they would let her go and condemn society. I also included a friendly hommage to my friends from Santa Monica Court of course.
To me at least, King Munsa's Cookery Book seems to feature some of the blackest humour of all your movies. Would you agree to that, and would you like to elaborate on it?
Yes, of course, I always liked black humor and we used it already in earlier productions. However, I think we are simply getting better with the years and of course I want to go into this direction some more - however you always depend on your talent.
You have recently also released a revamped version of one of your very early films, Die Schulfeindin. What has changed in the new version, and why of all your films Die Schulfeindin?
Die Schulfeindin was one of the first projects I produced - and I made so many mistakes. We shot analog with the great Panasonic MS 4. As I did not have much money we had to post-mix the stereo-recorded sound with the other tracks onto a mono track. I also felt I never had used the best shots possible. We had great actresses and a very good story, so I felt the version I edited first was not the best we could do and in fact I re-edited the picture half a dozen times and finally with all the new computers and Magix and all I digitally transferred the original analog material to my computer and edited the whole picture all new, also using new music, and finally I could also use ther original recorded stereo soundtrack. I think the 2011 version is the first real good one. Actually I'd also like to do a remake.
Will there be more recuts of old films of yours in the future?

Feeling lucky ?
Want to
search
any of my partnershops yourself
for more, better results ?

The links below
will take you
just there!!!

Find Michael Huck
at the amazons ...

amazon.com

amazon.co.uk

amazon.de
Looking for imports ?
Find Michael Huck here ...
Something naughty ?
(Must be over 18 to go there !)

Whenever I have the time I will do that. For now we only digitally transfer older films and use new music and the stereo sound tracks. I already transferred the first couple of Unhappy End! episodes this way.
Any other future projects you'd like to talk about?
I am just editing The 7 Nightmares Girl, episode 6 which is shot in Honolulu and Vancouver, and I prepare some new thrillers, one entitled Satan Also Has Wings about a nice old man who kills a child and tells the police God ordered him to do so.
Your website, Facebook, whatever else?
www.nightmarefollies.jimdo.com
Anything else you are dying to mention and I have merely forgotten to ask?
Well thanks for asking. I think I never mentioned this before, but I think we really do need a Kaiser Wilhelm memorial in every town. Hurra, hurra, hurra!
Thanks for the interview!
All King Munsa's Cookery Book-photographies copyright by Diana Beppler