Your new movie The Terror Stalkers - in a few words, what is it about?
The Terror Stalkers is a horror movie about a group of serial killers who have set up a group The Flesh Mob. They are members of very royal serial killer families like the Jack The Rippers, the Eddy Geins... and they collect human flesh, arms, legs, eyes, ears and some of them even are cannibals. I wanted to do a horror movie with monsters, but human monsters no fantasy monsters, real, living monsters that are really frightening. And they gather as a flesh mob and are always looking for new victims... everywhere, everytime.
What were your inspirations when writing The Terror Stalkers - and the premise of a worldwide net of cannibals, was that pulled out of thin air or based on any actual conspiracy theory, however ridiculous?
Well, there is no consiracy concerning the killers. Jack The Ripper and the others were real people, so the crimes were real crimes. The idea the killers come together, work together have fun together in a kind of secret killer lodge, of course there are things going on in criminal, political and of course satanic circles, and I used of course some ideas. The sentence with the hidden ones no one will blame is taken from the Jack The Ripper case, and Baron von Giehn is quite a look-a-like of Anton LaVey who wrote the Satanic Bible and is said to have been in touch with famous movie stars and Hollywood directors. And the spirit of The Terror Stalkers certainly is similar to LaVeys very charming and seductive approach to Satanism. Besides there are conspiracies all around us. Whenever some people meet to set up something from what they will benefit - stealing from others usually - that's a conspiracy. Selling weapons to Africa and things like that work the same way, but this would be a political thriller, I wanted to do horror.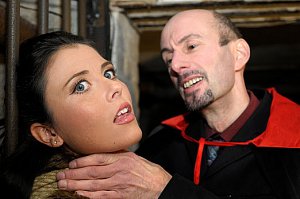 You just have to talk about The Terror Stalkers' brand of comedy for a bit, but also its approach to horror!
I love Hammer horror, I love the MGM musicals and I love Ernst Lubitsch and Howard Hawks. And when we had this time a budget above our usually very tiny Unhappy End! budgets, I wanted to bring in not only horror but also music and comedy. The young beautiful woman, all alone in a house near uncanny woods and suddenly all those horrible stalkers all around is a nice horrror story. Sometime ago I met Cay Helmich who is not only an actress but also a composer, songwriter and singer and she had written many great songs with beautiful words and music. In fact I know noone besides George and Ira Gershwin or Charles Trenet who can write so many beautiful songs, I think Cay's songs are brilliant and I thought the songs are great for a horror story and it worked really well. There is also one song with words and music by Dina Babajic who plays one of the maniacs and her song Superstars in fact reflects the philosophy of the Terror Stalkers. They of course do not think of themselves as monsters, but as artists. Most people do want to express themselves, singing a song, painting or writing a poem. Before Baron v. Giehn attacks Annika, his next victim, with his fellow stalkers he dances around her house like Rumpelstilzchen to Cay Helmichs song Come Closer. This dance expresses his maniac feelings, he is totally crazy like Rumpelstilzchen, but the song is very beautiful.
I also wanted to go in a different direction. If you do horror there are so many great movies from Terence Fisher [Terence Fisher bio - click here] or Roger Corman [Roger Corman bio - click here] and if you do gore there is Lloyd Kaufman or Tom Savini. Now how could anyone top this? So I thought we better go in another direction, create an atmosphere of uncanny horror with Annika who is menaced by those maniacs and we have all horror elements, they kill, they cut her in pieces, they are cannibals and killers, but then there is Cay Helmich's beautiful music, even when Annika is tortured we listen to Cay Helmich singing Gimme a Break. I mentioned Howard Hawks, whom I love very much, and in Rio Bravo John Wayne, Walter Brennan, Dean Martin and Ricky Nelson are in the Sheriff's office with the bad guys outside and they sing Rio Bravo and My Rifle, My Pony and Me, that's really great. I also wanted to march the horror road a different way. Savini's special effects and Hitchock's suspense you cannot top, so I did not try but went more and more towards comedy at the end. Lemonia and Holger in the final scenes is kind of Lubitsch comedy and along with Cay Helmich's music everyone watching this movie will keep this ending in mind. Lloyd Kaufman always mentiones in his books on filmmaking how important the ending is, because that's what makes the audience decide how much they like the movie, so always try to have a very good ending... I wanted that someone who watches The Terror Stalkers smiles about the ending, having the impression or feeling to just have watched a musical comedy... later, maybe one or two days later when thinking about you realize... hm... that actually was a very BRUTAL movie with killings and terror and cannibals... I mentioned above how seductive LaVey wrote his Satanic Bible and that's the spirit behind it... it all looks nice and cosy but beneath there is much more horror than you see at first sight.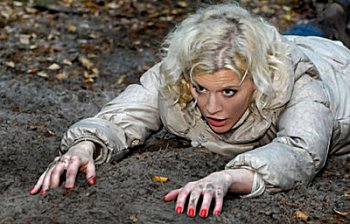 You have chosen not to direct The Terror Stalkers yourself? In a word, why, and what can you tell us about your director Martin Schmidt?
Indeed I had to decide NOT to direct The Terror Stalkers because the producer Michael Huck had to protect the movie from the director Michael Huck. I usually prefer to produce and direct myself, but usually we have smaller sets and casts and crews and in The Terror Stalkers there were many scenes with so many people in front and behind the camera I knew it would be too much for me to produce and direct and I had to find someone else to direct. A friend had introduced me to Martin Schmidt and they invited me on the set of Ted V. Mikels' Astro Zombies: M4 - Invaders from Cyberspace they shot in Berlin and I watched Martin directing a crowd of people fleeing from the Astro Zombies who destroyed the Brandenburger Tor and the Reichstag. Later Martin also invited me on the set of Die Zone, a splatter film he shot with Holger Delfs playing the maniac axe murderer. Martin is the fastest director I've ever met. He is like: action, cut, ok we'll take that one... and I know he would be much better than I handling all those scenes with so many people behind and in front of the camera.
The credits say directed by Martin Schmidt and produced by Michael Huck as that was what we did most, but of course we could have also written, produced & directed by Michael Huck & Martin Schmidt as Martin was also a little bit involved in producing and I a little bit in directing. In fact Martin started more producing talking first to Eva Habermann and her agent and I first met Eva Habermann after Martin and Eva had already agreed on shooting together and that Eva would play Ingrid.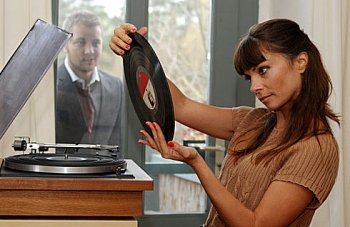 Eva Habermann and also many of the other crew members brought in ideas... It worked like that: Martin and Holger, who played the evil Baron, rehearsed the scene when the Baron sneaks around Annika's house and they showed me what they had in mind with the light showing the Baron's giant shadow on Annika's house like in the old silent movies of Murnau and I remembered Maurice Chevalier's shadow dance in Follies Bergere and suggested we could do a musical number using Cay Helmich's Come Closer having the Baron dance around like Rumpelstilzchen. We rehearsed and Martin came up with the idea of using red filters, so one thing led to another. Same with Dina Babajic who also brought in her own ideas. As Martin was not present all the time on the set as he lives near Hannover, I had the chance to direct some of the musical and comedy scenes with Dina and Lemonia and Holger. In fact the credits say also: written by Michael Huck but Lemonia co-wrote all her scenes and Dina set up the atmosphere for her own song Superstars. I wanted to send it up, do it in a funny way, Groucho Marx style, but Dina didn't want to send it up and wanted to have a serious approach. So Dina and I watched MGM musicals with Gene Kelly and Fred Astaire and finally Minelli's Gigi and we did Superstars Minelli style, it worked very well and Dina is probably most responsible for how we finally did it.
So actually everyone was involved more or less in everything and the credits say more what who did most, so I did most of production, Martin did most of direction especially the big scenes and Dina or Lemonia in example did most acting...
Of course it's getting complicated if you have a director and a writer-producer and Martin and I had some different ideas, like how to shoot the scenes when Yvonne Wölke is captured and killed. Martin is a fan of the scream queen character and that means he wants the scream queen actually scream, while I think the scene would have been better if the dtalkers had gagged her before killing her. As Martin was the director it was his decision of course.
Since The Terror Stalkers does feature a few of your regulars, to what extent were you actually involved in the casting process? And why exactly these people?
I did write the script and did produce so I had certain ideas who should play which part. Martin and I talked about Eva Habermann and Martin got her involved. Eva suggested two of her friends Armin and Gerry should play two of the Terror Stalkers and they were just perfect for both parts. Most of the remaining roles I did cast and of course wanted to work with people I already knew especially as The Terror Stalkers was a more complicated project than Unhappy End! or even The 7 Nightmares Girl. I wanted Jean for the part of Annika as she is perfect for those kind of parts Karin Dor [Karin Dor bio - click here] played in the Edgar Wallace movies. Jean's character is even named Annika Derr, Derr being the real-life name of Karin Dor. The part of the Baron was written with Holger Delfs in mind whom I had seen playing the maniac in Martin's Die Zone. Holger in fact is a set designer, painter and artist who works for big productions like Ronald Emmerich or recently A Cure of Wellness, but Holger like Martin loves horror and splatter movies and Holger sometimes also plays some parts in those kind of movies and very, very well. I also wanted Katja and Vonny in the movie but with Katja it did not work as she was busy in Las Vegas shooting a mafia series for US television while we were shooting The Terror Stalkers, but fortunatey Vonny could come with us to London to shoot the final sequence.
What were the main challenges when producing The Terror Stalkers?
Not to get crazy, but this is the case whenever you shoot some project. Billy Wilder once said shooting a movie is blood, sweat and tears and the fun starts AFTER shooting, when you wrapped principal photography and you start editing and post. Hitchcock is said he did not like shooting, for him it was a necessary evil as he had the whole movie in mind.
Do talk about the shoot as such, and the on-set atmosphere?
We were shooting with interruptions for several months around Berlin and in London, so there were very different on-set atmospheres. The first day when everything goes wrong and nothing works, you - as a producer - would prefer to leave the set, stop the movie and go away and buy a Mercedes. Jean was there and did hold my hand and with Jeannie around I managed to survive that day. Next morning I watched what we shot the first day and thought "Well that does not look THAT bad" and the second day things are going better - then when we had shot all those big scenes with so many people involved and we started to do the smaller scenes, it went better and better and in the end it became really fun. We did fly for a couple of days to London to shoot the Jack the Ripper scenes next to Big Ben and the final sequences when Vonny kidnaps Agata and we went to London and did not work all the time but had plenty time off and we went to a Hammer Convention with Caroline Munro [Caroline Munro bio - click here], Barbara Shelley and many other Hammer stars, and we went to East End to a play with Lindsay Lohan, Speed the Plow, and then we shot our scenes for The Terror Stalkers in London in a Park near Buckingham Palace, that was all fun. And of course the musical and comedy scenes with Holger and Lemonia also were so much fun. The last scenes we shot were the Eddy Gein scenes in the woods when he cuts the police woman's ear off. So actually the more we were shooting the more it became fun.
The $64-question of course, where can the movie be seen?
The DVDs and Blu-rays are sold on tele-movie-shop and on filmundo and the movie can also be bought VOD on vimeo. www.vimeo.com/ondemand/theterrorstalkers
Anything you can tell us about audience and critical reception of your movie yet?

Feeling lucky ?
Want to
search
any of my partnershops yourself
for more, better results ?

The links below
will take you
just there!!!

Find Michael Huck
at the amazons ...

amazon.com

amazon.co.uk

amazon.de
Looking for imports ?
Find Michael Huck here ...
Something naughty ?
(Must be over 18 to go there !)

No nothing, as we just started selling, I got the DVDs some days ago and two days ago the Blu-rays and just did mail the DVDs to cast and crew. So I do not have any feedback from anyone yet.
Any future projects you'd like to share?
I want to finish The 7 Nightmares Girl next and then again a 90 minute Unhappy End! movie but in Terror Stalkers style as far as production is concerned.
Your/your movie's website, Facebook, whatever else?
www.theterrorstalkers.jimdo.com
Anything else you're dying to mention and I have merely forgotten to ask?
Well, thanks for asking, I think I never menitoned this before, but I really think we need more Kaiser Wilhelm Memorials in Germany.
Thanks for the interview!