Your new movie is called Moonlight Orchids. In a few words, what is it about?
The Moonlight Orchids is about a ruthless, mean producer who is casting a young pretty actress for his new horror movie - but actually he is more interested in having sex with the actress than to hire her.
The film is quite a departure from your usual output. What were the inspirations for this film?
Not really. I was involved in many projects as a writer, producer or director. I started with a comedy, Eine Kerze für Kaiser Wilhelm made by German network SDR and directed by Frank Strecker, a very good actor and director, long before I started making Unhappy End! and The 7 Nightmares Girl all around the world. But UE and things like T7NG of course get more noticed.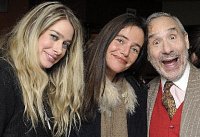 Kim Baldwin, Katja Bienert, Lloyd Kaufman
The inspiration for The Moonlight Orchids: Lots of things I have heard and seen. Katja once told me she met an actress during Cannes Filmfestival and the actress was very happy, just returning from an audition with a famous producer and she glady told Katie, the auditon went very well, SHE ONLY HAD TO DO A BLOW JOB !!! Hurrah for Horrorwood!
Moonlight Orchids' two stars, Lloyd Kaufman and Kim Baldwin, are credited with co-writing the film. How big was their actual input, and was their dialogue scripted or improvised?
I wrote a 7 page outline and Lloyd and Kim actually improvised, it was great.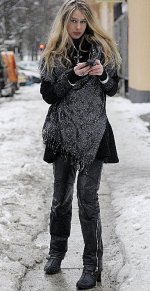 Kim Baldwin
A few words about your cast: What can you tell us about Kim Baldwin?
Kim Baldwin is an US actress who worked in NY and LA, she had smaller and bigger parts in soaps and Baywatch and some movies.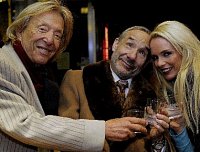 Rolf Eden with Lloyd Kaufman, Juliane Wallensteig
What about German icon Rolf Eden?
Rolf Eden is always perfect, polite and uncomplicated. You just can always count on him. He played in many movies before and he is also very good as a singer and piano player. I hope we can do a musical number one day. He allowed us several times to shoot with his Rolls Royce cars. I love that.
And then there's of course Troma-legend Lloyd Kaufman: He is known to do cameos in pretty much every other independent film (including your own The 7 Nightmares Girl 2), but how did you get him to play your lead?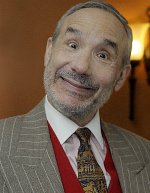 Lloyd Kaufman
I met Lloyd several times during film festivals and other occasions in LA and also in Berlin and we chatted. I think he was disgusted when he first watched Unhappy End! and did not talk to me again for a long time. Only when I offered him two snickers chocolate bars for the part of Wénke's dad in The 7 Nightmares Girl he could not longer resist.
How easy or difficult was Lloyd Kaufman the actor to work with, and being a director himself, did he in any way try to interfere with your work?
It's amazingly easy to work with Lloyd. He is very experienced and he doesn't need my direction. If he does, he asks me and I tell. Lloyd believes a director should be in charge of the movie, not the actor, so when he is in as an actor, he IS an actor and totally ignores that he himself knows more about filmmaking than the director he is just working with.
This shows how great Lloyd really is and I am very grateful he works with us.
In Moonlight Orchids Lloyd Kaufman plays pretty much a mean caricature of himself. Did he at all have a problem with this?
No, not at all. Lloyd is above such feelings. For Lloyd the movie is the only important thing.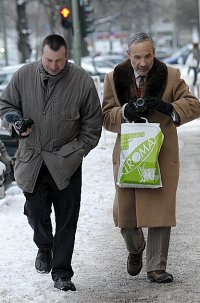 Michael Huck, Lloyd Kaufman
During the movie, Kaufman is plugging Troma-products almost endlessly. Whose idea was this?
Lloyd's of course.
Do you see your directorial style at all influenced by Lloyd Kaufman and what I would call the Troma house-style?
I am sure influenced by Lloyd and his wisdom, of course you noticed that working on The Moonlight Orchids is something different for me and Lloyd. I think Lloyd's friend and Marvel legend Stan Lee always asked to do more mainstream, something Lloyd and I usually never really want to do. However working together, we are moving more and more into mainstream direction, I fear.
The 64 Dollar question is of course: Where is Moonlight Orchids available from?
You can order it from me, we also have a contract with a distribution company which will sell it through internet and mobile platforms and Amazon. I think you also can order it from Troma, if you need NTSC copies.
As mentioned above, Moonlight Orchids is quite a departure from your usual product. Are you planning to make more dark comedies in the forseeable future?
Indeed we are planning a crazy dark comedy about the Parrot of Dr. Goebbels. No stupid jokes, really intelligent comedy and action Lubitsch-Wilder style. I love Lubitsch's To Be Or Not To Be. It's a great movie. And such a great Propaganda! I think I watched it a dozen times before I noticed Lubtisch totally ignored Stalin invading Poland!!! It's not mentioned once in the whole movie. Jack Benny was great.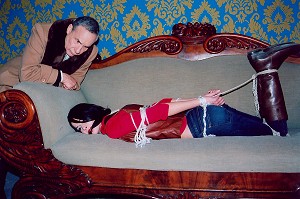 Lloyd Kaufman with Micaela Schäfer in
Do you find a difference in approach between comedies just as Moonlight Orchids and the (bondage) thrillers you are more known for?
From technical point of view no. From an acting point of view comedy is much more difficult. I think The Moonlight Orchids is considered a comedy because Lloyd is in it and the way he acts. If we did the same story, absolutely same dialogue with Robert De Niro, I think it would be considered a drama. I have seen this often. Watch Barefoot in the Park with Redford, Jane Fonda and the wonderful Charles Boyer and it's great comedy, watch the same story done by a German cast and it's not funny at all (German TV actually did shoot a German version with a very good cast many years ago, but it did not work).

Feeling lucky ?
Want to
search
any of my partnershops yourself
for more, better results ?

The links below
will take you
just there!!!

Find Michael Huck
at the amazons ...

amazon.com

amazon.co.uk

amazon.de
Looking for imports ?
Find Michael Huck here ...
Something naughty ?
(Must be over 18 to go there !)

Your favourite comedies, comedy actors and comedy directors?
Millions: Mr Hobbs Takes a Vaction, Heaven Can Wait, Bluebeards Eigth Wife, Design for Living, To Be Or not To Be, Das Haus in Montevideo, Hokuspokus, Napoleon ist an allem Schuld (the Curt Goetz version), Ariane - Love in the Afternoon, Bringing up Baby, I was a Male War Bride, Gentlemen Prefer Blondes, Irma la Douce, Bel Ami (by W. Forst), Der Florentinerhut and Die Feuerzangenbowle with H. Rühmann, Der Weiße Traum by Geza von Cziffra, Hellzapoppin, It's a Mad, Mad World, Arsenic and Old Lace, The Double Life of Walter Mitty, The Court Jester, Houseboat.
Actors: James Stewart, Cary Grant, Charlie Chase, Charles Chaplin, Maurice Chevalier, Maureen O'Hara, Lucille Ball, Fran Drescher, Stan Laurel and Oliver Hardy, Dean Martin and Jerry Lewis.
Directors: Lubitsch, Billy Wilder, Howard Hawks, Geza von Cziffra, W. Forst, Curt Goetz
Any future projects you'd like to talk about?
We are shooting new episodes for The 7 Nightmares Girl in Vancouver and Vienna.
Anything else I've forgotten to ask and you are just dying to mention?
I do not know if I ever mentioned this, but I think we need more Kaiser Wilhelm memorials in Germany. And
Tansania. Actually everywhere...
Thanks for the interview!
Pictures from The Moonlight Orchids copyright 2010 by Diana Beppler