Your new movie Ten - in a few words, what is it about?
We often like to simply describe it as a weirdo art film pretending to be a horror movie.
In order to be a great actor, you need to become what you're pretending to be. It is not something that just vanishes when someone calls "cut!" But this isn't just a part of filmmaking, we are all always acting. We are writing our parts and deciding who we should become every single day. Is any of it real?
Ten is an exploration of this idea within the context of a film following a somewhat traditional thriller structure. The characters are performing their characters. There are arbitrary alliances and arbitrary beliefs. It's an unusual, metaphorical movie, with unusual actions, behaviors, and ideas. It's not meant to be a film with literal characters living in a literal narrative.
More formally, Ten is a surrealistic, post-exploitation exploration of identity starring ten women. It examines the arbitrary fluidity of identity and the way in which we as observers contextualize and stereotype women based on superficial characteristics including their appearance and demeanor. The narrative is structured to parallel the commentary on characterization with breakneck genre, style, and tone shifts, repeatedly seeking to recontextualize all that has been previously been presented.
It is now out on DVD and VOD via BrinkVision: http://tenthemovie.com/seeten.html
As far as I know, you made a short of the same name with roughly the same plot only a couple of years ago - so how do the two films compare, and what inspired you to expand the short to feature length?
Ten started off as a trailer for a competition held by our local independent theater, The Brattle (http://www.brattlefilm.org). Our friend Sarah Wait Zaranek saw the call for entries and asked if we had any interest in doing something for it with her. The structure of the Smackdown (http://www.brattlefilm.org/?s=smackdown&searchsubmit=Search), which is a fun annual event, is that everyone is assigned the same film title, which happened to be Ten, and selects a series of characteristics from pulldown menus. The assignment is to then make a fake film trailer using all of those items. We chose to make a thriller set in a castle with a ghost hunter and a slap in it. We then set off to writing the script for the trailer. We decided to have ten characters, all women, and a series of ten scenes, each mentioning numbers from one to ten. Sarah was really interested in using pig imagery and we came up with the idea of a killer called The Butcher killing off the characters and putting them in pig masks to strip them of their identities once they died. The trailers were screened at the Brattle, which was a lot of fun, and we ended up getting selected as the Curator's Choice (http://blog.michaeljepstein.com/2012/07/ten-movie-trailer-for-brattle-theatre.html). We had a lot of fun doing it, but kind of set the whole thing aside and didn't plan to do anything else with it.
Over the course of the next month or so, some of the people involved in the trailer hinted at the idea of turning it into a real movie, so we started thinking about it and decided that if we were able to fund it partially on Kickstarter, we would give it a go. We did the Kickstarter campaign in August, started writing in September, doing in pre-production in October-November and then finally shot it December 2012 (http://blog.michaeljepstein.com/search/label/tenprincipalphotog). It was definitely a whirlwind!
What were your sources of inspiration when dreaming up Ten?
We really wanted to expand typical characterization themes of using shortcuts and stereotypes to touch on the broader narrative of the film. Because the film is about the arbitrary meaninglessness of identity, we wanted to recontextualize the film itself repeatedly by shifting tone and genre. So, we incorporated ideas from many of our favorite types of films and our favorite filmmakers. The movie opens with what we would consider an homage to Friday the 13th-style slasher chases, but with a little bit of an off-pacing. Off-pacing was one of the tricks we used throughout to hint that genres were thin gilds.
The most obvious source of inspiration is the And Then There Were None / Ten Little Indians mystery trope setup, which we hoped would lead people to expect that the movie had a whodunit twist. It's such a common trope and story setup that many people probably don't even realize that it most markedly comes from the Agatha Christie story. We start there and spend just long enough to make people think that's what we're doing before we jump off into another realm. Using that trope as a setup shortcut, we could easily establish all of our ideas and set up expectations in a certain way. We also really love the 1945 version of And Then There Were None.
Beyond that, we wanted to capture the feel of our favorite late-60s to early-80s low-budget films. We tried to color and wardrobe and have characters interact to fit into that era's B-movie aesthetic. We thought that particular feel and tone fit best with the genre shifts as well. Without spoiling anything, the early 1970s time period was ideal for the story we wanted to tell about the arbitrariness of persona, nationality, allegiance, etc.
Finally, because the movie is really about how we all wear performative identities, we wanted to stage as much of it as possible like theater. We use a lot of long wide shots and very rarely move the camera more than 90 degrees in a scene. It was an unusual and somewhat restrictive way of thinking about cinematography, but we thought other films like Equus and Rope had nailed a theatrical aesthetic without losing their way with the content, so we gave it a go.
And then for our story, we wanted to make everything about the characters and the film itself as symmetric as we could. We wanted the characters to be unsure of who they were just as the film's narrative form is unsure of what it is.
What can you tell us about your co-writers Sarah Wait Zaranek and Jade Sylvan, and what was your collaboration like?
Sarah had actually originally approached us about the trailer idea, so she was really the one who set this whole thing into motion. She originally developed the pig theme and some of the other ideas in the trailer. For the feature screenplay, she worked through a lot of script and story revision after Michael wrote a first draft and worked with Sophia to focus the story and ensure that the off-screen events could be happening while on-screen events were going on. We brought in Jade at the end to work on character dialogue. Jade was already slated to be in the film and, as Jade had some of the writing experience we lacked, we relied on Jade to help work from the original draft dialogue to make each of the characters better talk with a distinct voice and tone.
What can you tell us about your directorial approach to your story at hand?
Because we were shooting a very long script in a very short time (the whole movie was shot in 10 days), we had very extensive interactions with the actors in advance. We met with each performer several times, discussed how we wanted them to handle each scene, and then sent them off to rehearse before meeting with them again. There is a lot of detail in how the performances change from scene to scene. We have an extensive scene in the beginning where all of the characters first meet, and we purposely forced a sort of awkwardness with the dialogue, cinematography, and editing. We wanted to convey a dishonesty and artificiality in what the characters are. They are not committed to their identities at that point. As the film progresses, we pushed gradually toward a more real, comfortable performance and dialogue style as much as possible.
So, it was a very difficult set of demands on the actors. They were not just portraying a character, but actually portraying a character portraying a character, and depending on the character, getting more or less committed to it as time goes by. It means varying the apparent skill with which the acting is delivered. We also shot out of order, which made that extremely difficult to track and manage.
After we worked out performance intentions with each individual, we held a half dozen or so full readthroughs and rehearsals with most or all of the cast. By the time we got to location, we were doing very little to adjust performance. The actors knew what they were doing, and despite shooting 20-hour days, they would spend every minute they weren't on screen rehearsing and blocking their upcoming scenes.
From what I know, Ten is the first movie you shared directorial duties on - so what was your collaboration like, and along what lines did you share responsibilities?
Because Sophia acted in the film, Michael did more of the organizational direction on location so that there was no worry about juggling performance and direction. We did everything together prior to the actual shoot portion of the film. Sophia was also very focused on shot composition and trying to make sure no superfluous things were ever cluttering up a shot.
In terms of general collaboration, we are always together and always working, with all significant creative decisions made together. Sophia often ends up doing more pre-production, and Michael more post, but all decisions about the storylines, look and feel of the films, and other content and conceptual planning, are all done totally collaboratively.
Sophia, you also play one of the leads in Ten - so what did you draw upon to bring your character to life, and was the role written with you in mind from the get-go?
Actually, several of the roles were written to the performer (Jade Sylvan - http://www.jadesylvan.com - as the Renegade, Karin Webb - http://www.unamerikassweetheart.com - as the Medium, Rachel Leah - http://www.rachelblumenthal.net - as the Historian), and many of the other roles were adjusted as we cast to fit the actors. So, yes the folk singer was written for me. Fun fact: Michael and I actually met because we would both perform at the same open mic at a folk club. My first guitar was even in the film! My first few years in Boston were spent trying to perform solo, singer-songwriter style until I realized that I was more suited to being in loud rock bands.
So, I had some experience there. I also have been in a ton of music videos, so the scene during the party was very familiar to shoot. That scene was also an homage to a lot of old movies (like And Then There Were None) that always seem to have someone playing a sort of fourth-wall breaking song at a piano. To prepare, I listened to Joan Baez and watched videos of Joni Mitchell talking, but I don't think any of that rubbed off on me.
What can you tell us about the rest of your cast, and why exactly these people?
Jade (renegade), Karin (medium), Rachel (historian) were all on board from the trailer shoot. Jade is a writer and spoken word artist among other things, Karin is one of the most amazing and electric performance artists I have ever seen, and Rachel is a science/food writer and musician, so they all had plenty to draw on for their roles. Another bandmate of ours, Susannah Plaster - https://susannahkplaster.wordpress.com -, expressed interest in the doctor role and we cast her right away. We had worked with Porcelain Dalya - http://porcelaindalya.com - many other times on music videos, so we knew she would be perfect for the co-ed. Leah Principe (model) was suggested by a friend of a friend and she just blew us away. The Mollys (zealot [Carlisle], real-estate investor [DeVon]) and Kerri Lynch (actress) all came from doing a round of open casting, and we really lucked out on all of them, as by the time we were casting those roles, they were more solidified than some of the ones that we were able to write more to the people we had cast.
We really felt lucky, as everyone in the cast did such an amazing job at every stage of production. It was a complete joy working with and creating with each of them. We also all lived together for a week, worked 20 hours a day, and we're all still friends!
We've also been posting current interviews with our cast (http://blog.michaeljepstein.com/search/label/TEN%20interviews) to check in with them.
In terms of casting women, there are so many movies in which there are ensemble casts of men or ensemble casts with a sort of token women or two, but there are almost no movies with ensemble casts of women, unless the women are doing "womany" things. So, a movie like Bridesmaids might be a cast primarily composed of women, but it's not really about women as regular humans, it's about women in the context of a women-only event. We've actually searched and searched to find films that have all-female casts that are not just about the "girls getting together" and have come up almost totally empty. The Women (both versions) might qualify. According to this interview, the modern version took 14 years to find financing: http://www.makers.com/moments/all-female-cast
On IMDb, very few movies are tagged as "all female cast" as well: http://www.imdb.com/keyword/all-female-cast/
Our goal with Ten was to create a cast of women participating in action that really has nothing to do with being a woman (or being women defined by their relationships with men). In fact, with the exception of one character, the script would hardly need rewriting if it were all men. That doesn't mean that an all-male cast would result in the same movie, but rather that the women in the film are characters first and women second in some sense. The movie is not really about ten women, so much as it is about ten characters who happen to be women. And with the exception of that one intentional character, there are no conversations about men, women's issues, gender, etc.
Interestingly enough, we fail some variants of the Bechdel Test on a technicality because none of the characters have names.
I think the location is one of the key factors of Ten - so do talk about it for a bit, and what was it like filming there?
Sophia went a little insane finding and getting access to the location. A lot of older houses are fully renovated with stainless-steel everything and white carpets, and modern tiles. So, she got really excited to find Beach Mansion (http://beachmansion.net) in Barrington RI. It took a little bit of negotiation to get permission to film there, but the location really is a main character in the film. We lived and shot there for 8 days, mostly shooting overnights, starting around noon and wrapping each day around 8 AM. We all went a little insane because of that schedule. The house also had neat, hidden scary elements. There was a creepy broken dollhouse in the basement and a child's handprint on a back staircase. The entire back of the house was the "servant's quarters" and was a little plainer and eerier than the rest of the house.
We all somehow survived!
What can you tell us about the shoot as such, and the on-set atmosphere?
It was wonderful being on location at the Beach Mansion. There were seventeen of us living there and working those 20-hour days. On set, everyone was so supportive of each other. We ate all of our meals together when possible, and everyone took turns cooking and cleaning up. Every morning, when we wrapped for the day, everyone would convene in the kitchen for a hot toddy to decompress, even though we had to be up in another four hours. It really was a bonding experience like no other. We actually miss it quite a lot.
We also made a behind-the-scenes feature called A Trip to Spektor Island, showing what it was like to shoot the film. We hope to release that sometime soon.
A few words about critical and audience reception of your movie?
We've had a better response than we ever could have hoped for for our first feature. We screened at ten festivals, had an interview in Fangoria, and got distribution via BrinkVision. Audience-wise, we've done best with people who have a similar love of macabre 70s films, and people willing to go on the breakneck genre-shifting journey of the movie.
It's also fascinating to make something that is so strange and off-kilter, and then to see if people get it. When we get negative reviews, they are most often because the reviewers are watching the movie expecting a horror/mystery with a literal narrative and with literal acting, and they are missing the actual point of the movie.
Arguably, we didn't make it clear enough, but also, people are tending to watch all movies without looking for a thesis and without examining the underlying ideas, which we find disappointing. If you've got nothing to say with your film, why bother making it? We actually ended up writing in a few moments that explain what the movie is about because we got too scared that people wouldn't get it at all.
It's also interesting to get unsolicited feedback telling us that the twist was too hard to figure out because we didn't hint at it, or that the editing wasn't right in the opening meeting scene, etc. It's fun to hear people picking up and being bothered by those intentional choices, as they are intended to feel wrong in the traditional film structure sense! The point of the movie isn't figuring out the twist. The point is that we've recontextualized the whole movie in an instant. People are not necessarily used to that sort of experience, which felt like all the more reason for us to experiment with it. And we're quite happy with how that experience has varied for viewers, regardless of whether they like it.
Any future projects you'd like to share?
Our second feature, a cerebral sci-fi film called Magnetic (http://magneticthemovie.com) is out on the festival circuit now. It stars only one actor, Allix Mortis (http://www.allixmortis.com), who plays a failing artist who moves back to their hometown only to get a really weird, depressing job underneath a sheep farm, and soon realizes that they are caught in a time-loop that ends each week with the Earth's destruction. It's our go at existentialist sci-fi and we've moved from pigs to sheep with it.
What got you into filmmaking to begin with, and did you receive any formal training on the subject?
Neither of us has received any formal film training. In preparation for Ten, we found it very useful to watch movies and then immediately watch them again with the directors' commentaries. There were often interesting production stories that informed how we handled things. We watched all of Lloyd Kaufman's Make Your Own Damn Movie, read dozens of books on filmmaking, and just studied every technical tutorial we could. We were most focused on capturing the spirit of the experience, while having just enough technical knowledge to get by.
What can you tell us about your filmwork prior to Ten?
We had also done a ton of music videos at that point, as well as a few shorts. We probably weren't quite ready to jump into features, but when are you ever? We got into doing music videos because we played in bands, and after working on a few videos with other directors, we decided it would be much more cost-efficient to learn how to do it ourselves. After making Ten, we've discovered that our true love is making features (we immediately started work on Magnetic) and we're planning our third (and fourth and fifth) now.
How did the two of you first meet up even, and were you first involved privately or professionally?
We met as singer-songwriters at an open mic at Club Passim (http://www.clubpassim.org) that we attended religiously. That soon morphed into playing in bands together, and a few years later, to marriage. We've been married 8 years now and each year brings on bigger and more insane creative projects for us. We love working together, and we are glad we were able to include our personal relationship in that because no one else could put up with us working as many hours as we do.
You have also both been involved in quite a number of music projects over the years - so do talk about those for a bit, and your preferred musical styles and everything?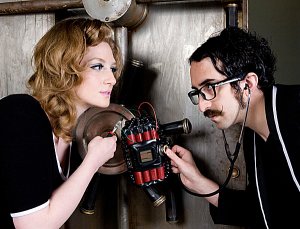 Do Not Forsake Me Oh My Darling
Do Not Forsake Me Oh My Darling (http://donotforsake.com) is no-wave, post-punk, art-rock moody and minimalist. Sophia yells a lot and plays drums, Michael plays bass. The band is deeply inspired by the TV show The Prisoner - we even remade the opening credits: https://youtu.be/GbUhmwSObto
The Michael J. Epstein Memorial Library (http://mjeml.com) is a large ensemble indie-rock band.
Those are our two main projects, but we also both play in a children's music project called Space Balloons (http://spaceballoonsearth.com - we're from space!) and Darling Pet Munkee (http://darlingpetmunkee.com - garage-rock songs about the items sold in the backs of comic books).
Sophia also plays bass in Drab (http://www.ilovedrab.com). Michael was formerly also playing a lot with The Motion Sick (http://themotionsick.com - indie-rock) and Neutral Uke Hotel (http://www.neutralukehotel.com/ - a ukulele-driven Neutral Milk Hotel sing-a-long band).
Filmmakers, musicians, actors, whoever else who inspire you?
We are constant consumers of film, music, and other performance, and we find ourselves absorbing elements of all of the wonderful things we see. It's great being part of the diverse and rich Boston arts scene. We not only have great film festivals like the Boston Underground Film Festival, but we have amazing bands, an incredible burlesque scene, and all kinds of mixing of those worlds to create unique work. Our greatest inspiration probably comes from all of those people in our proximity.
We also find inspiration in the fiercely independent spirit of uncompromising modern filmmakers like David Lynch, Jim Jarmusch, Miranda July, and Shane Carruth.
Your favourite movies?
There are so many great films, but to give a sense, a mix of our favorites across time include: The Abominable Dr. Phibes, most Kubrick, most Hitchcock, lots of Roger Corman [Roger Corman bio - click here], Primer, Upstream Color, Casablanca, Metropolis, City of Lost Children, The Duke of Burgundy, Mad Max: Fury Road (can't stop talking about it!), Only Lovers Left Alive, anything based on a Philip K. Dick story, any non-CGI-driven post-apocalyptic film, and of course, 70s vampire erotica. We love movies that build new worlds to explore, and let us take a look at humanity from a fantastic perspective.
... and of course, films you really deplore?

Feeling lucky ?
Want to
search
any of my partnershops yourself
for more, better results ?

The links below
will take you
just there!!!


Unless they are exceptionally good or explore something really unique, it's really rare that we're into dramas - what is the point in watching a movie that is like real life?
Also, Michael really, really hated Gravity.
Your/your movie's website, Facebook, whatever else?
http://facebook.com/tenthemovie
http://twitter.com/tenthemovie
Anything else you are dying to mention and I have merely forgotten to ask?
Thanks for reading!
Thanks for the interview!