Your upcoming film Victimized - in a few words, what is it about?
Matt Miller has spent his entire life living in the shadows of his brother. He believes if his brother were to disappear then so would all his problems.
What were your inspirations when writing Victimized - and is any of the film based on personal experiences?
My favorite type of film has always been the suspense thriller - part drama, part mystery and part horror at times! Of these films my biggest influence has been from Alfred Hitchcock. I loved how he mixed all of these elements with smart storylines. Iím not Hitchcock but when I took story development back in 2002 I knew exactly what type of story I was going to create. It was a semester long project - and Victimized was born. The story to Victimized unfolded more and more as Matt Miller was developed and brought to life. We were taught the best way to write something is to write what you know. However, I do not want anyone to get confused thinking this is an autobiography or something like that, because itís not. I donít even have a brother. Even though some of the characters and dialogue are a combination of things from my life, they are an exaggerated combination making the story fiction. Like an actor or artist, observation is the key to writing a good story with good characters. For example, the character of Mrs. Higgins is loosely based on a combination of a few people, a little bit from each of them to create my fictional character. And the name came from the second phone line my parents had at the house - people would always call asking to speak to Mrs. Higgins! Those types of things are what put a personal touch on the story.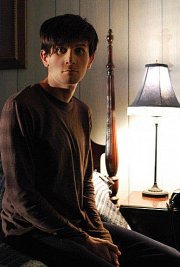 Michael Kenneth Fahr
as Matt Miller
How would you describe your directorial approach to Victimized?
My approach to directing is to relate to the actor as much as I can, allowing them to creatively bring their own uniqueness to the character. I also donít mind some improv as long as the point of the scene comes across correctly. Because it was my screenplay I knew what the film should look like and what the actors should be doing and thinking from the stand point of the writer, not just the director.
You have cast yourself as the lead Matt. Why, and how did you approach your character?
Yes I play the lead Matt Miller. Since I wrote Victimized, I always had myself as the model for Matt. I always wanted my script to be made into a movie one day and I wanted to play him. I didnít have a specific way to approach Matt because it was a character I understood very well inside and out. In a way I was Matt, I could become Matt very quickly. He has quite a few sides to him, both good and bad, like real people do. I wasnít writing a generic good guy or bad guy role. I wanted him to have layers, to be complex. This is a character I would want to play even if I didnít write it for myself, and itís a part I donít think a lot of people would have expected me to play. So when I knew I was going into pre-production for the film there was never any question in my mind who would play Matt. I knew it would be me.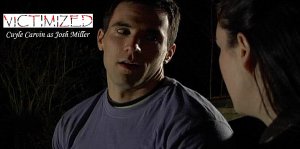 Matt's brother in question is played by Cuyle Carvin, right [Cuyle Carvin interview - click here]? What made him perfect for the role, and how would you describe your on-screen chemistry?
Yes, Cuyle Carvin plays Josh Miller. Whenever casting a role, the first thing that makes anyone perfect for it is the way they look. Do they fit the description of the character, is it the right ďlookĒ. Then you hope there is talent to go along with it, and that was the case with Cuyle, he fit the role and was talented. I didnít like the other actors that auditioned for the role of Josh, something was missing. Once I saw Cuyleís audition, I knew I found Josh Miller! Itís funny because heís nothing like the character, if anything he made the character a lot more likeable. Off screen I get along with Cuyle great, he has a great sense of humor and heís very easy to talk to. But on screen I had to really focus because our two characters do not like each other at all!! The chemistry on film turned out just as it was supposed to, two brothers that are stuck in the same space with each other, that canít stand to be around the other one and would prefer the other to disappear.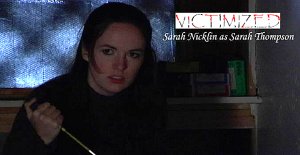 A few words about your leading lady Sarah Nicklin [Sarah Nicklin interview - click here] and her character?
Sarah Nicklin plays Sarah Thompson, Joshís girlfriend. The character of Sarah tries to be the peacemaker between the brothers. I donít want to talk too much about her character because I donít want to give any plot away, but this character is the second lead. Sarah fit the role so well and she was a trooper the whole time. She came on board 2 weeks before filming began after needing to recast the role. She showed up ready to work hard and knew her lines with very little time to learn them. I got along with her very well and she was an easy actor to direct. Sarah and Cuyle complimented each other nicely and both were very helpful as far as input on rewrites a few hours before filming a couple of their scenes.
Your executive producer Dustin Hubbard [Dustin Hubbard interview - click here] also plays a role in your movie. What can you tell us about Dustin Hubbard the actor, and what was your collaboration with him, as both actor and executive producer, like?
Dustin Hubbard the actorÖ hmmÖ Dustinís first choice is not to act. Haha. When I brought up the idea for him to play a small supporting role in the film, he didnít say yes right away. It started as an idea on my part and I told him to think about it. The more I thought about it, the more I knew he would work for the supporting role of Jonathan Kennedy and I tweaked the character to fit him better. He read the part and agreed to do it because it was a smaller role. There were also a few things that happen during his scenes that really excited him to film.
My collaboration with him as far as an executive producer was to really help me during pre-production on the film and to be on set with me for the 9 day film shoot. I was playing the lead and directing and I needed another set of hands and brain with me. He assisted me with various things from casting (securing Cuyle Carvin) to script-supervising scenes during production. I had worked with him once before on his project For Christís Sake, so we both knew how the other was going to operate. Heís great to bounce ideas off of.
A few words about the rest of your cast and crew?
The rest of my cast was awesome and my crew was awesome as well. I thank them for all their hard work. Big THANK YOU to Jesse Murphy, Ellen J. Pilch, Ron Phippen, Michael Omiecinski, Mark DeBenedictis and Pete Lucibello and to my new cast filming the flashback scenes later this summer. Iím sure that Ellen J. Pilchís character, Mrs. Gloria Higgins will steal all the scenes and become the favorite! A huge thank you to my crew as well, the film wouldnít have come together without the hard work of my DPs , Nolan and Bryan, make-up artists, Lauren and Lisa and my sound guys, Gunnar and Frank! Also all my production assistants, and craft services.
What can you tell us about the actual shoot and the on-set atmosphere?
The actual shoot was 9 days at the end of April in Connecticut. It was 30 degrees outside and maybe 40 or 50 degrees inside while filming. The story takes place at night so filming had to be done between 8pm and 5am when it was still dark out. On set everyone was doing their best and ready to work and it was COLD, especially the outside scenes. The worst was when the wind picked up and people would be shivering until they heard action. Iím amazed you donít see me shaking in half of my scenes and that the camera didnít pick up any breath in the air. The temperature was the reason some scenes had to be rewritten on day 3 prior to filming. Everyone got along nicely and was able to work with one another very well. During the day people slept, ate, hung out or rehearsed, and of course on the days when Cuyle was there he would go for 3 mile runs! Did I mention it was cold? J
The $64-question of course: When and where will the film be released?
My goal is to have it released in 2013 and at the latest would be early 2014. It is in post-production now being scored and sound edited and all that fun stuff. It will have a premiere in CT and FL and then hopefully be accepted into various film festivals!
Let's go back to the beginnings of your career: You started out as an actor, right? What got you into acting, and did you receive any formal training on the subject?
Well I guess I started out as an actor. Haha I actually started out as an artist and went to college for illustration (storytelling through pictures) and studied photography and acting at the same time. My formal training consisted of studying theater and improv at the New England Academy of Theater and Florida Studio Theater as well as a few other places. There isnít one particular thing that got me into acting. I love movies and I had always wanted to try it. Once I did, thatís what I wanted to do. So for me Victimized is a combination of things I learned in illustration, theater, story development and photography.
In general, how do you approach a role? Any techniques you'd like to share?
The first thing I do is to figure the character out. I have to accept them for the way they are. Iím there to be the character, not change them or judge in any way. That being said I donít consider a character as being ďgoodĒ or ďbadĒ or anything else, I do not put a label on them for any reason. I do tend to be a little method about my roles - I try to relate them to some experience Iíve had to bring that side of me out for the character.
What can you tell us about your early experiences in the filmworld?
That the fundamentals of acting are the same for both film and theater. The only real difference is a live audience or a camera and learning how to play to both. My early experience in film was a challenge because I wasnít used to the camera being in my face and it was hard to make sure I wasnít looking directly at the camera. Like anything the more practice you have the more you get used to it. Every film set gave me a wealth of knowledge and Iím still learning. I think the film that really helped me adjust the most to the camera was Brainjacked.
Would you like to talk about some of the films you've been involved with?
Sure, I have two feature films that I acted in that are on DVD now, Brainjacked and Herschell Gordon Lewisís The Uh-Oh Show! [Herschell Gordon Lewis bio - click here]. I have also acted in other features that are not yet released as well as a handful of shorts. For a list of everything Iíve done check out my IMDb page: http://www.imdb.com/name/nm2859567/
What made you eventually take up directing with Victimized?
Honestly, at first I didnít know if I was going to direct it. I wrote it and I wanted to play Matt, that I knew. I got to thinking more about it and I figured no one knows my story and characters better than me. I had done some assistant directing in college for a play so I figured I would be able to handle the challenge. In the end what made me direct was because this story is like my child and I just didnít trust anyone else enough to see my vision my way. If you have a vision with something, follow it, no oneís vision is better than your own.
Any future projects you'd like to share?
I am always looking for new projects, so more may be coming but I can share that a film I will be acting in this year is a comedy called Limo Driver.
Actors, writers, directors, whatever who inspire you?
Alfred Hitchcock, Walt Disney, Kevin Williamson, Sandra Bullock, Kevin Spacey and Jackson Pollock.
Your favourite movies?

Feeling lucky ?
Want to
search
any of my partnershops yourself
for more, better results ?

The links below
will take you
just there!!!

Find Michael Kenneth Fahr
at the amazons ...

amazon.com

amazon.co.uk

amazon.de
Looking for imports ?
Find Michael Kenneth Fahr here ...
Something naughty ?
(Must be over 18 to go there !)

Psycho, Beauty and the Beast, Scream, Milk, Sunset Boulevard, I Know What You Did Last Summer, Heartbreakers and If Only.
... and of course, films you really deplore?
I will really watch anything as long as it doesnít bore me. Who am I kidding, even if it bores me I will sit through the whole thing hoping it gets better. I hate not watching a movie until the end if I started to watch it. The genres Iím not excited about are war films and sci-fi (alien/space stuff).
Your website, Facebook, whatever else?
www.facebook.com/victimizednow
http://www.youtube.com/watch?v=uYoTQHrjARU
http://www.imdb.com/title/tt1496035/
http://www.facebook.com/pages/Michael-Kenneth-Fahr/249630781108
www.twitter.com/michaelkenneth
Anything else you are dying to mention and I have merely forgotten to ask?
I think I covered everything! If I forgot somethingÖ oops! J
Thanks for the interview!
Thanks for having me!