Your new movie Bloodrunners - in a few words, what is it about, and what can you tell us about your character in it?
It's a Prohibition-era crime drama with two very different love stories, horror, corruption, bagmen, whores, a few laughs... all the elements of the human condition. But what it's really about is redemption.
What did you draw upon to bring your character to life, and did you write him with yourself in mind?
Most of us have a tragedy that shapes us and we make certain choices that define the rest of our lives. As frail human beings, we don't always make the strongest ones and we try to look away. If you're lucky, life has a way of bringing you around, shaking you up, and giving you a second chance to redeem yourself. Jack and I have very different stories, but he is me.
How did you get involved with the project in the first place, and was it always intended for you to have your hands in writing, production and acting alike?
In 2011, I answered a casting notice to audition for Dan Lantz's [Dan Lantz interview - click here] feature film, Into The Lion's Den. I won't go into specifics, but the rigors and requirements of that character must have given him the confidence in me to carry Bloodrunners square on my shoulders. I had set about sketching the characters of Jack and Chesterfield (Ice-T) almost a year before we started shooting. When we pitched the idea to Ice, we didn't even have a script, (we made him aware of that fact) so when he agreed to work with us we just hunkered down and carved out a screenplay over the course of the next five months or so. As far as my duties as aproducer are concerned, with a limited budget, everyone is spread so thin that you just have to wear whatever hat the day requires. I had connections in Marcus Hook, PA, where we shot some crucial scenes. The Star Hotel, The Borough Council, and Marcus Hook P.D. were just fantastic in facilitating our every need.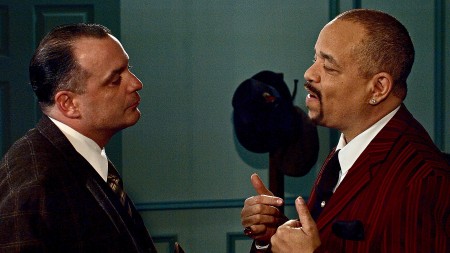 Michael with Ice-T
What were your sources of inspiration when writing Bloodrunners?
I'm a history nut, so WWI photos of the boy-soldiers in the trenches with the shattered empty look in their eyes begged the question: If they survived, what became of them? How did they go on living ordinary lives after experiencing such unimaginable horrors? That was the inspiration for Jack's backstory.
What were the major challenges making Bloodrunners from a producer's point of view?
First and foremost, it's a period piece. So right there you are besieged with a host of logistical challenges that will drive a grown man to tears. When constructing our own sets in a controlled location, it was just a matter of how much sweat we put in. However, when you move outside to practical locations, everything factors in: Architecture, cars, passers-by, incontemporary clothing... and even when everything works out, you spot modern touches in post that have to be digitally removed. Dan spent countless hours doing just that. The Devil is in the details.
Any future projects you'd like to share?
I've been fortunate enough to win some co-star roles on TV this year on networks such as CBS, HBO and VH1. I'm really excited to have the opportunity to portray Jimmy Hoffa in Tigre Hill's bio-pic American Zealot chronicling the life of civil rights activist Cecil B. Moore, going into production later this year.
What got you into acting in the first place, and did you reveive any formal education on the subject?
Getting good notices in the local paper for elementary school plays certainly played a part in giving me the "acting bug". But it wasn't until I was in my twenties that I gave it any serious thought as a career. I studied for a year in the acting program at University Of The Arts before moving to New York and signing up for Bill Hickey's acting class at HB Studio on Bank St. in the West Village. The best advice he offered in my years of study with him were two things: 1) Always find what is sympathetic in your character, no matter how horrible they may be. He would boil it down simply to "Even Hitler loved his dog." and 2) What is missing? I use that to this day in preparation for both auditions and gigs. I'll tape my work and pull it apart to find what's missing and just add that layer. It's a system that has served me well.
What can you tell us about your filmwork prior to Bloodrunners?
To be honest, I wasn't on anyone's radar before Dan gave me a shot in Into The Lion's Den in 2011. Most of my film credits were just good roles in low to no-budget affairs that gave me footage for a reel. I didn't have an agent. I didn't even know how to go about getting one. When I was doing stage plays in New York back in the 90s, I would mass mail postcards to every agency in the city in the hopes they would trek downtown to whatever black-box off-off Broadway venue I was performing in. They never came, and I can't blame them. And when I got back in the game six years ago, the business had changed so much that I felt like Rip Van Winkle. In other words, I am deeply indebted to Dan Lantz [Dan Lantz interview - click here].
Actors, writers, filmmakers, whoever else who inspire you?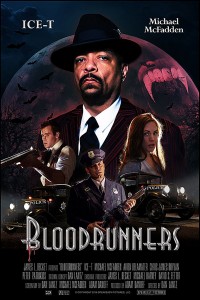 Feeling lucky ?
Want to
search
any of my partnershops yourself
for more, better results ?

The links below
will take you
just there!!!


Tom Wilkinson and Christopher Walken are two actors that come to mind right away. I'd like to believe that I'm infusing some of their best qualities into my own work.M y favorite writer/filmmaker I'd have to say is David Mamet. He can reduce the human condition down to the bare essentials of language and raw emotion without leaning on thecrutches of music or cinematic trickery to manipulate an audience. He never cheats your imagination.
Your/your movie's website, Facebook, whatever else?
michaelmcfadden.net is my personal site and bloodrunnersmovie.com is our film's site.
Anything else you're dying to mention and I have merely forgotten to ask?
My Mom! She's a saint and my guardian angel.
Thanks for the interview!