Your new movie Expressway to Your Skull - in a few words, what is it about?
The story of my film Expressway to Your Skull centers on a young couple named Ed and Amy, who've fallen on hard times. When Ed urges Amy to take an impulsive road trip after he has "made a move" and scored a large stash of cash through a deal he's reluctant to elaborate on, what follows is a drug-fueled getaway that leads them deep into the woods… Their seemingly benign odyssey to expand their minds takes a strange and dark turn once they cross paths with a mysterious survivalist named Charlie… and what started out as an innocent thrill-seeking excursion turns into a nightmarish fight for survival...
What were your sources of inspiration when writing Expressway to Your Skull?
Basically I was influenced by two main sources. The first is reading a true crime story by the popular author Anne Rule about a young couple who are terrorized by a psychotic and psychologically manipulative hunter back in the 70s. That incident dealt more with the Stockholm Syndrome effect a captor has on their captive… But I was influenced mainly by the three characters of that story and its basic structure.
The other influence, particularly on the title of the film was the epic song by the legendary band Sonic Youth. Its pretty much impossible to describe just how listening to this song affected and influenced my ideas in crafting the screenplay but all I can say is that I was stuck one day trying to figure out several story issues I was having. Then I listened to that song and a bunch of ideas that ended up in the script as well as the title for the film came from listening to it on repeat during my script writing session.
Many other forms of media, from movies to books to visual art and music had an overall influence on the making of the film but the two sources above were mainly the influence for the script.
For a horror movie, Expressway to Your Skull is very triplike at times - so what can you tell us about that aspect of your movie?
Much of the "trip-like" aspect as you put it came directly out of the story and impulse and actions of the characters actually taking psychedelic drugs in the film… specifically magic mushrooms. However I admit that I actively wanted to make a psychedelic horror film that had surreal stylistic elements in it. Some of my favorite films have hallucinatory imagery in them, dream sequences and even drug-fueled hallucinations… films like Bram Stoker's Dracula, Natural Born Killers, Fight Club, Eraserhead and the original Texas Chainsaw Massacre to name a few.
For the sake of the gorehounds among my readers, you also have to talk about the more bloody bits of Expressway to Your Skull for a bit, and how were they achieved?
The scenes where some of the nastiest bloody violence take place were difficult to shoot but totally worth it in the end when we got it all done. I always had in mind that a scene with a sharp object thrust into someone's head needs to take place and blood spurting out is absolutely essential to the visceral quality of that moment. I think we achieved that moment well and viewers will appreciate its realism.
Do talk about your directorial approach to your story at hand?
Well it's always been a lifelong dream of mine and a serious goal as a film lover to make a feature film so once I educated myself enough on the process of what the job of a director is… I then focused as much time as I possibly could toward making this goal happen. And as far as my approach to the story as a director is concerned I can say that I wanted the film to be as realistic as possible but still be shot and crafted like a very stylized movie experience. A lot of specific choices were made in order to preserve a sense of realism to the story so the viewer will be able to immerse themselves in it rather than feel like the stakes aren't serious or something like that. So, I guess one of the biggest factors in choosing to tell this story the way I did was to concentrate heavily on its realism and believability.
What can you tell us about your movie's cast and why exactly these people?
The cast for Expressway to Your Skull started with the 3 main actors, Paul S. Tracey, Lindsay Atwood, and Mark Aaron who were actually cast in those roles well before the actual main production was planned and then the role that Katie Royer plays was cast very close to the start of the main production. All of them were absolutely great to work with and brought a lot of commitment and intensity to their roles. As to why I chose them… well… all I can say is they all really seemed to embody each character they're playing. They just seemed natural to each part so that's pretty much why I cast them.
With Expressway to Your Skull being mostly an "outdoors"-film, do talk about your locations for a bit, and what were the advantages and challenges filming there?
We shot the majority of the film in various secluded wooded trails and hills in the Angeles National Forest and Topanga Canyon near LA. Some spots took a lot of hiking to get to which was tough. Many of these spots are not traditional places to shoot around LA so we shot there without permits. It was a calculated risk but everything turned out great in the end. The physical aspect of shooting in exterior locations, like deep woods, that don't have easy access to bathrooms and rest areas is pretty challenging for even a small crew as most filmmakers can tell you and our shoot was no different. The advantage to locations like that is that you most likely don't need to get a permit. My specific choice was to shoot in all natural light and my cinematographer Greg LeFevre suggested we use the Canon C300 camera which was great for this approach.
What can you tell us about the shoot as such, and the on-set atmosphere?
The shoot was really challenging for a lot of reasons. Again, even with a small crew there are a lot of logistics you have to deal with besides simply framing up a cool shot and getting the actors to run around the woods doing crazy horror movie stuff. But luckily my production team was really professional and great to collaborate with so due to all the preparation and experience we collectively had going in, even though most of us are still rather new to the film world, we managed to pull off the majority of what we set out to do in our 15 day shooting schedule. But… it was still stressful and tough… I have to admit. Some days we went over schedule and had to stay late and some days we didn't get certain shots we needed and had to schedule reshoots and pickups… which is fairly common though still creatively frustrating as you might imagine.
A few words about audience and critical reception of your movie so far?
This is an interesting aspect of the process that I try not to worry about but can't help feeling really conflicted about how people would potentially respond to my movie. In a couple private screenings we got generally positive feedback… but then we applied to a large amount of festivals and didn't get in to the majority of them… this was back in the fall of 2014… then a year later now that the film is being released on DVD and VOD more critics and reviewers are seeing it and we're getting really positive critical reviews mostly from the indie horror community which is our core audience… So far and overall things have been very positive. Can't complain really...
Any future projects you'd like to share?
Well, I prefer not to discuss the specific details of new, un-finished projects I have in development but I will say that I am actively planning another feature project as well as a couple short film projects that I'm determined to get off the ground starting in 2016.
What got you into filmmaking in the first place, and did you receive any formal education on the subject?
Three of the most "formative" films that had a HUGE influence on me growing up and learning to take filmmaking seriously were Scorsese's Taxi Driver, Lynch's Eraserhead, and Raimi's Evil Dead. As far as education… I did eventually apply and get into the graduate film program at Art Center College of Design in Pasadena. It's a good school... though I have to stress that a significant amount of my "education" in how to make a feature film came almost from the opposing force of the "micro-budget indie film world" that has been growing since the late 90s and has exploded since the advent of affordable HD video advancements… When I got into grad school in 2008 many of the websites that are now awesome sources for free indie film education like "NoBudgetFilmSchool.com", "GuerillaFilm.com" and "NoFilmSchool.com" were not on many people's radar or didn't exist … but now it's becoming more open source and way more cost-effective to learn your craft online rather than racking up heavy student loan debt like I did to learn how to make films… I now believe that "formal education" in filmmaking, meaning going to a 4 year or even 2 year college to study filmmaking is not necessary to get a good education. My advice is for younger filmmakers to take Dov Simens' Film School course and Mark Stolaroff's No Budget Film School seminar instead and save lots of money, don't go into debt, while also gaining real world applicable information on how to go out and make a feature film independently.
What can you tell us about your filmwork prior to Expressway to Your Skull?
My film work prior to Expressway to Your Skull was much less professional and more experimental overall. I had made 4 "official" completed short films prior to focusing on Expressway to Your Skull… one a music-video "hybrid" and one was my thesis short film, Terminal, for film school which won "Best Experimental Short Film" at the Los Angeles Underground Film Festival in 2012. I loved making short films and still do but I believe if you want to really focus on being a film director that can be "hired" or "sought after" for feature film work you have to actually prove yourself to this extremely competitive industry by going out and making your own feature independently.
How would you describe yourself as a director?
This is difficult because I don't want to over-think my answer but I'll say that I feel like a director now that I've come this far even though I haven't made that many films overall and I'm still in the early stages of what some might view as a "career". I'm very much focused on making more films in the future and like one of my icons, Martin Scorsese, puts it, maintaining a self-driven discipline as a lifelong student of cinema at the same time as being a maker of films. I'd also like to paraphrase David Fincher, another favorite iconic director of mine, who describes his ongoing process as trying to simply become a better craftsman with each film… I feel as though I'm just scratching the surface of learning and developing as a director and serious filmmaker so that's about how I would sum up my status at this point.
Filmmakers who inspire you?
I keep a folder on the desktop of my computer titled "The Directors" and in that folder are these folders… Bergman, Bigelow, Boyle, Bunuel, Chaplin, Coen Bros., Coppola, Craven, D. Aronofsky, Del Toro, DePalma, Fellini, Fincher, Fuller, Gaspar Noe, Herzog, Hitchcock, Innaritu, Jodorowsky, Lynch, Ken Russell, Kubrick, Kurosawa, Lynee Ramsay, Maya Deren, R. Meyer, Oliver Stone, Raimi, Scorsese, Spielberg, Terry Gilliam, Welles… to name a few of some of the biggest names in history… I'm also inspired by my friends and fellow peer.
Your favourite movies?
I have so so many favorite films and film moments… One of my all time favorite horror movies is the original Texas Chainsaw Massacre by Tobe Hooper. One of the best haunted house/ghost story movies I've ever seen, which I only saw recently is The Haunting by Robert Wise. And one of the greatest works of art in the history of the world, that totally wrecks and inspires me every time I see it… is Kubrick's 2001.
... and of course, films you really deplore?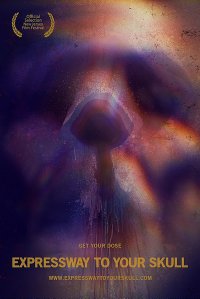 Feeling lucky ?
Want to
search
any of my partnershops yourself
for more, better results ?

The links below
will take you
just there!!!

Find Michael Okum
at the amazons ...

amazon.com

amazon.co.uk

amazon.de
Looking for imports ?
Find Michael Okum here ...
Something naughty ?
(Must be over 18 to go there !)

I don't like focusing on trashing other people's work that much so I'll just say that there are some horror films, especially more contemporary ones, that have almost no story or character development and no sense of craftsmanship that seem to have been made simply to promote shocking acts of violence and gore-filled bloodletting with no sense of how to do that and make it stylish and entertaining and fun (the way a classic low-budget film like Evil Dead did) but instead make it a total fucking chore to sit through. I love it when horror and dark twisted films are intense and fun to watch even when they're scaring you… you get sucked into the story and the atmosphere because the filmmakers are doing a good job and really selling the illusion… but I really really hate movies made by people who only seem to be in it to make a quick buck and put little to no effort or creativity into their work. Okay I'll name one movie I absolutely hated and couldn't actually sit through the whole thing, and had to walk out of... and that movie is Hallucinations of a Deranged Mind by Coffin Joe — Its such a choppy, amateurish piece of crap that literally looks like just a bunch of really strange leftover footage from 4 different movies spliced together in the worst way. I don't think a contemporary viewer could honestly admit that its even a real movie at all… it's just a total waste of time. So there you go...
Your website, Facebook, whatever else?
http://expresswaytoyourskull.com/
https://www.facebook.com/ExpresswayToYourSkullMovie/
https://twitter.com/ExpresswayMovie
https://instagram.com/madwolfproductions/
Anything else you're dying to mention and I have merely forgotten to ask?
Support Truly Indie Film by seeking out films that are NOT on Netflix and NOT in the mainstream theaters and top ten lists every year… Support Truly Independent Artists and Storytellers because one or two of them might turn out to be someone you grew up with who years later makes it big like some of the biggest directors working on the biggest projects in Hollywood right now! … and Thank You for your support!
Thanks for the interview!
Thank YOU for interviewing me and giving me this opportunity!