Your movie Night of the Seamonkey - in a few words, what is it about?
Boy gets seamonkey, boy loses seamonkey, seamonkey returns to fuck shit up!
Obvious question: Why a Seamonkey? And did you ever own a live (?) one yourself?
Being a child of the 70's and 80's plus an avid comic reader, Seamonkeys were definitely a part of my childhood. The screenplay for Night of the Seamonkey itself had been 30 years in the making. I remember begging my mom to buy these little things about once a year just to see them get dumped on the lawn a week later when they stopped swimming. Having a very active imagination at my age I would lay in bed at night and vision these creatures growing from the nutrience in the soil and reprising as an army to turn the tables on my family... Yeah I was a freaky fucked up kid.
Other sources of inspiration when writing Night of the Seamonkey?
I've always loved anthology television shows and films such as Twilight Zone, Outer Limits, Tales from the Darkside, Asylum, Vault of Horror, Creepshow, etc. So when writing Night of the Seamonkey I would often reflect on watching these great shows and films as a child and young adult... I also found that listening to the soundtrack of the first Rocky film helped too!
How would you describe the film's look and feel, humour and approach to horror?
Well to describe the look first. This movie was my homage to those great horror shows and films. So I'd have to say I was really going for that Creepshow/TerrorVision look, and I think we nailed it.
Now as far as the feel I was very adamant on stable camera shots then transitioning to handheld as we graduated into the horror and violence of the situation. I called my DP Colten Currey up one day and said "Look we have 30 mins to work with so I want the first 15 to be Facts of Life and the last 15 Breaking Bad." So along with Michael Burciaga's wonderful editing, Luis Javier Obregon's chilling score and Brandon Hickey's badass sound editing I believe in a nutshell that's what we got.
The humor of the film is a combination of my writing and brilliant comedic timing from a talented actors.
The horror aspect of the movie and its approach to it I would have to say is a bit light-hearted. Although there is some gore and violence it is not really going to scare the shit out of you,but it does aims to entertain and that's exactly what I intended. We set out to make a fast paced movie that's fun to watch, but doesn't insult the viewer.
You of course have to talk about your film's creature and creature effects for a bit? And are you personally a fan of creature features?
Ollie (Sea Critter) as we like to call him around my house (Ollie suspends above the livingroom television in my home) was designed using my concept drawings by the amazingly talented Matthew Wriston. When I say talented I mean fucking talented! The guy went out, bought $50 worth of materials and created a 4ft sea creature in record time. My hat's off to the guy and we will definitely collaborate in the future.
Am I a fan of creature features?
What do you think brother?
Your film stars horror veteran Lynn Lowry in a rather hilarious role. So how did you get her, and what was it like working with her?
Lynn had contacted me on my Facebook studio page in the fall of 2012 and asked if I had any roles to consider her for? Now of course I am like wow! Lynn "fucking" Lowry wants to work with me??? As enthused as I was at the time I had written two feature screenplays, but really had nothing that I thought would fit her. So I said sorry Lynn, but if I start something new with a female lead or supporting role you will be the first one I contact... Late one January morning 2013 I wake up with a wild hair and banged out a 50 page script in two days. I emailed Lynn and said I want you to read this. Now I was a bit hesitant about approaching her with the role for the plain fact that Lynn Lowry is as sultry as ever and I am asking her to play an absent-minded grandma. So what I did was sweeten the pot by letting her know she would be the heroine of the movie and that with acting senile I would allow free range to improve and take the character to a whole other level. She took the part and did exactly that.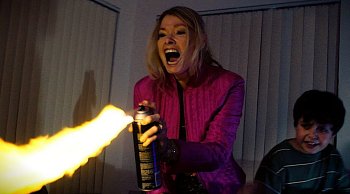 Lynn Lowry, Sean Laguna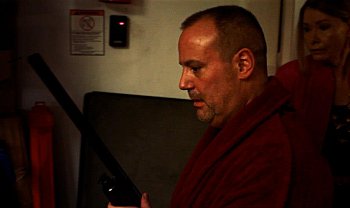 Joe Mannetti, Lynn Lowry
Working with Lynn was great. She brought so much energy and experience to the table and every scene she was in was just powerful. We both agree that we make a good team and will definitely work together again in the future.
Do talk about the rest of your cast for a bit, and why exactly these people?
Well Lynn was the first one I contacted for the project, and Joe Mannetti [Joe Mannetti interview - click here] was my number two person. Joe and I had met on a brain storming conference call in the summer of 2012. On our personal time we would talk for hours about old films and possibly working together. I knew he was a great actor and was always my first choice for Don O'Conner (note the three adult O'Conners are named after famous O'Conners).
Gora Chand Saha sent me a video from Bengal India asking for a chance to be in my movie... I think he is hilarious and has potential to be the next YouTube sensation, so I said okay!
Sean Laguna was always my first choice for young Toby. I caught some of his acting clips on YouTube and I felt he had that 80's kid look about him.
Now the rest of the absolutely brilliant cast was put together perfectly in my opinion by Mr. Rob Edwards whom also plays our sheriff in the movie. Stacie Stocker, Rj Markham, Caitlin Herst, Tyler Gallant, Patrick Giglio along with Edwards gave top notch performances which has in turn garnered rave reviews for the movie.
What can you tell us about the shoot as such, and the on-set atmosphere?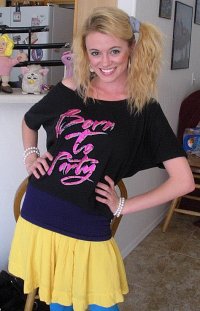 Caitlin Herst
Night of the Seamonkey was shot in only 4 1/2 days, and because of scheduling conflicts we only had certain actors for a certain amount of days or time. That's how it goes when you make movies sometimes... Now when limited on time you have to work with an on-the-ball crew and this whole movie's look and feel wouldn't have been possible without the True Grip team of Colten Currey, Doug Sampson, Rachel Watrous, Jack Schwitz, Jaymison Broyles and Kevin Ashton. Our location was a 5 bedroom residence in Gilbert AZ owned by our property manager Richard Weil. The location served as temporary home for some of the cast and crew including Ms. Lowry and myself. The on-set atmosphere was that of family. Everyone got along great and there were no egos clashing about... Now I can't say there weren't times of tension. We had less than a week and a house full of cast and crew working long hours. I have to thank Dean "House" Johnson of our transportation dept who acted as my full time driver and partime shrink. Thanks big guy! Ricardo J. Vasquez my producer was also there to take care of the actors and even headed our practical effects dept. Great job!
Will there ever be a Seamonkey II - and other future projects you'd like to share?
If a studio came calling for a sequel or perhaps a full length feature of the original I would sign on only and I mean only if my vision remains intact... if not I take my ball and go home.
Other projects on my plate include an epic biker/revenge flick I co-wrote titled The Fallen One. It boasts a huge list of really cool names that have read the script and want to be attached. Currently the project is seeking an investor... so If you're reading this and happen to invest in films, you know what to do. I also have an overseas project titled 6Dana 66Godina that has horror icons Geretta Geretta and Bobby Rhodes of the Demons-films attached along with a paranormal series I am co-producing that should be out later this year, and two more shorts that I promise will be a frightening good time.
What got you into filmmaking in the first place, and did you receive any formal training on the subject?
I've wanted to make movies all my life, but had lacked the confidence and courage to do so. I guess I had made the great compromise and shelved the idea years ago. Well one day I was watching this independent movie on a cable channel. It was low budget, but very ambitious and I could truly see the passion behind it. At the end of the movie I caught the director's name and wrote it down and some time a year later I friended him on Facebook. I told him that watching his film inspired me to go after my dream of making movies. I asked him "What do suggest I do?" He goes "So you want to make movies? Well go out and make a fucking movie." It hit me like a bolt of lightening. He wasn't being sarcastic. He was saying drive through that first gate and the rest will open up for you. Three years and lots of lessons later I am speaking with you about a movie I have made and that's super cool!
Thanks Sam!
Formal training?
No school. Just a working stiff making movies I would like to see. Cheesy as all hell, but true.
What can you tell us about your filmwork prior to Night of the Seamonkey?
Night of the Seamonkey was my directorial debut.
My other credits are as a co-producer and writer.
How would you describe yourself as a director?
Still learning,b ut plan to get better with time and experience.
Filmmakers who inspire you?

Feeling lucky ?
Want to
search
any of my partnershops yourself
for more, better results ?

The links below
will take you
just there!!!

Find Michael S. Rodriguez
at the amazons ...

amazon.com

amazon.co.uk

amazon.de
Looking for imports ?
Find Michael S. Rodriguez here ...
Something naughty ?
(Must be over 18 to go there !)

Oh boy that's a long freakin list, but I'll throw out a few. Bava [Mario Bava bio - click here], Fulci [Lucio Fulci bio - click here], Carpenter, Romero, Cronenberg, Kubrick, VanBebber, Akina,and I am leaving so many greats out. Like I said, freakin long list.
Your favourite movies?
I am across the board with genres.
All that Jazz, Night of the Hunter, The Gunfighter, Seven Brides for Seven Brothers, Night Patrol, Super Fuzz, Once Were Warriors, Raging Bull, Saturday Night Fever, Rocky, Dawn of the Dead (original), Halloween (original), Reform School Girls, Hell Night, Demons 1 & 2, Carpenter's The Thing... it goes on for days
... and of course, films you really deplore?
Remakes for one and found footage is starting grow wary on me.
Anything else you are dying to mention and I have merely forgotten to ask?
Love you Mom!
Thanks for the interview!