You are currently developing a Popeye the Sailor-featurette - in a few words, what's it going to be about, storywise?
Yes, That is currently the plan. There is a script written for one. There is also an idea for another short.
The basic idea for the featurette is, we will be re-introduced to all the popular characters in Popeye's world:
Olive, Pappy, Bluto, Wimpy are all there other than Swea Pea. You also get to meet a few other characters that the general public doesn't really know about, Such as Harold Hamgravy, who originally was the fiancé of Olive Oyl, as well as Roughhouse who owns The Rough House, which is hinted at in the teaser where you see Popeye exiting.
How will your approach to the character differ from previous adaptations of the character, and - to turn the question right on its head - which adaptations inspire you the most?
My take on Popeye won't be what I think people would assume. My plan is to take Popeye and ask the question "What if he existed in the world? What would he be like?"
Popeye is more of a loner and is actually on his own personal journey searching for answers from his past. The character is younger, around his early 30's, compared to Popeye in the comics and cartoons who is in his 70's. The feel is more urban and grittier. A lot like the older comics where Popeye was a lot tougher, back when he cursed and never hesitated kicking someone's ass. That urban feel the Fleischer cartoons had as well. Him depending on a can of spinach to win the fight is gone. Though spinach is part of his everyday diet. Popeye doesn't live in the late 1920's-1930's like in the Altman movie or the cartoons. This Popeye is modern and lives in this day and age.
Any sources of inspiration besides Popeye-comics and films?
Not Really. The original comic strips, the Fleischer cartoons and living in New York is inspiration enough.
You have shot a quite impressive 3 minute-teaser for your Popeye-adaptation. Want to talk about that one for a bit?
Thank you, I appreciate that. The teaser was never really planned but I had the urge to shoot something. I came up with the idea, wrote it out and roughly story-boarded it within a day. I wanted to show the tone and feel of what I had in mind for a bigger film.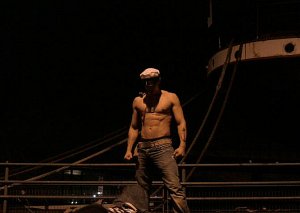 The teaser was meant to be edited a lot shorter and faster, more like a trailer. As I was putting it together, it grew a life of its own as a short. We shot if very fast. About 4-5 hours very late at night. The crew consisted of just 3 people including myself, the other actor and the cameraman, Francisco Torres. He is a professional photographer who had never worked on a movie. I knew this project would be perfect to help him learn about filmmaking. He did a great job with the challenges we had with the weather and time - we were shooting during a huge storm at South Street Sea Port in New York City. If you notice in the teaser, the sky is lighting up. That and the rain is all real. It was a pretty scary night but we pushed through and got a lot done. It was a perfect night to shoot a Popeye-movie.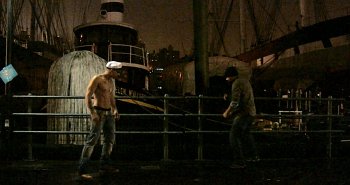 In the beginning of the teaser we see Popeye walking out of a place called The Rough House. The Rough House is not only just a dive of a bar where you can get crappy food and beer, but it's a place where the locals go to watch, participate, and bet on some organized bare knuckle fighting. This will be the setting in the bigger film, but for fans of Popeye I wanted to throw it in the teaser as kind of a wink. As Popeye walks out after just winning a fight, he goes for a smoke but is interrupted by the sore loser he just beat. This was a basic character I came up with called "Bar Brawlin' Boyd" - he's the champ of the Rough House bar fights. So you can understand the frustration he has for some guy no one has ever seen or heard of coming into his domain and kicking his ass.
There is one other character in the teaser other than Popeye that is from the earlier comics. I dont think anyone will really realize it, but the bird that is shown right before we see Popeye is actually supposed to be a hint to a character called Bernice the Whiffle Hen. Bernice was actually the original source of Popeye's strength before it became spinach.
The fight scenes in your Popeye-short look quite impressive. How were they achieved, and do you have a background in stunting, fight choreography, martial arts, whatever?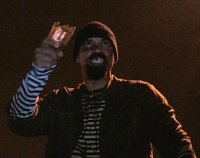 Luis Orlando Candelario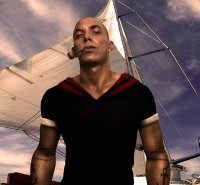 Michael Valentine as Popeye
The fight scenes were so much fun! I wish I could take the credit and tell you I'm some kind of ninja who goes off and beats bad guys at night. (Batman is my other obsession) - however, the credit goes to a good friend of mine, Orlando Candelario who I've worked with on a previous film. He is a stunt coordinator and martial arts expert. He trains in a lot of different styles of fighting. I told him the idea of the short and before I could finish he was already on board. He not only coordinated the fights but he also plays Bar Brawlin' Boyd.
We trained only a couple of hours for the fight scenes and came up with the rest on the spot. We had to move insanely fast because of the storm we were in the middle of.
I can tell you, the teaser wouldn't have turned out as great if it weren't for Orlando.
You have chosen to play the role of Popeye yourself. What, in your eyes, makes you the right man for the role, how do you approach your character, and what can you tell us about your background as an actor?
I've always been an "actor". Since I was really young I always had the ability to mimic voices or impersonate different characters. I've always been very animated. I didn't go to school for acting or film. I learned what I know just by choosing to do. You want to know how a camera works? Grab one and go learn! You want to be an actor, go act! So now, I don't just act but I direct, shoot, edit, cinematography, effects, story board, character design, make-up, make sandwiches, mix kool-aid.
As an actor I love projects where I can play totally different people who are unlike myself. Popeye would be one of those. He's a challenge. I would say I chose myself to play Popeye out of convenience and honestly out of that feeling of when you're a little kid and you want to be Superman or Batman and you tie the towel around your neck and run around your house kicking your cat who you've made up to look like the Joker. He's such a great character I think any actor would crazy to not want want to play Popeye.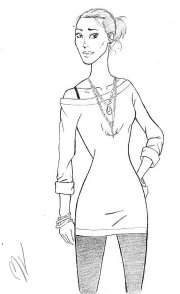 character design for Olive Oyl
Anything you can tell us about the rest of your projected cast yet?
I have a few actors who are on board and they are great. I'm very excited for people to see what they will do with these characters that will be new and different but stay true to the spirit of who the character is. There are a lot of characters in the featurette, so casting will take some time.
Might be way too early to ask, but when and where do you plan to release your Popeye the Sailor-featurette onto the general public?
First I have to say, Popeye is a character owned by the Hearst Company. In no way can I profit from the character. Nor would I want to. I'm just a fan taking a character he loves and showing him from a different perspective. This is a passion project for me.
A big reason I've chosen to do a Popeye-film is because Popeye has been out of the public eye for so long that there are now generations of people who don't even know who he is. That makes me sad. A character like Popeye shouldn't be allowed to fade. So with these shorts and featurettes, I'm just trying to help bring him back into the light.
The plan is to get it done, premiere it and then show it off online hopefully by the end of the year.
If your Popeye-movie catches on, could you see yourself sticking with the character for some more films?
I would have to think about it. I also want to play Batman and James Bond too ...
I would play Popeye till I'm 70. And even then I would still be the right age. The dream is for it to catch on and be successful and hopefully the Hearst Company and King Features (owners of Popeye) will want to work together with me on something. Maybe something online like the Mortal Kombat: Legacy web series. That would be great if something like that happened.
A very basic question: Why of all characters Popeye, and what can you tell us about your personal relationship to the character?
Popeye is my oldest memory of something I loved and the first character I remember drawing. I was born in 1980, the same year the movie was released. At the time, The All New Popeye Hour was also on TV every Saturday morning. So Popeye was always around but I would say the biggest influence was probably my Mom. She was also a fan of Popeye.
I don't remember how old I was exactly, I want to say 2-3 years old and I was always drawing. She was a big fan of art but not an artist herself. I remember us sitting at the edge of her bed and me asking her to draw Popeye for me. She said ok, but I'm not going to draw him the way he looks. I'm going to draw him the way I draw him. I'm 32 now and I can tell you ti this day I still remember the way she drew him. It was crude and amateur but unique, different, and more importantly, hers. That very small moment has always stuck with me because as I grew into an artist and illustrator I always did it my way. I never copied what everyone else did - so even though it may seem like a small thing, Popeye helped mold me into who I am.
As I was getting older my love for the character grew. I started appreciating the different incarnations throughout the years. Always searching through the newspaper collecting the strips, asking my Mom and older sister to buy me anything Popeye-related.
Then I remember discovering the original Fleischer-cartoons. The animation was mind-blowing at times. The characters were so vibrant and full of energy. They were action packed and hilarious. Popeye also seemed to live in the urban jungle of New York, just like I did. Nothing will beat what the Fleischers did. They brought Popeye to life. They gave him a voice. And to this day every incarnation of Popeye is influenced by what they did, including my version.
What got you into filmmaking to begin with, and did you receive any formal training on the subject?
I've always been a dreamer. I've been filmmaking since I was about 11-12 years old. Back then I didn't know anyone else who did it where I lived. I grew up in the Bronx in New York City. During the 90's. It wasn't a great place to live. Drugs were everywhere - especially in my neighborhood. I grew up in a poor family, raised by my Mom, Sister and Grandmother. So as a boy who had adventure on his mind, being stuck inside was never an option. If I wasn't home watching cartoons I was outside, jumping rooftops, taking train rides, creating my own adventures. One year my sister had purchased a Sony camcorder. This thing was massive and recorded on VHS tapes. Once I got my hands on that thing I knew what I wanted to do. I wanted to make movies. My friends became my actors and the city was my set. Fast forward years later and I have worked with so many talented filmmakers on so many great projects.
What can you tell us about your filmwork prior to Popeye so far?
I've worked on a number of short films, features and music videos. I've worked on other fan films you can find all over the web. One being Batman Beyond: The Lost Fan Film. Also Joker's Reaction.
I have a series called WITHN that I stopped working on a while ago but may be starting up again sometime soon. It was a project where I wanted to test how much I could do on my own. It was a true test to my filmmaker abilities.
You can find these films on my youtube channel: http://www.youtube.com/user/VALENTINEproductions. My most recent feature work would be a film called Trust, where I play a British ex-boxer who's down on his luck and on the verge self destruction. It was a great role to play. The character's name is Evil Englishman Eddie. It was an ensemble piece and I play 1 of 6 main characters.
I also worked on a feature called Siodmak where I play the title character. It's a little bit of horror a little bit of action. A big character piece. I also did some very cool posters for the movie which you can find at the website and also the trailer: http://siodmak-film.com.
Any future projects beyond your Popeye the Sailor-featurette you'd like to talk about?
Popeye has been something I've been focusing on for quite some time now. I am considering doing another teaser type of thing with Popeye.
I am currently working on an action movie I'm hoping to film at the end of the summer. I also have a Charlie Chaplin/Tramp short film I'm working on to be shot in the winter. It will be very physical. Like the original Chaplin films, there will be no dialogue and it will rely strongly on body language. A couple of comedies I'm writing. A Batman fan film not really about Batman ... That's all I'll say.
How would you describe yourself as a director?
A pain in the ass. I like a lot of takes. I'm very specific about what I want. At the same time I'm very open to the ideas of others. Luckily I act as well, so I can relate to other actors I'm directing. I think that helps. A good director needs to have a vision and know what he/she wants. Trust your actors and let them do what they do best.
Filmmakers who inspire you?
Charlie Chaplin is a HUGE hero of mine. His movies were so ahead of the game. I just love what he could do visually, without ever having to say a word. He is someone I can relate to as well because he wore a lot of hats on his movies. He wasn't just the director and star.
I love directors that don't just sit in a chair. Robert Rodriguez is someone else that comes to mind. He directs, shoots and even scores his films.
Your favourite movies?
There's so many!
I'll try... The Crow, Fight Club, Casino Royale, Mrs. Doubtfire, Citizen Kane, City of God, Back to the Future, Who Framed Roger Rabbit, The Kid, A Clockwork Orange. I LOVED The Artist! Cartoon All-Stars to the Rescue (if you haven't seen this, you need to!).
... and of course, films you really deplore?

Feeling lucky ?
Want to
search
any of my partnershops yourself
for more, better results ?

The links below
will take you
just there!!!

Find Michael Valentine
at the amazons ...

amazon.com

amazon.co.uk

amazon.de
Looking for imports ?
Find Michael Valentine here ...
Something naughty ?
(Must be over 18 to go there !)

I want to say Batman and Robin but honestly I watch it a lot more than I should.
The Twilight-movies are just such a disrespect to vampires and filmmaking.
Adam Sandler-movies in the last 10 years.
Hancock. I love Will Smith but I hate that f*&%ing movie.
Your website, Facebook, whatever else?
Everyone can follow me for updates on my Popeye project:
http://www.facebook.com/VALENTINEproductions
http://www.youtube.com/user/VALENTINEproductions
http://twitter.com/#!/micvalentine
Anything else you are dying to mention and I have merely forgotten to ask?
Nope.
Actually, People have been asking me for a couple of years now, why do I wear skinny jeans?
The answer: Because I can!
That's all I got. Thanks so much, such a cool website.
Thanks for the interview!