Your new movie Axe to Grind - in a few words, what is it about, and what can you tell us about your character in it?

Axe to Grind is a fun movie about a group of filmmakers and actresses who show up to a broken down old mental hospital to shoot a horror film called Butchers of Bayou and discover that something is WAY OFF, as they get picked offóone by one.

I play Cheryl, who is a bit of a red lipstick, smack-talking smartass dominatrix. (NO, there is no gratuitous dominatrix hoo-hah!) Sheís a bit of a hard-ass who getsÖ broken down.

What did you draw upon to bring your character to life, and how much of Michelle Tomlinson can we find in Cheryl?

I am in love with my imagination. Clearly, I am not a dominatrix type, but I am one fantastic lip-gloss wearing smartass! I go through the script and take note of what the author says about me, what other characters say about me and what I say about myself. I like to figure out where and how I relate to a character and where I donít. From there, I expand on what I donít relate with through my imagination and story build my characterís life so I can weave it all together in my mind and do my very best to bring the character to life through the script.

How did you get involved with the project in the first place?

The executive producer and writer Scott Sanford [Scott C. Sanford interview - click here] had originally approached me, via Facebook, about a year before the film was shot. As time went on, Matt Zettell (with whom Iíd worked on The Cellar Door) and Skye Borgman (with whom Iíd worked on several projects, including The Cellar Door) were brought on the production team and everything fell into place when funding came through for Scott. Luckily, I was able to stay attached to the film over the course of that year and found myself working with some beautiful and familiar faces.

To what extent could you identify with the Axe to Grind's brand of comedy?

I absolutely love that old school one-liner tongue-in-cheek comedy!

What can you tell us about Axe to Grind's director Matt Zettell, and what was your collaboration with him like?

Matt is what is called an ďactorís director.Ē Heís gifted at bringing out the best in his actors. He knows how to speak to us, relate to us and guide us into the emotions of a scene. Heís open to discussion about character and is extremely flexible about letting us bring our work forward. I absolutely love working with him. Since I had the gift of working with him previously, I about did back flips when I knew for certain Iíd be working with him and Skye in Axe to GrindÖ Heís incredibly well-versed in all areas of filmmaking and is awesome at setting a positive tone on shoot days.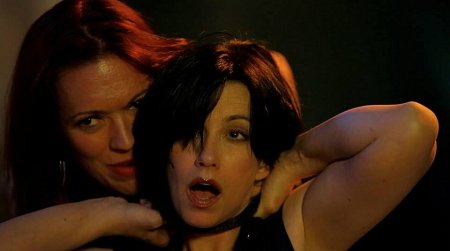 Michelle with Debbie Rochon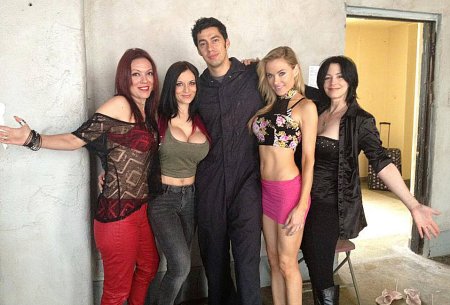 Michelle, Dani Thompson, Adrian Quihuis, Paula Labaredas, Debbie Rochon

A few words about the shoot as such, and the on-set atmosphere?

It was an intense shoot because the entire length of the movie was shot in VERY LITTLE TIME. There wasnít time for 32 takes of a single thing so we had to rock it out the best we possibly could. That kind of challenge is also what made shooting it a lot of fun! Everyone kept their cool, had fun, shared giggles and worked hard. Debbie Rochon [Debbie Rochon interview - click here] is amazing to work withóthat girl comes prepared and ready to kick some ass. She had a ton of dialogue to carry and she did so, with grace and professionalism. Everyone brought hard work and dedication to the set. Then you have the light-hearted Adrian Quihuis, who can bring comedy to pretty much any situation. It was a fantastic combination of super cool humans, all around.

Any future projects you'd like to share?

I am currently working on getting the package and funding together for The Cellar Door 2: Preymates. Itís the sequel to The Cellar Door and I couldnít be happier with the script and how things are going. Producing a feature film is a WHOLE new bag of crazy, as compared to my little talk show An Intimate Look with Michelle TomlinsonÖ but it is also very inspiring and I do like a challenge!

What got you into acting to begin with, and did you receive any formal education on the subject?

When I was a little kid, I enjoyed doing a few plays here and there but never thought about the real possibility of pursuing acting. When high school hit, I was heavily involved with video productions and learned a ton of behind the camera technical goodies. (Thank you, Leslie Doran!) When I hit college, I took a Theatrical Make-Up and a Beginning Acting class for kicks.

It was those two classes that caused the acting bug to bite me straight in the tukkus. I did get my BFA in Theatre Performance from Eastern New Mexico University and have since studied with several amazing teachers in Los Angelesóas well as becoming an acting coach myself.

Can you still remember your first time in front of a movie or TV camera, and what was that experience like?

Totally! I had no idea what the hell I was doing! I was in college and I was cast in the first feature film the school had put together. I had an absolute blast, but I had ZERO idea what it meant to be in front of the camera. I was playing a super pissed off wife to a guy who had cheated on me or something. I was supposed to break a plate by smashing it against a sink while going off on him during a monologue. The plate did not break and I dented the steel sinkÖ So I guess you could say I got off to a pretty hilarious start.

What can you tell us about your filmwork prior to Axe to Grind?

I have had a really cool time crossing the streams of different genres. I have done a few super fun horror flicks: The Cellar Door, Brain Dead, Georgeís Intervention, My Undeadly and Alien Vengeance: The Other MeÖ and dramas: Officer Down, Indelible, Road to the Open, Undercurrent, Backfire and Kung Fu FemmesÖ and comedies like Pathetically Cheap Adventures of X-Tra ManÖ Itís been an awesome ride to have fun with acting in general and attacking various characters, styles and genres.

Do talk about your production company Mighty McT Productions for a bit, and the philosophy behind it?

First, I do have to give credit to my girl Kimberly Amato for giving me the fun nickname of Mighty McT. She gave me that nickname when I was in the midst of going through a delicious slice of hell in my personal life. Itís a nickname that stuck, because of her constant reminder that I could get through obstacles. When it came time for me to create a name for my own production company, it just made sense to call it Mighty McT Productions. Itís named after a nickname about getting through obstacles and coming through the other side.

Sometimes, wellÖ OFTEN times and MOST of the times, we hit a lot of obstacles in producing our own projects. And thatís part of the game and part of what makes it so enriching in the end. Sometimes, when I hit obstacles in producing, I go back to Amato giving me that nickname and remember that itís all going to work out.

You're also an acting coach, right? Care to elaborate?

I am and I love it! Being an acting coach rocks. Itís amazing to be of service to someone else, in general. Itís an honor to be a part of someone elseís journey and see people succeed at their dreams. I have people of all ages and levels and every single one of them ROCKS. I love seeing what happens in a studentís eyes when suddenly they have their ďAHAĒ moment. Itís the most endearing look and incredibly inspiring. I love, love, love coaching.

How would you describe yourself as an actress?

Iím someone who loves a challenge, loves to work hard and loves to take chances with a character, as long as it feeds the story. I am in love with the work.

Actresses (and indeed actors) who inspire you?

First and foremost, my students. And for everyone who just rolled their eyes when they read that, IT IS TRUE!

I am greatly inspired by so many actors, itís insane. Emily Bett Rickards is killing it in Arrow right now. Angelina Jolie from her Gia and Girl, Inbterrupted days rocked my socks. Jodie Foster and Meryl Streep in any single one of their films is always spot-on. Connie Britton in Friday Night Lights, American Horror Story and Nashville = stunning performances. Tina Fey has some of the best comedic chops in the biz. David Tennant and Matt Smith were both amazing Doctors in the Doctor Who-series. BENEDICT CUMBERBATCHÖ Do I need to say anything more about him?? He is FLAWLESS in every single thing he touches. Flawless. Jensen Ackles and Jared Padalecki are the best brothers on the CW in Supernatural, Steven Amell kills it as the Arrow and Grant Gustin is fun to watch as the Flash. I could literally write for hours about the people who inspire me.

Your favourite movies?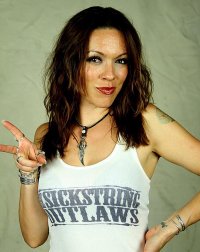 Feeling lucky ?
Want to
search
any of my partnershops yourself
for more, better results ?

The links below
will take you
just there!!!

Find Michelle Tomlinson
at the amazons ...

amazon.com

amazon.co.uk

amazon.de
Looking for imports ?
Find Michelle Tomlinson here ...
Something naughty ?
(Must be over 18 to go there !)

I have too many. ;)
I love What Dreams May Come, starring Robin Williams. Itís a heavy drama about life, death, heaven and all the things in between. Itíll make you laugh, cry, angry and cheer again for the possibility of hope.
On the total opposite end of the spectrum, I am an old-school action flick fan. All of the old Die Hard and Lethal Weapon flicks are my forever favorites. Therefore, I love The Expendables. From the world of recent horror, I dig the American remake of The Ring. For some reason, I always lose sleep when I watch that flick. ButÖ Freddie Krueger will likely always be my favorite killer in a slasher flick.
... and of course, films you really deplore?
I canít think of one that I feel that violently againstógetting a feature film made is so frigginí challenging that I respect that people are getting them done. I canít stomach it when thereís a bad script and poor casting choices or out of sync sound or editing snafoos. But I canít think of a single film that I have seen that has ALL of those properties.
Your website, Facebook, whatever else?
My main site: http://michelletomlinson.net.
You can find me on Facebook, Twitter and Instagram through my site.
To check out my Interview Show: http://michelletomlinson.tv
Anything else you are dying to mention and I have merely forgotten to ask?
I will wait until you publish this then come back with a proper answer. ;)
Just kidding. This was a fantastic set of questions, thank you so much!
Thanks for the interview!
Thank YOU, kind sir! Iím thrilled to be included on your site. J