From the sound of it, your upcoming movie First Man on Mars can be categorized as a creature feature - a favourite genre of yours, and some of your genre favourites? And (other) sources of inspiration when dreaming up First Man on Mars?
I do love a good creature feature, and the 1967 film Equinox is probably the greatest source of inspiration for First Man on Mars. The first movie made by future special effects greats Dennis Muren, David Allen, Jim Danforth and others, Equinox was truly a no-budget (6,000.00) labor of love which stressed special effects over script/acting, and while I believe that a film must have a decent script first and foremost, I'm willing to overlook this when I think about Equinox. If you haven't seen it, it's on Hulu now and elsewhere online. One of the incredible things about the film is that it was shot using a Bolex wind up 16mm camera, which is amazing to me. The stop motion animation is great and the in-camera effects like forced perspective are superb. If any aspiring filmmaker out there is lamenting the fact that they don't have enough money to make a film, check out Equinox and you will be inspired! Classic low budget films such as The Incredible Melting Man, Night of the Blood Beast and First Man into Space served as direct inspirations for First Man on Mars as they all have to do with astronauts in space who come back as monsters of some sort. I always thought that was a cool sub-genre and I think that our film will be a fitting homage to those movies.
What can you tell us about your co-writer Christian Walker, and what was your collaboration like?
Christian made a very good short film for the last feature I produced, a horror anthology entitled Creepers (www.creepersfilm.com) and it just so happened that I was pondering First Man on Mars when he called me out of the blue asking if I had anything cooking. I said yes, I was frying up some cube steaks, so after some confusion I realized he was asking if I had any new films in the works and we started talking about First Man on Mars. He's on board as co-writer, co-producer, 1st A.D. and actor and he's been an enormous help on the film thus far.
A film like First Man on Mars seems to demand quite some special effects work almost by design - so what have you planned for your movie?
This movie is loaded with practical visual effects and special make up effects. We are using miniatures, green screen, stop motion animation and a variety of "old school" methods (read NO CGI) to create First Man on Mars. This complements the fact that we are shooting on super 16mm film with cinematography duties helmed by my good ol' fiend from the northwest John Woods, a guy who I made super 8 horror films with back in the high school-junior college days of the early 80's! We will probably have a short film we made called Mutilation Maniacs as a bonus on the DVD/Blu-ray release, a super 8 movie which could be seen as the original concept for First Man on Mars.
Since you call First Man on Mars a "science fiction horror comedy" - what can you tell us about your film's brand of humour?
Absolutely going for Corman-Troma in this one [Roger Corman bio - click here]. A lot of outrageous humor and twisted gore along with a very funny, dialog-driven script.
Do talk about the intended overall look and feel of First Man on Mars for a bit?
60's - 70's style science fiction-horror with a drive-in movie flavor. The super 16 format lends itself very well to the look and feel of First Man on Mars.
Any future projects beyond First Man on Mars you'd like to share?
I still have a feature called Scath in the wings with collaborator Jean Stallard, a period piece horror film which takes place during the devasting yellow fever outbreak in 1850's New Orleans. This is a much larger budget film and I anticipate pre-production to commence in September, 2015.
What got you into filmmaking in the first place, and did you receive any formal training on the subject?
I took a few junior college classes back in the day, but I think filmmaking (along with many other art forms) is something you just have to do yourself and gain from experience. While I can appreciate the university courses and so forth, I think a lot of people who go through that system end up being technocrats rather than artists.
What can you tell us about your filmwork prior to First Man on Mars?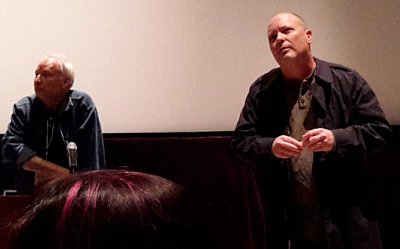 Joe R. Lansdale and Mike doing a Q&A at the
Nacogdoches Film Festiva 2015
As I said I just wrapped up producing the horror anthology film Creepers, of which I made one of the segments called By the Hair of the Head, based upon the short story by Joe R. Lansdale [Joe R. Lansdale interview - click here]. It showed at several film festivals, the last one being Nacogdoches in February where it was seen by none other than George R.R. Martin who was the featured guest. I did a Q&A after with Mr. Lansdale and it was a very enlightening experience.
You have been making indie movies for quite some time now - so how has the "business" changed over the years?
When I started doing features back in the 90's, it was a different world entirely. The name of the game for low budgets was Blockbuster Video and worldwide foreign distibution. Today I see many filmmakers bypassing distributors and doing self-distribution which I've done for my last two films Creepers and Horror Anthology Movie Vol. 1 (www.horroranthologymovies.com). Self distribution makes life more difficult, but it pays far better than most distribution deals you are going to get. For example, on an average DVD sales deal from a genre distributor you might expect 2-3 dollars a disc net, but if you do it yourself you can produce the DVD's for 1.50/ea. and net 10 or 15 dollars a copy. Huge difference. Sure, you might only sell 300 DVD's yourself while a distributor might sell 1000, but you're still making more money net on the 300 you sold yourself. Of course there are avenues like Distribber who can get your film into other markets, but get ready to pay out some $$$ on the front end.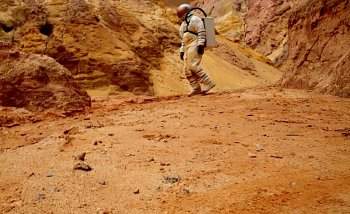 Most of your films are of the horror variety - a genre at all dear to you, and why (not)?
Horror, science fiction, comedies - those are the genres I like for making films, but I'll watch any film if it's interesting enough. I love science fiction-horror and horror comedies because it gives you a chance to get out of your human self and into a mutated state where you can conceive of and create a reality that simply doesn't exist in real life. There's a creative charge that wouldn't exist if I was making a straight drama or comedy for example.
One also has to mention that over a five year stay in South America, you have compiled over 100 live indigenous and traditional music videos for Howling Earth - so you obviously have to talk about that project!
Back in 2005 I went down to Venezuela to work as a veterinary tech volunteer at a large animal shelter. After two months I ended up touring around the country with a few friends and we discovered that Venezuela had amazing music, whether it was street musicians, college students or professionals, so decided we'd come back and start recording music in South America. We formed Howling Earth and over the next few years we'd be there for 5-6 months recording, then go back home and work for 6 months to get the money to return for another 5-6 months. We ended up recording quite a few amazing groups and musicians until we ran out of money and steam. But my last trip to Peru was momentous. I met a Peruvian girl and we ended up getting married here in the States, and now Rubi does costumes and helps me with special make up effects on my films. We may end up moving back there one of these days...
Filmmakers who inspire you?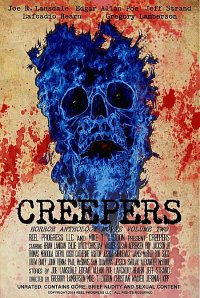 Feeling lucky ?
Want to
search
any of my partnershops yourself
for more, better results ?

The links below
will take you
just there!!!

Find Mike Lyddon
at the amazons ...

amazon.com

amazon.co.uk

amazon.de
Looking for imports ?
Find Mike Lyddon here ...
Something naughty ?
(Must be over 18 to go there !)

David Cronenberg, Dario Argento, John Waters, Don Dohler, Roger Corman [Roger Corman bio - click here], early Peter Jackson, William Friedkin, Dan O'Bannon, John Carpenter, Ken Russell, Murnau, Lynch... I could go on.
Your favourite movies?
Naked Lunch, The Conversation, Dr. Caligari (1990), The Exorcist, Forbidden Planet, The Day the Earth Stood Still (original), Bucket of Blood, Rosemary's Baby, Suspiria, Deep Red, Pontypool, Alien, both versions of The Thing, Rocky Horror Picture Show, Flesh Gordon, Cosmopolis, Maps to the Stars, Beasterday, Martyrs, Duck Soup, Animal Crackers, Invasion!
... and of course, films you really deplore?
Housebound, Babadook, Infini, Godzilla (2014), Avengers, Captain America 2, Iron Man 2. Most remakes and sequels. Films loaded with CGI, and ESPECIALLY horror films that use CGI BLOOD! I mean what the hell people, real blood is not that difficult! I do excuse a recent favorite of mine though, a film that is near and dear to my twisted heart called Beasterday. If you haven't seen Beasterday, you haven't lived! And if you see Beasterday, you may die! Of laughter that is, because it's the most hysterical, non-sensical, silly ass movie I've seen in a long, long time. The monster is a sight to behold...
Your/your movie's website, Facebook, whatever else?
First Man on Mars - https://www.facebook.com/firstmanonmarsmovie
Creepers - www.creepersfilm.com
Horror Anthology Movie Vol. 1 - www.horroranthologymovies.com
Thanks for the interview!