Your new movie So, You're the Guy? - in a few words, what is it about?
A guy named Bobby Stallion enters a men's room at the wedding venue he himself is about to get married in. A few moments later, another gentleman, named Paulie Smith, enters the same men's room. Eventually it is discovered that Paulie, in fact, is the ex-husband of Lily, Bobby's bride-to-be. Even more levels of intrigue are revealed.
What were your sources of inspiration when writing So, You're the Guy?, and is any of the movie, however remotely, based on personal experience?
The piece was originally written for the stage as part of my friend Michael Gonza's Play in a Day Festival out of Natick, Massachusetts, USA in February, 2017. For me, I believe the men's room should be a quiet place with as little speaking between men as possible. It throws me off my game when people speak to me in the men's room; they should not do that. I prefer a single server. So, I wanted to make a film that showed a very compromising conversation between two guys in the most intimate of areas.
With which one of the two leads in So, You're the Guy? do you actually identify with more, and why?
I identify probably more with Paulie Smith because he's the guy who's been "replaced" by the "new model " and is bitter about it. But I do also empathize with Bobby's compulsion to wash his hands and his search for privacy.
So, You're the Guy? was entirely shot in a public restroom - so how limiting and maybe also liberating was it to film there, and what were the main challenges keeping things visually interesting throughout with this limitation?
We had access to the men's room uninterrupted to ourselves for the day. Robert John Canelli (Bobby in the film) is also a producer and secured us a great location for the day. The challenges were really that we did not have a lot of physical space for much of a crew, so the whole crew is basically Tim Labonte (DP/Editor) and myself, with much of the physical work, including audio, handled by Tim. We had some wall art that we wanted to hang on the walls but were having trouble with them. The room had some issues with echoes that Tim was able to fix in post. For whatever reason, I did not have a great night of sleep, the night before the shoot which was a bit of a struggle for me personally, but beyond that, all went well.
What can you tell us about your overall directorial approach to your story at hand?
My basic approach with this one was to keep it simple and to put the right team together. From the cast, to DP/editor Tim, and to our composer Tony Caramadre, who had some great songs we used that really added something to the piece. I encouraged the actors to run lines together in the weeks leading up to the shoot; the two guys Bradley and Robert are friends in real life, so they did a great job in getting prepared on their own time.
Do talk about your cast, and why exactly these people?
Robert John Canelli is a well respected, retired principle and teacher out of the New Haven, Connecticut area where we filmed. Robert aka "Bobby" is really a great guy and he hosted me and Tim at his house the night before the shoot and really made us feel at home. Bradley Rhodes is a great guy as well who's wife Eunice is a talented actress herself. I just worked with Bradley again on Messier Peace Theater.
https://mikemessier.com/2019/07/25/messier-peace-theater/
You know what is ironic, Michael, if that's the word... I became familiar with both of these fine actors back in 2013 when they both auditioned for a project of mine titled Chris and the Coffee Girl, that has still yet to be produced. I mention this because while it is depressing to me that Chris and the Coffee Girl has yet to be made, it is nice that I've met some good people and made good friends from the mere fact that we even attempted to cast some roles for that piece. When things do not happen as we plan them in the film world, it's easy to get frustrated and even negative, but sometimes the "bigger picture" takes years to develop and these personal and professional relationships we begin "for one thing" end up being used, instead, "for something else". In fact, I dug up below historic photo of Bradley and Bobby from that audition.
https://chriscoffeegirl.wordpress.com/audition-showcase/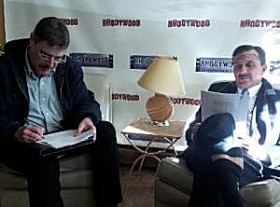 Bradley Rhodes, Robert John Canelli back in 2013
A few words about the shoot as such, and the on-set atmosphere?
It was a pretty relaxed atmosphere with just a total of four guys for the shoot; two actors and two crew. The actors were well memorized so there was not much stress or anything. I think it was just an eight hour shoot to get the 11 minute film shot. Afterwards, we went to Applebee's for a festive, celebratory dinner.
The $64 question of course, where can So, You're the Guy? be seen?
We are currently entering film festivals now, but for those readers of this interview who want to see it, email me at mikemessiermoviemaker@gmail.com subject line: "GUY" and I will send a private link so they can enjoy it.
Anything you can tell us about audience and critical reception of your movie yet?
Not many people have seen it so far but those who have tend to like it.
Any future projects you'd like to share?
I've got several screenplays available, and several of them, like To Fight or Play Basketball, and Also Ran, are award winning, so if anyone reading this has the funds to possibly produce or buy these scripts, please contact me. I also have several short scripts, like the award winning This Cold, Still Place, that are also available.

Feeling lucky ?
Want to
search
any of my partnershops yourself
for more, better results ?

The links below
will take you
just there!!!


Your/your movie's website, Facebook, whatever else?
https://twitter.com/avaloniafest
Anything else you're dying to mention and I have merely forgotten to ask?
First of all, Michael, thanks for your continued support of the independent film artist! To do my part, I am also working with Avalonia Festival IV, which will have a new home venue in December! This is a great film festival for short films 21 minutes and under with a variety of genres for every filmmaker! Those reading this interview can use the promo code "searchmytrash" for 16% off all entries for AV IV!
https://distancefromavalon.com/
Beyond that, I am available as a screenwriter and acting coach online for hire, so if anyone has a need for either of those, please email me through mikemessier.com
Thanks for the interview!