Your new movie The Hollow - in a few words, what is it about?
At its core, for me, the film is really about how human beings have the choice either to master their baser, animal inclinations or be destroyed by them. And how quickly things can spiral out of control when we allow those beasts that live in all of us free reign. The plot deals with a random act of violence in a small town in Mississippi that brings together these tortured, frail, complicated characters, each of them carrying their own baggage and reckoning with demons large and small. Everybody's something of an exposed nerve. It's hard to locate a real "hero", at least in the modern sense of the term. I liked the idea that our two main characters, Vaughn and Ray, are both military veterans and have been "wounded" physically and mentally, that they have not yet come to terms with their past and so cannot fully live in the present. They literally bear scars that have not—perhaps cannot—heal. How do they move past that fact? The landscape, the Mississippi heat, the flies, the wildlife ... in a way, they're all players in a kind of old-school western about redemption and retribution. Maybe it's an exploration of what those two words really mean. I'm sorry. Were you looking for a synopsis?
What were your inspirations when writing The Hollow?
There were a lot of them. Some of them literary heroes of mine. Mississippi, my home state, has quite a literary legacy. William Faulkner, Tennessee Williams, Eudora Welty ... all native Mississippians. In some sense, I was trying to stand on their giant shoulders. The Hollow's Cutler County is maybe my twisted ode to Faulkner's Yoknapatawpha County. It was important to me that the film have a very specific sense of place, that the Mississippi setting, the atmosphere, that it was this tangible force, a character in and of itself. Faulkner's Mississippi always feels that way. Also, I wanted to make a film that felt like those gritty character dramas of the 1970s, especially Sidney Lumet's stuff (Serpico, Dog Day Afternoon). Even the look of the film was an attempt to pay homage to that high-water moment in cinema. More recently, I loved and admired the Coen Brothers' crime dramas, Blood Simple and No Country for Old Men especially. The first season of True Detective was lightning in a bottle. So damned good. I think that was finally the thing that inspired me to sit down and write that Mississippi-based crime drama that had been percolating in my head for a while.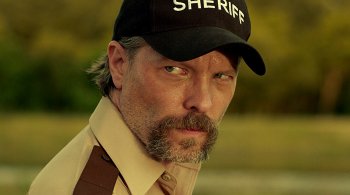 With The Hollow set in the Deep South - how hard was it to find the right locations for your movie, and what was it like filming there, and how did the locals appreciate your portrayal of their town?
Amazingly easy, actually, at least most of them. You hardly ever say something was easy on a film at any level, but finding these locations ... it was; many of them found us in a lot of ways. Growing up in Mississippi, I knew these places existed. I wrote to them, I suppose. Even if I had never visited some of our specific locations before scouting, I knew they were there. I had grown up around them or traveled to so many places like them. I'm so proud of how these locations came off in the film. Some of them, as shot, are even better than they were as written. They just leap from the screen. I think that's a testament to their richness and, of course, to the meticulous work of my extremely-talented DP, Ben McBurnett. We shot in the dead of summer and, despite the fact that it was hot as hell, it worked out beautifully. The sweat you see on actors' faces, on their clothes ... it's real. The flies are real. Summer heat and humidity in Mississippi is oppressive; it makes you feel like you're walking in a steam bath sometimes. That climate gave everybody in front of and behind the camera a little edge that was perfect for the film.
What can you tell us about your overall directorial approach to your story at hand?
You try to write (or get your hands on) the best script you can, to create complicated, fully-realized human beings ... a good script goes a long way. Then I spend a lot of time on casting, locating exactly the right actors. So much of directing is casting. Then I think about how I want the film to "feel". What's its mood? Its attitude? Is it gritty? Slick? I had a very specific "look" in mind (inspired by the aforementioned 70s character dramas). I knew I wanted to use vintage lenses to give the film an aged, raw, imperfect look, like something was a little off. If you're confident in your script and cast and you can definitively answer that "feel" question, I think you're on your way to making a quality film. I just think I had a very clear vision about this film's identity. Most good films really know what they are or what they're aspiring to be.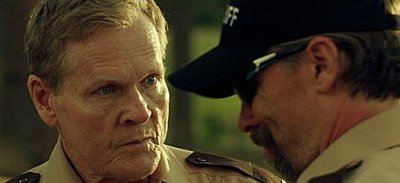 Miles with William Sadler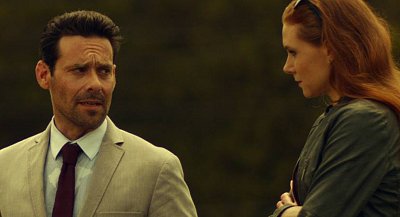 James Callis, Christiane Seidel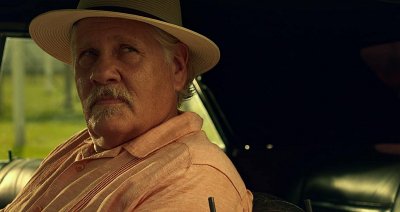 William Forsythe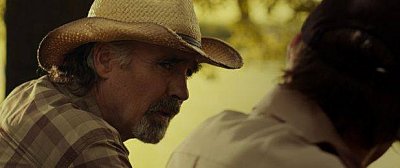 Jeff Fahey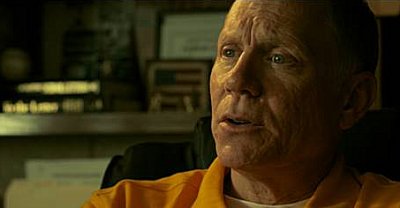 David Warshofsky
You also play one of the lead characters in The Hollow - so what did you draw upon to bring your character to life, and how much Miles Doleac can we find in redneck deputy Ray Everett? And did you write him with yourself in mind from the get-go?
I did not write "Ray" for myself. I actually wrote "Vaughn" (James Callis' character) with a notion of playing him. Then, at some point early in the casting process, my brilliant wife, Lindsay (who was a co-producer and plays "Dinah" in the film) said to me, "You know, have you ever considered playing Ray instead? I really think you ought to play Ray." She was absolutely right. I don't know why I hadn't seen it from the beginning. I guess I was too close to it.
What can you tell us about the rest of your key cast, and why exactly these people?
They're all so good and so interesting as actors.
Bill Sadler, I had worked with before (on my first feature, The Historian). He was brilliant in that film in a very, very difficult role. He's such a pro and a genuinely wonderful human being. I knew I had to have him back on this one.
I had been a huge Battlestar Galactica fan and James Callis' "Gaius Baltar" was my favorite character on the show. When James' name came up, I knew he'd be the ideal Vaughn. I love the way he's able to play the enigma in his acting. You never quite know what makes him tick, where he's coming from. Is he a hero or a villain? Vaughn had to be the perfect shade of grey and I knew James would deliver that, all the while remaining charming and magnetic enough to keep audiences on the hook.
Christiane Seidel, I had seen on Boardwalk Empire and loved how strong and vulnerable she was all at once.
Will Forsythe's work I'd admired for years. He's such a force of nature on screen. I knew I needed that in my "Big John". I needed a man who could snap his fingers and turn the world upside down.
Jeff Fahey I'd been admiring from a distance since Lawnmower Man. There's this wonderful, nostalgic hurt behind his eyes when you watch him work. He's great at playing those wounded characters who have dragged themselves by sheer force of will to the moment you meet them, but they're not quite ready to tell the tale.
David Warshofsky has been in so many great films in the last decade or so, he's been impossible to miss.
What's great about all of them is they give you this fascinating gumbo pot of emotions, expressions, deliveries. None of them are vanilla or predictable. All of them feel formidable and impossible to completely pin down to some specific type. I can't imagine other actors playing any of their roles. They really left it all on the field.
Do talk about the shoot as such, and the on-set atmosphere!
I can just say that everyone was invested fully. They all bought in. The chemistry and energy between the cast was electric. Maybe it was the Mississippi heat.
The $64-question of course, when and where will your movie be released onto the general public?
It will be released theatrically in select cities October 7, with a simultaneous VOD release on all major cable providers. DirectTV and Dish to follow thereafter. DVD/Blu-ray down the line.
Anything you can tell us about audience and critical reception of your movie yet?
Thus far, both critics and audiences are responding quite positively. It's been heartening. You pour everything into a film, especially an independent film. The hope is it actually moves someone in some way.
Any future projects you'd like to share?
I have a couple scripts that I'm very excited about, a psychological thriller ... I think you'd call it an "elevated" horror film and a near-future, action drama that is, in some ways, the retelling of an ancient story. I'm developing both with an eye toward probably shooting the horror film first. They're quite different films and both are quite different from The Hollow and my previous film, The Historian. While I think there are themes that I'll always be interested in exploring, I don't want to keep making the same movie. I want every one to feel like it's a completely different animal.
What got you into acting in the first place, and did you receive any formal education on the subject?
I saw Raiders of the Lost Ark when I was 6 years old. I was never the same after that. I knew I had to do that. I was on stage in one capacity or another not long after (and almost ever since). I was very lucky that my high school (Hattiesburg High School) had an incredible theatre program, even by regional standards, and that my town had a thriving community theatre organization (Hattiesburg Civic Light Opera). I had lots of opportunities to perform. In the deepest part of the Deep South, that was a real blessing. I wound up attending the North Carolina School of the Arts, where I got a BFA in Drama. I worked with some amazing folks there, especially Bob Francesconi, who taught Improv and Mask classes.
What made you pick up directing as well eventually?
Necessity, really. Although I had directed theatre, I had never directed a film before The Historian. I hadn't planned to direct it. But there was some issue with everyone I talked to about directing that film, be it scheduling or money or that they just didn't get it. Ultimately, with some prodding by my wife and my dear friend (and The Historian producer), Mackenzie Westmoreland, I decided to direct it myself. Very few film directors were going to know the world of that film (that is, the world of higher education) like me and I had been something of a student of films and filmmaking for years. I had just never had the occasion to make that leap. Looking back now, I'm very, very glad I did. I'm so grateful that I had people around me who believed in me and pushed me to step off that ledge.
What can you tell us about your filmwork prior to The Hollow, in whatever position?
I've had the good fortune to be involved in a lot of great projects in television and on film, from working with Jessica Lange in American Horror Story: Freak Show to this killer episode of Banshee, where I got to work with the fantastic Denis O'Hare, to the upcoming Magnificent 7, to some terrific indies like Mike Mayhall's Jake's Road to, more recently, a recurring role of the Julie Plec/CW series Containment. At the end of the day, it's about the material, sure, but also about the people you get to work with, the relationships you create. Most of all, I hope that people reading this would go take a look at The Historian, if they haven't already. It was such a labor of love, such a personal piece for me. It's my great hope that The Hollow's profile shines a bit more light on that film.
How would you describe yourself as an actor and as a director?
In general, I try to leave that kind of thing to others. I guess I'd like to thing of myself as daring, relentless, and, at the end of the day, someone whom the people around me want to work with again.
Actors, filmmakers, writers, whoever else who inspire you?
That'd be a long list. In terms of body of work, you have to admire Spielberg and, as I mentioned above, it was really his films that inspired me to want to be an actor as a kid, so I'll always have a special place for him and his work. I love David Fincher's style, even if I don't love every movie. Seven and Fight Club meant a lot to me when I was finding my voice as an artist. The Coens have made masterpieces across seemingly disparate genres, in my view, some of which didn't get seen nearly widely enough (Inside Llewyn Davis comes to mind). Tarantino made at least one, surprisingly enduring, masterpiece in Pulp Fiction, and he's always ballsy, which I admire. Pulp Fiction, though, is every bit as brilliant today as it was in 1994. Linklater's Before-trilogy is one of the most simply sublime things ever committed to film. The stuff Lumet, Coppola and Scorsese were doing in the 70s changed the game. Hard to deny that the first two Godfather films are among the greatest achievement(s) in the history of the medium.
Actors, there are so many good ones, but, in my humble opinion, Daniel Day-Lewis is probably the greatest film actor alive. He's proven that he can do anything and be absolutely arresting in doing so.
Writers, William Shakespeare, Tennessee Williams, Eugene O'Neill, William Faulkner and Scott Fitzgerald are my all time favs, although the more I read of Cormac McCarthy and James Lee Burke, the more I like them.
If we get on to historical figures the answer to this question may become a novel, so I'll leave off there.
Your favourite movies?
In no particular order (and without thinking too hard about it, so I may leave something out): Raiders of the Lost Ark, Jaws, Godfather 2, Pulp Fiction, Sideways, Casablanca, Schindler's List, Seven, Before Sunset, No Country for Old Men, Dog Day Afternoon.
... and of course, films you really deplore?

Feeling lucky ?
Want to
search
any of my partnershops yourself
for more, better results ?

The links below
will take you
just there!!!

Find Miles Doleac
at the amazons ...

amazon.com

amazon.co.uk

amazon.de
Looking for imports ?
Find Miles Doleac here ...
Something naughty ?
(Must be over 18 to go there !)

Do I have to? In general, I don't like films that are soulless, that feel like they were born on an assembly line. I want a film to aspire to something, to have a unique identity. If it does that, I can get behind it.
Your/your movie's website, Facebook, whatever else?
www.historiafilmsms.com, on Facebook TheHollowMS.
Anything else you're dying to mention and I have merely forgotten to ask?
You've been very thorough. Thank you for reaching out.
Thanks for the interview!