Your upcoming movie Slasher House 3 - in a few words, what's it going to be about?
Slasher House 3 is the the final chapter in the Slasher House saga, it's essentially the end of the original trilogy that started the whole Mycho Universe. Ultimately it follows our heroes as they fight their way through a government facility trying to figure out exactly what is going on - but it's tough to say too much without giving anything away.
Thematically, the film is about holding onto rage and how, ultimately, that can be blinding. It's represented emotionally through almost all the of the main characters and manifests itself literally as one of our new slashers.
Slasher House 3 features no less than 25 killers - basic question, why so many, and how do you plan to cram them all into one single feature film?
There are a few reasons why we decided to add so many. The first is kind of due to the plot. When coming up with the story it meant that, for reasons difficult to disclose, that there had to be 25 killers in all. It seemed like something we'd have to change, but in the end we decided to lean into it and make it part of the films selling point. Then I realised whilst creating them, that we could really open up the universe for the future too, creating characters that would allow us to tell almost any story we wanted going forward and so it suddenly seemed like the perfect thing to do and I think no one expected it, which was a bonus, lol.
Cramming them all in has been a tough job. Mainly because you wanted to give each character their moment. Some are brief appearances, some are quick cameos but there are 25 of them in there and, as per every Slasher House movie, 4 NEW main slashers that drive the plot.
Let's stay with Slasher House 3's killers for a bit: Could you talk about a few of them and their inspirations, and will all of them be new creation or some return from earlier movies set in the Mycho Universe?
Creating the killers was really all about balance, so with a roster this big you don't want too much of the same thing, like if everyone was a hulking maniac in a mask that takes away from the ones that are there already. So that was the first thing I was conscious of. So I decided that each one would be, kind of, inspired by movies that I love.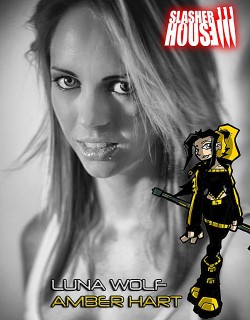 I think around 10 of the 25 of are brand new additions, a couple have been brought over and revamped from earlier short films like 'Twiggy' from In Tents, 'Peter' from Rough Patch and 'Nevols' from Residence Evil, and others are from scripts that we just haven't got to make yet, but mostly the new guys were created for the film. Obviously we have some returning favourites in there too like Jacob, Molly, Cleaver and Thorn, and some quick cameos from a couple of other people's characters. We really wanted to just bring back everyone we could in some form and so we sat down and just laid out every single character we had and found a way to fit them all in.
What were your sources of inspiration when writing Slasher House 3, and to what degree will it be a direct sequel to Slasher House 2?
When I'm working on movies I like to take inspiration from unlikely sources, so rather than look at horror movies, I like to look at how we can bring other genre stuff to what we're doing to help heighten that horror foundation. For Slasher House 3 I looked at a lot of 'science gone wrong' horror as that's a big part of what's going on here, but I also took a massive load of inspiration from films I love like Tron, 2001: A Space Odyssey, Guyver, Escape from New York, Power Rangers, G.I .Joe, and just about everything I've ever loved. It's main theme is kind of 80's sci fi, but there are just so many things thrown in there, it's a movie I've been working on for almost 10 years.
I originally began developing the idea as Slasher House 2 back in 2010 whilst were shooting the first film. It kind of ballooned out of control and so I split into two movies. One set before the film and one set after. When time came to do the follow up I looked at the two films I had and realised that 'urban action' was probably more manageable than 'grand sci-fi adventure', and so that became Slasher House 2 and I just hoped we'd have more cash by the time Slasher House 3 came around. We didn't. *But, yeah, the film is the direct sequel to the first one.
What can you tell us about Slasher House 3's approach to horror?
I guess in terms of horror it's, kind of, "what if every slasher movie you've ever seen was all in one place and coming to get you?" It's a little more complex than that, but that's the broad strokes. I guess it shares some similarities with Cabin in the Woods, which was a major source of frustration that it came out in 2012 after we'd already been working on the film for 2 years, but any shared elements we took in different directions to ensure that we weren't just doing the same thing.
I've always likened it to The Fly 2 in terms of its horror. It's messing with things beyond your control and then, literally, facing the consequences of that, just told in a very slasher villains meets military funding kind of way.
Do talk about your movie's intended overall look and feel?
The style of the film is definitely leaning into that old 80's indie sci fi aesthetic. It's very different to anything we've made before, especially in that it's not our usually dark corridors and creepy basements approach, but brightly lit, white walled, spaceship style sets, which is a fun challenge, but difficult to pull off. There's also a large finality about the whole thing. This is the end of this story that we've been telling and that has been the spine of our universe for so long and now it's all coming to an explosive end, and that's really the tone of the whole thing.
Anything you can tell us about Slasher House 3's key cast yet, and why exactly these people?
With one or two exceptions we have the whole Mycho roster returning in one way or another. But the film is headed up by some of our classic characters like Amber (Luna Wolf [Luna Wolf interview - click here]), Luse (Sophie Portman), Eric (Paris Rivers), and some new faces that we can't talk about just yet, but we're very excited to have them on board.
I've realised over the years that it's really important to work with those people who you know well, the ones you talk to all the time and have a friendship with, that's what makes a film set a great time, and so we've worked to include so many of our performers that have become close friends over the course of 9 movies, and this feels like a celebration of that approach to filmmaking.
As far as I know, Slasher House 3 is still in its fundraising stages as we speak - so what can you tell us about your campaign?
So we're currently just raising the basic costs associated with us making a movie like this. Its mainly to cover expenses, food and some props stuff that we can't afford on our own. We try and keep the goals low as we're just a small time production outfit really, and we really just want to get on with making movies.
As a stretch goal however, we're introducing the Mycho Psycho Slam Collectable Card Game, which is a top trumps style game featuring characters from the Mycho Universe. We're really excited about it and, of course, that extra funding helps us improve a bunch of things in the film.
You can find the campaign at http://kck.st/2IinugG
Once the budget's in place, what's the schedule, and any idea when Slasher House 3 might be released yet, however tentatively?
We're looking at a possible 2021 release most likely. It's hard to say with these things, sometimes it can take 3 years to get all the deals in place to get them out there, and sometimes it's 3 months and the film is on shelves, so it's hard to say. But the current plan is early 2021.
Any future projects beyond Slasher House 3?
It's difficult to say too much, but it's probably safe to assume that we'll be completing some more trilogies as the next few years go by. We have a 3rd Thorn and Cleaver planned, some followups to a couple of other movies, but it's also dependent on what we get asked to make by third parties, so it's forever in flux, but we work hard to see it to our own over-all idea and arc.
We have a cool project that been over 10 years in the making moving forward next year, and I'll be excited to finally get that going and to have it see the light of day, but other than that, we'll be continuing with our shorts over at http://patreon.com/mycho and cracking on with the comics and figures and whatever else we can think of.

Feeling lucky ?
Want to
search
any of my partnershops yourself
for more, better results ?

The links below
will take you
just there!!!


Your/your movie's website, Facebook, Kickstarter, whatever else?
Website: http://mycho.co.uk
Facebook: http://facebook.com/slasherhouse
Kickstarter: http://kck.st/2IinugG
Patreon: http://patreon.com/mycho
Anything else you're dying to mention and I have merely forgotten to ask?
We have some cool screenings coming up, the US premiere of Bannister Doll House at Dead in Decatur, Illinois November 1st - November 2nd AND at Unrestricted View Horror Film Festival, London we have Bannister Doll House on November 1st and November 25th. Our Short film Molly is up for two awards 'Best National Film' and 'Best Director' at the Making Waves Film Fest in Portsmouth and a certain premiere that we're not allowed to announce yet but will be on social media at Halloween I believe.
Thanks for the interview!