You are currently producing the movie Cold Dark Mirror - in a few words, what is it about?
Cold Dark Mirror tells the story of a young witch hunter named Lydia (voiced by Sandra daCosta [Sandra DaCosta interview - click here]) who stumbles upon the dark secret of the unseen world, a shadow world of dreams and nightmares. Together with her cat Familiar Callista (voiced by Caleigh Le Grand), she must face off against the Shadow Council, and avenge the death of her mentor. This currently is a stand-alone project with no relation to Archon Defender or Origin: A Call to Minds, which are the first two films in a series of animated features that we have made.
Now how did that project come together in the first place, and what sparked you to come on board as producer?
David T. Krupicz [David T. Krupicz interview - click here] and I discussed the possibility of collaborating on another animated feature film following completion on Origin: A Call to Minds. We had such a great working relationship on Archon Defender and then again on Origin: A Call to Minds that we felt it was only necessary that we work together again on a far more ambitious project. The great thing about David is that he continues to develop as a filmmaker as well as an animator, and his work on Cold Dark Mirror will be completely mind-blowing. At first we discussed the possibility of taking a break from features and working together on something quick like a short film, as he was learning a new animating program. One day we were talking and he said he started writing the script for the short, but that he couldnít stop writing. Before you know it, he presented me with the idea of doing a new feature and had a script for me within a few weeks. So Cold Dark Mirror was born as a short but developed into a feature film.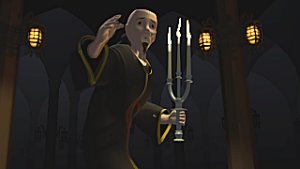 To what extent can you relate to the story and theme of the movie?
Well, I love the story of Cold Dark Mirror, and I think itís probably much darker than Archon Defender and Origin: A Call to Minds. At the same time there is also a lot of heart and emotion in the characters and the situations with which they are presented. I also think this one is very different from the previous ones because it delves into a genre that we havenít seen yet in these films, and itís going towards horror. Youíve got witches, cats, shadow worlds, a darker tone, itís like a nightmarish version of Archon Defender. Whereas Archon Defender was action and Origin: A Call to Minds was sci-fi, Cold Dark Mirror is horror-ish. But thatís my opinion on it.
As far as I know, Cold Dark Mirror is still in its early stages of production - so what can you tell us about the status quo, and about the production schedule?
Right now thereís not much we can report about the production schedule except that David [David T. Krupicz interview - click here] is a one-man army when it comes to animating and he pretty much works on his own schedule. I can tell you that the man is an absolute madman when it comes to animating, like a freight train without a break or conductor. Have you ever seen that train movie Unstoppable with Denzel Washington? Yeah, thatís David Krupicz! Seriously though, weíre in very early stages of production, so all I can report about on the production schedule is that it basically moves along as quickly as David wants it to. It took like three years for him to do Archon Defender and about a year and half to do Origin: A Call to Minds, so I would assume with the advancements in technology that he should have it done within the same schedule as Origin: A Call to Minds.
Anything you can reveal about the film's voice cast yet?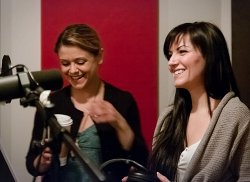 Sandra da Costa and Caleigh Le Grand in the sound studio
photo by Bruce Walker
Absolutely. We have our cast locked in and we recorded them last week. Sandra da Costa (from The Devil Walks Among You, [Sandra DaCosta interview - click here]) and Caleigh Le Grand are the leads, and they are absolutely joys to work with. Iíve got a small supporting role as Caleighís love interest Clovis, so that marks my third time voicing an animated character(s) following Archon Defender and Origin: A Call to Minds. Rounding out the cast is Astrida Auza and Daniel Wyse (both also in Archon Defender), Neil Green (from Black Eve), Paul Nicholls (from The Prospectorís Curse), Laura Collu (from Severance), Christopher Lee Grant (from Dead Genesis) and last but certainly not least Ryan Barrett (from Neverlost). So as you can see weíve got some truly talented cast members for our film, all top Canadian talent and some with whom Iíve worked with before.
With David T. Krupicz [David T. Krupicz interview - click here] pretty much being a one-man factory when it comes to animation - what's your job as a producer during the animation phase, and how actively involved are you into the animation process?
I am not involved in the animation process at all. I know and understand that animation is Davidís bag and I never try to impose on that. I respect him as a filmmaker and especially so as an animator so I would never try to dictate what he does or is doing. I obviously oversee his progress through screenings or screeners of the film and stills, but Iím never sitting there with him in his studio animating. Iíd personally go crazy. But David, bless him for doing what he does. As a producer, my role is pretty much the role of paperwork boy. A lot of the actors whom were chosen for the parts had a lot to do with me and my desires to either work with them for the first time OR work with them again. So I had a lot to do with the casting. I also deal with actor and crew contracts, studio contracts, marketing, and eventually deal with selling our blood, sweat and tears when itís completed. Itís not an easy job, but is sure is fun.
Related to that, what can you tell us about your collaboration with David T. Krupicz, both on this project and in general?
David and I have a great working relationship. I think one of the greatest things about our collaborations is that we respect each other and our decisions and we never try to impose on each otherís roles. We offer critical feedback and/or opinions, but weíre never overbearing and pushy when it comes to making decisions. Filmmaking is a collaborative effort, so in collaborating with David we make these films the same way each time because we maintain our respective roles. I would never try to animate, and I donít think David would ever be interested in producing because both are so completely different and out of our comfort zone. One of the greatest parts of working with David is he is very understanding when it comes to schedules, budgetary restraints and setbacks. With each film we do, we consistently run into those obstacles and while they grow with each film we do because they themselves are bigger in scale, we remain optimistic and respect what we each do to bring our film to the stage of completion. In the end, we collaborate, and thatís what makes us a strong force.
Any idea when the film might be released onto the general public yet?
Not for quite some time. Just last week I was in the studio recording my lines as Clovis along with the other actors, so weíve only just done that. David is currently working on storyboarding and has said animation will begin shortly. I would say late 2014, but depending on how production moves along thereís a possibility that it might get pushed back to 2015. I think the goal is next year, but of course itís way too early to solidify that.
Any future projects beyond Cold Dark Mirror?
Well, David and I are discussing doing a third chapter in the Archon Defender trilogy entitled The Secret of Sound. We shelved that film so that we could work on Cold Dark Mirror, but at the same time itís very easy to convert Cold Dark Mirror into a part of the series, so weíre toying with the idea of making Cold Dark Mirror stand-alone or a connected film to Archon Defender. Either way, Iím sure youíll be seeing more from us in the next little bit.
My Stephen King adaptation Suffer the Little Children is in active pre-production. We are seeking funding for the film but weíre hoping to have it rolling this year at some point. We have a solid cast lined up as well as a great crew. The script is amazing and itís got plenty of chills and thrills, I promise you that. The only thing that needs to come together is funding and Iím hoping that with a few connections I have made that itíll happen in 2013.
Aside from those films, I am looking at a few short scripts to develop. Iíd like to shoot something soon thatís live-action because I feel Iíve been missing out since The Devil Walks Among You, my last Ďlive actioní film.
Your/your movie's website, Facebook, whatever else?

Feeling lucky ?
Want to
search
any of my partnershops yourself
for more, better results ?

The links below
will take you
just there!!!

Find Morgan Muscat
at the amazons ...

amazon.com

amazon.co.uk

amazon.de
Looking for imports ?
Find Morgan Muscat here ...
Something naughty ?
(Must be over 18 to go there !)

www.morganmuscat.com is the best source for info about me and my company, Moonlit Road Entertainment. You can also search me up at IMDb at (http://www.imdb.com/name/nm2911850/). Iím on Facebook and Iím on Twitter now, which is quite shocking because I never thought Iíd cave in and get it. As well as you can visit http://archondefender.blogspot.ca/ for info about the production of Cold Dark Mirror.
Anything else you are dying to mention and I have merely forgotten to ask?
Yes. Some people have commented on why Iíve taken a two-year break from writing and producing so I felt compelled to address those questions. The truth is that my wife and I recently welcomed our son Brayden into the world, so for the past few years Iíve been focused on my family. I got married in 2011 and we had Brayden in 2012 so itís been a very busy past couple of years for me on a personal level. They fuel my desire to work so now Iím plotting my return to filmmaking, starting with Cold Dark Mirror and the batch of films I mentioned above.
Thanks for the interview!
It is a pleasure as always, Michael.