Your new movie A Wish for the Dead - in a few words, what is it about?
Well A Wish for the Dead isnít technically my ďnewĒ movie. It is only getting released now but has been on the shelf for years. The film was made five years ago in 2011. It was my first time directing a film. A Wish for the Dead started out as an 8-page comic short I wrote and illustrated in 2002 for a horror anthology comic that never got released. I ended up releasing it in 2007 with another horror short I wrote called Girl Number Three which was actually the first film we made in 2009. I was writer on that one. A Wish for the Dead is a personal story about how we all deal with death and loss. While technically it is a zombie film it isnít traditional at all. It is far more drama-driven and has intertwining short tales in the fashion of something like Short Cuts or Twenty Bucks. Where we meet different people and their lives become connected. The center storyline is about this young husband whose wife is dying of stage 4 cancer and he has not left her side at the hospital for weeks and has been praying for a miracle to happen. That miracle comes in the form of a mysterious man who offers him a shred of hope. A wish, that can possibly give him what he desires. But in horror films, we donít always get what we wish for.
What were your inspirations when writing A Wish for the Dead?
The main inspirations for A Wish for the Dead were my own personal dealings with death and loss. I lost my grandfather when we were making Girl Number Three and it was very difficult for me. There was also a time when I was misdiagnosed with a serious disease that scared the hell out of me and made me feel similar to what the main character feels in this film. The comic was originally meant to be an homage to George Romeroís Dead trilogy (there were only three when I wrote the story in 2002). But I would say the biggest influence on this film was the segment Wish you were here from the 1972 Tales from the Crypt film. The story was a take on the classic The Monkeyís Paw where a woman gets three wishes from an artifact she finds and in the end she basically damns her husband to eternal life and pain despite the fact that he was already dead and embalmed. The idea of not being able to die even when you are in the worst pain imaginable and the possibility that you are conscious of the fact that you are the walking dead was very nightmarish. A Wish for the Dead was a really strange endeavor because it is so unconventional and I am not sure we knew if it would work or not. It is definitely the most complex film I have made.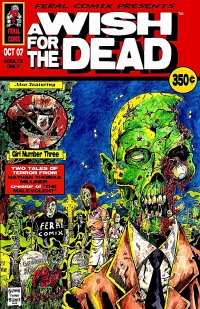 What can you tell us about your co-writer/producer Herschel Zahnd, and what was your collaboration with him like during writing and production?
Herschel Zahnd is a very talented filmmaker from Indiana who first approached me to adapt my comic Girl Number Three to be his debut film. I ended up writing the screenplay and he directed it. While on the film fest circuit with Girl Number Three, I told him I wanted to direct a film. And I suggested A Wish for the Dead as he had been a fan of that comic as well. That was 2010. So he agreed to produce it with me writing and directing. But Herschel had some ideas he wanted to put into the film and before long the two of us were basically developing the overall story and expanding it from the intended short film to a feature. It was very much a 50/50 situation on it. The truth is, I was very green and didnít know much about filmmaking. While I had worked on Girl Number Three and had been on set, Herschel was the one with the experience and because of his experience I kind of let him take the lead in terms of being the producer. It was an odd relationship for a film as I really feel a film needs to be directed by one vision. Film is a collaboration but when you get two guys who want to direct a movie it can sort of create a strange result. Herschel was producing, shooting and editing the film and most of the cast and crew were people he knew and had worked with. So in all honesty, while the film was very personal to me, I wasnít that heavily involved in itís making because Herschel really wanted to take care of everything and I let him. To the point that I was basically meeting cast and crew on the set for the first time and seeing locations and seeing costume choices on the day of shooting for the first time. Something I have never repeated on my newer films. A director really should be involved in every choice and on A Wish for the Dead I sort of gave Herschel the reigns. I have referred to A Wish for the Dead as my film school. My trial and error. I learned a lot making it and thank Herschel for giving me that position to direct my first film. But being that Herschel did a lot of the leg work in producing, shooting and editing the film, this film is just as much his film as it is mine. One of the reasons that when I sent Legless Corpse Films the artwork for the DVD I removed my name above the title that was there originally. Although it looks as though Legless Corpse Films put it back on there and has called it Nathan "Thomas Millinerís A Wish for the Dead" in the press releases which is wrong. It really is ďourĒ film.
How would you describe your movie's approach to horror (as in suspense vs sudden shocks, atmosphere vs all-out gore)?
Horror fans may not completely warm up to this film because it really is more of a melodrama more than it is a straight up horror film. It is very character and story driven for most of the runtime, only slowly building to the normal horror film tropes. I am more of a psychological, suspense driven filmmaker. I am not about the gore so much. I like atmosphere quite a bit although I wouldnít say A Wish for the Dead is as atmospheric as say The Encyclopedia Satanica (my segment in Volumes of Blood) or even The Confession of Fred Krueger. Herschel I recall is not a fan of atmosphere or at least he wasnít at that time. He didnít think it was important but it is everything to me. So I donít know if A Wish for the Dead has the level of atmosphere that I use in my solo films but it is definitely not an all-out gore film. We donít hold back in the gore though but it isnít Day of the Dead level. My approach to film is far more about character, story and atmosphere. You are more likely to see me make something like The Shining or The Witch rather than The Prowler or Dead Alive.
What can you tell us about your overall directorial approach to your story at hand?
I was learning a lot about directing on this. My first time working with actors and directing them which caused a few hiccups. On a no-budget film where people are working for free on their time, I was always afraid of pissing off actors or crew. Now I am not a jerk mind you and would never intentionally insult anyone but the arts involves different levels of egos and you donít always know how to talk to an artist unless you know them. Since A Wish for the Dead I have made a habit to do rehearsals (something we didnít do on A Wish for the Dead) and I like to meet and hang out with my cast so we are comfortable and trust one another. That wasnít the case on A Wish for the Dead so I think the directing suffered on it because I was so scared of rubbing an actor the wrong way and them storming off set or something. But I learned quickly that actors want you to direct them. That is your job. Again, I was very inexperienced making this film and was just learning as I went. As a director I am very laid back and trusting. The way I see it, you have chosen to focus on being an actor, or a cinematographer, or a sound guy, a composer, and I feel it is my duty to let you do what you do and have some ownership of what you are working on. My job as director is to keep things on point. On the path and let people know when they are straying off that path. I am supposed to know the final direction of the film and what things should feel like and sound like and look like but unless people are off track, I want to see what these talented people bring to the table. With A Wish for the Dead, it was very much about acting as it is a very dialogue heavy story. Probably too much dialogue. I really feared the movie would be boring to most people. Horror fans want to see excitement and killing every ten minutes and this movie doesnít give you that. This movie asks you to invest in the story and characters and you will get a payoff by the third act. I like slow burns. I am a very patient storyteller.
Do talk about your cast, and why exactly these people?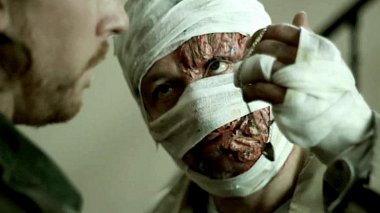 I had some really talented people on this film and some of them I have used again on my newer films. We should start with Chris Petty who plays the lead in the film. Chris was suggested by Herschel and after seeing him do a taped audition he was given the lead in the film. Chris came in prepared and really went for it. He was great to work with and I would consider him again in a heartbeat if the right project came up. Very talented guy. Julie Streble had been the star of Girl Number Three and she had wowed us on that film so I wrote her role of Jessica in A Wish for the Dead directly for her. I am about to use Julie once again on my newest film Fear, for Sinners Here which is a segment in the Volumes of Blood sequel. Her co-star in A Wish for the Dead, Chuck Miller who had also been on Girl Number Three was brought in to play a killer. We used a lot of the same people from Girl Number Three, our first film. Melissa Decker, Adam Pepper, Dennis Grinaróall three very wonderful people to have around and just talented for days. Adam especially shines in A Wish for the Dead. He kills it. Tom Dunbar was an actor I met on the set of A Wish for the Dead and he was so nice and eager to work. He is like a kid in a candy store when it comes to acting and his positive energy is so great to have on set. I ended up bringing Tom on to play the main police officer in my 2015 fan film The Confession of Fred Krueger. Another stand out on the film was Kristine Renee Farley. Kristine was a last minute addition to the cast of A Wish for the Dead as the role she plays of Beth was intended for another actress who couldnít do it so Kristine sent us a tape and she literally blew me away. I ended up casting Kristine as the lead in my film The Encyclopedia Satanica which was a segment in the first Volumes of Blood anthology film. I am very proud to say Kristine just won Best Actress of 2015 from Horror Society for her performance in The Encyclopedia Satanica. A true professional and just a powerful actress. Most of the other cast in A Wish for the Deadóand it is a huge castówere filled out mostly by Herschel being colleagues, co-workers or friends of his. Since Herschel had been involved in the acting scene in Louisville, Kentucky and Southern Indiana for so long I sort of trusted him to fill up the supporting cast with people he trusted.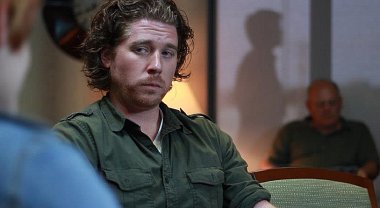 What can you tell us about the shoot as such, and the on-set atmosphere?
The film was shot over the span of one year. Photography began in January of 2011 and ended in February of 2012. Since the film takes place in so many locations with so many characters almost every shoot was a fresh start really. We would be working with new actors and in a new space almost every time. Zombie films are fun to shoot and people get really excited to be in them. So the atmosphere was always one of fun. We were just a bunch of kids making a movie. Living a dream. Making indie horror films is a blast.
Anything you can tell us about critical and audience reception of your movie yet?
Not really. The movie has not been seen much at all. We screened it at HorrorHound Weekend, Scarefest and Fright Night Film Fest in 2014 and I think I only saw one actual review after HHW. If I recall she liked the movie but did feel it was a little slow getting to the payoff which is something we always anticipated. Again, horror fans often need to be hit in the face every ten minutes and this movie doesnít do that. But none of the stories linger. A lot of little tales are told to set up the big explosion of chaos. I am a little fearful of the critical response because again, this is my first film and I was very inexperienced. I have learned quite a lot since making it and I have made 3 new films since this one. All of us have grown and learned so much since making this. My last two films have been very well received so I am a little worried about how this film will be judged with people being under the misconception that A Wish for the Dead is my newest film. Artists have this love/hate relationship for their early work. We are constantly learning and evolving and it is very hard to look back at old work. Five years is a lifetime for an artist.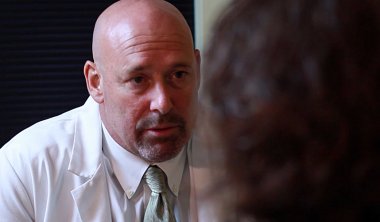 Any future projects you'd like to share?
Well as I mentioned, since wrapping A Wish for the Dead back in 2012 I followed it up with a short film called The Encyclopedia Satanica which was part of a horror anthology called Volumes of Blood. I shot The Encyclopedia Satanica in the fall of 2014 and Volumes of Blood was released into the film festival circuit in 2015. It is currently in negotiations for distribution and we hope to see a release by Halloween of 2016. In the summer of 2015 I wrote and directed a passion project called The Confession of Fred Krueger. It debuted at HorrorHound Weekend and on YouTube in the fall of 2015. It is free to view right now on YouTube. It currently is nearing 120,000 views and responses have been very positive for both films. I am less than two weeks away from being on the set of my third film since A Wish for the Dead titled Fear, for Sinners Here, which is a segment for the sequel to Volumes of Blood titled Volumes of Blood: Horror Stories. This film will be shot from March to August and I imagine pushing for a release in the winter. Encyclopedia Satanica is about a librarian alone on Halloween night who is mourning the suicide of her ex-boyfriend and she discovers a book in the returns that claims it can allow the living to speak to the dead. The Confession of Fred Krueger is a prequel to Wes Cravenís original A Nightmare on Elm Street which shows an arrested Fred Krueger being interrogated by the Springwood Police Department. Fear, for Sinners Here is sort of a home invasion film set on Christmas Eve with a few twists and turns. I am so excited for this one as I am reunited with the star of Girl Number Three and A Wish for the Dead, Julie Streble, and I am working with an actress for the first time, Jessica Schroeder who appeared in the recent films Headless and The Legend of Wasco. A very talented and exciting young actress.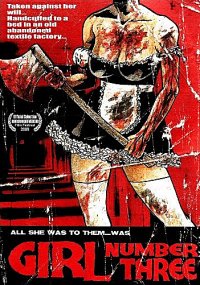 What got you into filmmaking in the first place, and did you receive any formal training on the subject?
Most people know me as an artist. I have done nearly 50 Blu-ray and DVD covers for Scream Factory, Synapse and several other distributors around the world. I have worked for HorrorHound Magazine for 8 years. I did comic books for 20 years and published about 15 books. Tee Shirts, album covers, book covers, comic books. But my love was always movies. Since I was little. I always looked at my comics as movies on paper. And the two mediums are very similar. When you are a comic book creator you are literally the writer, director, actor, costume designer, editor, cinematographer, special effects artist, hair and make-up and set designer. Film and comics are both visual storytelling formats and the transition from paper to film is a natural one. I didnít go to film school no. As I said, when I made A Wish for the Dead I had only worked on one previous film, Girl Number Three where I was basically a looker on having just served as the writer. I mean I did do some second unit directing on Girl Number Three and I did storyboard the film but if I am honest, what I actually knew about making films was very limited. After making A Wish for the Dead I realized I really needed to learn more. So I really did my homework over the next few years. Learning cinematography and lighting, blocking, framing, editing, sound design, etc. I did as much learning as I could and I applied the good things I learned while making A Wish for the Dead and threw out the bad. I made a lot of mistakes on making A Wish for the Dead and I really didnít work as hard as I needed to. Trial and error as they say. Every film I work on I try to learn lessons that I adapt to or improve or change when it comes to the next one. If you donít keep improving then something is wrong. An artist needs to grow and learn from their mistakes. So each film when something becomes a problem or a misstep I make the necessary changes when it comes to the next one. Always listen. Always learn from others. Throw ego out the door and understand that you donít know as much as you think you do. I have learned so much in the last 4 years since wrapping A Wish for the Dead. And I owe that film and Herschel a lot of thanks for teaching me lessons and giving me the chance to learn from my mistakes and consume the successes. A Wish for the Dead is very much me learning what not to do and learning what works. We often want to shy away from our past work but those works are important in us moving forward and improving. I want to keep learning and improving. It is how I have always handled it being an illustrator and it is how I am handling it as a filmmaker.
How would you describe yourself as a director?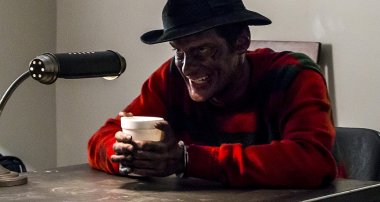 The Confession of Fred Krueger
I like story and character and drama. I am patient in my storytelling. I am very much old school in that my influences or sensibilities are far more 1970ís than anything else. Not so much on A Wish for the Dead but with my other films I am hands on every minor detail. Extremely meticulous to the point that I get on my crewís nerves most of the time. Because the details are extremely important. After A Wish for the Dead I was involved in everything from scheduling, casting, art direction, set dressing, make-up, hair, costuming, rehearsing, cinematography, storyboarding, scoring, editing, marketing, writing, directing, you name it. I plan for months and I try to make every second of film mean something and matter and be its very best. I have definitely gotten more confident in what I can do since making The Encyclopedia Satanica. It was the first film where I really was getting 100% of my vision and control of what the final product was. I am very visual coming from an art background. I am very relaxed on set mostly due to a lot of planning and knowing what I want. Knowing I have assembled the right cast and crew who I trust. And realizing that problems will occur and it is how you solve those problems on your feet that determine if you can do this or not. Always thinking ahead in terms of knowing when something may not work out and also thinking about the final product and being mindful of the editing process that is to come. I was so stressed while planning to make The Encyclopedia Satanica that I nearly had a stroke. No joke. I rushed to the ER. After that I realized I had to ease up. I had to take things in stride. The only way through a storm is through it. Do what you can but just keep moving forward. I allow my cast and crew personal expression and collaboration and exploration. I chose you for a reason. Because I find you talented and smart and I trust your instincts. So have fun. Play. And I will be here to say you are going too far left or to tell you that you are right on the sweet spot. But I take my films with 100% seriousness. If I have asked these people to give me their time and energy then I want to make something they are proud of. Something they will be happy they made. I am only interested in making the best films I can. Films that people talk about. I have no interest in making films on the fly or that have nothing to say. While I have fun making them, I handle film very seriously.
Filmmakers who inpire you?
There are so many honestly. Stanley Kubrick, Sam Peckinpah, Martin Scorsese, Quentin Tarantino, Wes Craven, John Carpenter, the Coen Brothers, Nicolas Winding Refn, Alfred Hitchcock, Park Chan Wook, Steven Spielberg, Sergio Leone, Richard Linklater--the list is longer than we have time for.
Your favourite movies?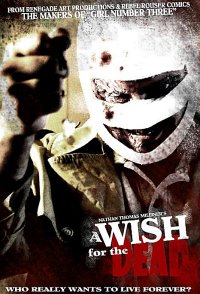 Feeling lucky ?
Want to
search
any of my partnershops yourself
for more, better results ?

The links below
will take you
just there!!!

Find Nathan Thomas Milliner
at the amazons ...

amazon.com

amazon.co.uk

amazon.de
Looking for imports ?
Find Nathan Thomas Milliner here ...
Something naughty ?
(Must be over 18 to go there !)

Taxi Driver is my favorite film of all-time. Others being Reservoir Dogs, Dazed & Confused, the Star Wars films, Raiders of the Lost Ark, Die Hard, Predator, True Romance, Pulp Fiction, Leon, Drive, No Country For Old Men, A Nightmare on Elm Street, Jaws, Halloween, Lethal Weapon, Mad Max, Red Dawn, Streets of Fire, Man on Fire. Again, I could go on for days.
... and of course, films you really deplore?
I have a real problem with the whole negativity towards film that we see a lot of today, especially due to the internet. I get kind of sick of seeing articles and posts about what is wrong with this film or the worst thing about this film or that. We are living in such an ďI hate that movieĒ or ďThat movie sucksĒ society that it really makes me wonder why film fans are so hard on films today and what exactly they are looking for to get the satisfaction they just donít seem to be getting. I donít hate any movie. I think that is a little silly. Really? You hate that movie? Did the movie murder your family or something? Itís just a movie. If you donít like it, move on to the next one. But it is very rare that a film is so terrible and offers so little that it truly sucks or that it makes me deplore it. I just do not understand that. You can find good in every film but so often all people want to look for is the bad. Film is hard. And every filmmaker sets out to make a good movie and sometimes it works and sometimes it doesnít. Even the most seasoned and experienced and celebrated filmmakers of all-time make a not so good film now and then. It is all a crap shoot. But the whole ďI hate that movieĒ mentality just isnít something I understand. Especially when someone feels the need to go on and on about a movie they hate. Why waste so much energy on something you donít enjoy? I donít like ketchup. You donít see me online every day trying to ruin the good name of a condiment I personally donít have a taste for and trying to convince ketchup lovers that they are all wrong and it is overrated. It is a very strange behavior in my opinion.
Your/your movie's website, Facebook, whatever else?
I think all of them have their own Facebook pages and IMDb pages.
Anything else you're dying to mention and I have merely forgotten to ask?
I think we covered everything. Thanks again for letting me go on and on about my work.
Thanks for the interview!