Your new movie Starship: Rising - in a few words, what is it about?
It is a sci fi gothic epic war space opera film. It tells the story of John Worthy, a young man who mutineers the most powerful starship in the galaxy and holds a corrupt federation at ransom.
What were your inspirations when writing Starship: Rising?
Blake's-7 and Dune. I love epic stories. I love stories that show their true depths after they have been watched a few times. Also Star Trek 2: The Wrath of Khan.
With Starship: Rising being a science fiction movie, is that a genre you're at all fond of, and some of your genre favourites?
I care only for sci-fi, but I like everything… when it comes to devoting a year of your life to a project though, it has to be sci-fi to keep my interest.
What can you tell us about your directorial approach to your subject at hand?
Every movie that I do is different. All have different textures and flavors … some seem to be loved more than others by an audience, but I tend to do what is close to my heart and soul. I used the emotions of anger, frustration and rage, and challenged them in the actors. I wanted a complex story that would move fast.
Starship: Rising features quite a few quite spectacular special effects - so what can you tell us about that aspect of your movie?
I pretty much did all that myself. It is not perfect visual FX-wise but I am glad that we won a couple of awards for this. It has texture and grit and dirt. Was all done in After FX and Cinema 4d. Took me a year … there are way too many visual FX for a movie of this budget, but I kind of get obsessed.
Do talk about your key cast, and why exactly these people?
The budget is small, but the idea is to try and find the best you can for the money involved. I was proud of 80% of the actors we have. They were punished daily by me. Darren Jacobs is someone who should be cast in Game of Thrones or something similar, he is one of those actors who you know is going to be huge one day in a Michael Fassbender kind of way. Don't let my crappy film cloud how great is abilities truly are … I just wish I had better words and a bigger budget to show off his talent. Then there is Emii, a famous singer/songwriter … turns out she is a trained actress and a huge sci-fi nerd. She kind of steals the film. Then there is E.J. de La Pena, who was in many films like Jingle All the Way with Arnold Swarzenegger. He steals the second Starship film. Ralph Guzzo, who plays General Gustav - simply perfect in the role. And then there is Christian Anderson who was in The Office. Awesome guy and so natural. And of course Brooke Lewis who flies the starship … she is surprisingly talented as the sarship pilot - and so perfect in the role. Love her enough to want to become a cannibal and make pasta sauce out of her.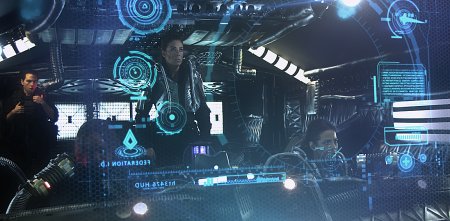 What can you tell us about the shoot as such, and the on-set atmosphere?
There were a couple of assholes, whom I fired quickly, and one whom I should have fired ... but those who remained standing were wonderful people. We moved fast and made jokes most of the time. Everyone wants to work again on another film, so it is always great in this way. Kind of like a family … I miss my family.
A few words about critical and audience reception of your movie?
I have no interested in the critical response anymore. Until they watch part 2 of Starship, which should be out next year, there is really nothing anyone should say. The 2 films are meant to be seen as one big epic. That being said, ALL my films have started with bad reviews, and after 5 or so years, the reviews get better and better, because people see there is more to it than the first viewing. Humanity's End is a good example. It was 1.3 on IMDb in the first year, and now is is 3.9. I have no respect for internet trolls because these people have nothing to say. They are cowards and their opinions are worth nothing.
As far as I know, there's already a sequel to Starship: Rising in the making - want to talk about that one, and other future projects you'd like to share?
Starship: Apocalypse was shot at the same time as Starship: Rising. It is much more fun and humorous and it completes the saga. I am also finishing off Death Machine, a film shot in the UK about the fall of London. Then there is Descent into the Maelstrom that is currently in pre-prodution, a film that I am just producing. Plus there is a TV series called Nobility, which is a Sci-fi comedy.
What got you into moviemaking to begin with, and did your receive any formal education on the subject?
At the age of 2 I had an inkling that I wanted to do space movies, and then I saw Star Wars at the age of 10, and I was hooked. I went to film school and graduated in 1986. This was the days of film and bad video tape. Am so glad those days have passed …
What can you tell us about your filmwork prior to Starship: Rising, and your evolution as a director?
To date I have directed 10 feature films, 500+ music videos, and 20+ TV shows. I was the youngest television director employed at the age of 21 in Australia and I have worked as a director ever since. Being so young as a director, it was hard because my crew were often 10 years+ older than me, and were not very appreciative of my age.

My first feature film was done when I was 30, and it was one of the world's first digital films. For sure the first digital feature film with visual FX. That was Demons in My Head. Following that I made To Become One, then my first proper sci-fi film, Battlespace. That film took me 3 years to complete, and this is how I learned to do visual FX. It was done in high definition, which, back in 2001-2003, was really an insane thing to do. I then took Demons in my Head and To Become One, recut them in HD, shot an extra 20 minutes, and renamed them Nephilim and Bipolar Armageddon. This means that all the films would take place in the same universe from here on in. So the order for viewing would be: Chapter 1: Nephilim, Chapter 2: Alien Armageddon (2010), Chapter 3: Bipolar Armageddon, Chapter 4: Battlespace and Chapter 5: Humanity's End (2006). That was when I was done with the Nephilim Universe. I also did a film called Alien Dawn, which is a retelling of War of the Worlds.
The film from the old era that I am most fond of is Humanity's End. I wish I could do a prequel!
Besides movies, you have also tons of music videos - so what can you tell us about those, and how does making a music video compare to shooting a feature?
In my world there was more glory directing music videos. But artistic control doing music videos is fairly low. Record company executives always like to get their finger in the artistic pie, and this always ends badly. I have stopped doing music videos for this reason. It is too soul-destroying. The music videos where I had full control and was left alone are the ones that won the most awards and pertain to this day as quality.
How would you describe yourself as a director?
Evolving and constantly changing. I do not like to stick to one style or method, because I would become bored. If you compare To Become One to Alien Dawn to Starship: Rising then you would not see anything similar.
Filmmakers who inspire you?
David Lynch, Steven Spielberg, and George Lucas. George was especially inspiring to me because after I did the first digital feature film, he and Rick McCallum were very interested in what I did and how I did it. Everyone else called me a fool except for these two fine men.
Your favourite movies?
This week it is Edge of Tomorrow. usually it is The Empire Strikes Back, Aliens, Dune, Eraserhead, Planet of the Apes, District 9, Mad Max.
... and of course, films you really deplore?
I despise a film that is made by people who don't care about the story, or the art … I think everybody knows these types of films and they are never remembered and never worth mentioning. Aside from this I do not hate any film. I have no right to judge other people's artistic decisions. I have nothing but respect for anyone who can even get a film completed.
Your/your movie's website, Facebook, whatever else?

Feeling lucky ?
Want to
search
any of my partnershops yourself
for more, better results ?

The links below
will take you
just there!!!

Find Neil Johnson
at the amazons ...

amazon.com

amazon.co.uk

amazon.de
Looking for imports ?
Find Neil Johnson here ...
Something naughty ?
(Must be over 18 to go there !)

I am hiding from Facebook for the next few weeks, but usually it is Facebook.com/directorneiljohnson. Instagram is empire motion pictures, and also Twitter is the same. My main website is www.em-pire.com
Anything else you are dying to mention and I have merely forgotten to ask?
The one thing I am dying to mention is that I have made instructional DVDs on how I made my first few films. I go into extreme detail of how I actually do things. When I was in film school, I wish someone had DVDs like this. I could have saved an entire few years of learning. this all can be found at www.em-pire.com.
My films are getting better and better. Remember that everything I make is done with heart and soul.
Thanks for the interview!