Your upcoming film The Reverend - in a few words, what is it about?
In two words: Vigilante Vampire! I like to think of it as Death Wish with bites.
The film is based on a graphic novel, which you have also written, right? A few words about the graphic novel, and in what respect does the film differ from it, where are the similarities? And how does making a movie differ from writing a graphic novel?
I always planned on doing both so I approached it as a screenplay and then started working with Concept Artist Jaeson Finn and excellent graphics company Graphica FX, headed by Daniel Rollings, they really helped shape the graphic Novel side. The big difference with the novel is your imagination is your only limit, you donít have to worry about budget, stunts, CGI etc.
What were your inspirations for The Reverend - and since this seems to be somehow connected, is it true you at one point studied to be a preacher?
I have a background in Theology yes. Itís a subject which fascinates me and the concept of a righteous man given this terrible affliction yet still using it for good I thought was really interesting. The concept I got from the Biblical book of Job.
How do you approach your story in terms of atmosphere, suspense, violence and gore?
Iím not a horror guy, I like the genre but Iím by no means a horror nut. I have always seen myself as a drama director, my last picture Risen was a true story biopic so to come and do The Reverend, I knew instantly that it would have strong story points and emotional performances. Itís not a jumpy film, itís got excellent violence and gore, but itís very realistic, we had Paul Hyett and Stuart Conrad handling the prosthetic side, these guys have a ton of experience. Letís go big and bold but please letís make it be believable I asked them! I then brought in Jude Poyer for the stunts and fight choreography - Jude is at the top of his game and is so creative on the spot that we had a lot of fun making The Reverend really an action packed horror. In terms of atmosphere I think itís got a bit of Pale Rider about it. The preacher walks into town to take on the baddies, itís got that old fashioned good vs evil vibe.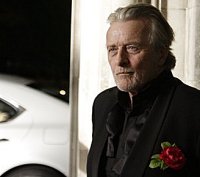 The cast of your film is pretty star-studded. Would you mind doing a bit of namedropping, and why and how did you get all these people?
Been so lucky attaching the talent. Look we didnít have a Hollywood size budget, but everyone who read the script loved it! That was a great first step, honestly I didnít expect to get the amount of people we got, but they went for it and obviously as a film-maker it makes my job so much easier when you have the exact cast you want. We have Stuart Brennan (also my co-producer and long time business partner), Tamer Hassan, Rutger Hauer, Doug Bradley, Giovanni Lombardo Radice, Emily Booth, Marcia Do Vales, Simon Philips, Shane Richie, Edmond Kingsley, Mads Koudol, Helen Griffin. Seriously writing that list down I realise how very lucky I am to have these people in the film.
As far as I know, the film was shot in South Wales. To what extent did the specific locations influence not only the look but also the atmosphere and maybe even narrative aspects of The Reverend?
Iím now based in London, but Wales is where Iím from, I wrote The Reverend with Wales in mind, it is full of beautiful little villages. The Reverend is set in a non-specific place but I wanted that green countryside look.
With The Reverend being a horror movie, is this a genre you are at all fond of, and your genre favourites?
As already said Iím not really a horror guy only. My favourite genre is probably the Western, Iím currently working with best selling Western author Jack Martin and weíre adapting his novel The Tarnished Star for the big screen, itís still early days but keep an eye out for LawMaster (adapted title).
The $64-question of course, when and where will the film be out, tentatively? And what about the graphic novel?
We open theatrically in the UK on October 14th, our big launch will be at the British Horror Film Festival at the Empire in Leicester Square, Iím really excited for the release date, I really believe The Reverend brings something fresh to the genre and I believe the novel will be released at a similar time. Weíre working on a US release date now as soon as we have that Iíll let you know! For tickets for horror festival please visit www.filmfestivalguild.com.
While you're still working on The Reverend, your boxing bio-pic Risen hits the theatres and DVD shelves. A few words about that one?
Risen was always the film I wanted to make, itís about the life of boxer Howard Winstone, he comes from my home town of Merthyr Tydfil, the man is a hero so bringing his story to the big screen has been my proudest moment to date. Being a fil-maker can be a hard process and sometimes itís easy to become disillusioned, but then hear about what Winstone overcame to achieve his goal and itís such an inspiration. Honestly check out what he had to overcome, he lost the tops of his fingers in an accident and still became the best boxer in the world! Practically one handed! Weíve just finished a seven week theatrical run in the UK and we heard this week that weíre going theatrical in the US too. All info can found at www.howardwinstone.com.
What drew you to the story of Risen, and are you into boxing, personally?
Like most kids from my town, I did some boxing, my favourite film was Rocky! So add that together and that itís based on a hero from my town, I had to make this film!
The star, co-writer and co-producer of Risen is your long-time partner-in-crime, Stuart Brennan. What can you tell us about him and the production company Burn Hand Film Productions you run together?
Iím very lucky, me and Stuart have been working together now for a long time, weíre also very good friends and have gone through a lot together. Heís one of the best writers in the business full stop, he really understands story and like me is in this business to make story-driven films. As an actor heís a worker, he spent five years dieting and boxing to play Winstone thatís serious dedication, he recently won the prestigious BAFTA Cymru award for his portrayal of Winstone, and in The Reverend (he plays the title role) he really smashes it! Our whole philosophy with Burn Hand Film Productions is to make films that are driven in story yet also reach out to a wide audience, weíre learning every day but so far I think weíre on the right road and Iím very proud of our achievements. More info is at www.burnhandfilms.com
What made you go into filmmaking in the first place, and did you have any formal training on the subject?
No training at all, I kind of fell into it really. While at university studying Theology I wrote a screenplay, it was something I always wanted to have to go at. I showed it to a few people and they liked it so I wrote another one, The Bond. I then met Stuart who liked it and he said letís make it. We sourced like crazy and managed to get it made! I got very lucky.
A few words about your debut feature The Bond?
We had no money to make this, we made it in the days before HD was accessible so it wasnít easy, but bar some technical issues and no budget I really think The Bond sums up what our company is all about: Films with story and strong performances. While by no means a perfect film it has a bag of heart and I loved making it. We shot over four weeks, I had classes and had a job and had to juggle the three and it was so much fun! It was my film-school, I fell in love with the process of making a film. I one day want to do a sequel!
Your second feature The Lost features a performance by horror favourite Peter Cushing, who had already been dead for 12 years when the film was released in 2006. Explain, and what else can you tell us about the film?
Honestly, the film isnít good enough. Itís hard for me to say that but The Lost didnít work. It was an experimental film, we had a twenty page script, no money, and we shot it all in 48 hours! The result: A poorly made film. I donít regret making it, I learnt so much and Iím happy for people to watch it to see where we went wrong. We moved away from our philosophy on that film, we didnít work hard enough on developing a strong story, it was a missed opportunity but a valuable lesson.
The Peter Cushing link was we had a voice recording of him reading a brilliant little anti-war poem by Peter Kayne which fitted with the tone of the film. I love Cushingís work and Iím sorry we didnít do him justice with The Lost.
You have also made quite a number of shorts during you career. A few words about those?
Iím not the biggest fan of short films, I think these days you should go out and shoot a feature even if you have no money. I made a few really as time fillers. I made a short film about Howard Winstone called The Fifteenth and that certainly helped to raise the finance for Risen.
Any other films you were involved in you want to talk about?
Iím actually writing this from a hotel room in Madrid where Iíve been for the past four weeks directing the feature film Deranged, itís a great little horror/thriller. Iím not producing just directing so itís been a new experience for me, have an amazing crew and cast and the film is being produced by Marcia Do Vales (also starring and in The Reverend) and Kevin Kane. Itís a Templeheart Films movie, they backed me on Risen and The Reverend so when they asked me to direct I was happy to do it.
Any future projects?
I have the Western LawMaster Iím also working on a cool little genre film in the spirit of Mad Max, Stuart is putting together a heist-film so we have a busy and exciting time ahead.
You have pretty much done it all when it comes to moviemaking, writing, directing, producing, even editing. What do you enjoy the most, what could you do without?
I donít think I enjoy one thing more than another really. My favourite part though is the actual film-making process, on set shooting! Itís where it all starts to become real!
Directors who inspire you?

Feeling lucky ?
Want to
search
any of my partnershops yourself
for more, better results ?

The links below
will take you
just there!!!

Find Neil Jones
at the amazons ...

amazon.com

amazon.co.uk

amazon.de
Looking for imports ?
Find Neil Jones here ...
Something naughty ?
(Must be over 18 to go there !)

My biggest inspirations are Alfred Hitchcock and Martin Scorsese, I also love Sylvester Stallone as a director, Richard Donner and Brian De Palma too! Awesome film-makers!
Your favourite movies?
All time Favourite: Rocky. Then in no particular order: Birds, Lethal Weapon 1 and 2, Star Wars original trilogy, Indiana Jones except the 4th, The Untouchables, Rope, The Godfather, Raging Bull, Casino, Vertigo, In the Name of the Father...
... and of course, films you really deplore?
There are some really bad films out there but you have to respect they got it made, so I donít want to name anything.
Your/your film's website, Facebook, whatever else?
Jumped the gun on this already, but www.burnhandfilms.com - we have a Facebook and Twitter link on there.
Also film websites:
Risen: www.howardwinstone.com
The Reverend: www.thereverendfilm.com
Deranged: www.derangedthemovie.com
Anything else you are dying to mention and I have merely forgotten to ask?
Thatís everything covered.
Thanks for the interview!